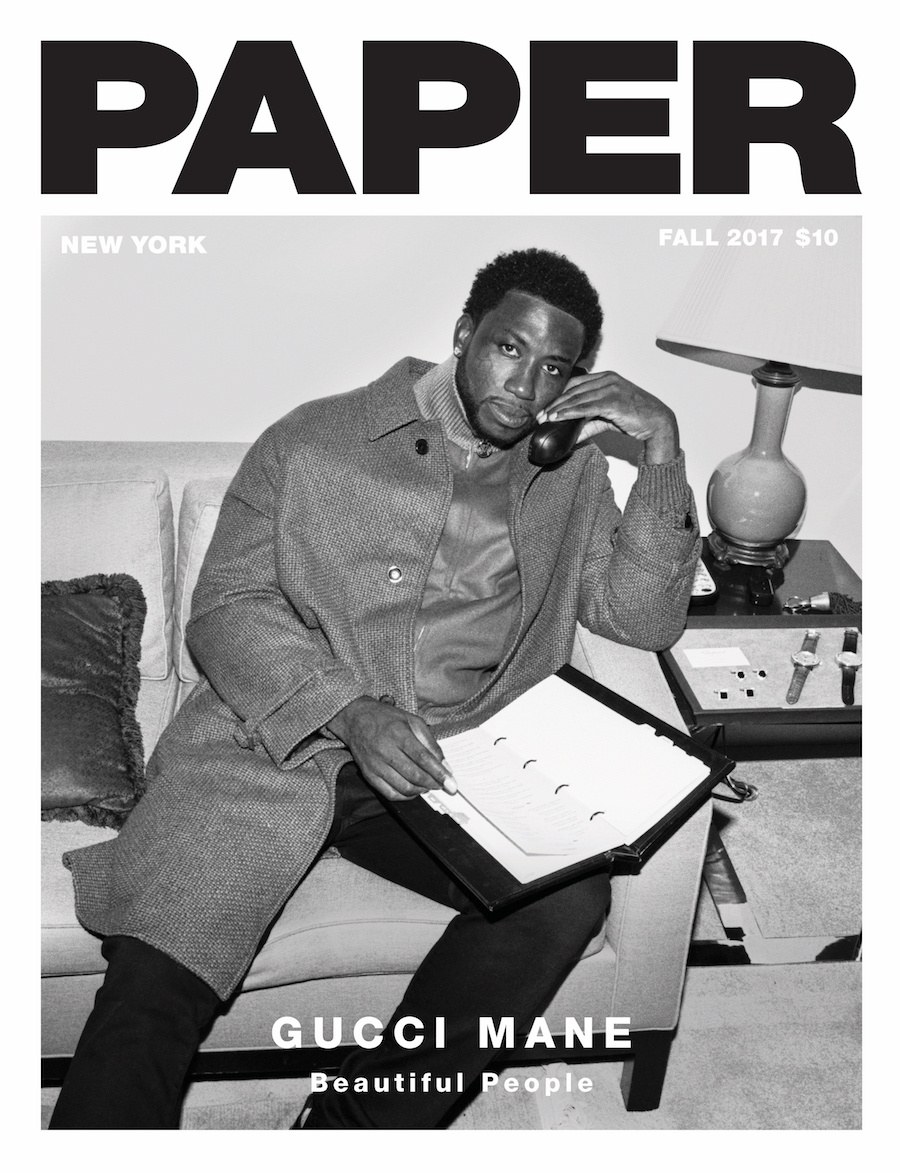 Gucci Mane is in a visible and spiritual state of transition. The self-proclaimed "Trap God," a title that's hard to dispute, is basking in the afterglow of getting released from jail after serving nearly three years of what could have been a 35-year sentence. Just before he went in to do his bid in September 2013 for illegal possession of a firearm, the Atlanta rapper was allegedly (according to a police report) bipolar and off his medication, erratically making his way through his hometown of East Atlanta with a gun bulging out of his pants, menacing everyone he knew along the way. His stomach was bulbous from drinking too much lean, something he describes in his upcoming The Autobiography of Gucci Mane -- he'd become dependent on drugs, a habit that smeared the responsibilities in his life -- and when he was sent behind bars, his body collapsed from opiate withdrawal.
"I had a very hard time readjusting -- detoxing off of lean is just a tough physical process on your body, with feeling bad and stomach messed up and body just going crazy because it's something you had every day," explains the 37-year-old, born Radric Davis. "It took a minute. But the thing is, with prison, you ain't going nowhere. So it forces you. You gotta change. You gotta take it. It dried me out because I wasn't going nowhere. I ain't have no bond. What can you do? It makes you deal with it. It deals with you."
The situation was do or die. If he even were lucky enough to get just 10 years in prison, his career would have been over by the time he got out. With that looming over his head, Gucci didn't so much make a pact with himself to improve his life as prison naturally corrected his course. His weight plummeted from 265 to 240 pounds in the first two and a half weeks. He read books every day -- Tony Robbins, Malcolm Gladwell, Deepak Chopra -- and names the Bible as his favorite, though he struggles with explaining his own definition of being "religious." He even wrote his autobiography while in prison, out September 19th through Simon & Schuster, that details everything from his early days of dealing drugs to his long-standing beef with Jeezy and his various run-ins with the law throughout the years. The most notable change was the one most apparent: When Gucci left jail in May 2016, he looked like he'd shrunk in size. When he wasn't reading, he was running flights of stairs -- first one, then two, then five, then 20.
Click through for more photos of Gucci Mane from our Beautiful People Issue
Today, at the Chateau Marmont in Hollywood, he's trim and sober (he says he considers himself "a recovering drug addict"), seated next to a bed in head-to-toe Puma workout clothes. Gucci is lucid and friendly, something he acknowledged he hasn't been in the past, particularly with journalists. He sounds different, too: "Maybe that's from not using drugs, so I'm not as congested as I used to be," he says. He's a man so disciplined, whose life is so drastically removed from his pusher days, that it's almost startling to see someone so troubled bounce back in such a contrasting way.
"I wanted to be a comeback story," he explains. "I wanted to come back and be the best I could be. I wanted to come back more focused, I wanted to look better, I wanted to rap better, I wanted to be a better performer, I wanted to do interviews better. I just wanted to do better. Every time I would put one foot forward, a blessing would come, and a door would open. By doing better, it's an automatic compass, it just steers me the right way. It says, 'Don't eat that.' It says, 'Go to the gym. If you don't, you gonna gain weight.' All that stuff is important."
Talking with Gucci and reading his autobiography (even perusing his discography, which includes the 30-plus mixtapes he put out while behind bars), it's clear that music has always been his priority. Throughout his career, he's been given so many chances, bouncing back from botched business endeavors, behind-the-scenes strife, failed album rollouts and poor label oversight. Now that he's faced a sentence that could have put him behind bars for a large fraction of his life, he's taking his work -- and his health -- more seriously.
In the wake of his most recent release from prison, he's been unstoppable. He's released two mixtapes, Woptober and Drop Top Wop, the latter of which he freestyled over the course of two days and was entirely produced by Metro Boomin (Migos' "Bad and Boujee"); collaborative EPs with Future, Zaytoven and Lil Uzi Vert; and the albums Everybody Looking and The Return of East Atlanta Santa. He's returned as a go-to guest feature, too, hopping on singles from pop artists like Fifth Harmony ("Down") and Selena Gomez ("Fetish), as well as rap stars Rae Sremmurd, which featured him on their chart-topping "Black Beatles."
The timing couldn't be better for Gucci to capitalize on this second -- or third, or fourth, depending on how you divide its phases -- wave of his career. Mounting pressure for him to deliver a blockbuster album hasn't been this high since The Appeal: Georgia's Most Wanted, released in September 2010. Though not a flop by any standards -- it sold 61,000 copies in its first week -- it paled in comparison to its predecessor, 2009's The State vs. Radric Davis, despite a lead single produced by Swizz Beatz and guest appearances from Pharrell and Nicki Minaj.
Mr. Davis, his 11th album, is what he describes as his most "organic" yet, despite his high-wattage guest list, including The Weeknd on the darkly shaded club heater "Curve," Slim Jxmmi (Rae Sremmurd) and Young Dolph on the flossy "Stunting Ain't Nuthin" and the sparse "I Get the Bag" with Migos, whom he mentored at the onset of their career. Whereas on Drop Top Wop he discussed his incarceration, Gucci reveals an unseen side of himself on Mr. Davis -- an "audio version of the book," he says -- touching on his father's death; his late associate Bankroll Fresh, who passed in March 2016; and his personal struggle with mental illness, which some have likened to bipolar disorder or depression but what he credits to PTSD from a suspected murder charge that was dropped in 2005 and various street scuffles.
"[The album] got a lot of loss in it," he explains. "I feel like they should categorize me as a trap rapper because that's what I am. But at the same time, loss is a part of that, too. Trap rapping really ain't nothing but the story of the hustle, and the hustle takes losses. I used to talk about the good side and the party side. I never talked about nothing personal. But this time, I just wanted to try something and share something with people so they know I'm listening, this stuff affects me too. They just need to hear it."
On social media, he's become more open about his private life since getting out of jail. He's engaged to Keyshia Ka'oir, who he met as Keyshia Dior on the set of his videos for "Boy from the Block" and "911 Emergency." They were on-and-off again throughout the years, with Ka'oir's party-lite lifestyle clashing with Gucci's life of indulgence. But she held him down during his bid, despite his prior erratic behavior. "She was 100 percent down for me the whole time and she didn't have to be, so I appreciate her. Even when I was on house arrest," he says (one of the conditions of his release from prison, his house arrest lasted from June–September 2016). "It takes a lot to readjust and come from prison into regular life. House arrest gave me a time to get back in the routine of being in society, and she was a big part of that, because [there were] a lot of things I wasn't comfortable doing because I'd been in prison for three years."
The couple got engaged in a more public way, with Gucci slipping her a ring bursting with diamonds while on a kiss cam at an Atlanta Hawks game last November. They've set their wedding date for October 17th, and Gucci's only request is that he looks like the "king of Dubai." "We kinda got a pact where she says she's not going to bother me [about the wedding] because, 'Every time I say something, you got attitude,'" he says with a laugh, imitating Ka'oir. "I just want to give [my] woman anything she want. That's how I feel. There's nothing she can want that I don't want to give her, because she gave me everything that I want."
Seeing Gucci like this -- happy, smiling, unburdened -- feels like a storybook ending. He's the same person who's been jailed for battery and robbed his close associate's nephew for $30,000 back when he lived in Savannah. But he's different, and it's hard not to look at this latest chapter in his life as a new beginning. In the past year, he's been booked to play shows at Coachella and the Red Bull Music Academy Festival, and embarked on his first-ever US tour. He also recently had his first overseas tour in Europe, and you could see him smiling in Instagram pictures taken in Belgium and Denmark. (One caption reads, "Guwop I'm proud of you," referring to himself in the third person.)
He looks sharp and well-dressed in all the photos, too. Gucci makes note of the fashion industry's shifting attitude towards his demeanor, something he's consciously altered and improved in the past year. "No one wants to be around nobody who they feel like they gotta be scared of, [somebody who's] disrespectful or just unpleasant to be around," he says. "Now fashion people want to meet and kick it with me, because they can tell [I'm] in a good head space. They know if they sit down with him, it's going to go good. Or damn, look how he changed his life, we want to be in business with him. Who want to be in business with someone who's disruptive? Nobody. I wouldn't want to invest in him, I wouldn't want him to wear my product."
His slimmed-down figure has also been a welcome change. He's always had an affinity for clothes, but couldn't wear the finer things as he was so "out of shape," he explains. "One of the main things when I was away was, my main inspiration was to lose weight so I could wear anything I wanted. All the designers I couldn't fit. That's my inspiration even now, working out, because if I can't work out then I can't fit it. I love being fresh. And I'm richer than I was before I went in. Things that I can buy now, I could buy then. But now, it's like a drop in the bucket, so I can experiment more."
It's a testament to the new Gucci: He used up all his chances, and he's ready to settle for the last one he's got. "I enjoy getting older. I'm enjoying being 37. I love it. It's not like I'm trying to reach back and be the 29-year-old Gucci. That's gone. I enjoyed it, I'm proud of what I did. I don't regret nothing that I did, because it makes me appreciate what I got now," he says. "What I'm doing now is trying to be the best man I can be, period. I want to be the best businessman, the best rapper, I want to be a better performer -- all these things are important to me and I work on them...I keep thinking about the orange jumpsuit and not knowing how much time they were going to give me. That's what drives me to not even be tempted by a lot of things. I feel like I'm in the clear. I'm conscious of my consequences, and that's what makes me live my life the way I live it."
Styling by Jason Rembert
Grooming by Daronn Carr
Stylist Assistant: Kristen McGovern

Location: Chateau Marmont