Few in the art world are unaware of Toronto artist Bruce LaBruce. Internationally acclaimed as a filmmaker, photographer, writer, and all-over provocateur, LaBruce's topics are not limited to BDSM, fetishism, sex work, zombies, and queer identity.
With two books, 11 feature films under his accomplishments, and exhibitions at some of the worlds most prestigious galleries (MoMA, La Fresh, and Gallery 46), LaBruce is now in the works of creating more buzz in the art world.
Working with Joakim Andreasson (Tom of Finland Store creative director), LaBruce is releasing an exclusive offering of more than 100 photographs made available through the NSFW e-com platform. Faggotry presents a variety of pictures which provide a peek into the elusive world of the "queercore" figurehead.
Below, LaBruce himself brings us through a timeline of his decades-long career.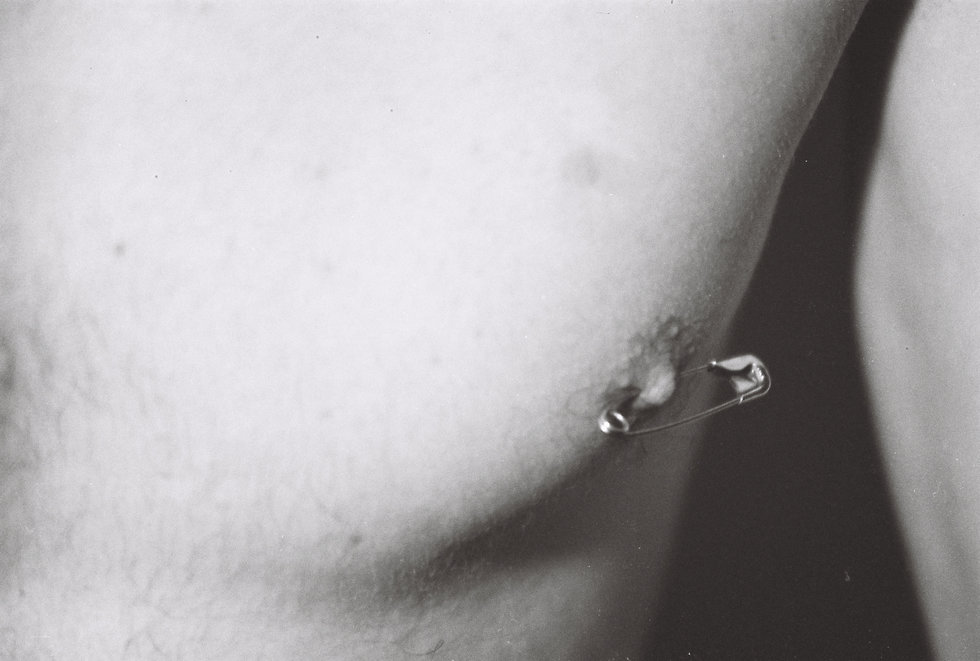 Klaus von Brucker pierces his own nipple in No Skin Off My Ass, and this was the result. He had to get drunk before he did. Well, I did too.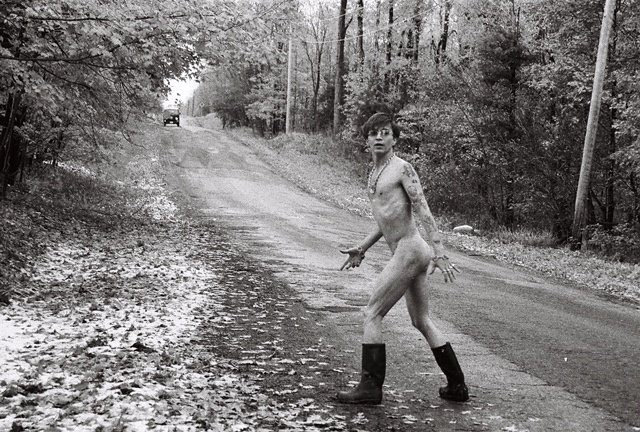 A production still of yours truly in my 1994 blockbuster Super 8 ½ (1994), my first 16mm feature. This photo was shot in 1992, so obviously Madonna ripped me off for her infamous naked hitch-hiking photo for her SEX book. (Just kidding, the book came out just before so I guess I ripped her off).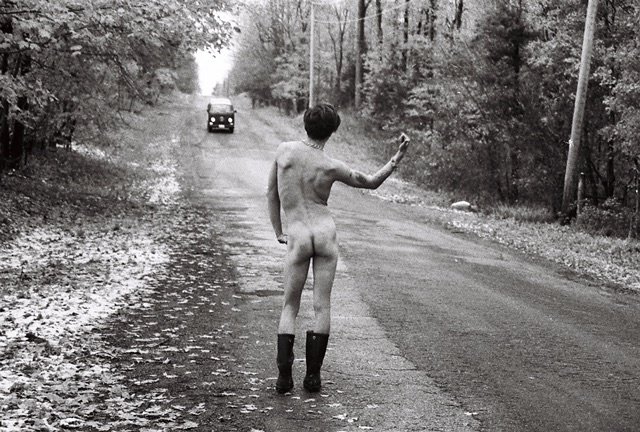 This scene from Super 8 ½ was shot in the dead of winter outside of Toronto, while Madonna's nude hitch-hiking photo was shot in sunny Florida. So I guess I win.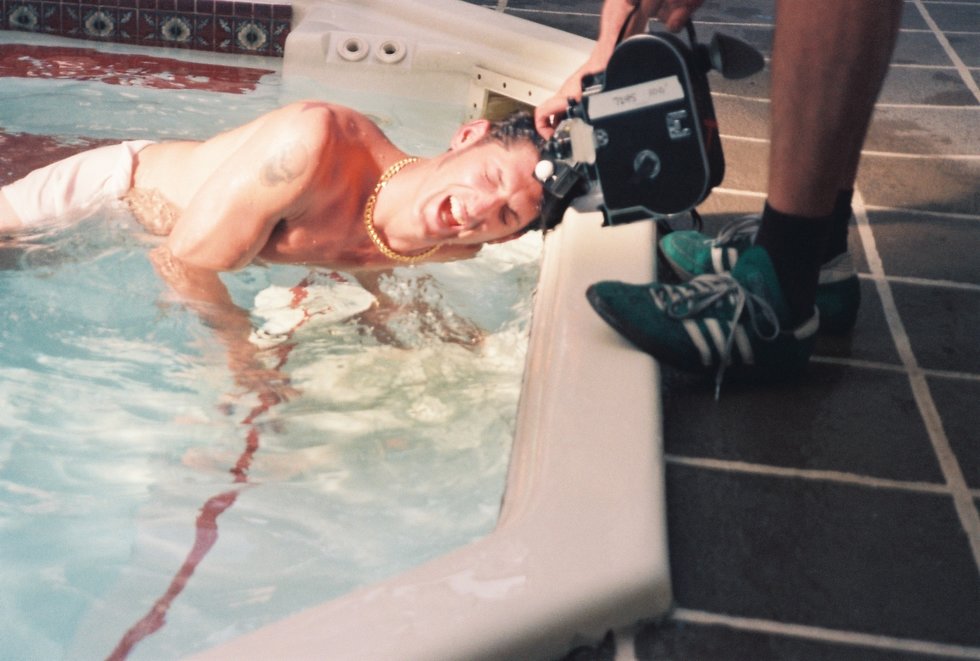 Filming Tony Ward in the "famous" scene in which he slips on a bar of soap and hits his head on the side of the Jacuzzi (even though no one uses soap in a Jacuzzi). The cameraman is my long-time collaborator James Carman with his trusty 16mm Bolex.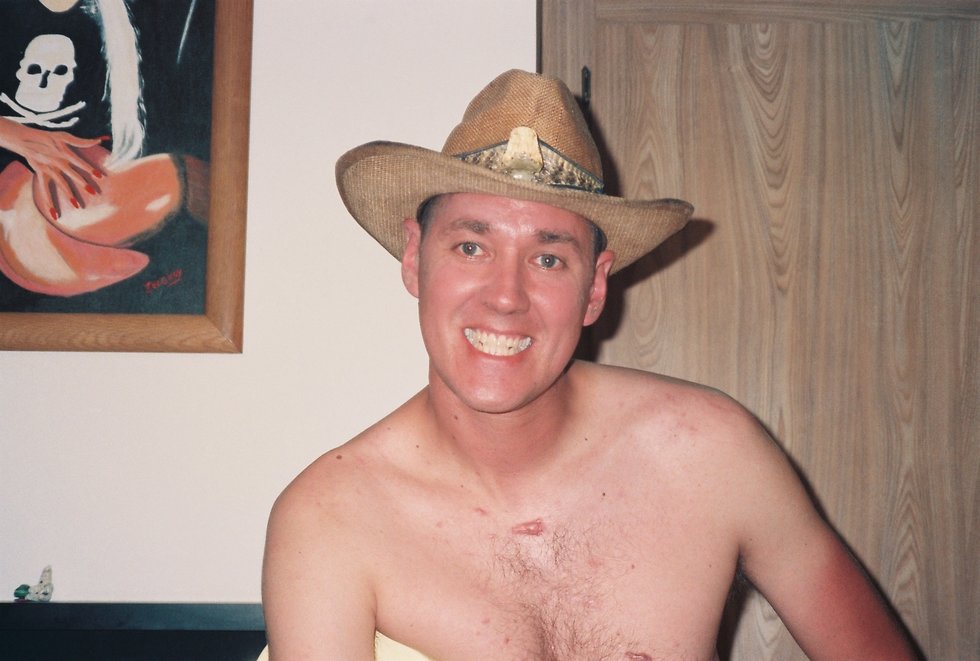 The amazing gay born-again Christian country and western singer Glen Meadmore, who plays a john in Hustler White. That's one of three Gacy paintings of Glen in the background.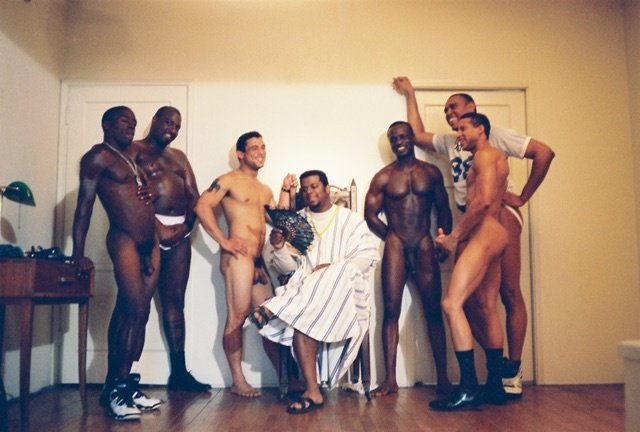 A Hustler White production still featuring the late great Mrs. Michael Glass (center) and the still alive Vaginal Davis (second from right) with a combination of real life hustlers and porn stars. As we were two short of a gang bang for the scene, we rushed over to Santa Monica Boulevard and picked up a couple of black hustlers, who ended up smoking crack on the set. We paid them their standard daily rate.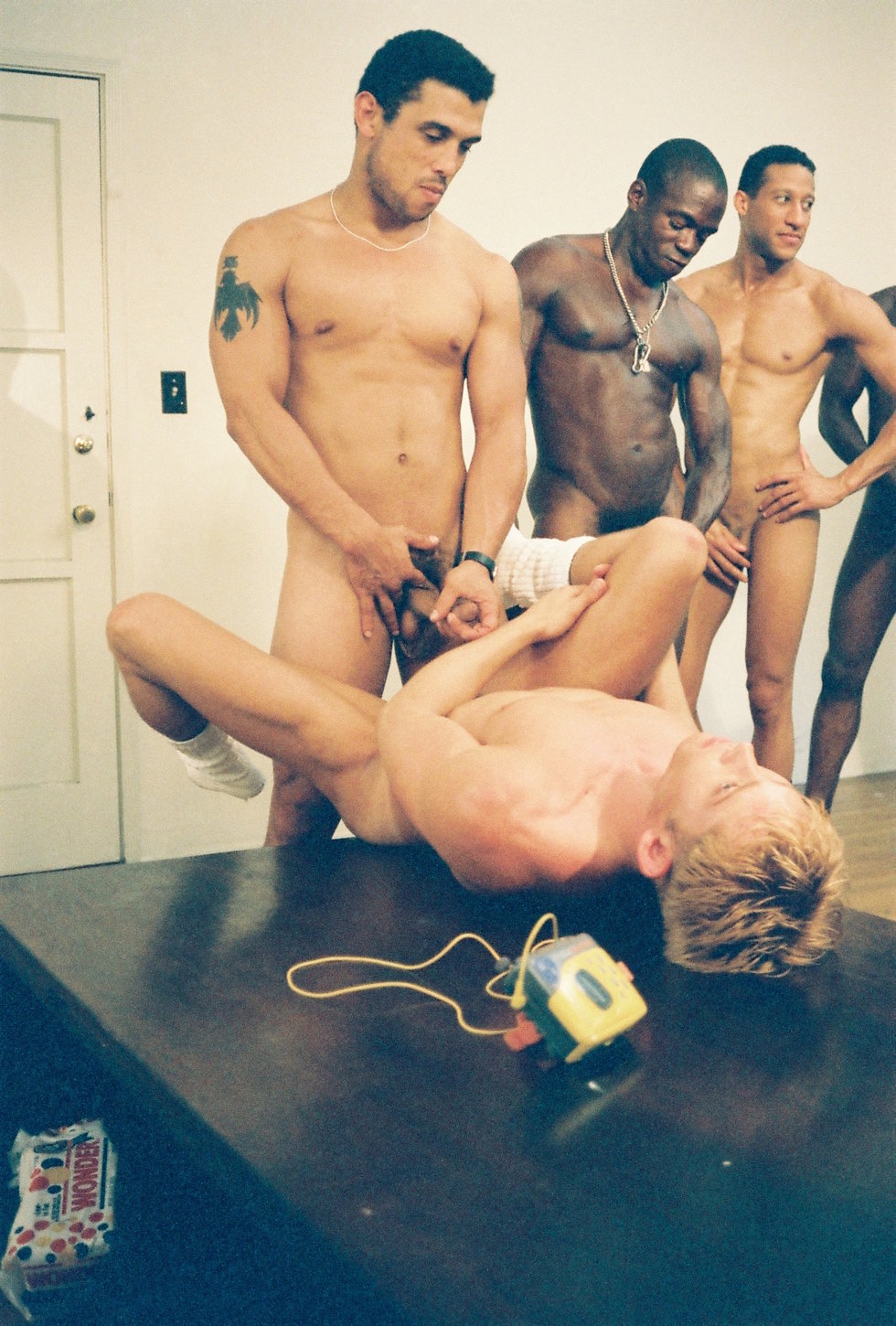 The infamous gang bang scene in which a train of black hustlers plow a white hustler, played by porn star Kevin Kramer. Much hilarity ensues.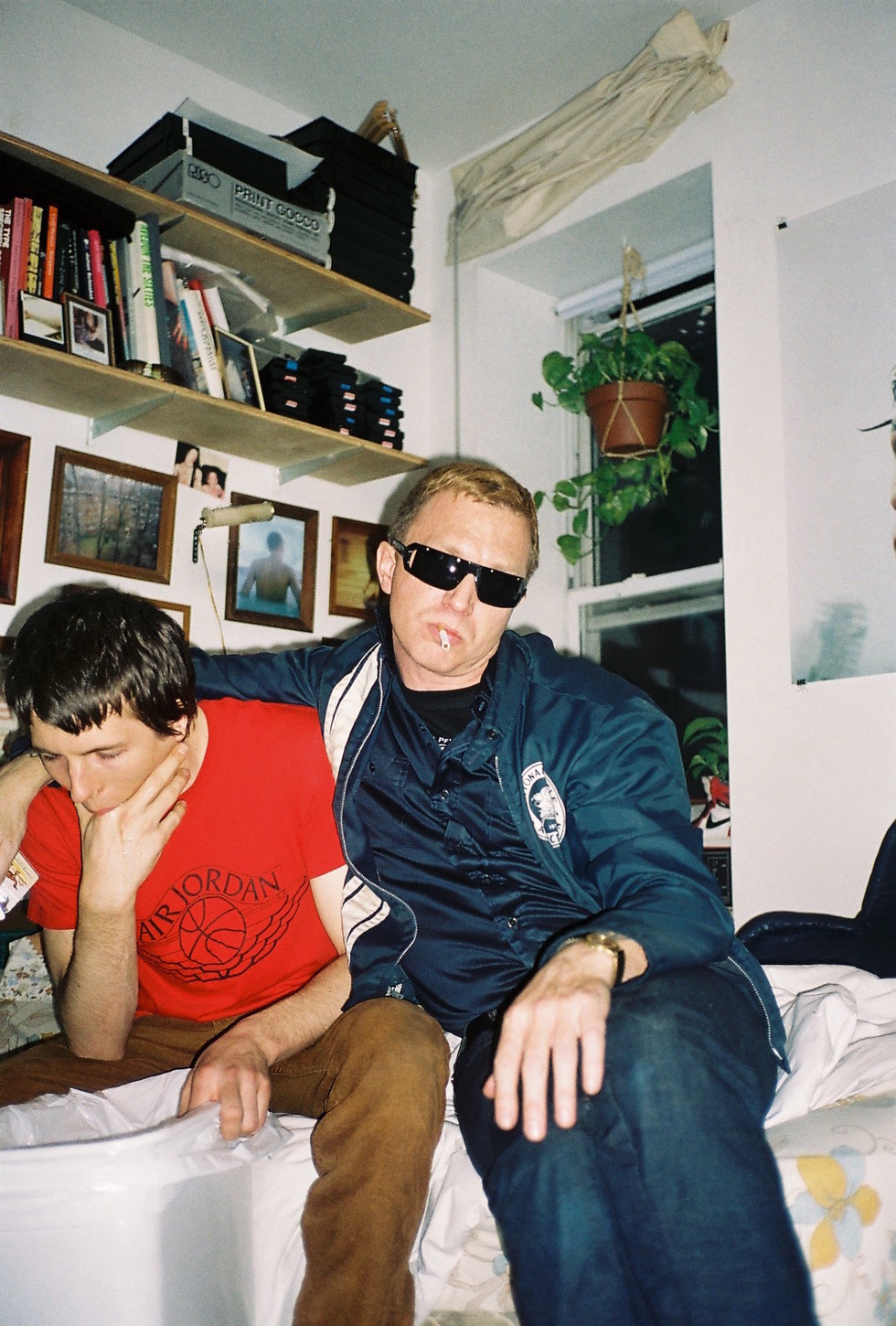 In the late '90s and early 2000s, I used to hang out a lot in New York with one of my besties, Ryan McGinley, when he was still a student at Parsons, often staying with him at his apartment on East 7th Street. Here I am with him as he glamorously throws up into a trash can.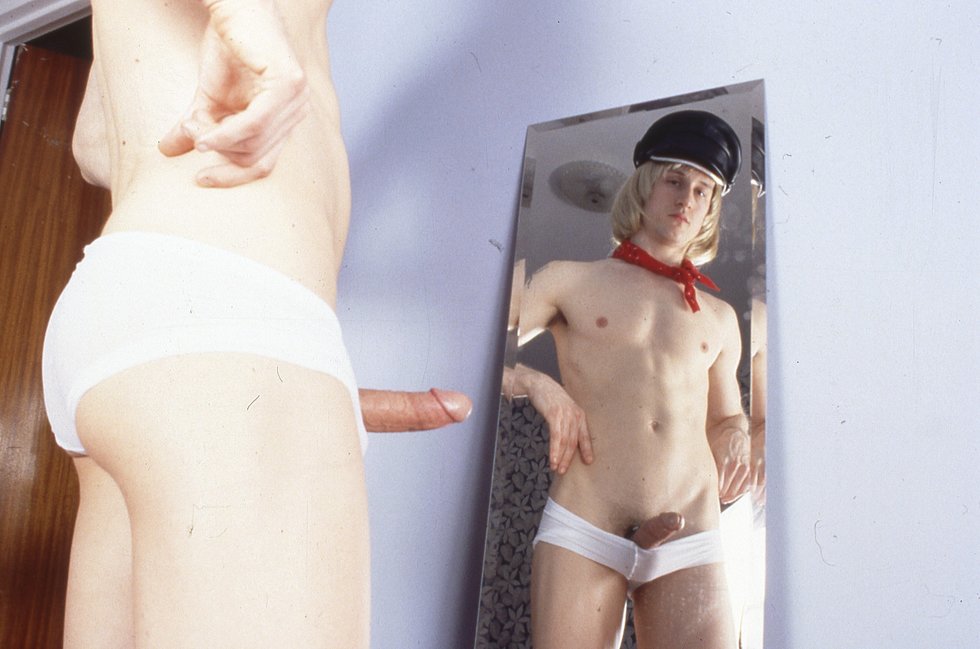 I shot infamous illustrator and cartoonist Mike Diana once in NYC styled as porn legend Peter Berlin for Honcho Magazine. He was dating Kembra Pfahler at that time, who introduced me to him, and he couldn't have been sweeter or kinder.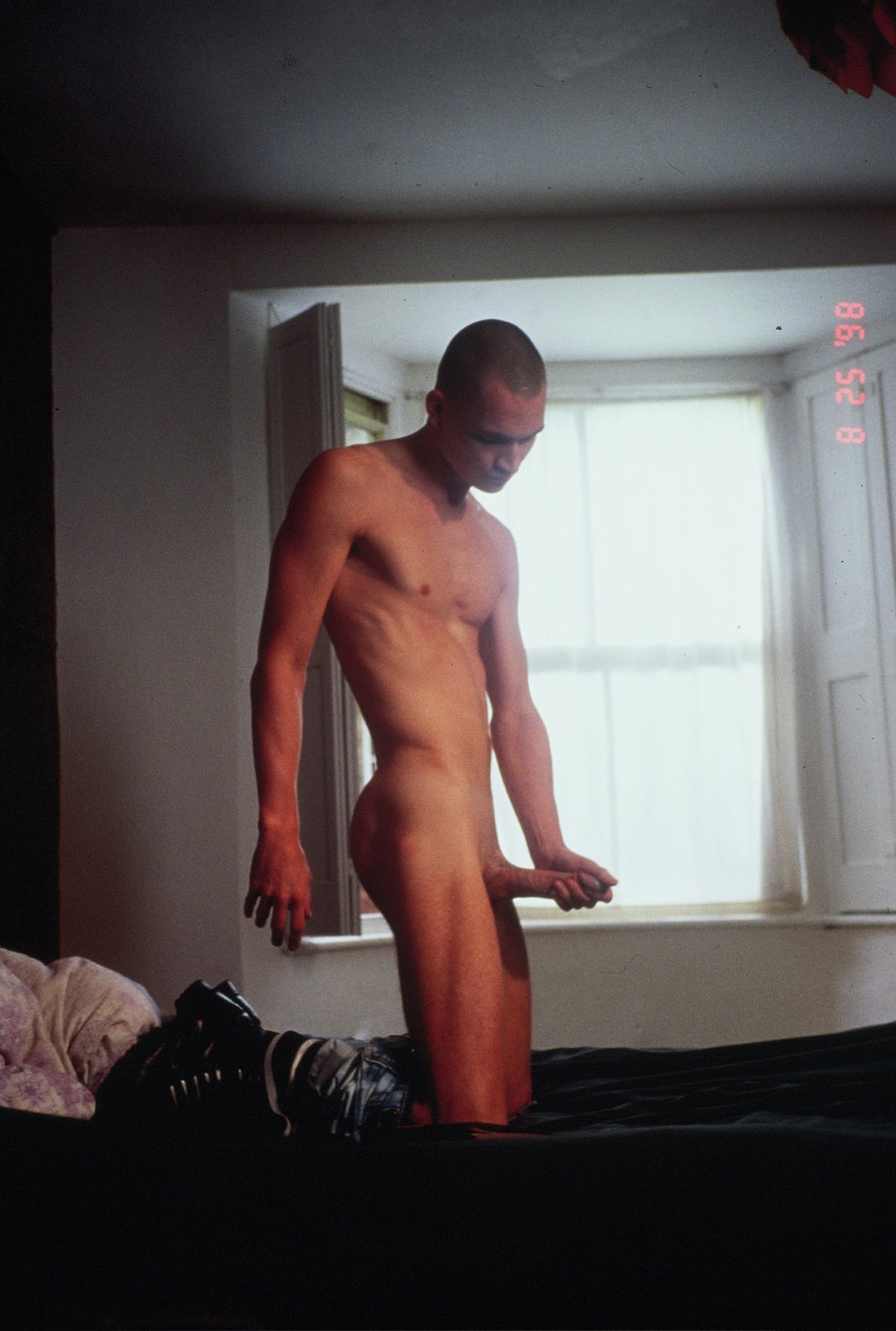 Daniel Batscher as Manfred jerking off in my neo-Nazi porn movie Skin Flick, shot in London in 1998.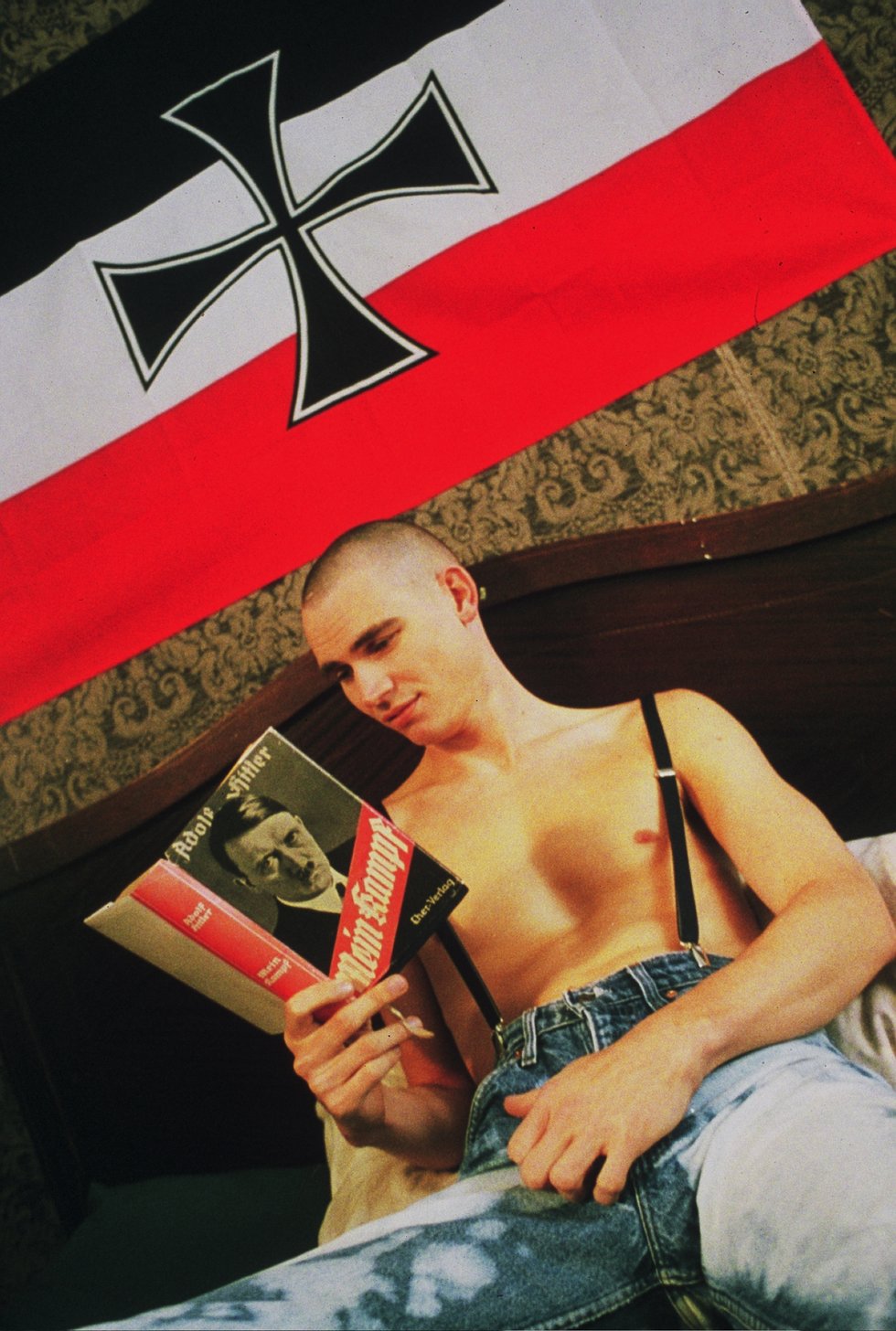 Daniel Batscher as Manfred in my neo-Nazi porn movie Skin Flick jerking off while reading Mein Kampf, as neo-Nazis do.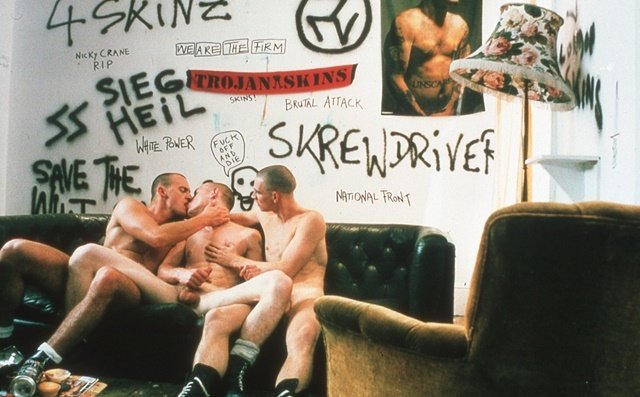 Authenticity was key in my neo-Nazi porn film, Skin Flick, so we decorated an apartment at our location in Brixton with authentic neo-Nazi imagery and memorabilia that our producer smuggled in from Germany, where it is illegal also. Pictured in this neo-Nazi sandwich are Ralph Steel, left, Russian dissident poet Slava Mogutin, centre, and Daniel Batscher, right. I based this photo on a Renaissance painting.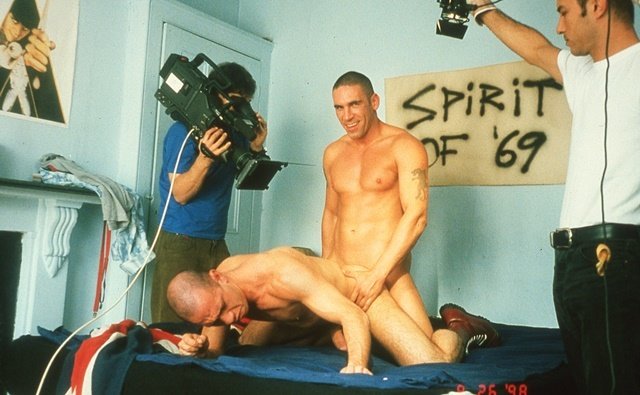 Steve Masters, right, Eden Miller, and my cinematographer James Carman shooting a sex scene for my neo-Nazi porn film Skin Flick, a very loose remake of Kubrick's A Clockwork Orange. Mr. Miller is from Israel, so he played a Jewish neo-Nazi and sings the Israeli national anthem in the film. Mary, don't ask.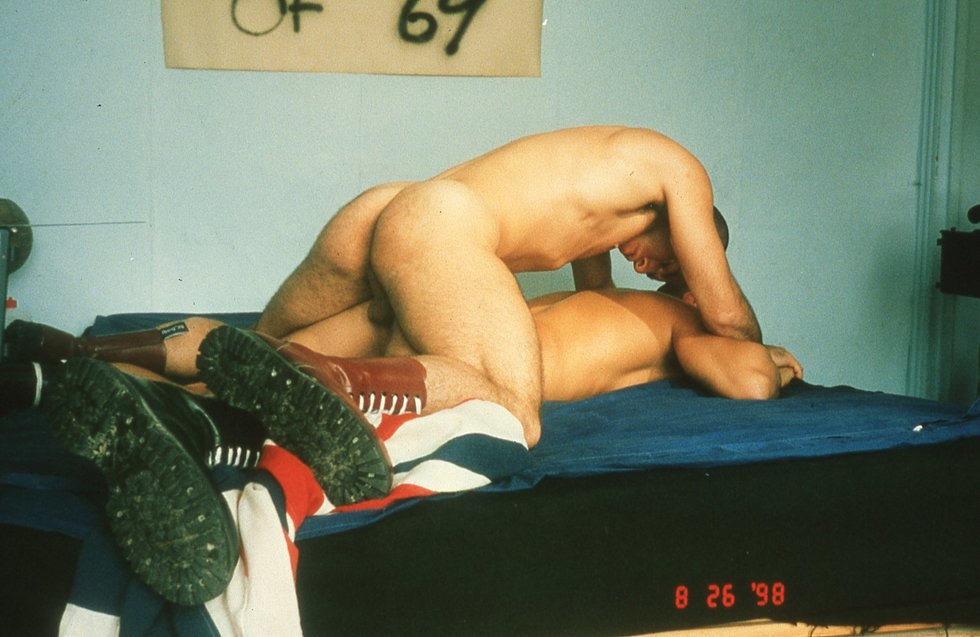 Porn stars Steve Masters, who was a real skinhead, top, and Eden Miller in another production still I took on the set of Skin Flick.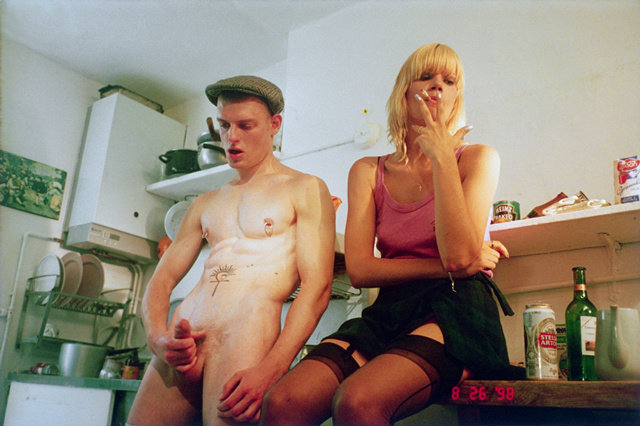 Production still I took on the set of Skin Flick featuring Russian artist and poet Slava Mogutin and Nikki Uberti, who met through my friend the photog Terry Richardson, his wife at the time. Terry makes a cameo in the film as himself.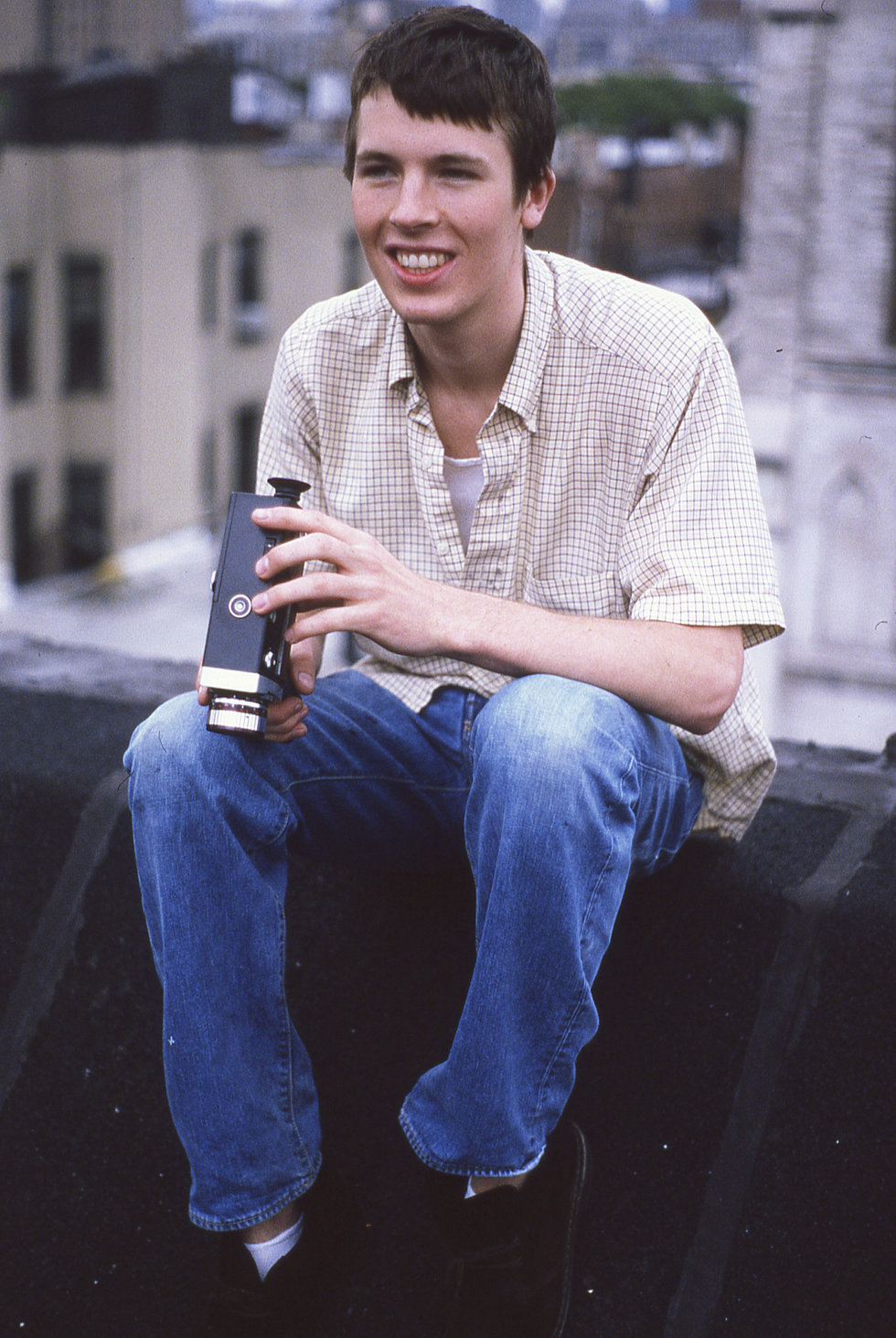 Once I shot graffiti legend Earsnot spraypainting naked on Ryan McGinley's rooftop while Ryan shot a super 8 movie of it. My photos turned out totally underexposed, but the ones Ryan took were perfect, and that's why he's famous now and I'm not.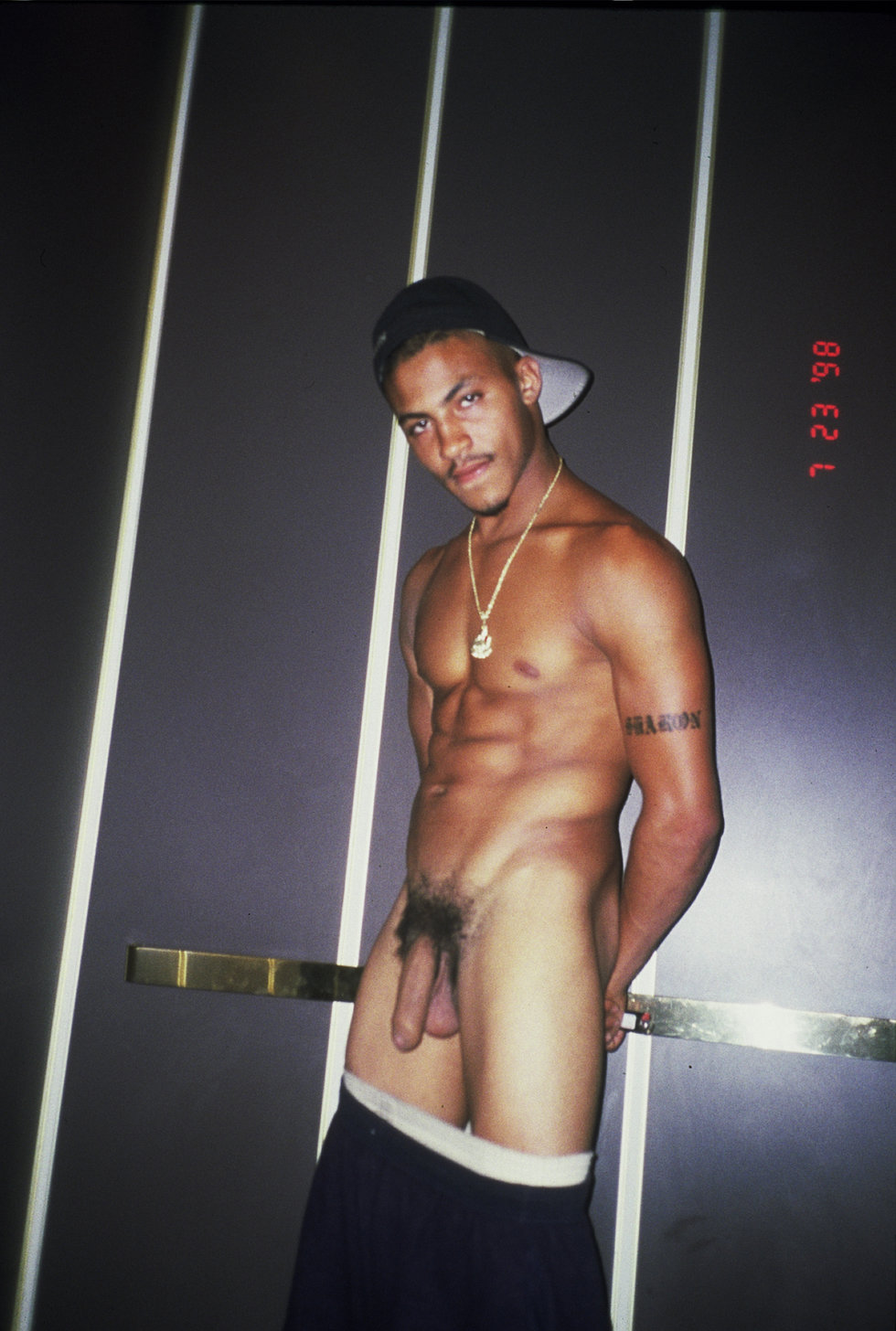 This one time in NYC my bud Harmony Korine invited me over to his Gramercy Park apartment to observe me shoot the hot porn star Tiger Tyson for Honcho Magazine, or maybe Inches, appropriately. Here Tiger poses in Harmony's elevator. Later he would try to seduce Harmony, but he just giggled.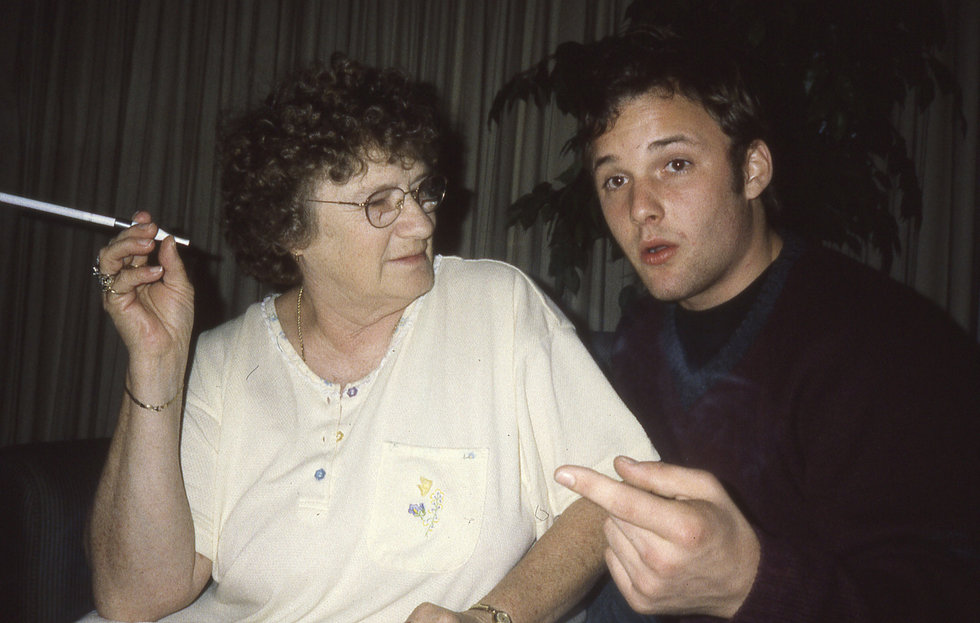 One weekend in Toronto I hung out with the late, great Brad Renfro, Bijou Phillips, and Dominique Swain, fresh off of the Lolita remake, while they were in town shooting some forgotten movie. After glow-in-the-dark bowling on Ecstasy, Brad, who was 17, took me to his hotel room to meet his grandmother, who travelled with him as his guardian.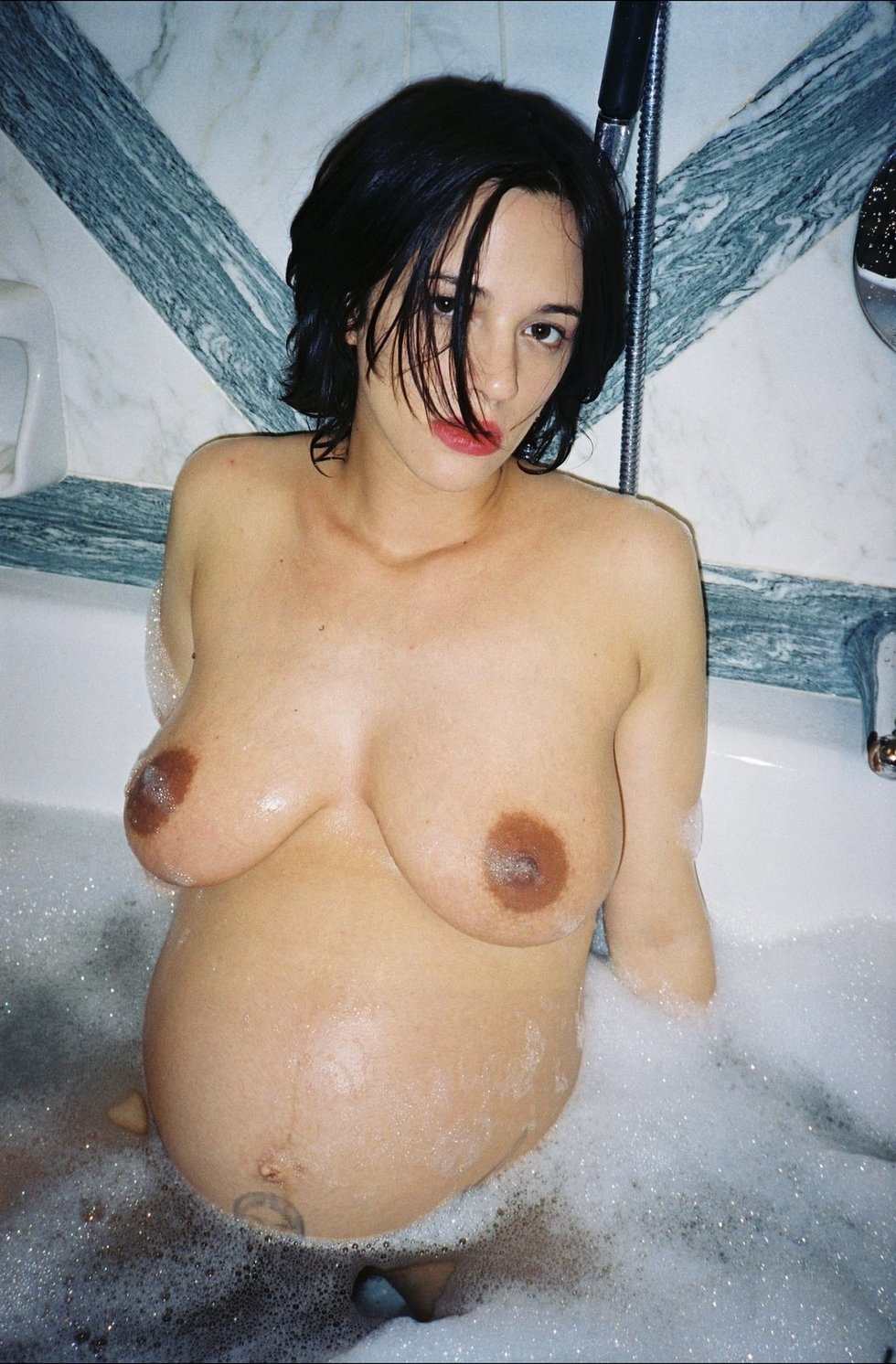 I was flown by Peter Halley's Index Magazine to Milano to photograph and interview the extraordinarily talented and beautiful Italian film star and director Asia Argento. Here she is, nine-and-a-half months pregnant and naked in the bathtub, in her room in Milano's most expensive hotel, whose name escapes me.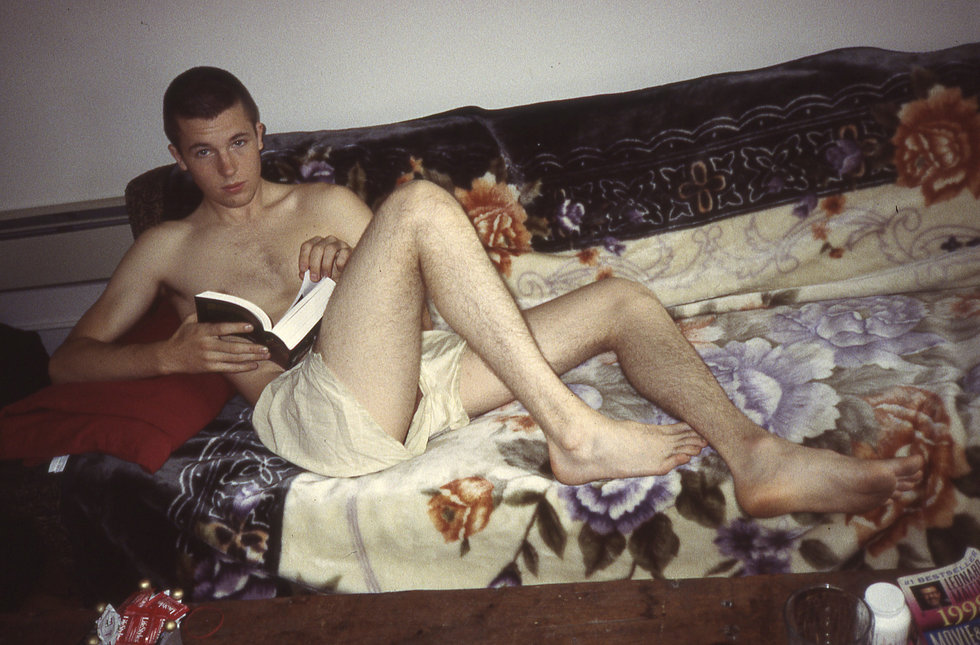 Ginch, as he was known, once visited me in Toronto. Here he is in his underwear on my couch "reading" Taschen's 2000 Chairs.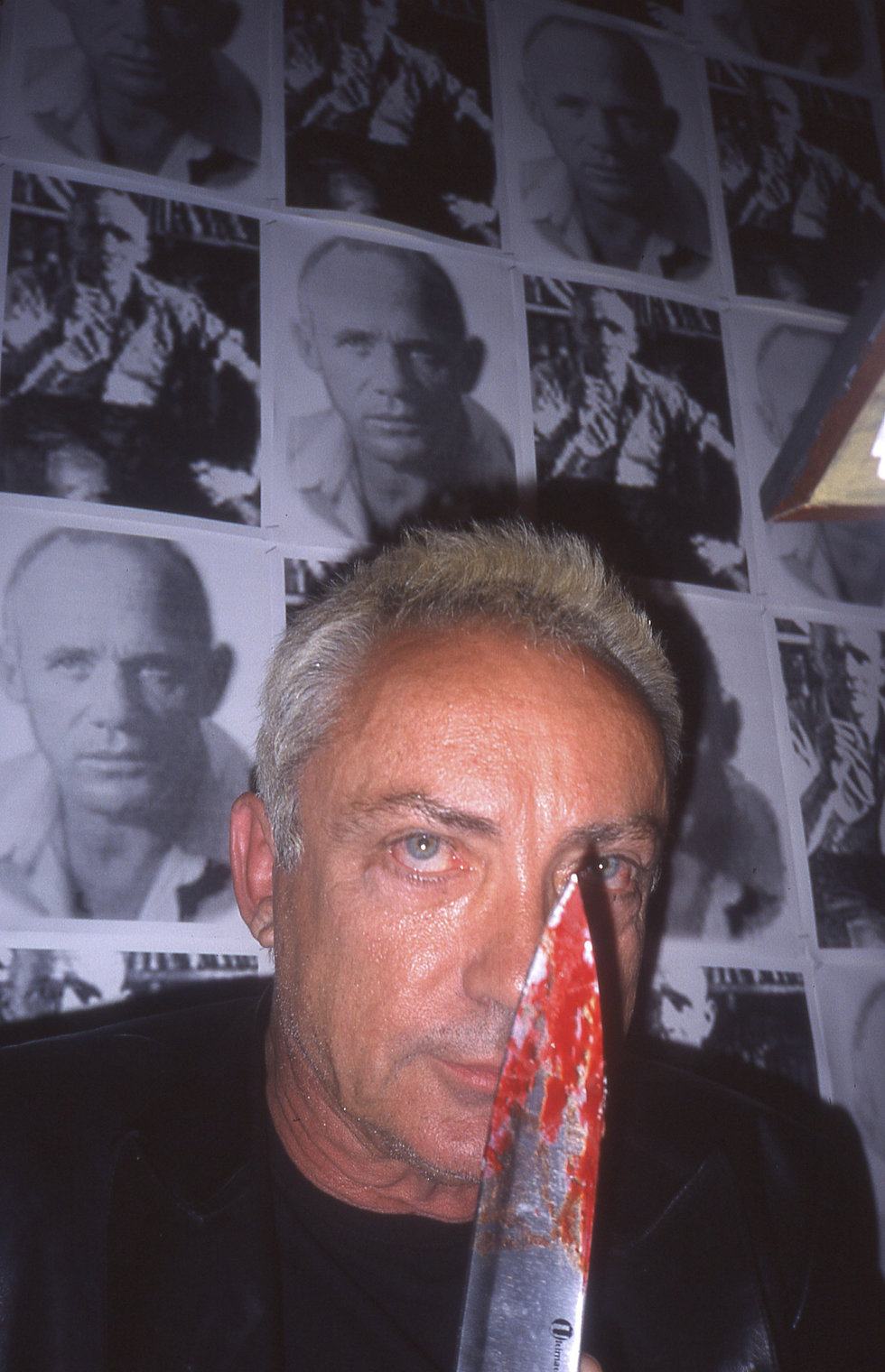 When my friends Vaginal Davis and Ron Athey curated an edition of Visions of Excess in Birmingham on the theme of Gilles de Rais, they also invited film legend and Fassbinder star Udo Kier to perform. Here he is in an impromptu bloody knife performance against a backdrop of Genet wallpaper.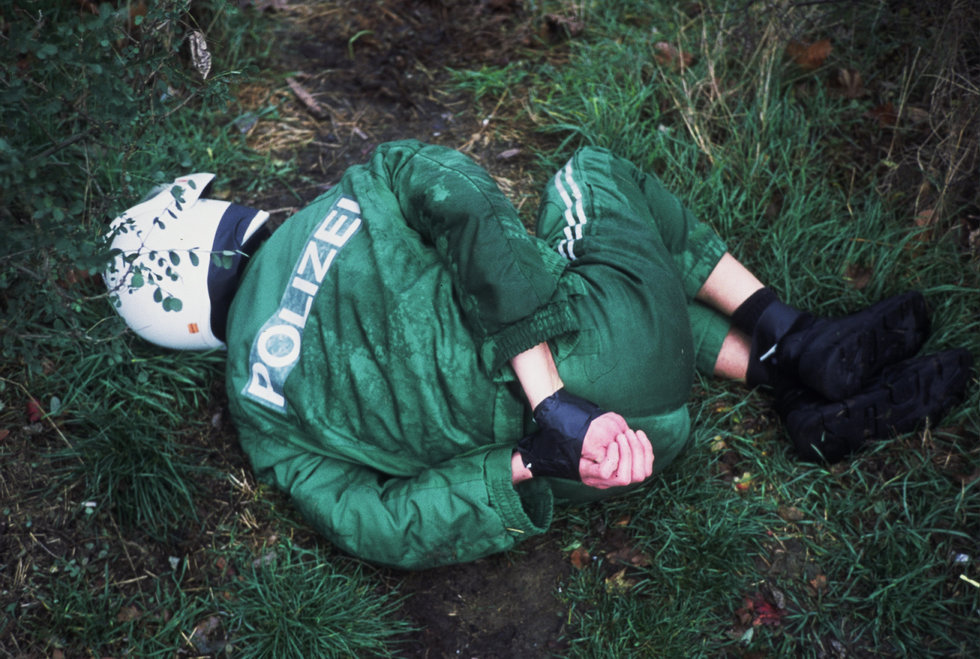 In my terrorist chic movie The Raspberry Reich (2004), shot in Germany, two of the cute terrorist porn stars knock out a cop that's been pursuing them and leave him with his hands bound in a ditch. It seems even more relevant today.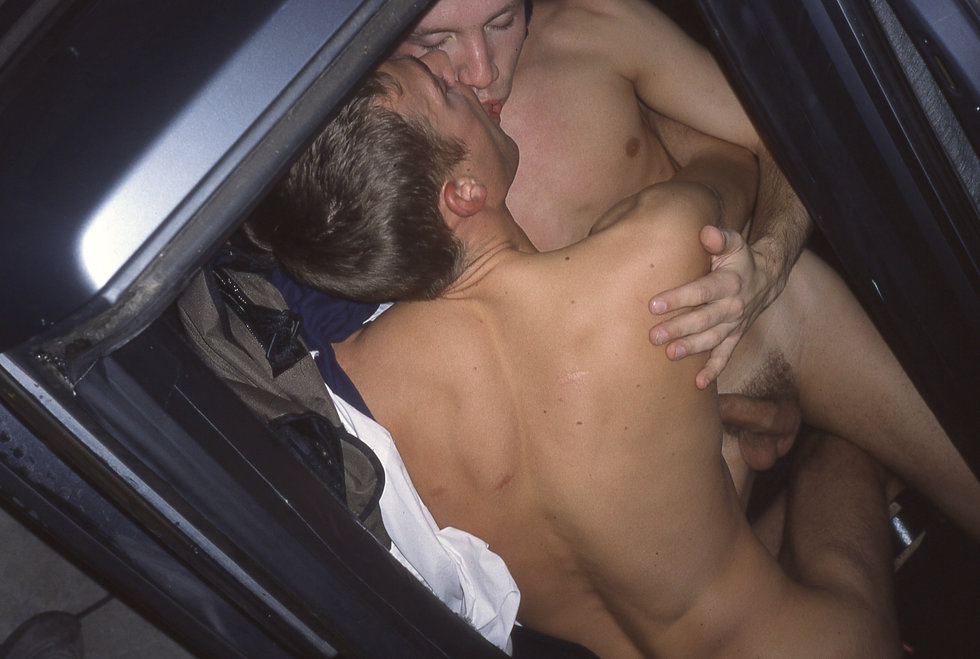 The same two porn stars who tied up the cop, Andreas Rupprecht, bottom, and Anton Dickson, top, are shown here in this The Raspberry Reich production still from the infamous "I Wonder What's Going on in the Trunk" sex scene.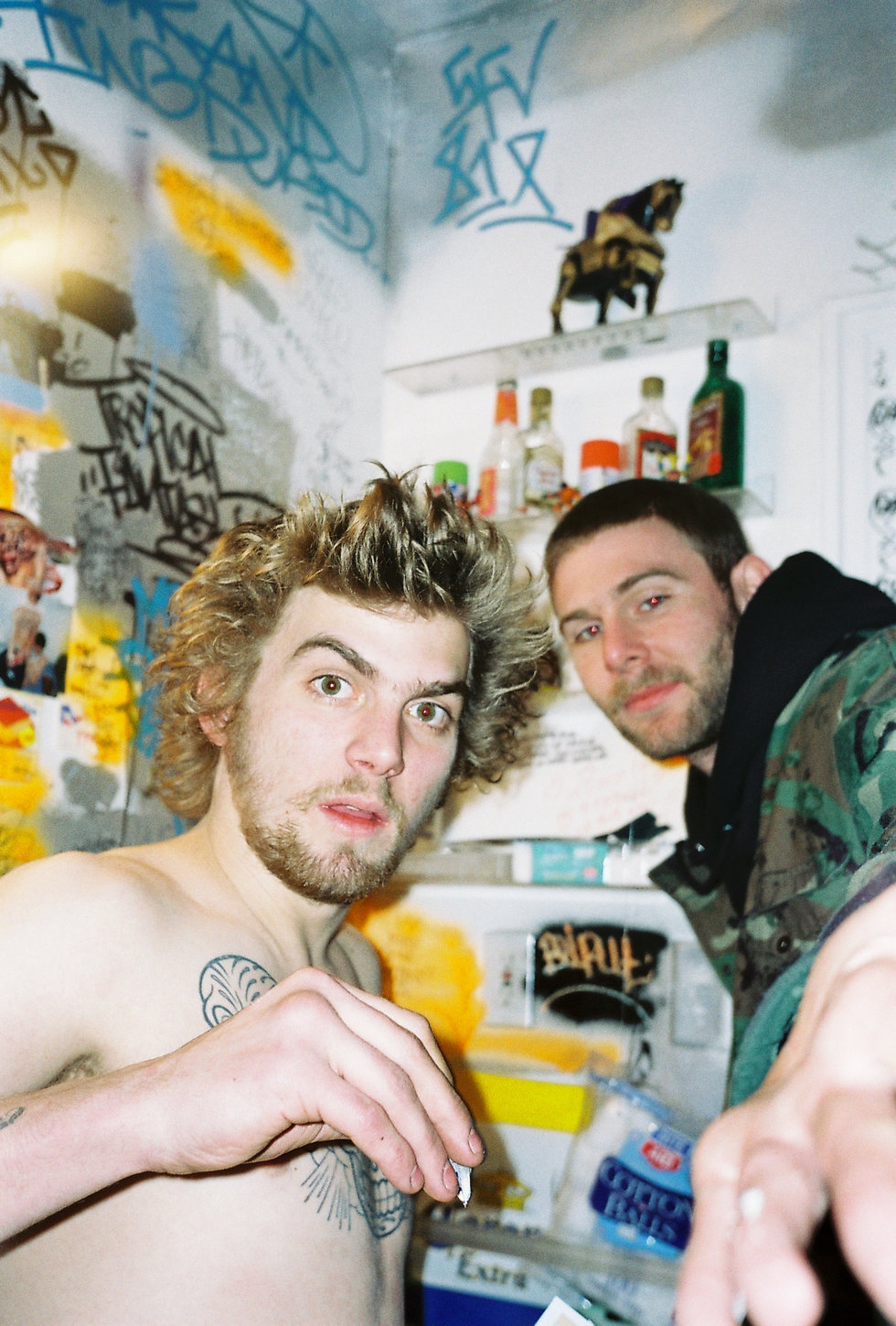 Ryan introduced me to his besties, artists Dan Colen, right, and the late, great Dash Snow. I also stayed at Dash's place in the early 2000s when he lived on Avenue C, where this picture was taken.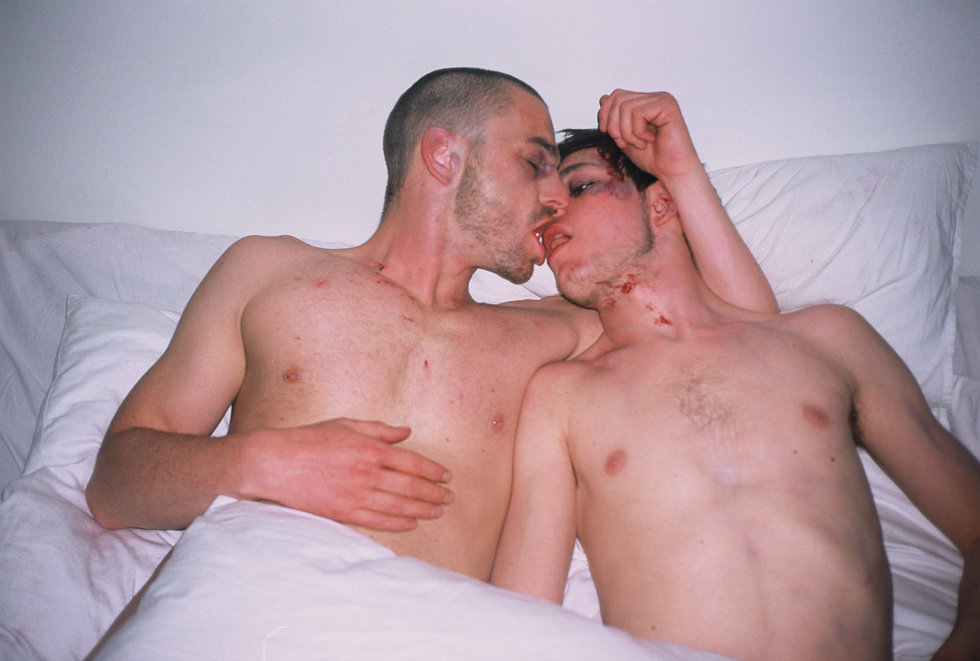 A production still I took of Marcel Schlutt of Kaltblut Magazine, left, and Jey Crisfar, right for my gay zombie movie Otto; or, Up with Dead People.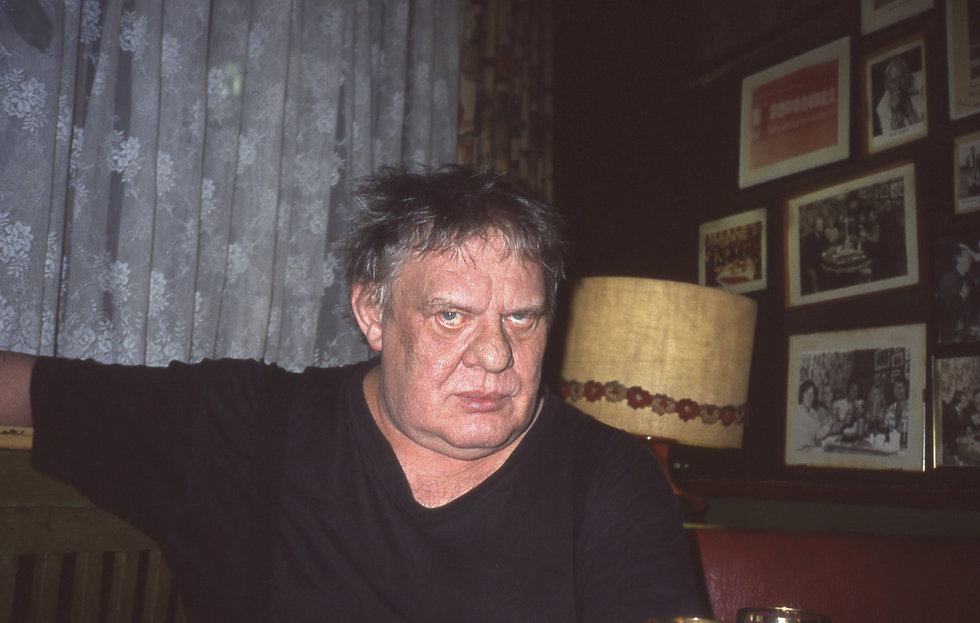 My friend Susanne Sachsse introduced me to Fassbinder legend Volker Spengler in Berlin, and after drinks we went back to his apartment to do some blow. I asked him to be in one of my movies, but he declined. See, even crazy Fassbinder film stars won't appear in my movies!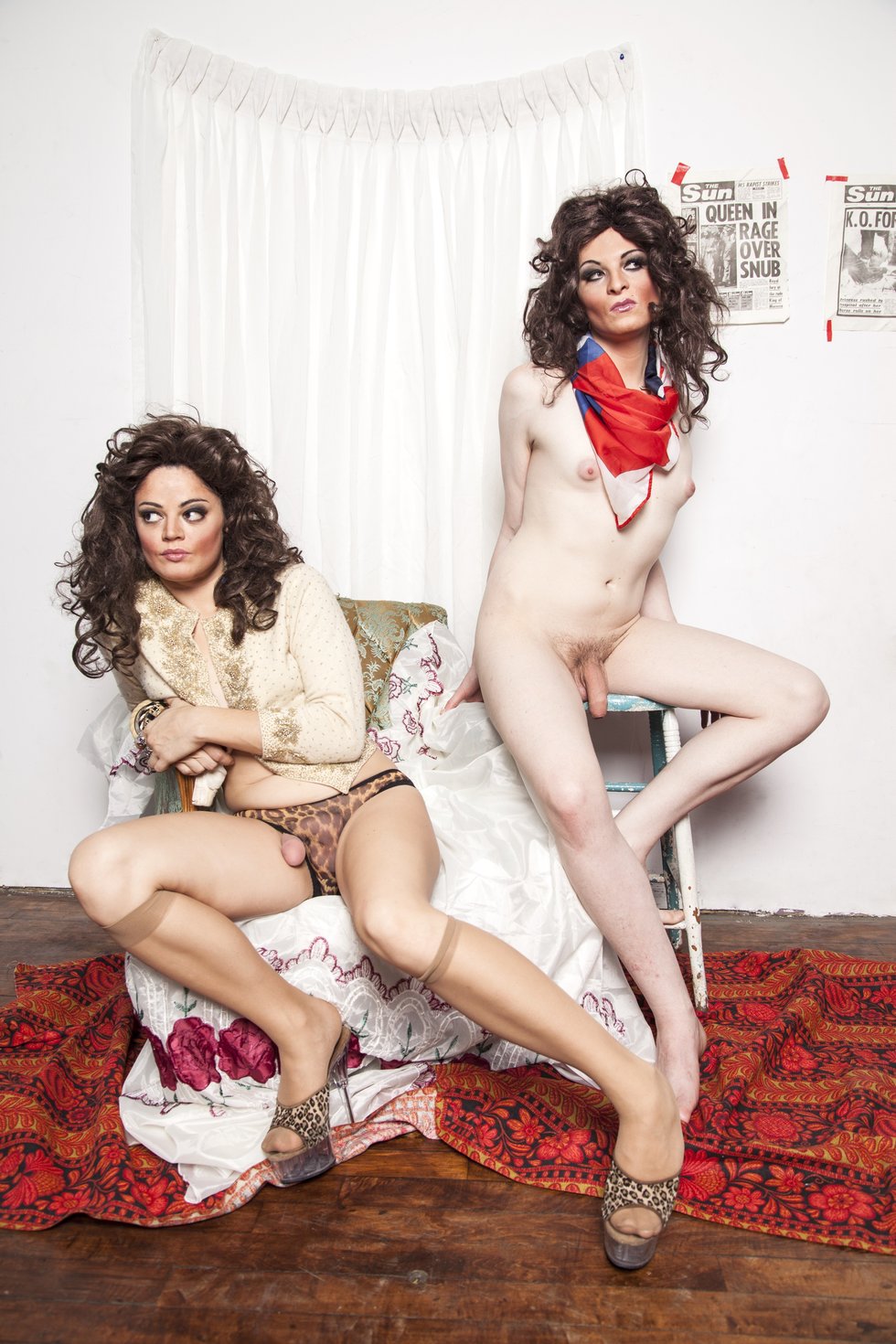 I shot a series of trans women for my photo show at the TIFF Bell Lightbox in Toronto (Toronto International Film Festival). However, I threw in a cis girl to mix things up a little bit. That's the foxy Karen Frostitution on the right with a fake cock.