Celebrity workout videos, leg warmers, and neon spandex body suits from the '80s have eclipsed all other archetypes from America's fitness boom. For Jason Thome, founder and creative director of athletic and streetwear label YIWO (an acronym for "Yeah I Work Out," pronouncedyee-woah), that two-decade period (between 1975 and 1995) is full of beautiful iconography. "If you look at the Pumping Iron book for example, it's like a coffee table book," the Oregon-born, New York-based marketing veteran says. "That era has such a sense of freedom to it."
The longtime workout enthusiast enlisted '80s-era artist Brett Lenger to capture that free-spirited, exercise-centric lifestyle in a series of illustrations that reference weightlifting. With slogans like "Squat 'Till You Puke," "Getting Shit Off Your Chest," and "Pull Up Or Shut Up," integrated into sketches featuring beefcakes, dumbbells, and barbells were applied to a trio of t-shirts Thome calls "The Big Three."
Related | The Femme Bodybuilder Workout
"I own t-shirts with his drawings on them," he says referring to vintage tees emblazoned with Lenger's work. "He was really hard to find." After much determined Googling, Thome tracked down an individual in Kansas with the last name Lenger. As it so happens, he found the artist and former bodybuilder's wife. When she connected Thome with her husband — who now works as a trainer and "muscle activation techniques specialist" — he was thrilled for the opportunity to revive his craft for YIWO.
Nostalgic elements like Lenger's drawings pop up elsewhere in the collection. In a range called "Lessons In The Basics," Thome applies motivational phrases from bodybuilding books, magazines, and posters to glossy nylon squad shorts, tank tops, terry cotton sweat-shorts, and black t-shirts. Embroidered and printed with the expressions like "stay pumped," "build," and "stay hungry," the unpretentious separates are made with heavy-duty, high-quality materials. "We're honoring a culture that's lowbrow with a design approach," Thome explains. "We even put a squat rack in Dover Street Market."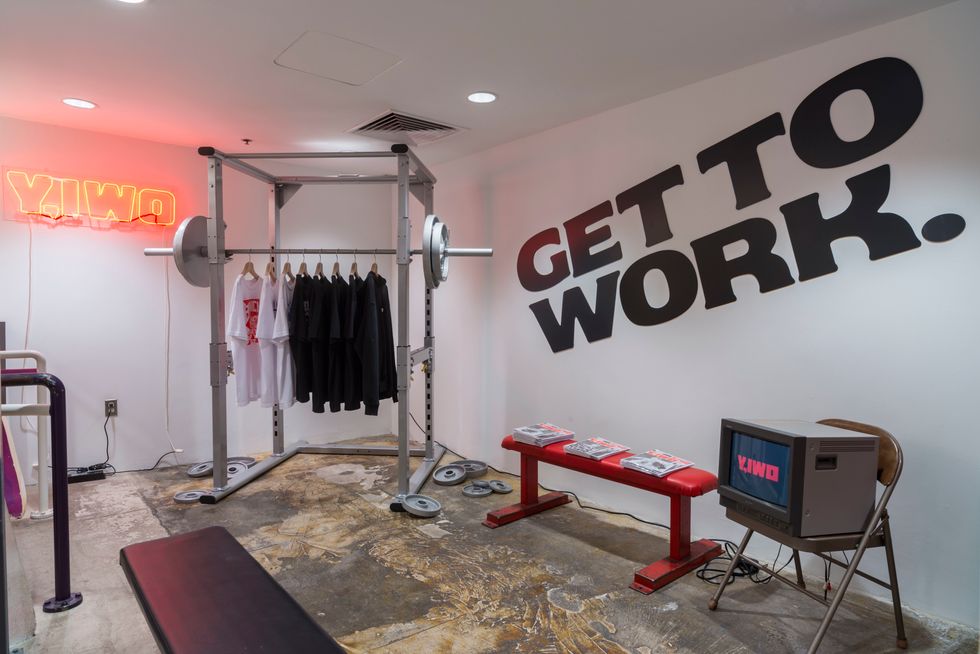 YIWO's installation at Dover Street Market New York. (Photography: Adrian Wilson)
For YIWO's launch, Thome took his high-low approach a step further by creating a faux gym space — complete with a functional barbell, fold-out chair, vintage TV set, and a gym bench — in New York's Dover Street Market. To accompany the merchandised, site-specific installation, images of buff models lifting in YIWO gear, captured by photographer Danielle Levitt, were translated into a look book, zine, and poster.
The group of collectables, now available at select Dover Street Market locations around the world, reflect the lighthearted approach to fitness that Thome admires. "If you look at the images from that time, everyone was having fun," he says referring to photographs of Arnold Schwarzenegger on L.A. County's Muscle Beach. "I love the essence of that era. It's something that seems missing now." Luckily, that's exactly the attitude YIWO's easy, durable gear is bringing back.