The birthday playlist for a 13 year-old in 2005 who has just discovered The OC, otherwise known as the inauguration lineup, has just managed to get more controversial. Hello darkness, my old friend.
While it's been the subject of much publicity that Trump's team have had a pretty darn hard time securing any act of note to perform during his inaugural festivities, Tom Barrack (chairman of the Presidential Inauguration Committee) has revealed that organisers did not reach out to Trump's newfound BFF Kanye West because he wasn't "All-American" enough. Considering not only is West American, but is a hip hop artist (a genre that was born in America) this excuse makes very little sense.
"[Kanye's] been great, he considers himself a friend of the president-elect, but it's not the venue," Barrack explains, "It's going to be typically and traditionally American, and Kanye is a great guy, we just haven't asked him to perform. And we move on with our agenda."
Barrack also denied that the event has had difficulty securing the attendance of A-Listers, arguing that the three biggest celebrities in the world will be there: Obama (who is forced to be there), Washington DC (also doesn't have a choice and debatably not a "celebrity) and Trump himself (if he shows). What a hot ticket!
Azealia Banks, showed a rare shimmer of relatability today when she took to Facebook today to disparage the inauguration lineup, although she went on to call the event "an EPIC day in history" and expressed her interest in performing. She later deleted the post without explanation.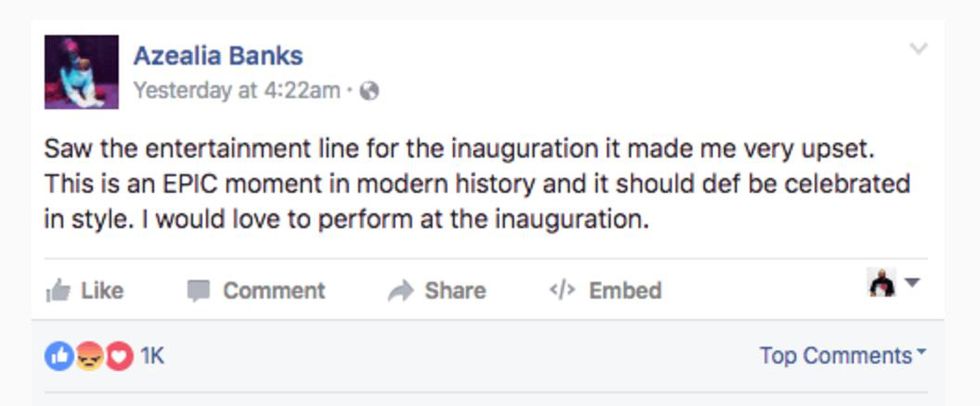 It never ends.