When Troy Solomon talks about facing your fears, he's not just tossing out platitudes for followers; he truly believes that great things can come from confronting your inner dread. Case in point: The body positive influencer is going for full-fledged pop stardom — right. Now.
Today, West Hollywood-based @ABearNamedTroy releases his first-ever video for his first-ever single, "Thicck" — and it's absolutely radiating with high-gloss camp, and contagious self-confidence that you'd expect from the Instagram powerhouse. Horns and deep beat herald an unequivocal fierceness while Solomon proclaims, "I'm thicck and you wanna fuck with me, I know." Hot-pink claws, glittery lips, butterflies, honey-drenched and candy-coated cake, bright banana-colored boots (plus actual bananas) are all involved in Solomon's delivery of a self-love declaration — one with a zero tolerance policy for any hateful challengers.
Solomon is no stranger to nasty naysayers – when the retailer Torrid shared a photo of Solomon donning "badass" leggings and a Lisa Frank tee last year, the comments section exploded with ignorance. But then, of course, came the supporters; today he's got about 47 thousand of them on Instagram alone.
Still, breaking into music is a nerve-wracking endeavor, and Solomon's initial excitement for the debut single sometimes subsides to insecurities, says fiancé and manager Ian Mofford. But it's not his first go 'round beating anxieties and inhibitions, and he's got a solid community of fans behind him. As much personal happiness as he'd found in music-making, "Thicck" is also gift to his champions — his goal in every song (there are more on the way) is to soundtrack the fun, happiness, and good times for everyone.
Watch the video below, and check out our interview to learn more about Solomon's music, and how his style is an extension of his own empowerment. He goes way, way back for PAPER, all the way to flip-flops and cargos, and into where he's at now — confident, content, and excited to spread those feelings as far and wide as possible.
I love that "Thicck" brings a message, but it's delivered in a fun way.
I wanted it to be very tongue-in-cheek, and for the music to sound amazing and well-produced. I wanted it to sound like a real song, but I wanted the concepts to be fun, relatable, and not take themselves too seriously — just kind of a party. I want every song to be a banger, something you can bop to and have a fun time with and just have fun. My one friend said that when he heard "Thicck" for the first time, he was like, I just want to day drink. That's exactly the mood I want from it: This is my driving song, this song is my turning up song, this song is my day drinking song, this is my beach song. I want each one to have its own feel and make you want to do something fun.
There are more singles on the way, right?

Yes, like "Champagne and French Fries." It sounds exactly like the title. [Laughs] It's bubbly and fun, but also kind of country. It's a fun song.
"Kind of country" is intriguing.
Right? I don't know how else to describe it. A song that might be playing at a country bar while you're riding the mechanical bull. My vision for the video is riding a mechanical bull.
Let's talk about the music-making process, and how you decided to get into it in the first place.
I work with my buddy Joe Burge, who's been producing music for years. I had this idea that I wanted to create my own tour T-shirts for Coachella as if I were an artist performing. I was going to wear those shirts to Coachella, with a photo from my Instagram. [Laughs] And then I had this idea of releasing a song at midnight on Saturday at Coachella. I had no clue at the time of the process of it. So I called [Burges] up and I was like, I have this crazy idea, I just want to create some really fun, tongue-in-cheek, self-aware pop music, and I would love to release a song at Coachella. He's like, Well, Coachella's in five days, so that's not possible. I was like, What? It takes longer than five days? [Laughs]
So I came over to his place and went into the studio the week leading into Coachella. We created our own little groove. I would write a bunch of song concepts and poems, I even just called them poems because at the time I didn't really know how to write musically. I would write these poems about what I was thinking, what I was feeling, kind of the mood of it and the theme of it. And then he would help me turn them into songs, like actual lyrics. He would present to me different tracks and beats, and from there we would fine-tune the audio. It was a whole process of making the poems turn more into a song, and from there just tweaking until it was what we think is great and perfect.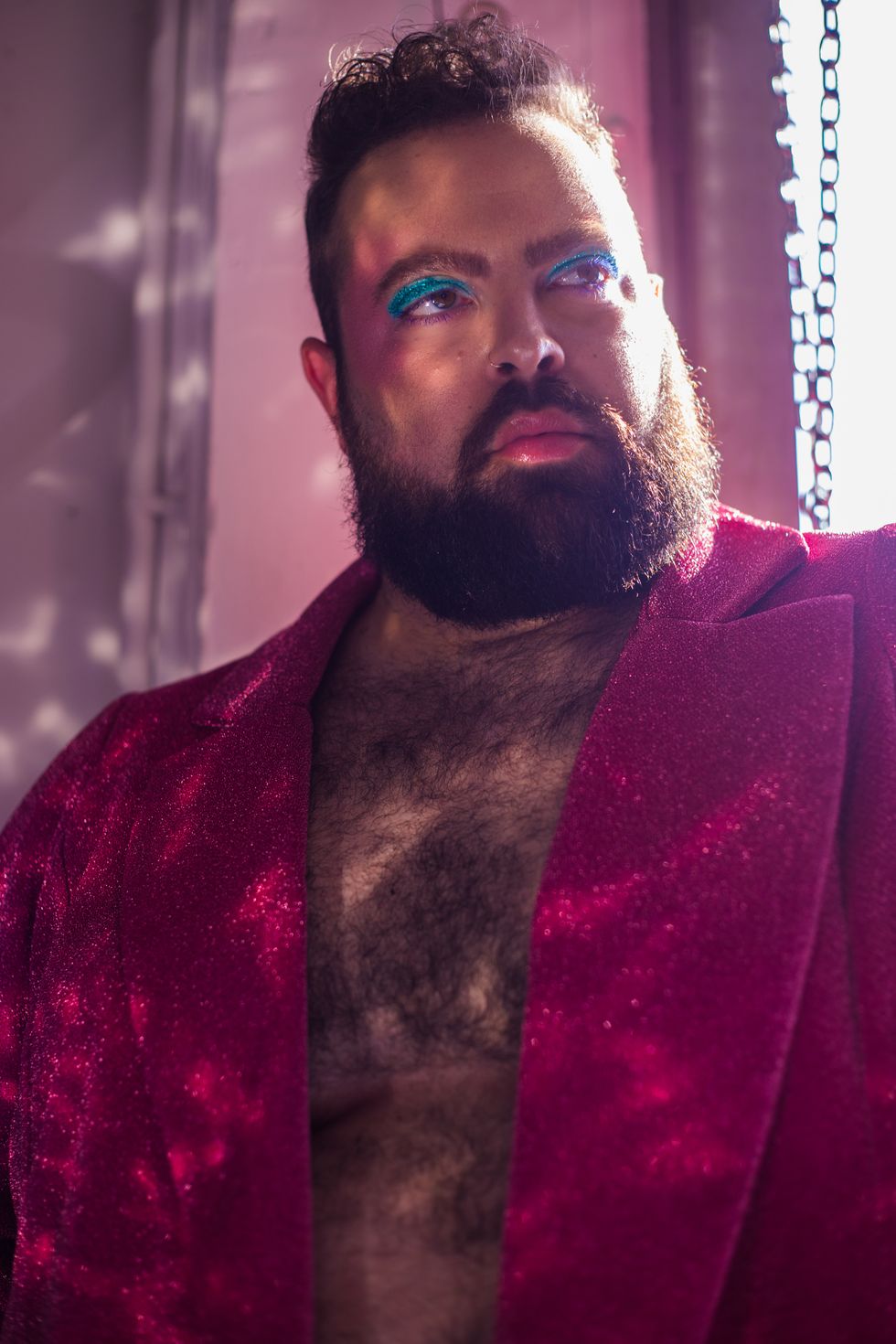 Jacket: Fashion to Figure
Let's go back a bit. I'm interested to hear about your background, because nowadays you model, you have your YouTube channel, and now you're making music. What's your trajectory been like?
It all started about three years ago when I really put a lot of my focus into Instagram. I'm 29 now, and when I was 21 I came out of the closet. From that point on, I was slowly finding my footing, my voice and my personality, and who I've always wanted to be and present to the world. I think at that time Instagram was starting to boom, so I used it as a way to express myself and how I always wanted to dress like, but never felt like I could because I wasn't safe or I wasn't happy in my own skin — all the different reasons someone's in the closet. I felt very stifled by that.
So through coming out, and through Instagram, I was able to express that and this community formed. That wasn't even when I was in the body positivity community; that was just me having some followers who were like, I love your style! We love your attitude and your confidence! It kind of snowballed into being reposted on bigger blogs, then going to Fashion Week, and all these other things kind of built this place for me in this community of body positivity.
How has the plus-size community embraced you?
For male-identifying people, that's a very small group that exists within the body positivity world. There's not many of us. I started to meet all these new people and create these connections and create these relationships with people. Before you know it, it's like, Wow, I really am a part of this community and everyone's welcoming me with open arms. It's created so many opportunities for me. Modeling is not something that happens very easily for bigger men, especially bigger men who look like me. My look at times has been more alternative (I've had purple hair, I've had green hair, I've had pink hair) and I'm bigger than the average Middle America guy. The more zoned in on a niche you get, the less opportunities there usually are. I think I've been lucky and very fortunate, and I'm very grateful to have what small modeling experience I have had.
But most of my career has really lied within social media, and being this presence. I think that's why I was so driven to do music, because I felt like I belonged and I felt like I was part of this community, but I didn't know what I was doing here. I just want to create, and I've always loved music. I think I was too afraid to do it, but when I realized it was my fear holding me back from doing it, that's when I was like, Oh shit, Troy. Now you have to do it, because that's what I always say to people: If you're afraid of something, you have to do it. Because if you don't, you'll never get over that fear.
"If you're afraid of something, you have to do it."
Your style is a huge part of your brand, and I feel like it's an important part of who you are, right? Can you tell us more about the evolution of your style?

The evolution of my style is so funny. The preamble of when I was closeted — it was straight Troy. He's wearing cargo shorts, polos, button-ups. Two T-shirts, I always wore two T-shirts. I had that uniform. I always joke that for Halloween one year I'm going to go as straight Troy because it's so opposite. Oh, and flip-flops. I always wore flip-flops.
Over time my style changed even as a closeted person. I've loved fashion and style my whole life and I've always had best girlfriends and I've always loved their style and appreciated what they were wearing. When I came out, it was like, Let's take everything I own and see what we can make. I can remember the phases: Now I'm really into jewelry, so I'm wearing tons of chains, stacking chains on chains on chains, tons of rings. Lots of flannel, very grungy. Then the all black. For six months, I went through different types of looks, because I was finally free to wear what I wanted to wear.
Through meeting Ian, my fiancé, that opened up a whole new world of what was okay. Before I met him I was really in relationships that were still playing by the rules, like boys wear boy's clothes and girls wear girl's clothes. [I realized] I can wear whatever the fuck I want and I started doing it. Now [with] music, it can be flashy and loud and colorful, but it needs to be pop star. But I don't really feel anymore like I play by the rules. The options are endless.
Do you feel happier with a more open-minded approach to how you dress?
One hundred percent. Honestly, that's where the stem of anything I do comes from — my happiness and what's feeding that happiness. Being open to all the possibilities, both with my style and my career choices and my brand messaging, everything has definitely made me a much happier person. I'm sure Ian has seen the progression over time, from meeting me to now. I'm so happy. I want to share this now, I want to get everyone else happy, I want everyone else to feel this and listen to this and to watch this. I think across the board, if you're being true to yourself, opening yourself up to all these opportunities in the world and learning to say yes more, it's bound to breed happiness within you.