Formerly the lead vocalist of Australian indie band Bridezilla (which toured with names like Sia and Nick Cave), singer-songwriter Holiday Sidewinder has officially gone solo to become a global pop sensation.
Her sound marries Debbie Harrie nostalgia with Róisín Murphy experimentation, which comes together flawlessly on her new single "Tra$h Can Luv" about the kind of destined-to-fail romance that should be tossed in the trash.
The video, directed by Thom Kerr, speaks to the song's message, featuring Sidewinder dancing on a LA rooftop surrounded by her fabulously budget-friendly set. Wearing a shimmery '70s-style dress, the singer performs in front of only a confetti curtain, captured almost entirely on Kerr's iPhone.
Watch "Tra$h Can Luv," and discover more about your new favorite pop star, below.
Lyrically, what's the story behind "Tra$h Can Luv"?

I liken "Tra$h Can Luv" to two Julia Roberts characters: Pretty Woman without the fairytale ending and Mystic Pizza. It's about being caught up with someone way above your pay grade and you get the feeling even though they like you, they might just think they're too high class for you; hiding you in the shadows.

"Why was I not rich enough to be your trophy girlfriend?"
Like the Donna Summer song, I was working hard for the money; working as a waitress; late nights, early mornings. I had to dig under the couch for lost change to be able to get on the bus — to get to work! Meanwhile, this love interest was flitting about the globe, living in a big house in the fanciest part of town, surrounded by expensive people and things.
"Oh I have to work so hard to get by, while you're off another first class flight."
It's about wanting someone so bad, but knowing they're so bad for you. You're trying to pull back and play it cool, but at the end of the day you'd drop everything for this person and let's face it, you're cut up. It's the kind of love that just needs to be thrown in trash and you know it. You hope that you'll be the last one laughing, and you're making an effort to cultivate the belief that deep down that they'll be one who has lost in the end...

"When I see you I will pretend that I have moved on and we're just friends."
Sonically, who inspires you?
For "Tra$h Can Luv," I referenced synth ballads like 10cc's "Not In Love" and snotty nosed pop classics like The Bangles' "Eternal Flame." I had the flu when I laid down the vocal tracks for this and decided to keep them because it sounds like I've been crying over a tub of ice cream, Bridget Jones-style. I'm always trying to write my own perfect and timeless pop song — the one you'd put another dime in the jukebox of — your karaoke song.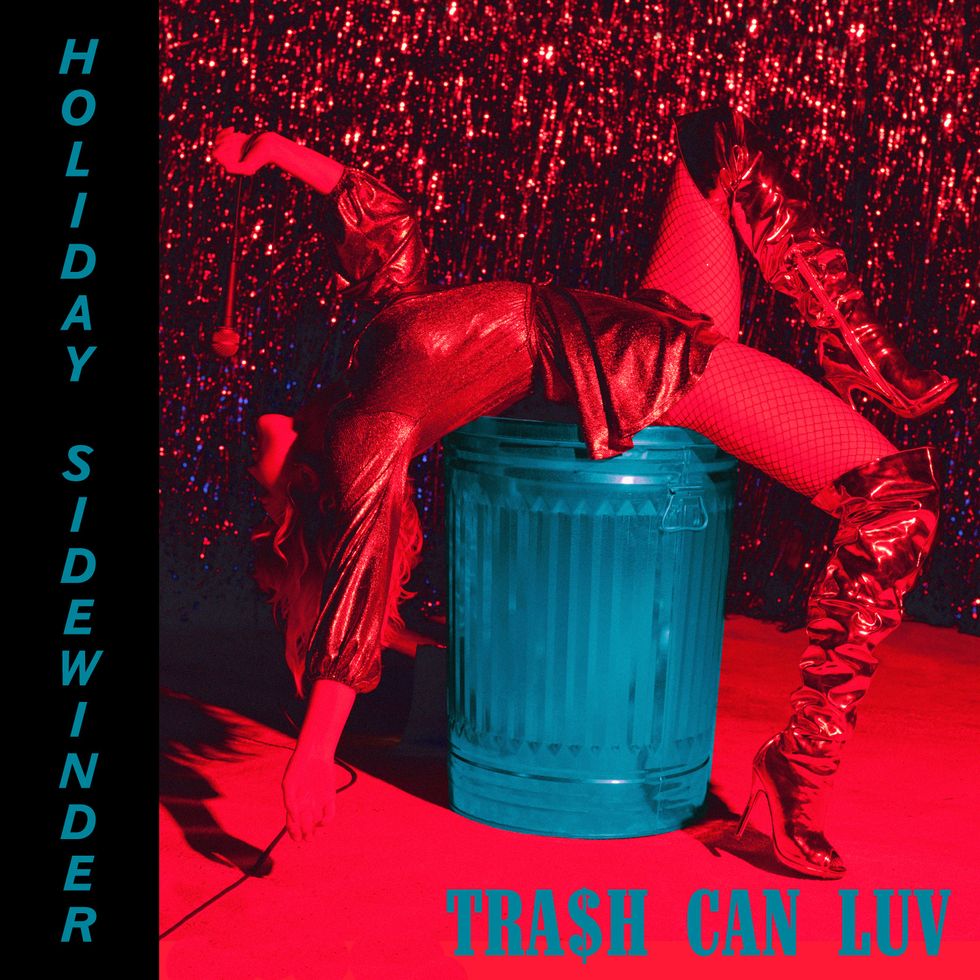 What perspective do you think Australia gives you as a pop star?

A sunny disposition and a fearless ability to swim with the sharks! We have to work hard to get outta that snake and spider infested hell-scape, so I think we possess a lil thing called grit. Coming from a big dirty island at the end of the earth makes everything outside of it seem completely thrilling, glamorous and awe-inspiring. I live to delve way deep into the fantasy land my imagination led me to when I was a young girl, looking out longingly at the big world waiting out there.
What was the concept behind your "Tra$h Can Luv" video?
The criminally talented director Thom Kerr and I were sitting in tinseltown wanting to making something fabulous and glitzy, lacking all means to do so. We were referencing lo-fi disco-era videos, things like Saturday Night Fever. Working within limitations and confinements can be a real gift. Thom was forced to be extremely resourceful, shooting partially on an iPhone, finding where trash meets glam aesthetically, exercising the power and beauty of simplicity. It's a playful flirtation with the notion of smoke and mirrors. As the sun sets over that peachy smoggy Los Angeles skyline, I'm dancing around trying to look expensive, sandbags and coffee cups in frame behind the sparkly curtain, still waiting for this stupid lover to show face. Like the song says, "I'll keep rolling on to the dawn" but "when you come, I'll be gone" — or maybe they just never showed?