With the first rumblings last summer that the 2017 Met Exhibition would be on Rei Kawakubo and her signature fashion label Comme des Garçons, my initial thought was disbelief; that the notoriously press shy and taciturn designer would subject herself to that level of scrutiny and attention, as well as cede some kind of artistic control to another point of view in interpreting her body of work was unfathomable. Lest we even contemplate the gala itself—the receiving line! But when the official announcement was made later in the fall that Rei Kawakubo/Comme des Garçons: Art of the In-Between would indeed be the Costume Institute's annual exhibition, it was greeted with glee from Comme-heads and fashion insiders the world over—if with some breathless conjecture about how involved or public-facing the designer would be in the process. Given that the few interviews she's granted over her nearly five-decade career are treated as nothing short of lunar events, the spotlight of the show and the build-up seemed anathema to her ethos as an artist and cult figure in the fashion industry.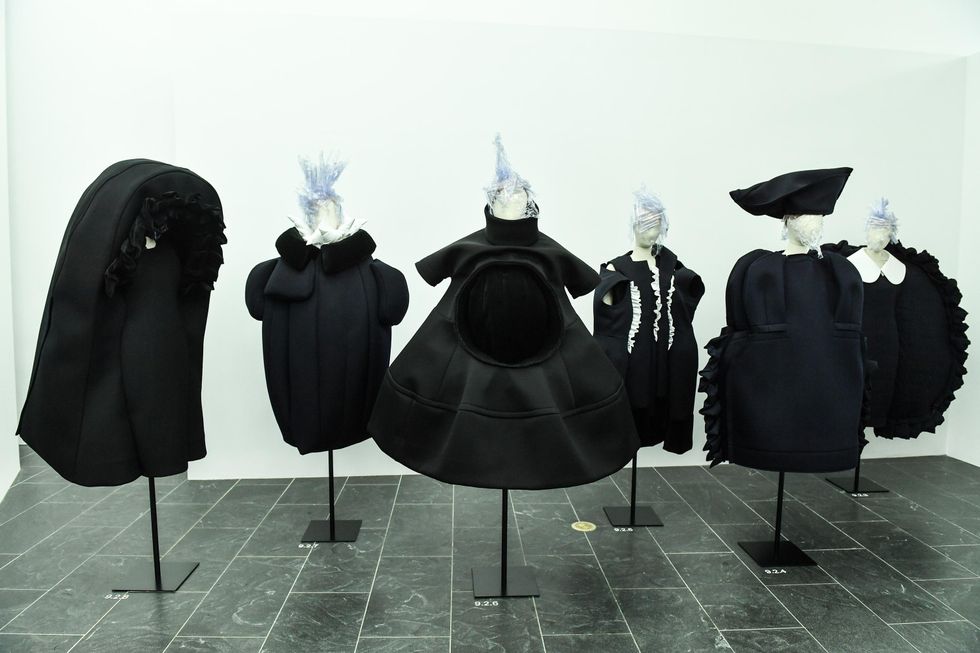 George Pimentel/Getty
At 74 years old, Kawakubo will be the second designer in the history of The Met to be honored with an exhibition while still living (the first being Yves Saint Laurent in 1983). Though she has been designing since the late '60s, her first runway collection shown in Paris in 1981 will mark the beginning of the exhibit, and it will run up to the most current Fall 2017 collection shown last February (comprising 120 looks in total). It was that 1981 collection that cannonballed Kawakubo into the fashion conversation—which was mostly taken up by the post-disco, 80s iconoclasts like Versace, Mugler and Armani. Kawakubo's deconstructed and "un-bodied" silhouettes drew a red line—or black, the singular color she worked in at the time—in the fashion battlefield of the moment. Viewed as a riposte to the decadence and glam curves that dominated the runways, she deconstructed traditional notions of symmetry and practicality—why do one neckline when you can have two?—and scrambled the possibilities of garments and intentions. As a child growing up in post-Hiroshima Japan, she came of age both in the deep privation of that country's '50s and then in the more liberated and economically robust '60s and '70s. She shouldered harsh criticism with her first collections that, in their deconstructed and ripped-up presentation, she was somehow paying ill-considered homage to the carnage of the nuclear bomb and nihilism of WWII—much in the same way Saint Laurent was, unfairly, for his Vichy collection in the previous decade. She was unsurprisingly grouped with other Japanese designers (all male) who were also making waves at the time—among them Issey Miyake and Yohji Yamamoto, whom she had a relationship with for several years during the decade.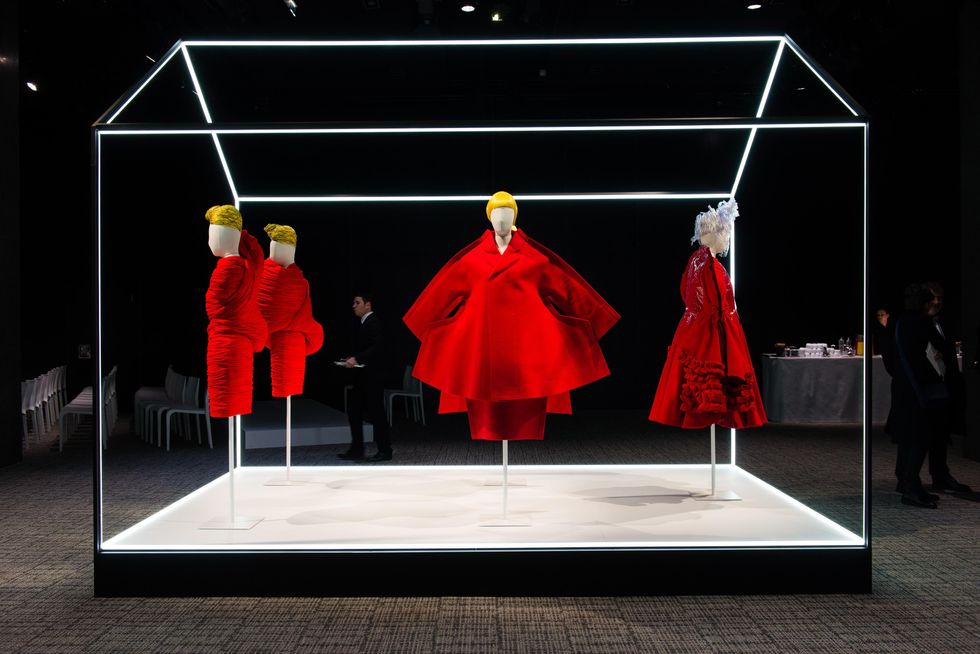 Hunter Abrams/BFA.com
Since 1981, her impact on our understanding of dressing and what makes (and doesn't make) a garment are impossible to measure—whether it was her Body Meets Dress, Dress Meets Body collection of 1997 made up of gingham shifts stuffed with padded humps; her elegiac Broken Brides of 2005 that was a moving take on romance and decay for the new millennium; or, a personal favorite, the 2D collection of Fall 2012 which rendered silhouettes as doll cutouts at once adorable and ingenious. It is also to her credit, and that of her husband of 25 years, Adrian Joffe, that her particular vision, which one could hardly call mass, has miraculously sustained itself and grown into a global empire, generating sales well into the hundreds of millions. With Joffe as CEO of Comme de Garçons and their retail outfit, Dover Street Market, with locations in London, Tokyo and New York, her imprint on retail and the way fashion is distributed and sold is a case study in adhering to one's instincts. Entirely independent of the vice grip of any slick fashion conglomerate, Kawakubo, and Joffe since 1992, have created their own ecosystem of designers and customer experience that challenges long held beliefs about shopping and what a consumer is interested in learning, and if they can at all (yes, duh).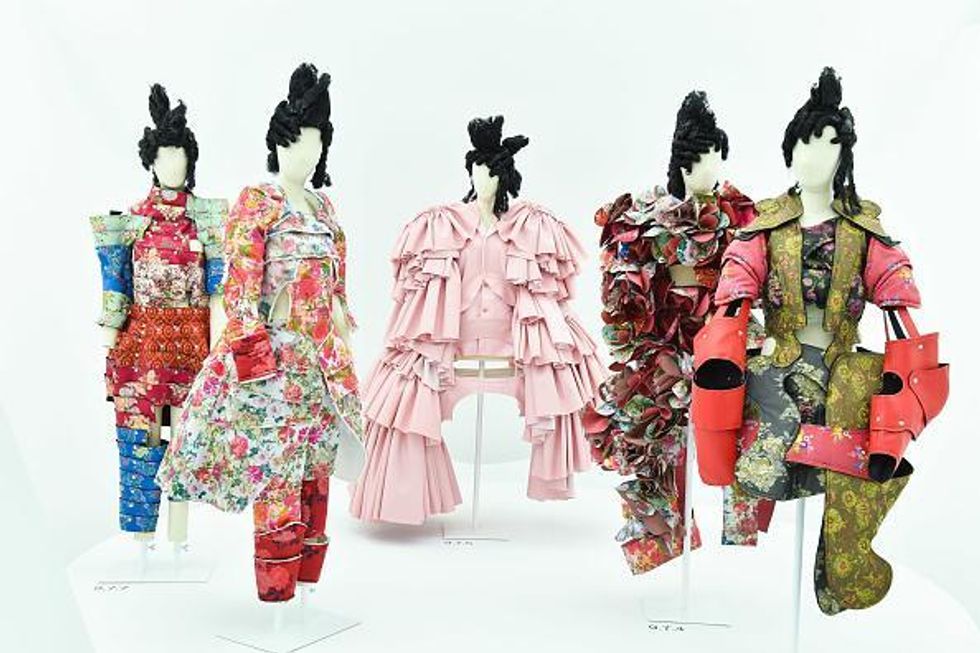 George Pimentel/Getty
The Costume Institute exhibition will be broken up into eight discreet sections: Fashion/Anti-Fashion, Design/Not Design, Model/Multiple, Then/Now, High/Low, Self/Other, Object/Subject, and Clothes/Not Clothes. The titles recall the contradictory and koan-like turns of phrase Kawakubo is known to conjure when she does grant the rare interview. Another hallmark of those interviews, most recently in the May issue of Vogue by Lynn Yaeger and the Business of Fashion's Tim Blanks, is her lack of confidence in her own work and the granular torture she describes when trying to put a collection together; that she fears it will be her last and that she continues mostly for the well-being of those in her employ. A relatable experience to be sure, a tenuous belief in one's own abilities, and it is perhaps the tie that binds in the genius of her collections; the vulnerability, the unfinished-ness, and really, the fear.
And so it is all the more unbelievable that this artist of such fierce vulnerability will be front and center at perhaps the most public and pored-over evening of the year on Monday. It is rumored that CDG has only allotted ten guests to wear looks from the house. The true joy of the evening will be to see, say Rihanna, alighting in something from Dress Meets Body or perhaps Gisele in a look from 2001's Optical Shock collection. The curious space that exists between Kawakubo's unwavering vision for the last three decades and the flashy and infinitely mutable reality of how fashion is presented and consumed, never on more display than the first Monday in May, will be thrilling. A thrill that one hopes reaches, at least for a moment, the woman whose name is above the door.
Splash photo by Julian Boudet/BFA.com