"What is couture anyway?" It was the question on everyone's lips in May 2016 when Vetements announced that they would present their SS17 ready-to-wear collection during Paris Couture Week. Though the cult fashion label had already developed a reputation for showing designs in places they shouldn't—in a legendary underground Parisian gay club for their groundbreaking FW15 show, in a Belleville Chinese restaurant for their follow-up SS16 outing—this was different. Vetements wasn't planning to storm the Bastille or anything; they had been officially invited. Sure enough, the label's name (which translates simply to "clothes" in English) was printed on the official calendar.
Paris Couture Week is traditionally known as the more serious and accomplished older sibling to the numerous ready-to-wear and resort collection weeks that surround it. Because the clothes do not end up on store floors—most couture clothing is made-to-order for clients rich enough to afford it—the guest lists and seating charts are much more exclusive and, thus, its vibe is markedly more somber. So, naturally, Vetements, known more for their kitschy oversized hoodies than they are for hand-stitched evening gowns, became the Big Story of the week. But, more importantly, their inclusion signaled a shift for what Paris Couture Week (and couture, in general) could look like in the future.
The trend worked. This Paris couture season saw three more designers (Proenza Schouler, Rodarte, and Monique Lhuillier—all who had migrated from New York Fashion Week) present their SS18 ready-to-wear collections alongside the couture shows, as well as two hotly anticipated resort offerings (Miu Miu and Dundas). Not only did these brands let the couture vibe influence (and elevate) their clothes, but, perhaps coincidentally, their placement on the calendar also seemed to work in the reverse, with the couture collections embracing a lighter (and, a little less stuffy) aesthetic.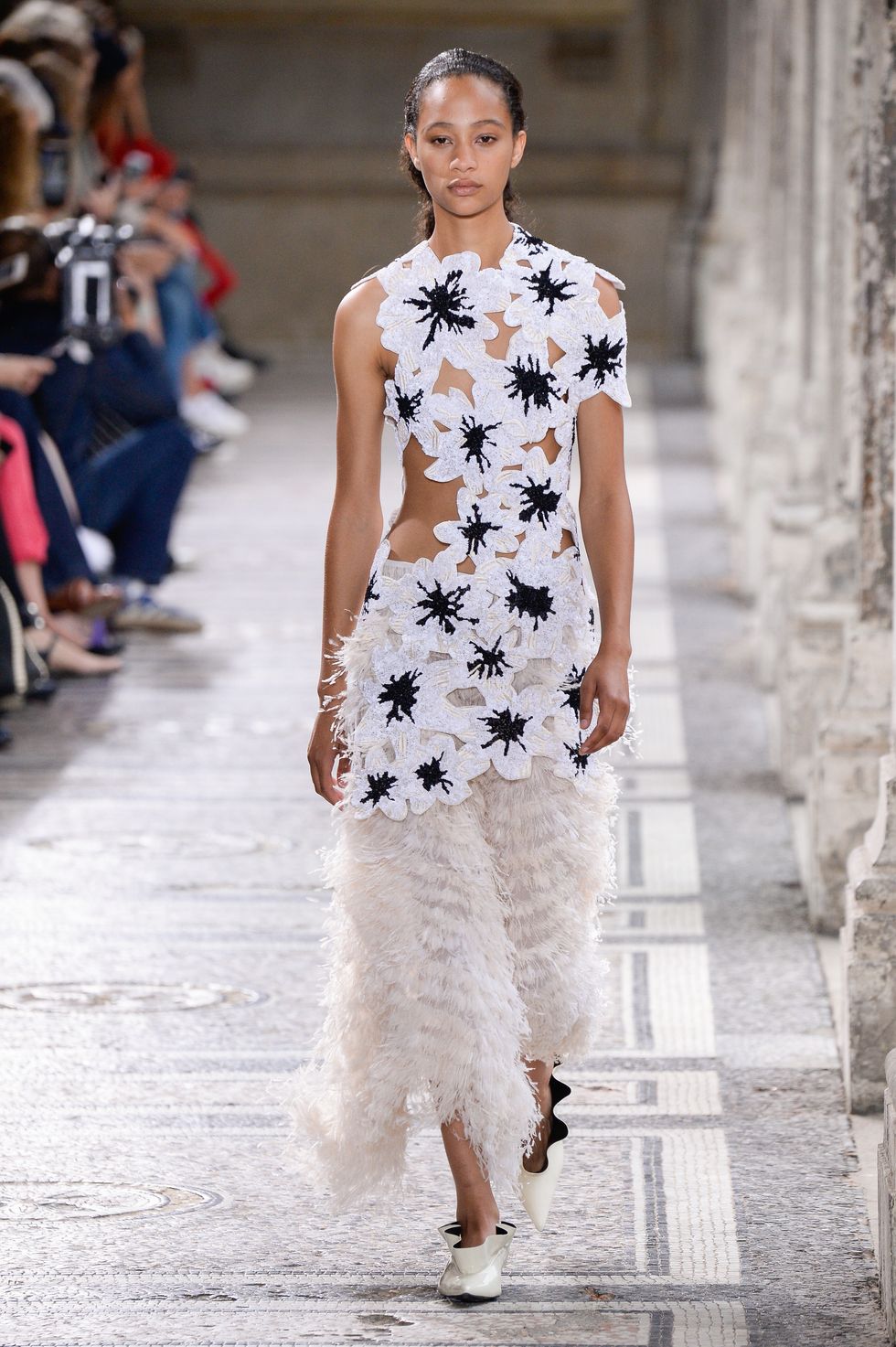 Proenza Schouler SS18; Francois G. Durand / Getty Images Contributor
For Proenza Schouler, the move to the couture calendar also found the duo merging their pre-season collection with the current SS18 offering—a decision that makes sense when considering how much more effective clothes can be when worn and presented on a runway as opposed to only in a lookbook, as many pre-collections are. When one takes into consideration the ongoing "How Much Fashion Is Too Much Fashion?" debate and the resulting stress many fashion insiders complain about being under, the idea of merging collections that otherwise don't need to be separated is a noble one.
Of course, nobility wasn't Proenza Schouler's goal when making the switch, though, and the same can be said for both Rodarte and Monique Lhuillier as well. All three set sail for the Eiffel Tower City as a way to increase their international recognition. Though New York has certainly earned its title as "fashion capital (of the US)," it's no big secret that the Big Apple is the odd one out when it comes to the Big Four fashion cities: New York, Paris, Milan, and London. (Just look at the weird placement of the still nascent New York Fashion Week: Mens, which starts next week, a full two weeks after the conclusion of the back-to-back stretch of menswear shows in the other three cities.) By relocating their shows from New York to Paris, these three brands had the opportunity to expand their reach—and by doing it in the middle of Couture Week (as opposed to during the normal RTW Paris Fashion Week), they have the opportunity to elevate their aesthetic in a way that only a couturier could.
At Proenza Schouler, the show took all of the brand's familiar aesthetics and kicked them into overdrive: jackets, which were nipped in at the waist, came expertly tailored to each model's body, and day dresses spotlighted the simplistic beauty of atypically placed ruffles. Coats were structured and available in a variety of patterns, and shoes stomped down the runway—each pair resembling a pottery sculpture worthy of a museum. When the designers sent out their final five evening gowns, which were cloaked in marabou feathers and constructed from precisely arranged jewels—the designers sought out French artisans and ateliers to craft them—it was evident that Jack McCollough and Lazaro Hernandez had been bit by the Couture Bug.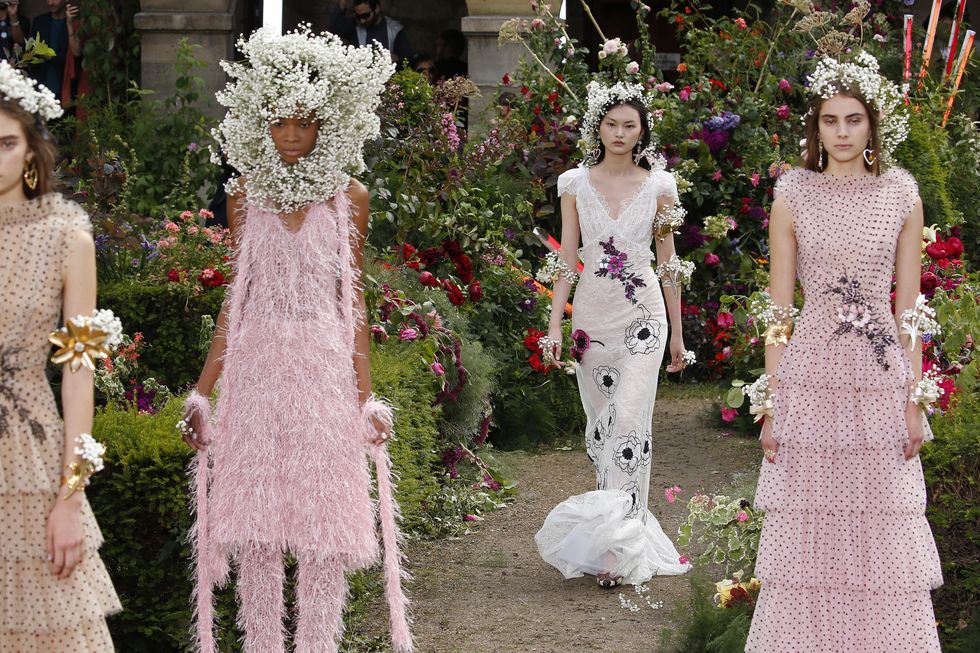 Rodarte SS18;Estrop / Getty Images Contributor
For the Rodarte presentation, Kate and Laura Mulleavy adorned their girls with flower crowns made from baby's breath. But even though the sisters are from California, it wasn't Coachella they were channeling. These crowns were couture masterpieces in their own right. The Joseph Free-styled creations, which were also carried (or dragged) in huge bouquets by the models as props, were masterful works of art, and the attention to detail—particularly for a prop that will never see the inside of a showroom—was something mostly unprecedented for normal ready-to-wear presentations.
Though it could easily be argued that the effect probably didn't happen in the reverse, it was interesting to see the big couture shows embrace a more relaxed aesthetic in their own collections. While Couture with a capital "C" is best known for showing glamorous gowns fit for a ball, many of the calendar's most recognizable names placed a new focus on daywear. Pierpaolo Piccioli, who has been doing wonderful things at Valentino since his longtime partner departed for Dior, showed a stunning array of cashmere coats and sweaters paired with instantly covetable pants, while Maria Grazia Chiuri, Piccioli's aforementioned partner, focused on a muted color palette of grays and blacks to show off her coat-dresses and boilersuits during the first half of the travel-inspired Christian Dior collection.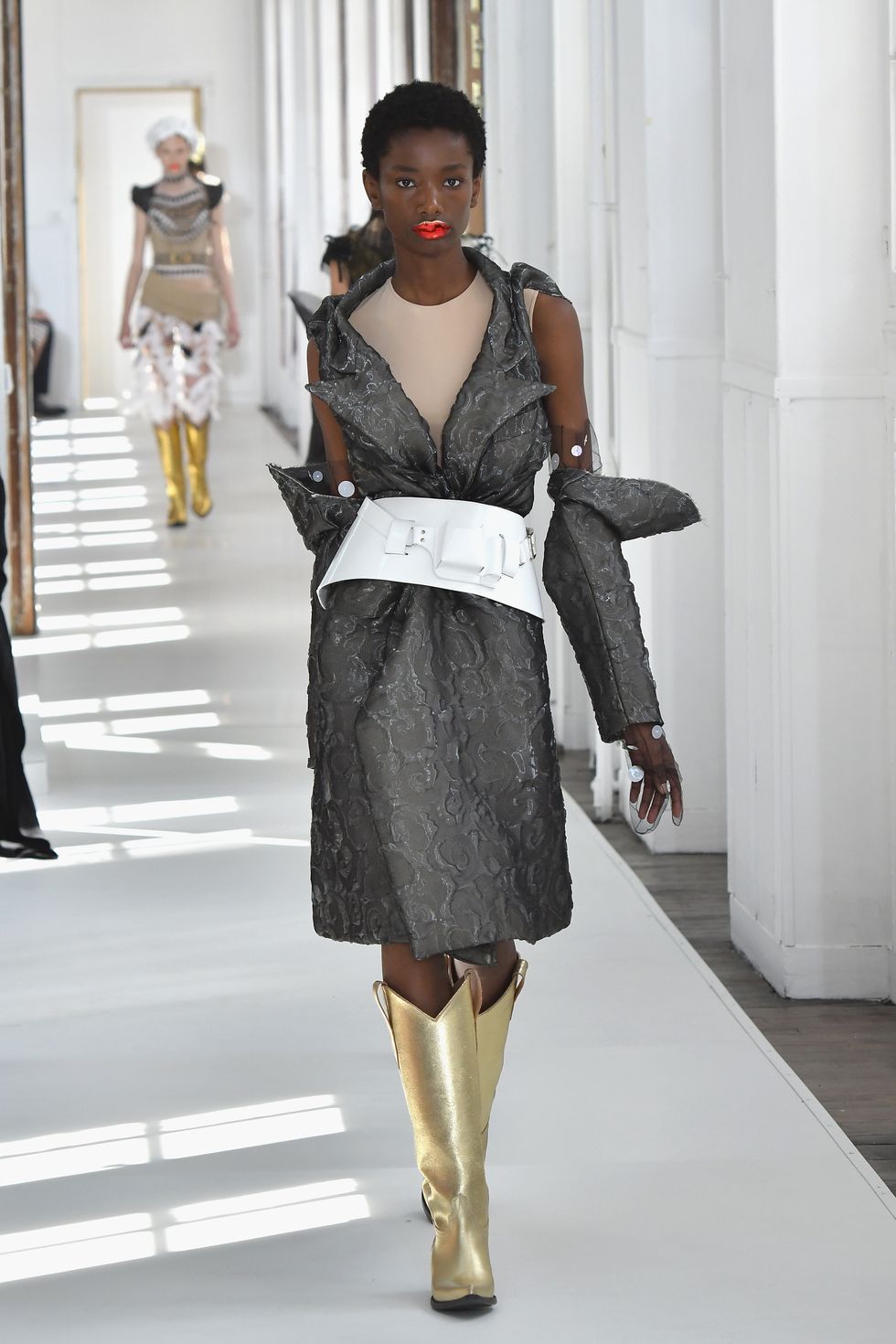 Maison Margiela Artisanal; Dominique Charriau / Getty Images Contributor
At Maison Margiela's Artisanal show, John Galliano showed off a plethora of safe-for-your-work-commute overcoats, and at Alexandre Vauthier, the namesake designer covered his '80s-inspired collection with extremely wearable and functional (save for a few fit issues and Bella Hadid-afflicted wardrobe malfunctions) jumpsuits, skirts, and sexy dresses. Even Fendi, whose reliance on luxurious furs all but guarantees that their clothes will be at least somewhat out of reach, kept things slightly more informal: though these dresses weren't "casual" by any stretch of the imagination, one could definitely see them being worn on the street without causing too much fanfare.
All in all, the past few days at Paris Couture Week have felt markedly different, and that's in no small part a direct result of the ready-to-wear invasion. The couture aspects of the ready-to-wear collections helped them to stand out from the pack, while the daywear focus of the couture collections made them much more accessible. But most importantly, the success of this season signals a more inclusive approach to fashion in the future. After all, if the powers that be behind couture—with all of the style's strict rules and regulations—are willing to give space to a few promising brands this season, who's to say what could happen in later seasons? The possibilities are endless.
Splash photo via Francois G. Durand / Getty Images Contributor