A week ago, Taylor Swift was photographed wearing a pink sweatshirt featuring a print of the New York City skyline below an airbrushed logo. It was a hoodie that looked straight out of an everyday airport gift shop, something you'd find stuffed underneath I <3 NY coffee mugs and chocolate bars bearing the visage of President Donald Trump. But it wasn't — the sweatshirt was Balenciaga, and it costs $895. Welcome to New York!
In an extremely 2018 story, a company that manufactures New York City merch, including the NYC design featured on Swift's sweatshirt, is suing Balenciaga for copyright infringement. On July 27th, Fashionista reported that City Merchandise, Inc., a souvenir business that makes the kinds of tchotkes you find on Canal Street, filed a lawsuit against the luxury label. They allege that Balenciaga's products have an identical "concept and feel" to their own, describing the designs as "virtually indistinguishable." They are! Which was certainly intentional.

While it's the first time he's been sued, this, as Fashionista notes, is Balenciaga Creative Director Demna Gvasalia's whole deal. The man made his name on DHL t-shirts; he loves to mock the luxury market (which certainly deserves it). Both Robin Givhan at The Washington Post and Emilia Petrarca at The Cut have recently run op-eds about fashion's troll moment, and Gvasalia is its king. I am typing this whilst wearing a Balenciaga dress covered in a Euro print; it looks like it's from a street vender, and the guy who sold it to me (at extreme discount — I may be an idiot, but I'm not that big of an idiot) kept emphasizing that that was The Point. Looking like a clueless tourist has, for some time now, been the move.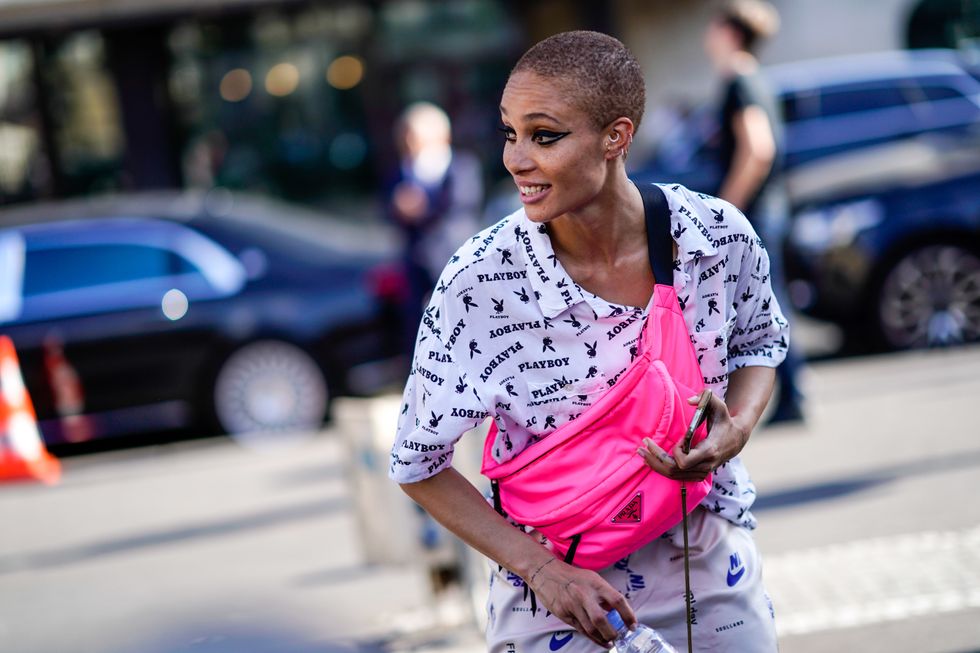 Model Adwoa Aboah wearing a Prada fannypack
All tourist essentials, including a camera around the neck, have been cool for at least the past few seasons. Today's sneakers of choice, including Balenciaga's Triple S, are big and clunky, the sorts of dorky walking around shoes that were once solely the provenance of dads (especially dads on vacation, who want to "explore!"). You can't walk through SoHo without bumping into at least five people wearing fanny packs, worn skater-style around the shoulders. Bowling shirts, like Prada's infamous flame varietal, are hip. They're now paired with sporty Oakley-style shades, which have decidedly overtaken the Satanic tiny sunglasses trend — hypebeasts just look like Guy Fieri, albeit an alternate universe version who has never tasted the pleasures of Donkey Sauce. Tie-dye, once only for hippies and dorky kids at summer camp, is everywhere too. Thank Online Ceramics. Balenciaga makes windbreakers, and everyone is wearing shower slides.
The tourist trend has been around for a minute, and skaters have embraced this sort of styling for years (oh how they must cringe at street style stars and their litany of shoulder bags). Highsnobiety called it last summer, saying this would be the prevailing look of summer 2018. They said the trend spoke to a need for practicality, "while adding a much-needed dose of optimism." And it's entertaining to watch designers like Gvasalia, who turn the cheap and tacky into the expensive and enviable, mess with wealthy luxury customers. They don't seem to be punching down, making fun of those for whom fashion is not of interest or inaccessible. The trend is something of a pure embrace of the comfy and ugly, meaning of that of course one has to be extra hot in order to pull it off. Fashion is, obviously, not kind.
"What [designers] want, in the end, is our attention, because it translates to dollars," Petrarca wrote. "Today, luxury is being in on the joke. And brands are laughing all the way to the bank."
Taylor Swift released her 1989 single "Welcome to New York" shortly after moving to the city and becoming an official NYC "tourism ambassador;" she has lived in TriBeCa penthouses, West Village houses. Her Balenciaga sweatshirt is an upmarket version of stuff they sell in little shops on back streets where she and security-concerned celebrities like her will rarely walk. New York, especially Swift's sort of New York, is getting closer and closer to becoming a hermetically sealed mall (even though those are dying out). The sweatshirt is a perfect fit.
Photos via Getty