Regular readers of the Daily Mail won't be strangers to singer Tallia Storm. She regularly pops up on their pages looking chic and stylish at parties and premieres. But tabloid readers probably have no idea of the fairy tale story of her discovery by a music legend or her years of hard work, writing songs and knocking out audiences. We caught up with Storm to talk about that magical fairy tale moment and to hear about her latest album Teenage Tears — and yes, she's only 19.
Tell us how you got discovered as a singer.
I have been singing since I was a small child, helped by the fact that I grew up with a father who is a wonderful jazz musician so I would sing along to the greats like Ella, Dinah and Sarah Vaughan. Then when I was just 13 years old, I was on holiday in Hawaii and I saw David Furnish (Sir Elton John's partner) having breakfast at the table next my family. I thought this was my one moment. What were the chances of a teenager from Glasgow being in the same place as Sir Elton and David Furnish? So, I asked the hotel for some paper and pen, wrote a note and approached his table asking if he would mind passing my demo CD onto Sir Elton. You have to understand, I had a CD in every bag; my father had recorded super rough demos at home and being the endless dreamer, I always thought that someday, someone would want it.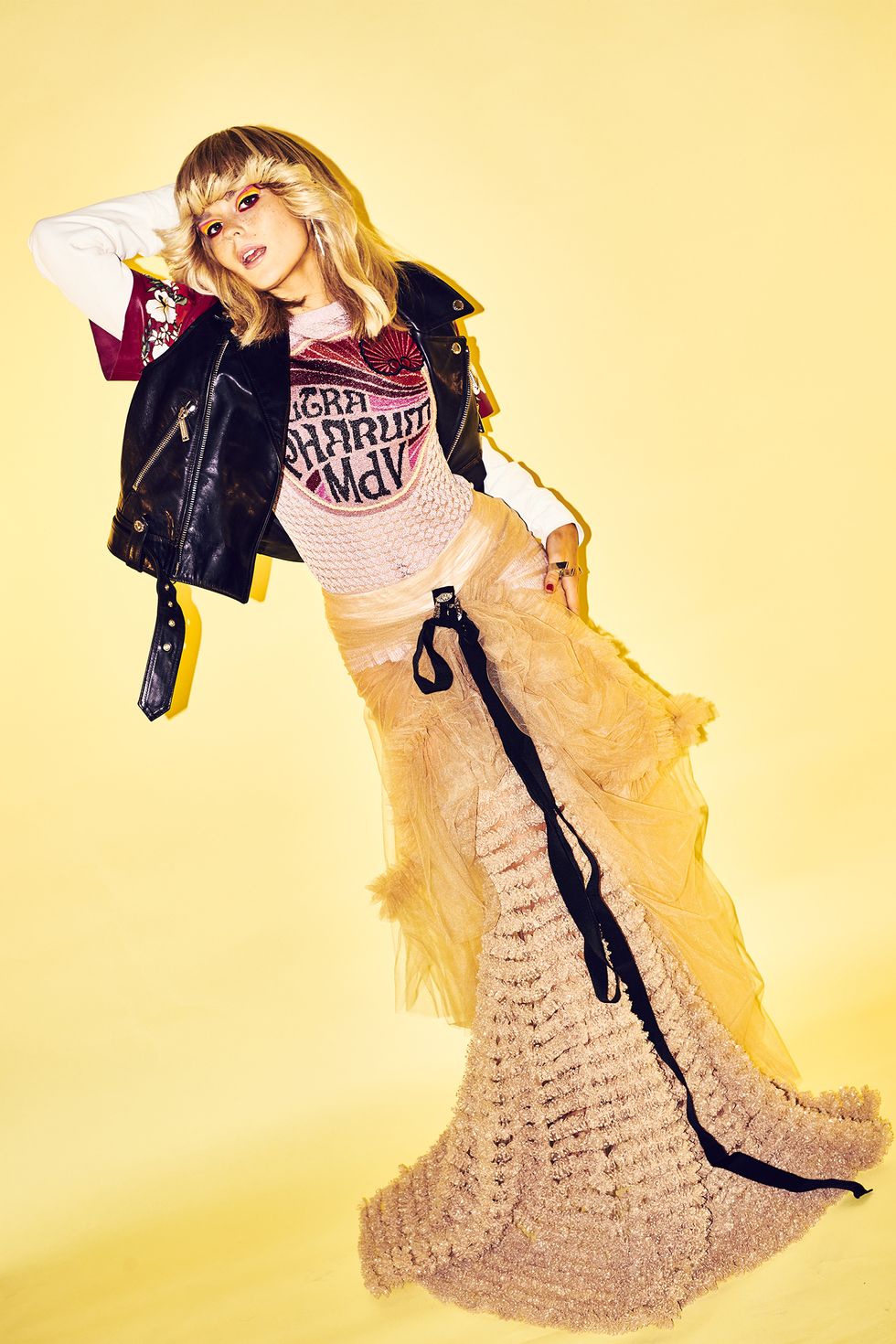 Jacket & Skirt: DSquared2, Top: Marco de Vincenzo
How did Elton and David respond?

David was the kindest, sweetest man and had a great chat with me. So, we left that day as we were flying back to the UK via San Francisco and my mobile rang. It was Sir Elton John. Still to this day it's one of those crazy, bizarre moments when life stands still. Sir Elton said he had listened to my CD, saying he couldn't believe I was just 13 years old. He said I had an "old soul" and "one of the most impressive soul signatures he'd heard in 20 years." He then invited me to open his stadium concert to 17,000 people in Scotland, my home at the time. Can you believe it? It was like a movie.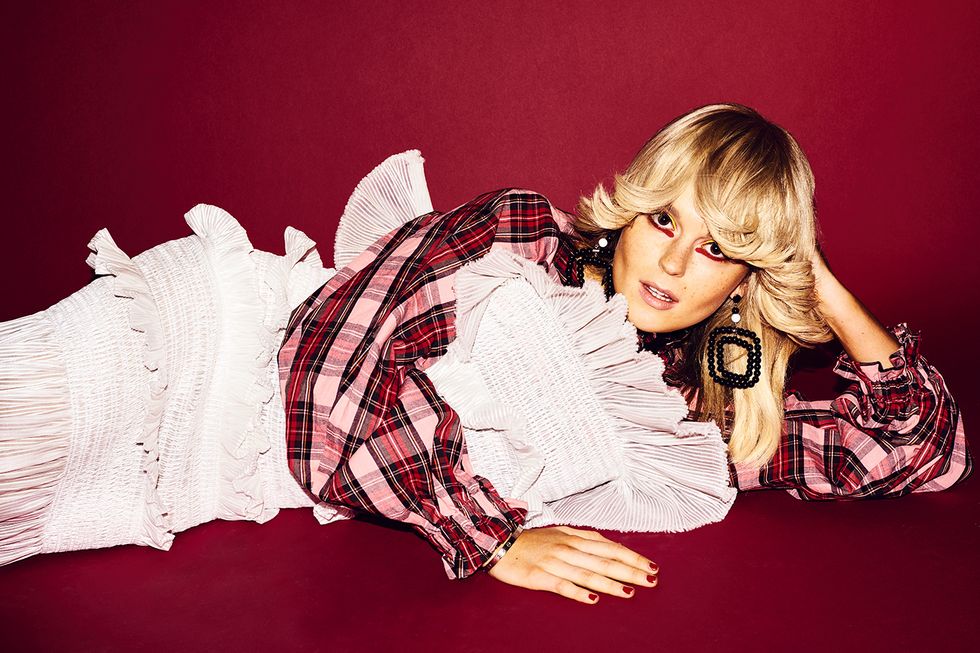 Dress: Emilio De La Morena, Top: Molly Goddard, Earrings: Marni

You performed live at Elton's concert?

I sang five songs, and I knew then that I wanted to sing on stages like that for the rest of my life. I am forever grateful to Sir Elton for this incredible opportunity, which quite literally changed my life. It opened opportunities that would never have been possible. In many ways, I continue to work so hard to show Sir Elton that his hunch was right. I keep hustling, keep writing songs, keep performing and I even got a book deal with Scholastic. I wrote a fictional take on my Sir Elton story — it's called "Pop Girl," and the follow-up book is called "Signed with a Kiss."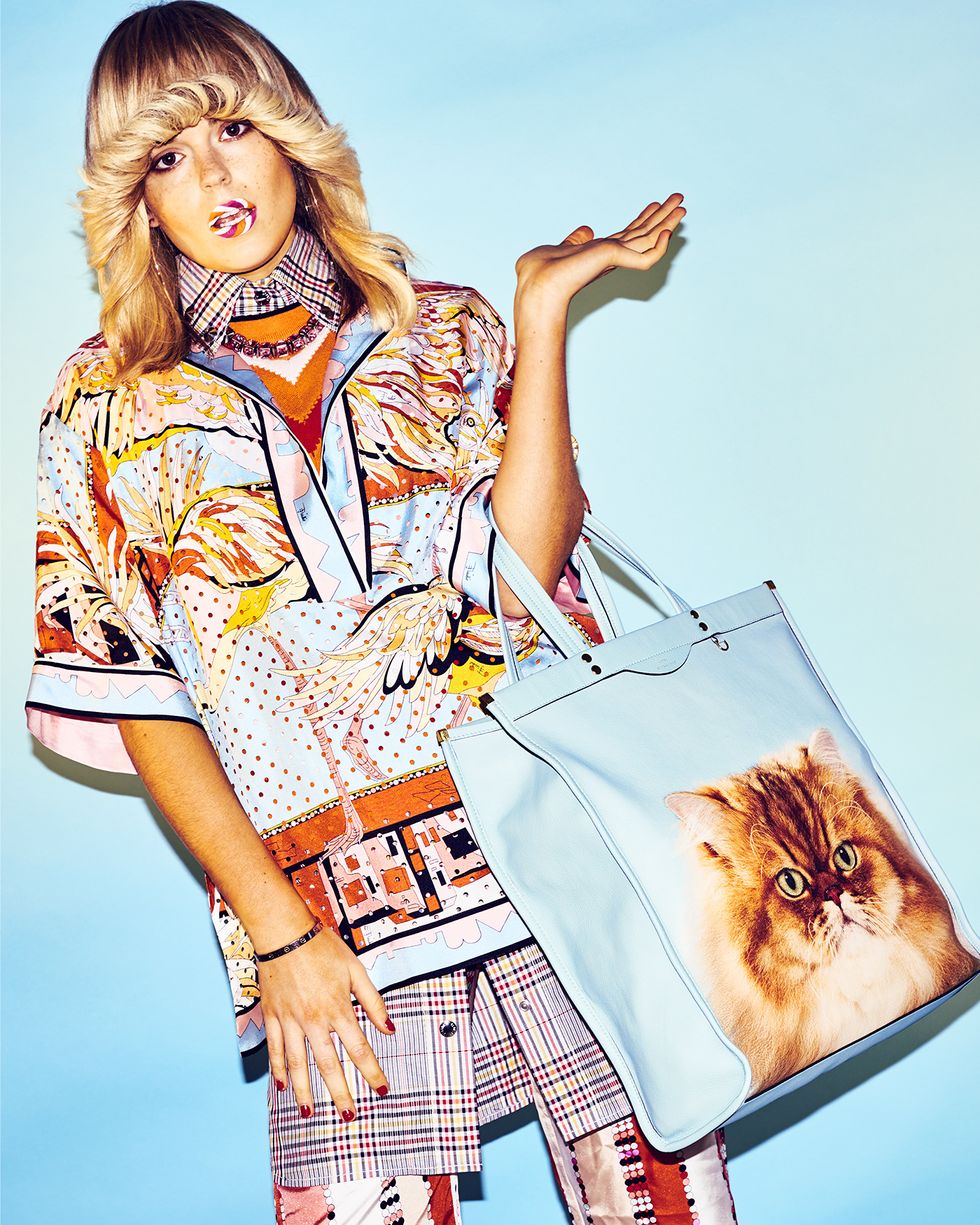 Shirt: Versus, Bag: Anya Hindmarch, Top & Trousers: Pucci, Bracelet: Cartier
Tell us about your new album.

My new album is called Teenage Tears. There are 15 tracks on the album, which is basically a rollercoaster of emotions — real, raw and honest. It's a journey of discovery and empowerment through a collection of teenage stories from my life over the last few years.
Is there a song that stands out to you?
The track "Everyday" was the most emotional for me as my mum was fighting a cancer battle last year. I threw myself into songwriting and "Everyday" is the result. Everyone has their own battles and pressures from life, but I firmly believe that attitude is everything. We must believe that if we navigate our battles slowly, then we can handle anything that comes our way. There are also songs on there about being in love, being unloved and being dumped, about finding your inner soul — all the classic tribulations of teenage life I guess. I'm heavily influenced by Amy Winehouse, Erykah Badu, Jill Scott and Alicia Keys so I'm hoping you will hear that soulful, R&B and jazz-infused vocal when you listen to it.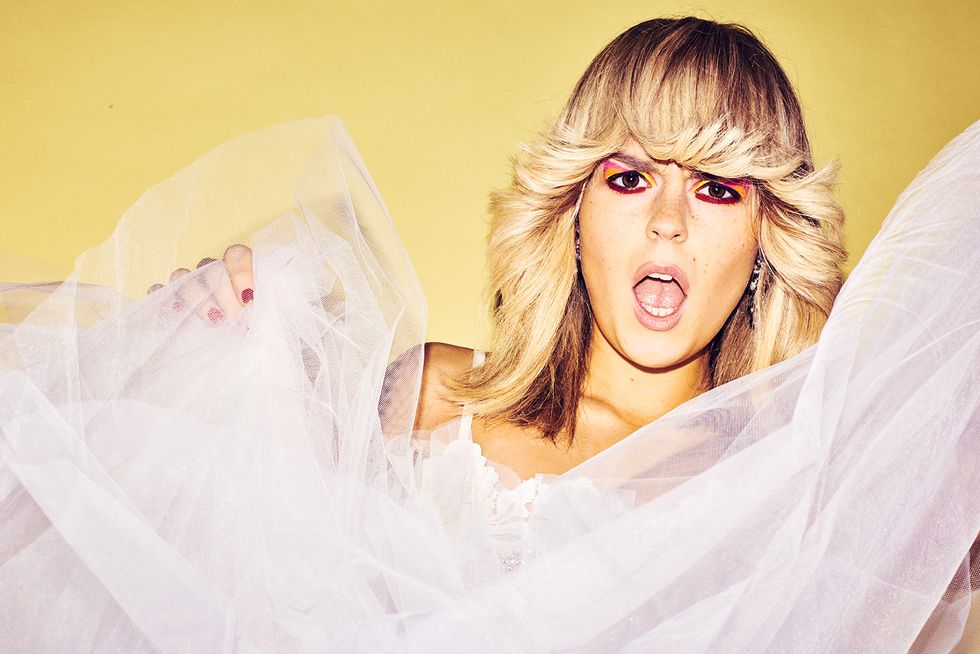 Full Look: Fausto Puglisi
Did you write the songs?

Yes, I co-wrote the songs. I have been writing since I was a child. I love to write poetry and the older I got the, the stronger my writing became. I think you have to go to some dark places in your life to write powerful lyrics and equally experience wonderful things — it's important to share that — I've tried. I have had the same writing partner for years; we jam and spend every spare moment we have in the studio, writing, writing and more writing. One of my favorite quotes is from Plato. He said: "Music is a moral law. It gives soul to the universe, wings to the mind, flight to the imagination, and charm and gaiety to life and to everything." It's so true, right?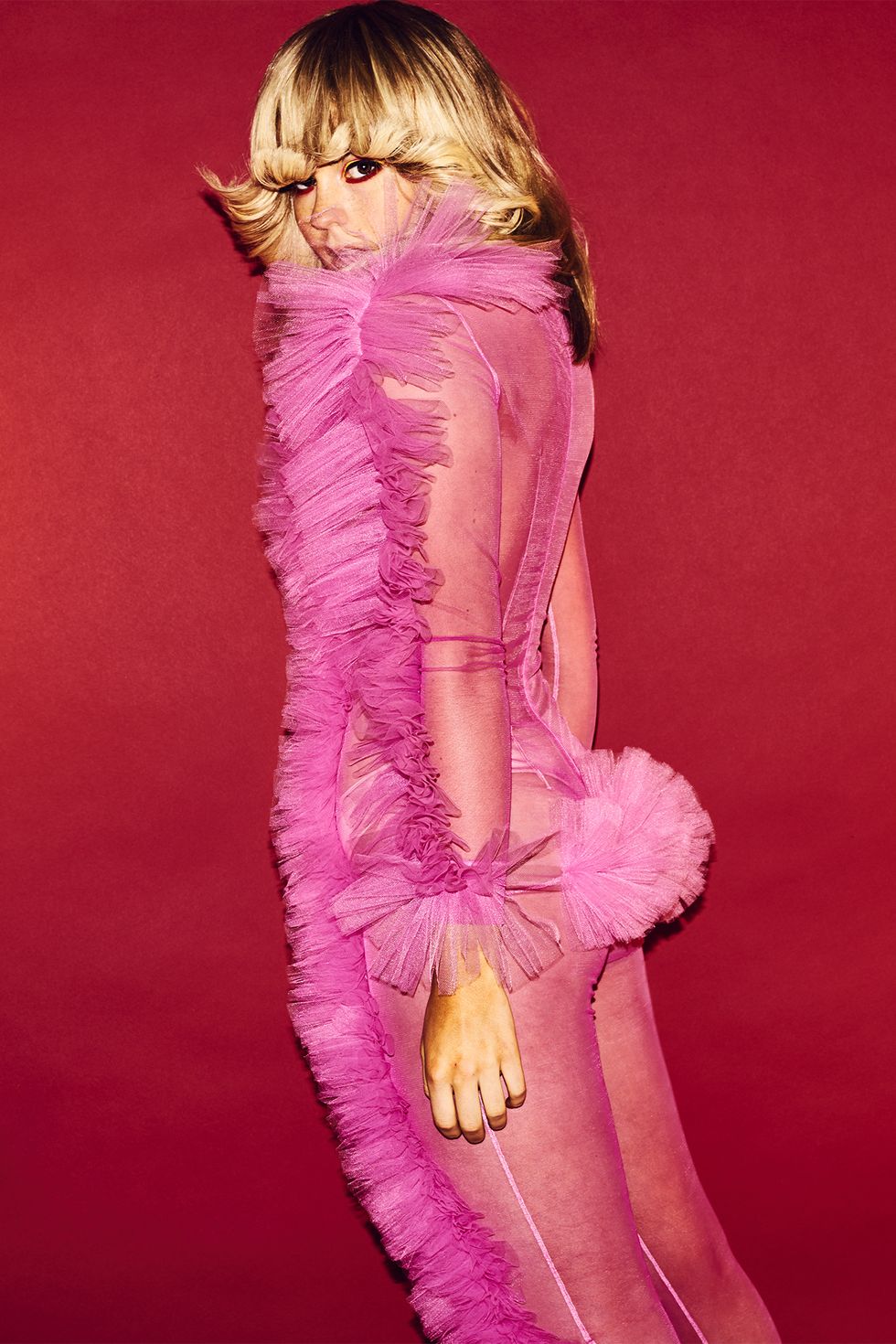 Full Look: Pam Hogg
What do you love about London?

I have been living in London for 2 years and it's a world I will never grow tired off. For me it's one of the best cities in the world. I'm proud of being a Brit too. I think we Brits do a great job of nurturing talent and creativity and you really feel that living here. Sure, it's awash with competition, but that fuels you too. I love the eclectic style that surrounds the streets of London. Fashion is a big part of my life; it shapes how I feel and allows me to express myself. For me fashion is a barometer of our cultural identity and that is showcased so well in London. There's also a thriving music scene in London. I love the cool jazz clubs where you can go after hours and just hang or if you want to dance, I love Tape in Hanover Square, complete with recording studio.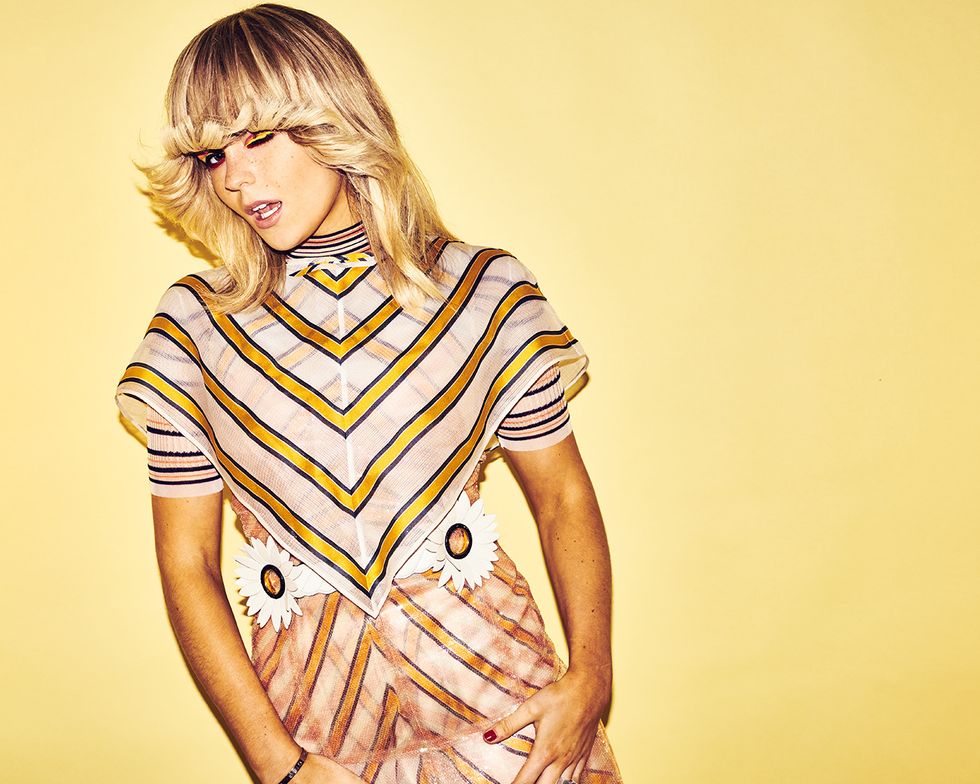 Full Look: Fendi
Have you ever had a rebellious phase?

Rebellion for me is not conforming in life. It's no longer about being eccentric with your clothes or sticking a pin through your nose. Rebellion must come from the heart. It's about empowerment, it's about pushing an agenda to the masses that is away from the norm. Women are doing great things now, becoming disrupters, standing up for what they believe in. It's wonderful to see. Many people have called me a rebel as I walked away from so many opportunities in music where people wanted to make me something I'm not. There is this stereotypical attitude from many labels in that they get these new artists and want to make them sound like "her" or "him." They are looking to replicate other people's success and sounds instead of looking for new sounds and new ideas. There's a culture of fear out there that prevents people from being risk takers and pursuing originality. So, I say no to that. I write the music that I want to hear and sing, that fuels me. I would rather take years to get where I really want to be than a shortcut and sell my soul.
Have you ever been starstruck meeting or working with a celebrity?
All the time. When Sir Elton gave me a big cuddle, I nearly collapsed with excitement and will never forget how gracious and charming he is. I adore Nile Rodgers and grew up singing his entire catalogue, so when he called up and asked me to speak at TED x Teen in NYC a few years ago it was pretty surreal. Another time he invited me on stage to sing with his band in concert in Glasgow and he has been a great mentor of mine since. I met Drake at his concert in Glasgow too, as we share the same lawyer. My sister and I were in awe. There he was owning the stage, he was on fire, the concert was utterly insane. Yet backstage was this serene individual, calm in his own space. A true gent. I have sung for Eva Longoria a lot at her Global Gift Galas and she is comedy gold — a very funny lady and very beautiful. I have yet to meet Zac Efron; I've been infatuated with him since I first watched High School Musical... it never goes away [Laughs].
Listen to Tallia Storm's Teenage Tears, below.
Photographer: Bella Howard
Stylist: Adele Cany
Hair: Brady Lea (Stella Creative Artists)
Makeup: Kristina Vidic (Stella Creative Artists)
Stylist Assistant: Shade Huntley