Sneaks — aka 23-year-old D.C. musician Eva Moolchan — thinks her third, forthcoming album will help listeners understand her better, her sense of humor included.Highway Hypnosis, out Jan. 25 on Merge Records, clues us in to her thinking even with its neon pink and green color scheme. Preferring to leave songs up for interpretation rather than explain them, Moolchan's minimalist electronic post-punk and hip-hop is somewhat enigmatic: Her rhythmic lyrics are like a mosaic of symbolism that takes some work to figure out, and she doesn't seem keen on qualifying anyone's findings as wrong or right. That she's explicitly stated there's insight to gain on this third album means we should take note, and listen carefully.
"It started at the end of my tour with Chastity Belt," Moolchan says of making Highway Hypnosis. "I was really inspired by them. I went back home and I was like, 'I want to write a completely different record than It's a Myth.' Basically I was able to kind of just collect a bunch of things, and really reminisce on what I love about music."
Today, we get a new entry in the encyclopedia of Sneaks with the premiere of the video for "Money Don't Grow on Trees," filmed while on tour in Europe. There's something to glean from Moolchan's liberated movement within — and PAPER caught up with her to find out more. Check out our conversation, below, where Moolchan tells us about the clip — and then some, from astrology to a high school talent show win that helped lead Sneaks to where she's at today.
How does the video's concept play into the meaning of the song?
I was in Europe doing the tour, and my friend Emmett, who's from New York City, was there. He just was filming it on 16MM, and I really appreciate film a lot. I went to school for film and I think film is the most authentic form of moving image itself, because it's the first thing that was created, and I feel like to have this spontaneity... I can't see what was just filmed, but we're trying to capture the moment as successfully as possible, and bring the energy and the heat to the picture.

What is the song about? Did you have an anti-capitalist message in mind?

Honestly, my true spirit is rebellious. There's scenes where I really let go and start dancing really crazy, and I feel like just being in Europe and being so far away from what's happening in the U.S. was so healing to me. I wasn't amidst this terrorism that's happening in the Capitol, where I am staying right now. Being away from that, I was able to be myself and not think about anything that was happening. For me, I don't know if healing is the right word, maybe it wasn't healing, but I was just expressive and I just wasn't thinking about anything.
It's a very beautiful song, in my opinion. It's very poetic and melodic. A lot of what I make is punk, so it was hard for me to stick with this unashamedly beautiful melody. I'm so happy because my friend, Emmett Kerr-Perkinson, wanted to make a music video for it, and we did. He did an amazing job. This guy is so talented. I'm so happy with the overlays, the beach scene — those are all completely real places in Europe, none of it was taken from YouTube or anything. All of that is real, real time. There was nothing that was fake in it.
He actually directed "PBNJ." A lot of people love that video, and a lot of opportunities happened from that video. It was amazing to work with someone who understood me. We had a past, we made a video together, so there's a mutual understanding.
I noticed your release show in February also commemorates your five-year anniversary as Sneaks.
I can't believe it. I'm only 23, but I started it when I was 18, first year of college dorm, and some people think that's a long time, but five years flew by super fast. I cannot believe it's five years, but I'm so happy. I'm really excited for continuing to make music and collaborate. I think, after this record, it'll be a new era of Sneaks, but I'll always have a connection to It's a Myth and Gymnastics. I'm never going to stop playing those songs live.
What's different about this album that marks a new era?

I think graphically the colors are pink and green. It's a Myth was pink, Gymnastics was black and white, then it was blue. I think colors are good leaders sometimes, and I'm so happy that this record's going to come in green.
It's really cute.
I'm a Cancer; I think people are going to understand me a little bit more and my sense of humor. I think the imagery is kind of a reflection of the record, in a way. There's a lot of pride in the music. I love being a Cancer. Cancer's are like, you know, hard exterior, soft interior. That's the most colloquial information you'll get about a Cancer. I think you have to look at Cancers in relation to other water signs. We're cardinals, so we initiate things. I think Cancers will always surprise you — like, Post Malone and M.I.A. are Cancers. Halsey's a Cancer.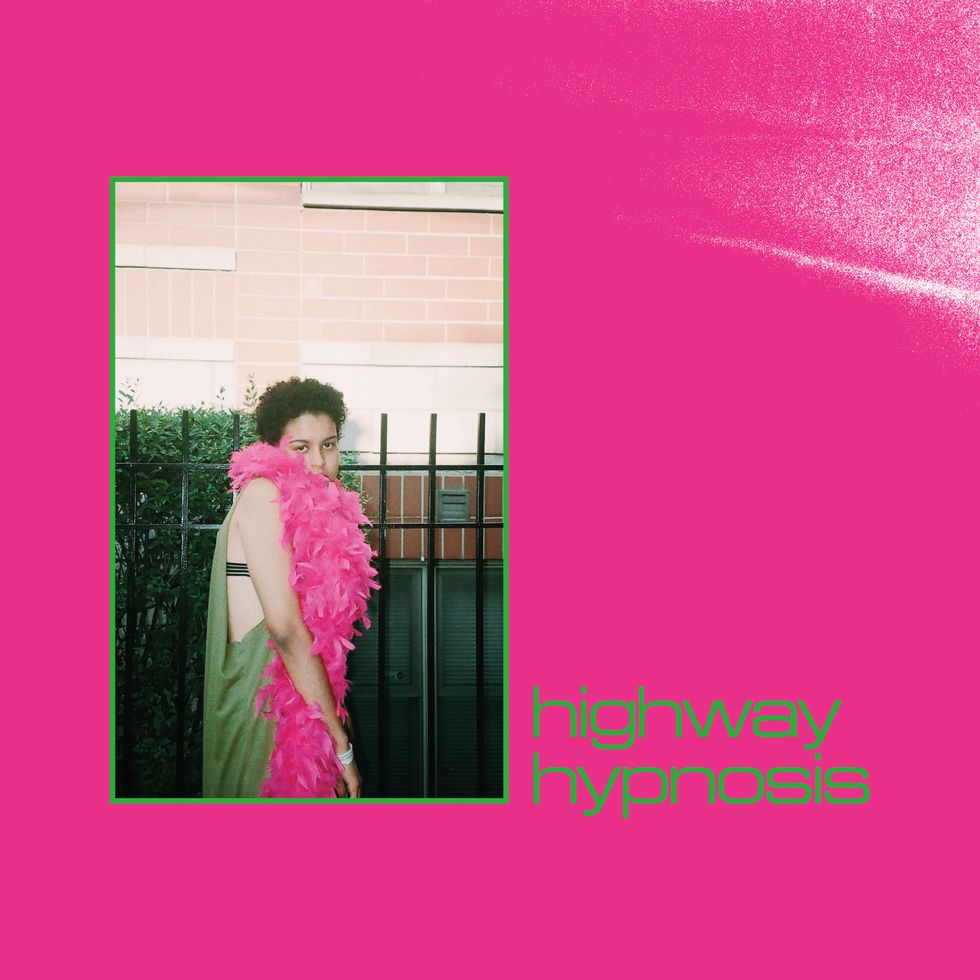 Post Malone?

Post Malone's a Cancer. You can tell by his smile.
I prefer not to look, really, at Post Malone.

[Laughs] I don't blame you. But, like, Justin Bieber's a Pisces, and Ariana Grande's a Cancer. Who else is a Cancer? Wendy Williams, she's a Cancer. I think we're really expressive.
Does astrology guide the way you work with people in music-making then?

Definitely. Carlos Hernandez, my studio engineer and the one of the producers on this album, is a Cancer. He's intuitive, so I think it was a good balance. We were working really harmoniously together. He truly brings the best out in people. His band was actually the backing band for Princess Nokia when she converted to a rock, when she was trying out the rock hat.
[Princess Nokia] is definitely one of my inspirations. She's so powerful and so commanding, and so direct and so assertive. We're actually on the same booking agency, Rogue Agency, and maybe one day we'll tour! She's kind of popping off in this crazy, historical way, where she's so connected and so grounded and so rooted in this inherent wisdom she has. It's so beautiful to hear, because I feel like that kind of wisdom, even in school when I was being taught — I went to a British school — I feel like the books weren't even written as well as Princess Nokia's lyrics. She's been touring, she didn't play in Israel for the whole Palestine issue, and she's been really supporting Puerto Rico. It's just amazing to see someone with so many beautiful sides, and they're executing those sides and really working to their full potential.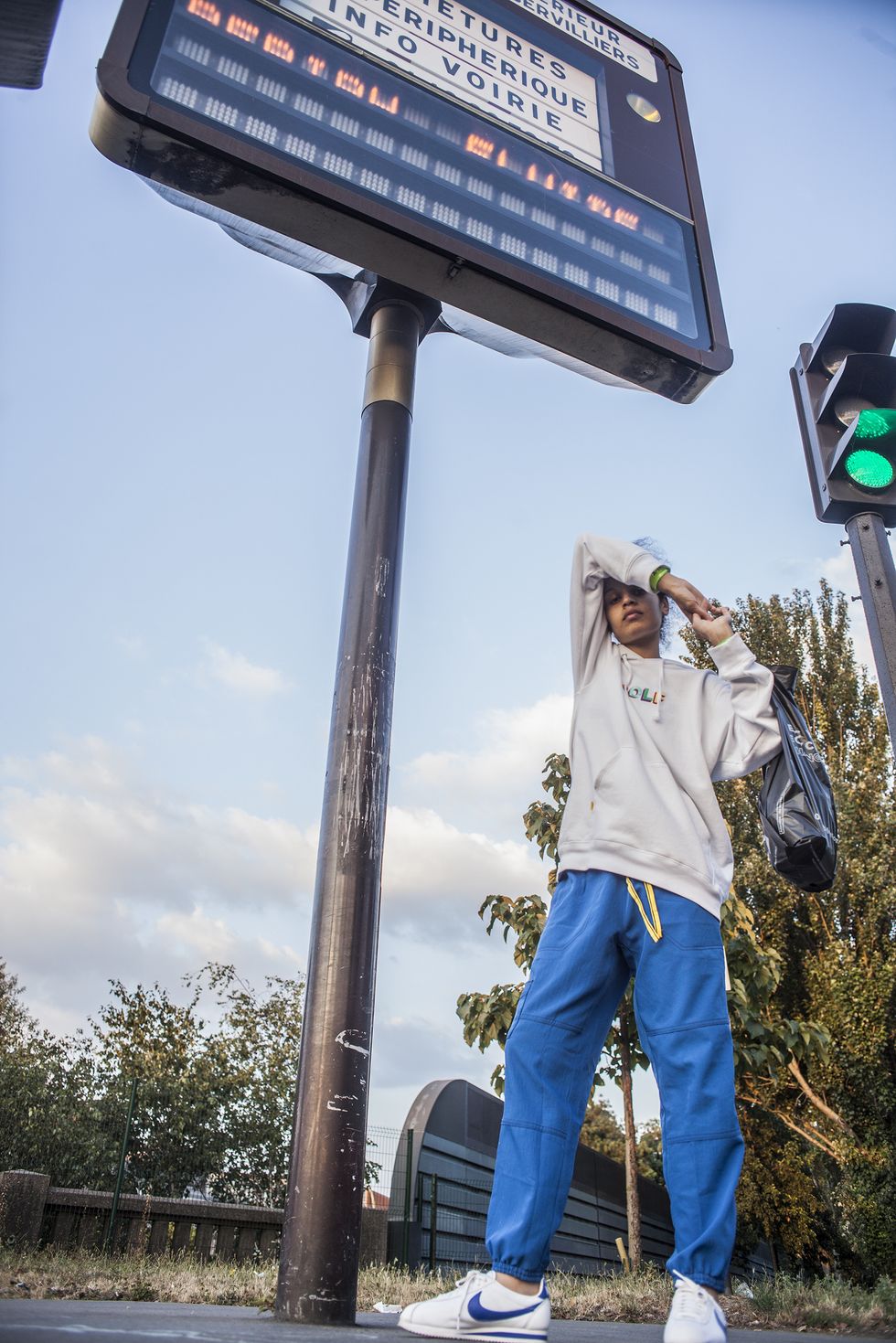 Totally. You mentioned in passing that you went to a British school —

Yeah, I did actually attend a British school [in D.C.] for 11 years of my life. It was super intense, all of it was ridiculously hard, and it was so hard for me to stay awake in all these classes. They were so boring. But I think I'm very privileged to have gone to an accelerated educational program. Even though I was really tired all the time, I think I had a taste of what I wanted to be doing when I was older because I always drumming a pencil and always laughing in the music room with all my friends, making songs.
There was a talent show and I played Green Day "I Walk Alone," and I slid in my socks, right up to my principal with my tongue sticking out. I just had a taste of this rock lifestyle. It was very Hot Topic rock, but it was still cool to me. I never shopped at Hot Topic, but I always thought rock was like Hot Topic, then you grow older and realize there's so many nuances within the rock genre.
I gravitate way more toward hip-hop and electronic music now, like rock is kind of off my radar, unless they're super cool like Goat Girl or Cherry Glazerr or Pale Hound, who I'm going on tour with in February. And I love The Garden, those boys are so talented and I'm so happy for them.
How did you end up at a British school?

My father grew up in France and Germany; I actually have a brother and sister who have a different mother, and they're French. My mom was in love with my dad's educational upbringing, and she was like, you should go to a British school too. She told my dad, 'Our daughter's going to a British school and getting the best curriculum in Washington, D.C., that she possibly can,' so they sent me to this super-expensive school. I cannot even tell you the price of it every year; you'll be like, what the fuck? But it was really good, and they were kind of strict and it was kind of uptight for me, because my personality is more perceptive, so it's very hard for me to have such a strong structure. But I think what that structure brought to me was a standard of how I want to live my life, and I think it was set so high by that school that you just want to follow your passion after, whatever it may be, be it a jazz student, a doctor, a punk rocker. It doesn't matter, you just want to follow your passion.
I love the story of you performing Green Day. Were you playing with a band?

We had a band. I was on lead guitar... we won the talent show. There was a lot of movie moments like that. I also wrote a book when I was younger. We had to write a book. I wrote a book about this woman who wins this guitar contest and it wasn't published, but it was made into a book. It was so cool, I think with all that visual imagery of guitars and winning the talent show, I think my parents kind of knew that I had taken a liking to music. My dad had bought me a guitar when I was two, and he had a reel-to-reel machine in his basement and he would record songs all the time. He was obsessed with Jimi Hendrix. My mom barely had any music — she listened to Christian music. She was always very judgmental about my musical ambitions, but I think from her upbringing it makes a lot of sense, to be that way. I think my dad, he was like, whatever you do, just do it well, with quality.
You are totally doing that. I'm really looking forward to hearing the full album.

Thank you, that means a lot.
Photos courtesy of Sofiane Boukhari