A few weeks prior to New Year's Eve, I attended an event where all the beverages being served were... mocktails.
As I sipped on several, I found myself wondering if I could realistically cut booze out of my life completely. I never really liked drinking to begin with — it's always been more of a social activity to make me feel slightly less awkward in a room full of strangers. Upon doing some research, I discovered that there's no such thing as a mocktail bar, but a select few places have mocktails on the menu.
Like many people, I challenged myself to partake in Dry January — while my cleanse lasted for 19 days, this whole stream of thought has not left my mind since. I wondered if mixologists ever keep this in mind when they're behind the bar. To my surprise, it's far more common than I realized. It turns out that ordering a mocktail is almost always a choice even if it's not explicitly printed on the menu. Ivy Mix, the head bartender and co-owner of Leyenda in Brooklyn, is always conscious of the fact that customers like having options.
"I think having a special menu of non-alcoholic beverages is very important," she says. "Sometimes when drinking, we may want a break from the booze and not let on that we're not drinking, or maybe someone is pregnant and still wants something delicious."
John Condon, the service manager of Left Bank in Manhattan also agrees on the topic of serving creative non-alcoholic drinks. "Creating great drinks comes down to the combination of flavors," he says. "And there is no reason that the care and effort put into making drinks with booze in it can't be put into drinks sans-booze."
Here are six mocktail recipes to make your booze free bevvies more exciting:
Thyme Ginger Lemonade at Left Bank
"When someone asks if we can make a drink without alcohol, one of our go-to favorites is a virgin version of our Thyme for Ginger cocktail, the thyme ginger lemonade. In the cocktail version, the vodka only acts to carry the ginger flavor so we muddle fresh ginger to get that flavor instead." - John Condon
Ingredients:
3-4 slices of fresh ginger
1 oz. fresh lemon juice
1 oz. simple syrup
1 sprig of thyme
1 oz. water
Soda water
Directions: Start by muddling the ginger with the lemon juice and simple syrup. Add that to a shaker filled with ice and add the thyme and water. Shake and strain into a Collins glass filled with ice and fill to the top with soda water.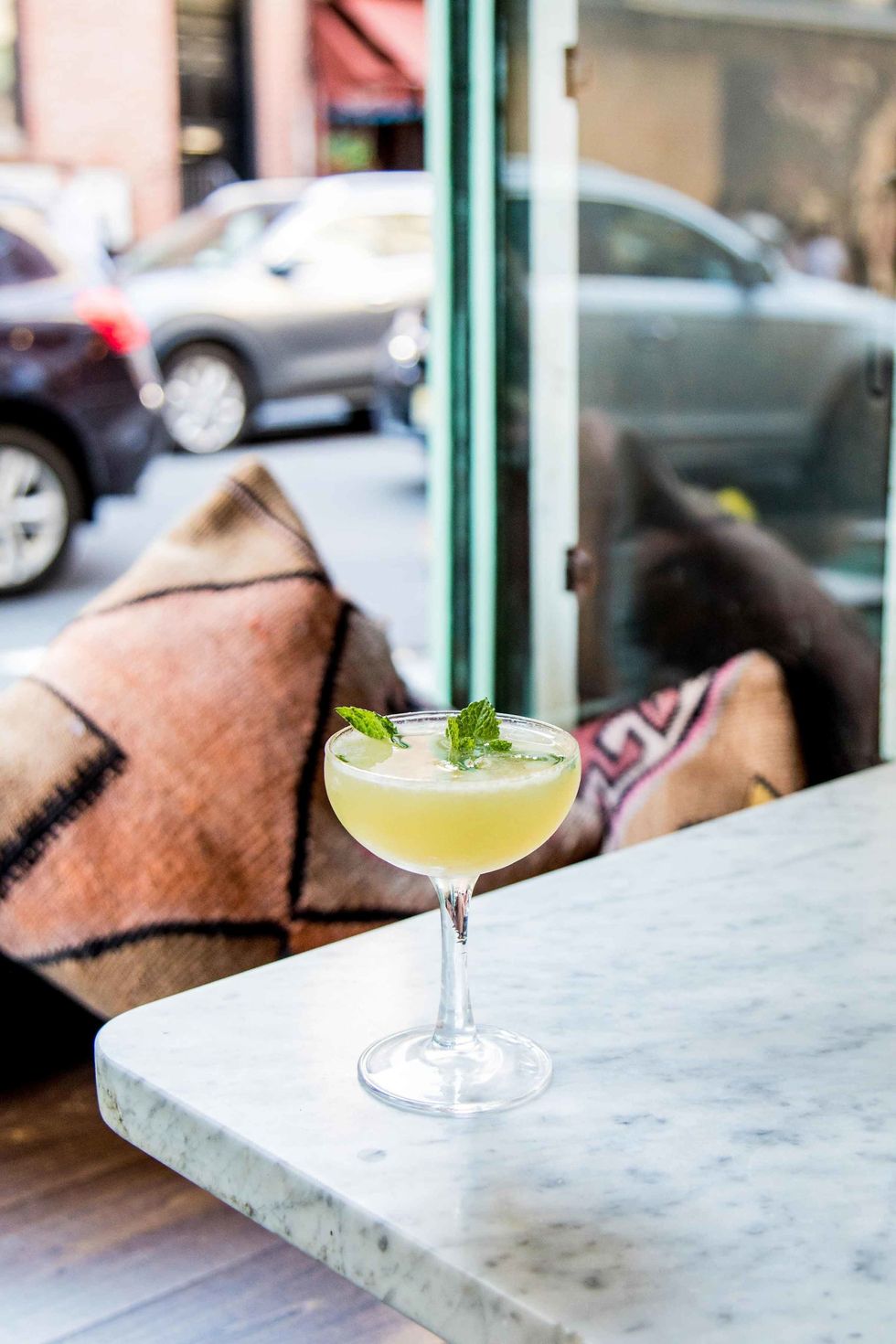 The Spiced Virgin
The Spiced Virgin at Epistrophy
Ingredients:
5 leaves of mint
2 slices of ginger
1 ounce lime
3/4 ounce simple syrup
1.5 ounces grapefruit juice
Tonic water
Directions: Vigorously muddle the ginger in the shaker. Add the mint and lightly muddle to release aroma. Add the rest of the ingredients and shake with plenty of ice. Double strain in a coupe or rock glass with fresh ice. Top with tonic water. Garnish with a strawberry and 4 blueberries. For a "pulpy" version, build straight in a tall glass.
Time Out Zone at Leyenda
"I think the kicker in making mocktails is doing something that is more exciting than just another lemonade variation. To do this, I really like using verjus because I can make as stirred style drink without booze." - Ivy Mix
Ingredients:
2.5 oz Verjus
1/2 oz jalapeño syrup
1/2 oz strawberry syrup
Dash bittermans celery shrub
Directions: Stir, strain over a big rock in a rocks glass and garnish with a celery leaf.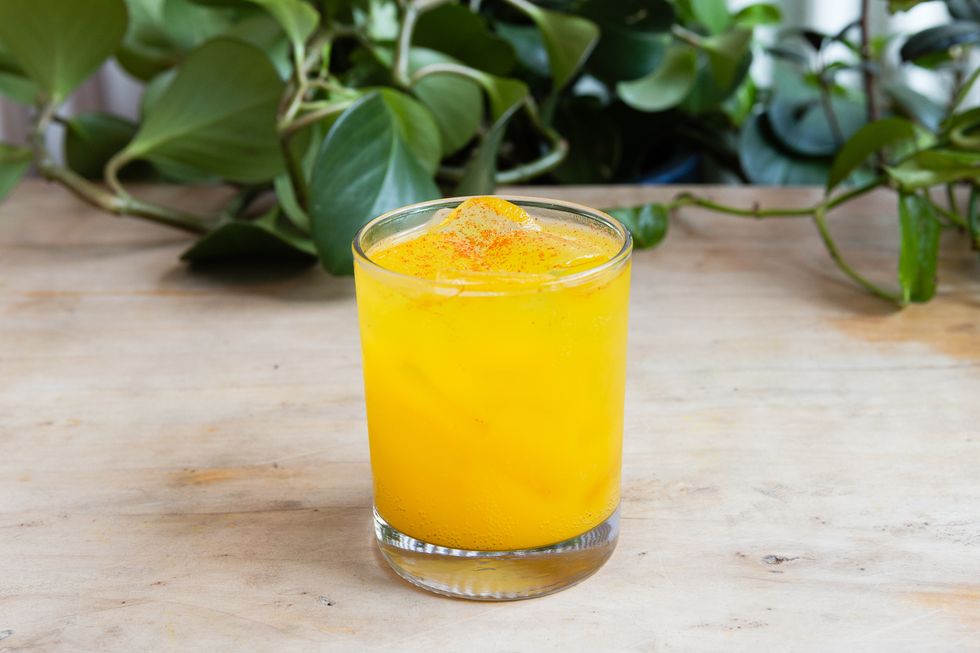 Tumeric Tonic
Turmeric Tonic at Selamat Pagi
Ingredients:
200g fresh turmeric, rinsed + peeled
125g fresh ginger, rinsed + peeled
500ml fresh lemon juice
150ml simple syrup
50ml honey
Directions:
Roughly chop ginger and turmeric, and place in blender. Add lemon juice and blend until it becomes a smooth puree.
Strain mixture using a fine chinois or muslin cloth into a clear container.
Combine turmeric concentrate with seltzer over ice, stir, and garnish with a pinch of cayenne pepper.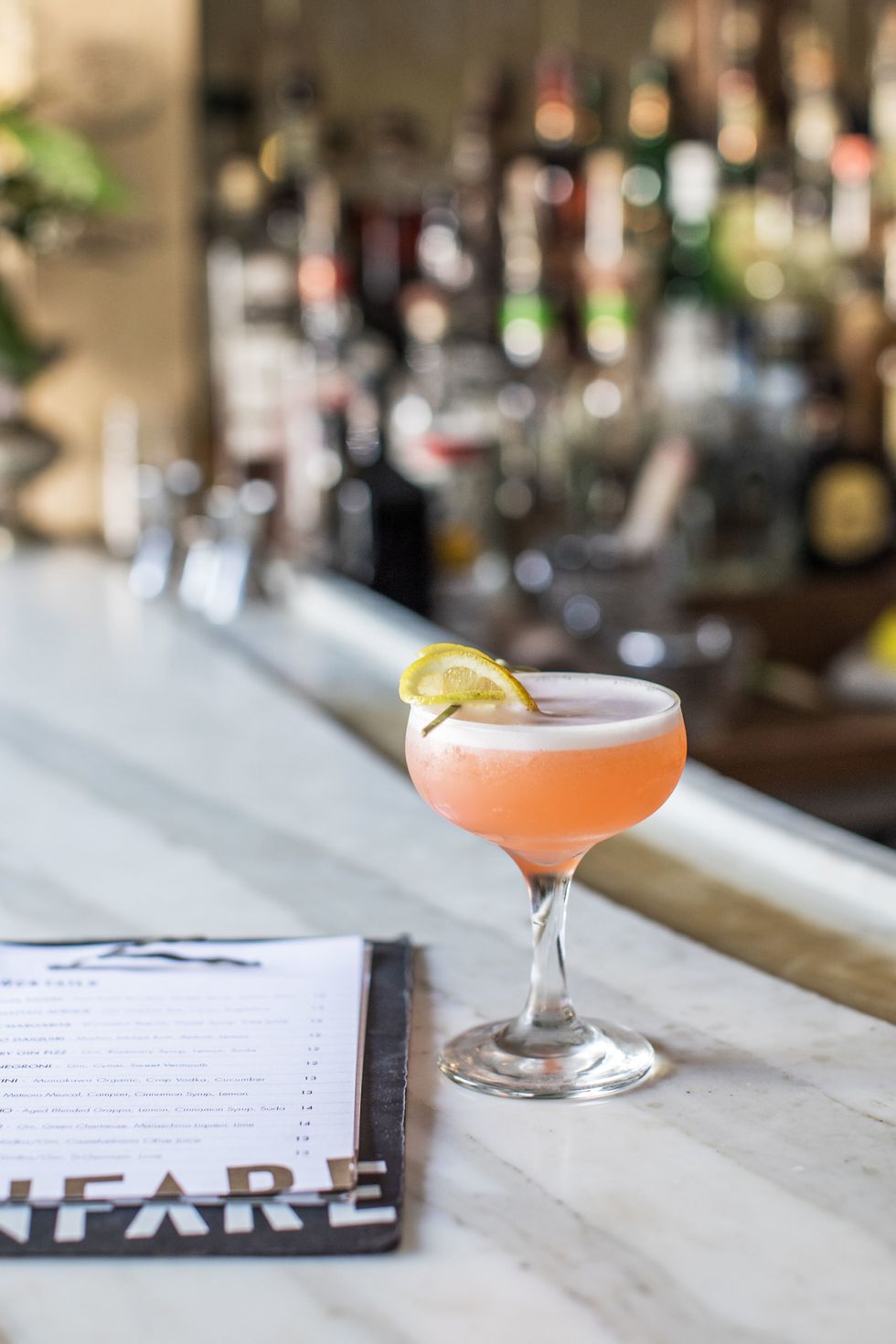 The Spiced Ginger Smash
The Spiced Ginger Smash at Le Fanfare
Ingredients:
2 oz ginger juice
1 oz lemon juice
3/4 oz simple syrup
Sprig of mint
Club soda
Directions: Shake juices and syrups, top with mint and club soda.
Orchard Island at Mother of Pearl and Cienfuegos
"It's a creamsicle inspired drink. Nice body coming from the coconut purée. But acidity, complex flavor, brightness coming from citrus, Granny Smith apple juice, and a lemongrass raw sugar syrup. The star anise on the nose is a nice addition to more adult flavors in nonalcoholic drinks." - Jane Danger, Beverage Director of Mother Of Pearl
Ingredients:
2 oz coconut purée
1 1/2 oz Granny Smith apple juice
3/4 Lime
1 oz Lemongrass Syrup
Directions: Build in large glass. Swizzle with crushed ice. Garnish with apple fan, straws, star anise.