In 2014, Ryan Raftery took the stage at the Public Theater cabaret Joe's Pub as Anna Wintour. His satirical portrayal of the Vogue editor in an improbable, yet hilarious narrative about her potential firing at the behest of late Condé Nast owner S.I. Newhouse, earned him rave reviews and sold-out shows. In the years following Ryan Raftery is the Most Powerful Woman in Fashion, the Brooklyn native played Andy Cohen in Ryan Raftery's Watch What Happens – Live on Stage! and Martha Stewart in Ryan Raftery: The Rise and Fall (and Rise) of Martha Stewart. This month, he resumes his commentary on fashion at Joe's Pub with Ryan Raftery: The Obsession of Calvin Klein. "The greater the success, the higher the expectations," he muses over coffee in West Chelsea recounting the adage that opens the introduction to his latest show. "It's true. Everybody feels it."
Created with that pressure front of mind, Raftery's latest musical is a winning satirical comedy and fashion history lesson intertwined with Tchaikovsky's Swan Lake. Riffing on the Bronx-born designer's debut fragrance Obsession, the fictional story follows Calvin Klein's (Raftery) paranoia about rival Ralph Lauren's (Miranda Noelle Wilson) attempts to sabotage him, along with his fixation on achieving perfection. With Donna Karan (Jess Watkins) — a coarse custodian in Klein's office building who he transforms into a designer to distract from his nemesis — as his henchwoman, Klein attempts to derail his preppy opponent's seemingly insurmountable success.
The farcical production offers up both high-level humor for a fashion crowd (Donna Karan's "seven easy pieces" are framed as samples from the Calvin Klein reject pile) and jokes for the layperson that focus on fragrances and branding (Ralph Lauren's Polo pony logo is practically crucified). Just like Klein's ubiquitous underwear — presented in the show as a revelation the designer has on a walk around Central Park Lake while the famous Swan Lake suite blares overhead — Raftery's clever, campy production has mass appeal.
It's also incredibly timely. The MET Costume Institute is gearing up for its spring 2019 exhibition dedicated to camp in fashion. "We are going through an extreme camp moment," Costume Institute curator Andrew Bolton said in conversation with The New York Times earlier this month. "Whether it's pop camp, queer camp, high camp, or political camp — Trump is a very camp figure — I think it's very timely." Not even Raf Simons — a Belgian minimalist haunted by adolescent angst and electronic music — has been able to resist the genre in his tenure at Calvin Klein; in the past two seasons his references have included Jaws and Looney Toons characters.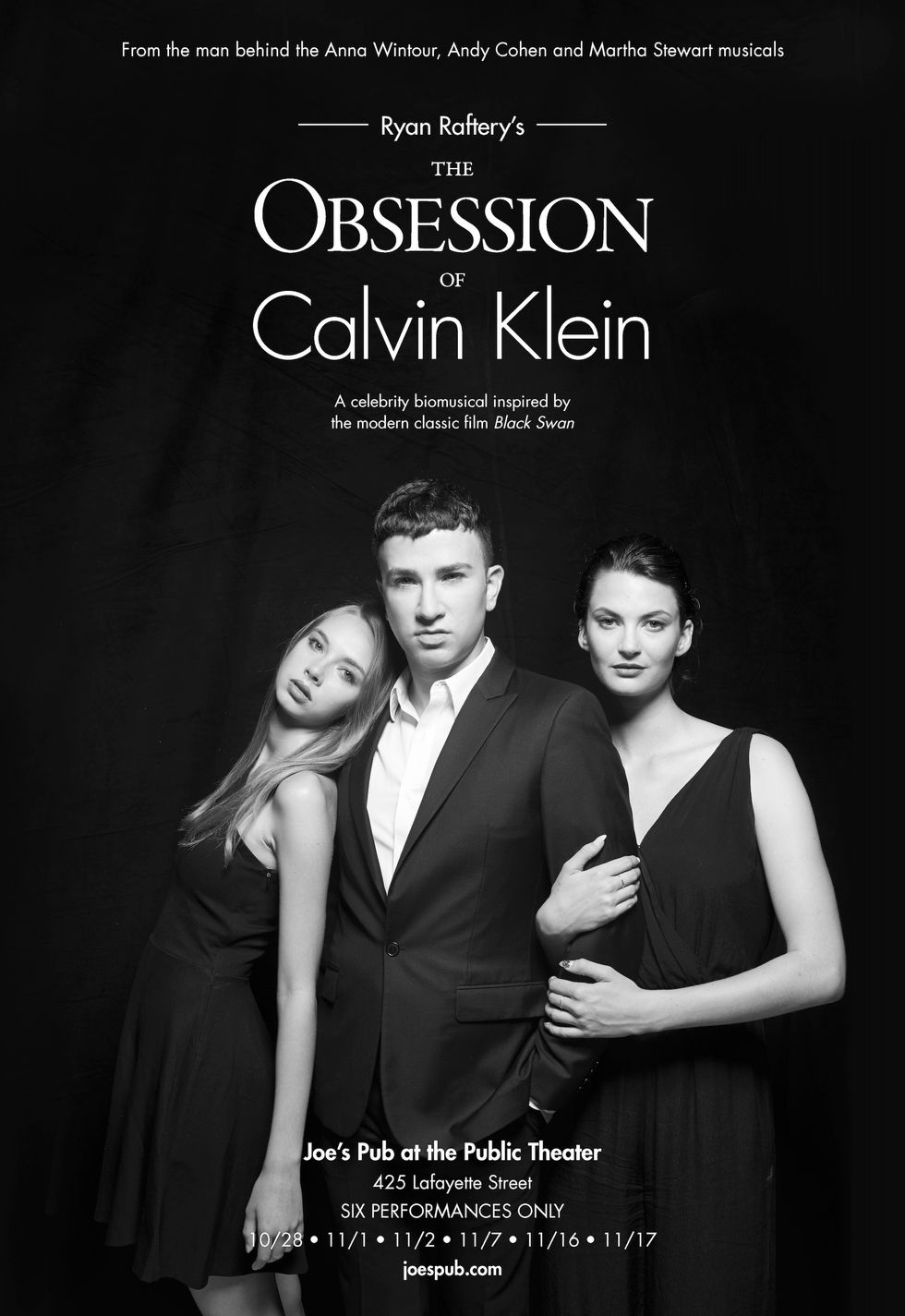 The show also manages to call out the rat race to build lifestyle brands and the unrelenting demand for product that exist in the fashion system. "I think that the fact that fashion designers have to produce on a set time line only accelerates [the stress]," Raftery says, noting that he relates as a creative in his own way. "From my stand point, every single one of my shows has been a bigger success than the last one. It is a mathematical certainty that that cannot keep happening. That can drive you crazy."
Fashion's frenetic pace is something Raftery has experienced first-hand. Three years after spending a single day as Calvin Klein's assistant (he quit after realizing the sort of dedication the role calls for), Raftery landed in the PR Department at Coach in 2013. As an assistant, he carried Stuart Vevers' first collection for Coach in garment bags to Vogue for a pre-see appointment with Wintour. "I'll never forget the way the air felt as soon as you got off the elevators," he says of the magazine's former office at Times Square. "It was just like The Devil Wears Prada. There were people running around and pulling racks. Just knowing she [Anna Wintour]was on the other side of the wall was amazing." Raftery's idea for the show focused on Wintour crystalized shortly after that visit.
Her response to Raftery's portrayal wasn't filled with as much admiration as his awe of her. "I ran into her in an elevator about four months ago. We were alone," he recalls. "We were there for maybe three seconds before I said, 'Hi, Anna!' Then she looked at me and said, 'Of course.' That's all she said. Her energy was such that she was pushing me away from her." Prior to that awkward run in, Wintour did donate a pair of sunglasses for charity production of Ryan Raftery is the Most Powerful Woman in Fashion. "That's all I'm ever going to get from her," he says entirely satisfied with it.
The reception Raftery will receive from his new subjects remains to be seen. Klein, Karan, and Lauren have yet to publicly acknowledge the show. "I would love for them to know about it," Raftery says enthusiastically. "I don't think I have a shot in hell at getting any of them in the audience." He may not, but if the success of his opening night performance continues, Raftery might just be surprised.