Last night's Drag Race challenge had to be one of my favorites.
While "how do you feel about improv" is a sentence you'd never want to hear on a date, it's a great opportunity to let a bunch of drag queens — some of whom are known for their irreverent sense of humor (Trixie Mattell, who often manages to be funnier than Katya on their Viceland show) and some for taking themselves far too seriously (Milk, who despite being a "fashion clown" has cried approximately 50 times in the past three episodes) — run wild.
Related | The World According to RuPaul
This week, Ru tasked the queens with appearing on a faux-reality dating competition appropriately named The Bitchelor, because RuPaul is never off-brand, and handed out tried and true dating competition archetypes for the girls to play. Trixie was the fake bitch, Milk the stalker, Bendelacreme the cougar, etc.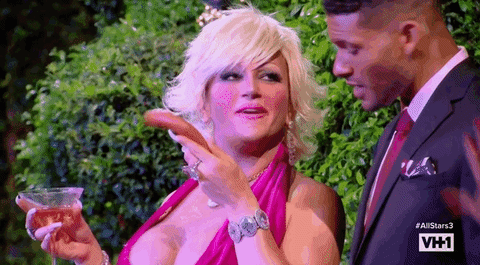 The Bitchelor himself was Jeffrey Bowyer-Chapman of Unreal, the brilliant show about the insane behind the scenes world of a Bachelor-esque reality competition (you need to binge watch it on Hulu right now), and he was more than game to put these girls through the ringer with a series of double dates. Bendelacreme absolutely nailed it, making it even harder for me to hate her; Trixie was the perfect LA fame-whore yet was constantly cut-off and overshadowed by Milk's unflatteringly over-the-top performance; Chi Chi was a total snooze; Shangela had all the jokes; and Kennedy looked the best she ever has wearing what must have been a cast of Latrice Royale's teeth.

In a runway challenge inspired by wig-flip artist Roxxxy Andrews, the Wigs on Wigs on Wigs runway let the girls show off their creativity in a series of reveals on reveals. Ultimately the winners were Bendelacreme (again, ugh) and Kennedy. The producers did Kennedy incredibly dirty by making the girls lip sync to Lorde's "Green Light" — I may live for Lorde and believe Melodrama should have won Album of the Year at the Grammys, but "Green Light" is not a lip sync for your legacy song — but Miss Davenport prevailed and sent Milk packing. Looks like the rest fo the season will be lactose-free…until the eliminated queens are inevitably brought back for their Ruvenge.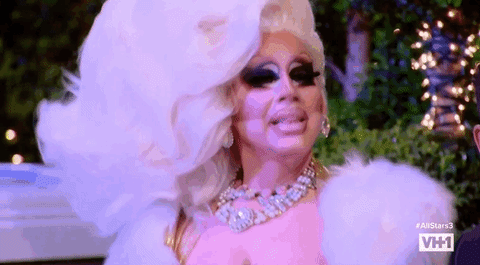 Despite having a poor performance in The Bitchelor, Aja absolutely slayed the runway challenge in a full anime fantasy, courtesy of designer BCALLA. We chatted BCALLA about creating what the judges called Aja's "best look ever."

You've worked on a lot of looks for Aja. What is the process usually like? Does she give you free reign or does she have a lot of input?
Sometimes she has a lot of direction other times she gives me what we like to call the "wild card" which means I can do whatever I want. She told me she wanted to do an anime look and trusted me cause she knows I'm a big anime fan so for this look I just sent the sketch then went straight to work.
How is Aja's personal style suited to the BCALLA brand?
Aja and I [have been in the] Bushwick scene for years, so I've seen her drag evolve and we understand a lot of the same references. Working with Aja is a kiki, and always a joy because she loves my two favorite things: making people laugh and making people gag — and we both pull from 2000s fashion and cartoons.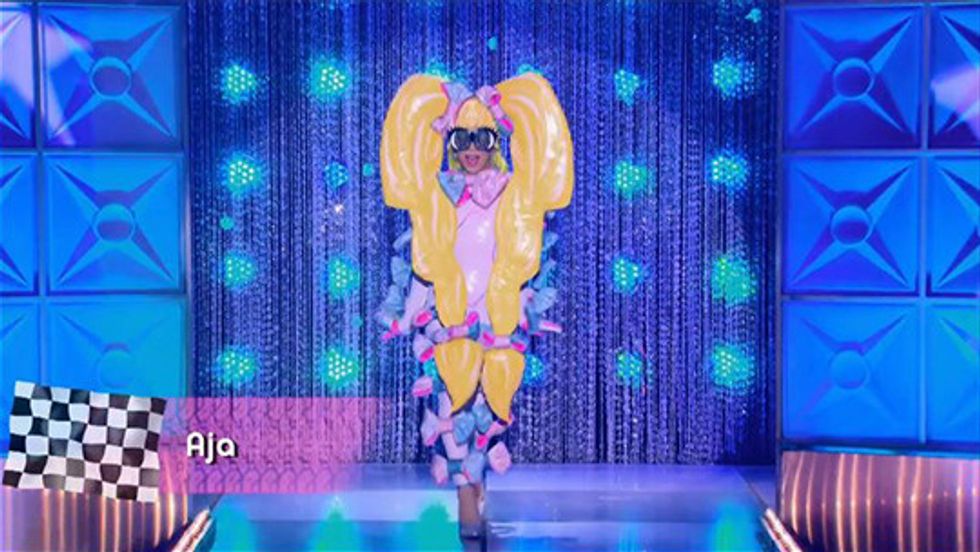 How did Aja describe to you what she wanted for the Wigs on Wigs on Wigs runway?

I designed the look and as soon as she saw it she knew she wanted to use it for the wig reveal.
What was it like collaborating with ISLYNYC and Dick and Virgil on the look?
I've worked with both of brands for years so it's very pick up the phone, "Hey girl, gotta gaggy gig let's turn it!" ISLYNYC and Dick and Virgil are both very competent so I sent them the sketch and kind of talked through technique then we had a fitting with Aja to adjust what we needed.
The judges said that this was "the best Aja has ever looked." How did that feel to hear?

I'm so happy that they finally were able to see the same sickening queen I've been watching slay for years now.
Besides Aja, you've dressed a lot of other Drag Race queens. Who is a queen you've yet to work with that you'd love to dress?
I would love to get Goddess Bunny in some BCALLA.