"I might like you, but I like me better," declares New York-based soul singer Merlot on their breakout single, "Bad For You." The R&B-leaning track is a strong first introduction to the artist's sound, with his deep, sultry vocals fluttering above a throbbing beat and smooth, surging synths. As an emerging independent musician, Merlot's debut is a decidedly mature — both sonically and lyrically — as he sings about the uncertainty of love. "I can't move any faster, baby, when I run away from you," Merlot admits.
While most of NYC knows Merlot as a personality, navigating queer nightlife with their fabulous femme looks and instantly recognizable freckles, they've been dedicated to music-making since childhood. Merlot religiously played the saxophone, studied the greats of classic jazz and eventually enrolled at Berklee College of Music in Boston before relocating two years ago to New York. "Bad For You" marks their first public push as an artist, and it's easily one of 2018's strongest drops to date.
Listen to the PAPER premiere of Merlot's "Bad For You," and discover more about the burgeoning talent, below.
Where are you from, and how did you first get into music

Music was an integral part of my life for as long as I can remember. I was born and raised in Florida (Gainesville to Bradenton), and I could credit the beginning of my love to my involvement in the Gainesville Youth Chorus in elementary school. I was always eager to perform solos and be the at the forefront of any ensemble, but it wasn't until middle school that I discovered my personal style in music. I dove heavily into R&B and jazz, researching them, learning all the basics and studying the greats. I actually started playing the tenor saxophone, as well in middle school. I have always felt that music was the closest thing to my heart, and that I'd want to pursue it seriously when I grew up.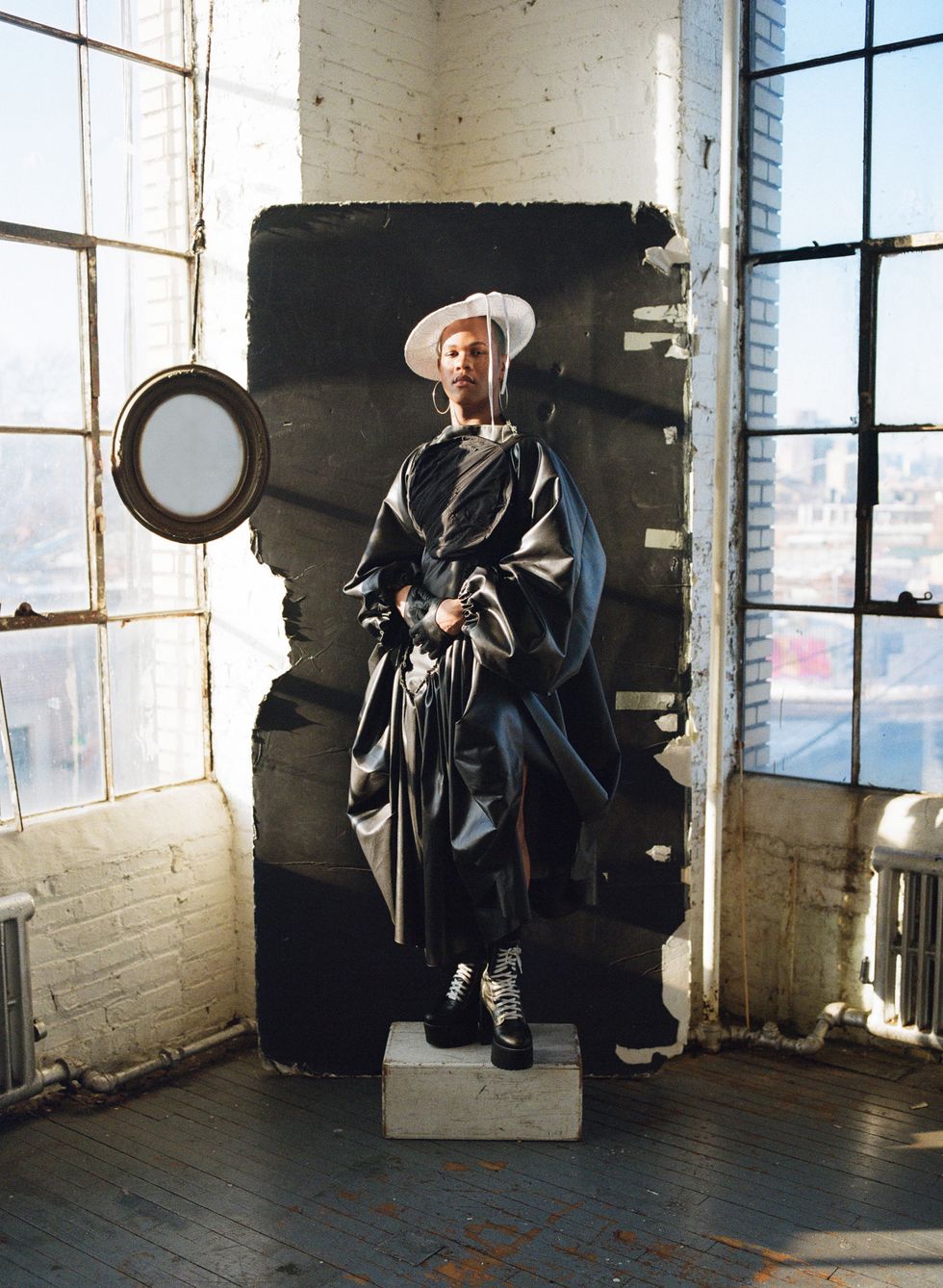 Dress: Sofia Paris, Cross Body Bag & Hat: Telfar, Gloves: Stylist's Own
Do you have a formal music background?

In the beginning, the most "training" I had was actually with the saxophone, taking lessons during and after school and practicing every single day. It wasn't until I was accepted into Berklee College of Music in Boston on both a vocal and saxophone audition that I decided to hone in on my vocal skills. I chose to study vocals as my primary instrument and not saxophone. Even though I always liked the tone of my voice, this was the first time I had a private tutor teaching me proper breathing techniques and such. I attended for 2 years before moving to New York to take my shot at the real music scene.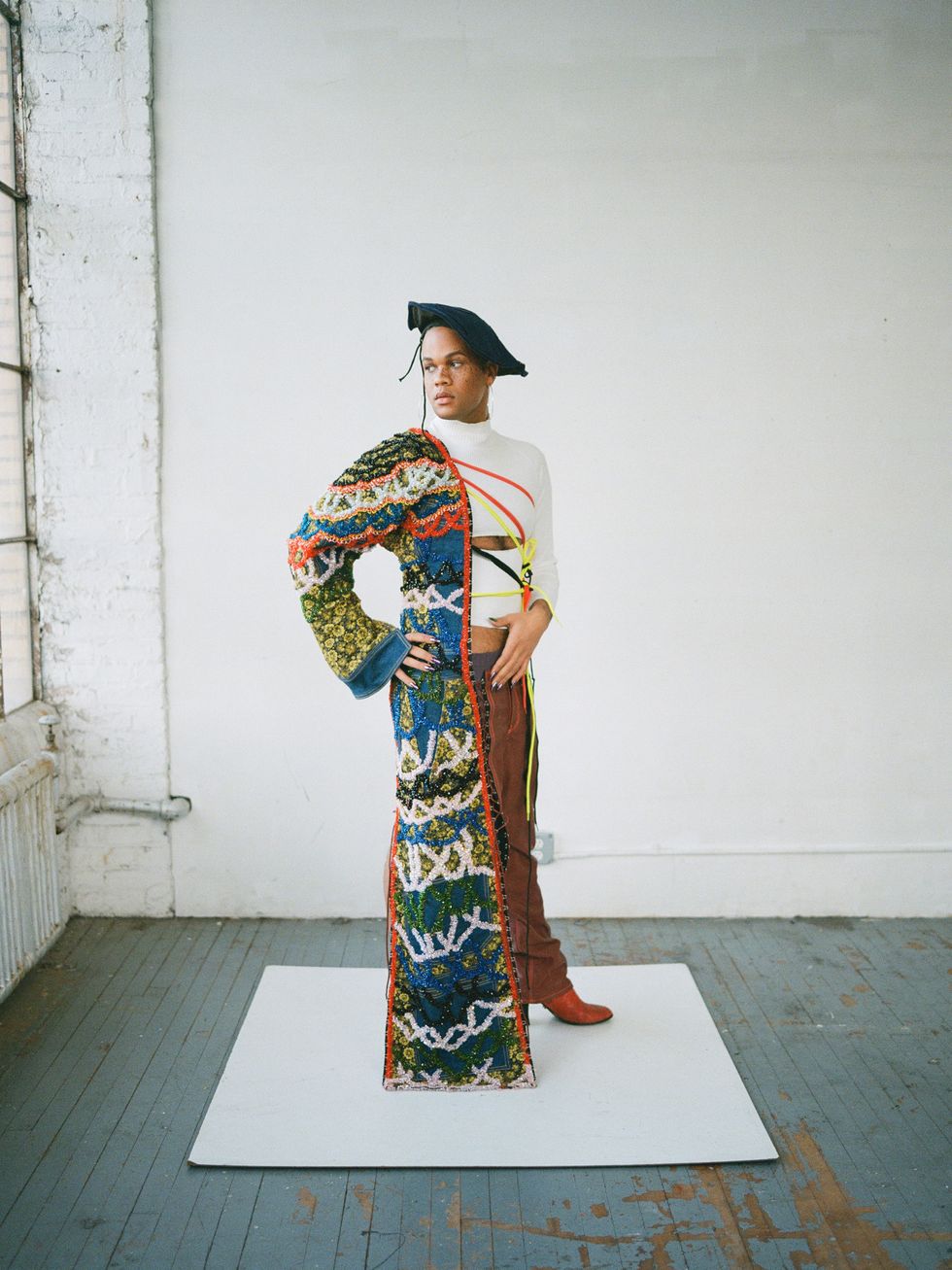 Flight Suit: Nihl, Turtleneck: Eckhaus Latta, Beret: Telfar, Shoes: Syro
As you're crafting your sound, what're you aiming for?

There's one thing I'd say I'd like to remain true in my music, and that's a tender voice. I like a rich tone (almost to mimic the warmth of a tenor sax) regardless of the style or message of the song. I'm a fan of all genres, and if all things go as planned I'd love to have an eclectic music career. When I'm writing a song, I'm thinking about the listeners' satisfaction with vocal melodies and if it's easy on the ears, despite the mood.
You have a very rich, soulful voice. Are these the type of vocalists you're inspired by?
I can credit it almost entirely to the first actual album I ever went out and bought: Get Lifted by John Legend. It was his debut album and I remember when I heard it, I wanted to sound just like him. Obviously my sound and style have evolved, and I've found my own voice, but he really influences me to this day. I was always listening to people like Marvin Gaye, Al Green, Donny Hathaway, and Anita Baker. I always had a connection with the "old school" voices.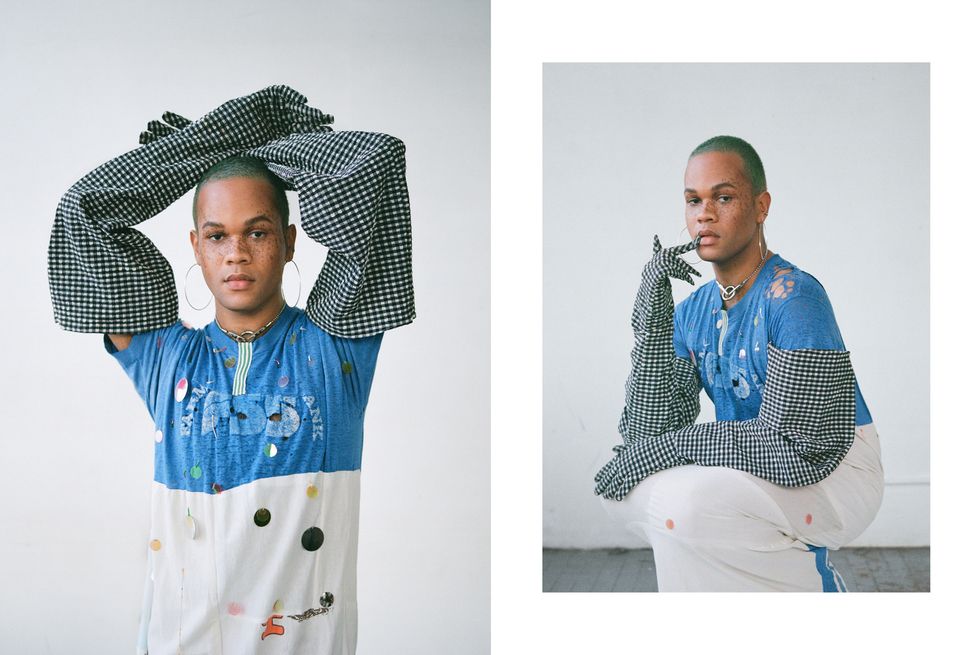 Dress: Sophie Andes Gascon x Maryam Nassir Zadeh, Gloves: Olivia Woodward
What's the story behind your debut single?

I wrote this song last winter when I was in LA working with one producer I've been working pretty close with for a couple years now. The lyrics in the song are very much a back and forth, hot and cold dance. I talk about being begged to stay while needing to leave, all with an air of aloofness and distance. I'd like to think the challenging ideas in the song are like the uncertain voices in my head, rather than a conversation between two people. It came from a time when I was extremely uncertain about a romantic relationship and my participation in it. I was a little jaded, but I'd like to think a good song came from it.
Who produced it?
A producer friend of mine in LA, Sanford Livingston. It's different with every producer, but usually when Sanford and I work together, it starts with him showing me different backing tracks that are in their "bare-bones" state. That means they're simple with little ornamentation. I then write a song over the beat and we work together to tweak and fine tune the track until it sounds like one cohesive idea. We've made many songs together at this point.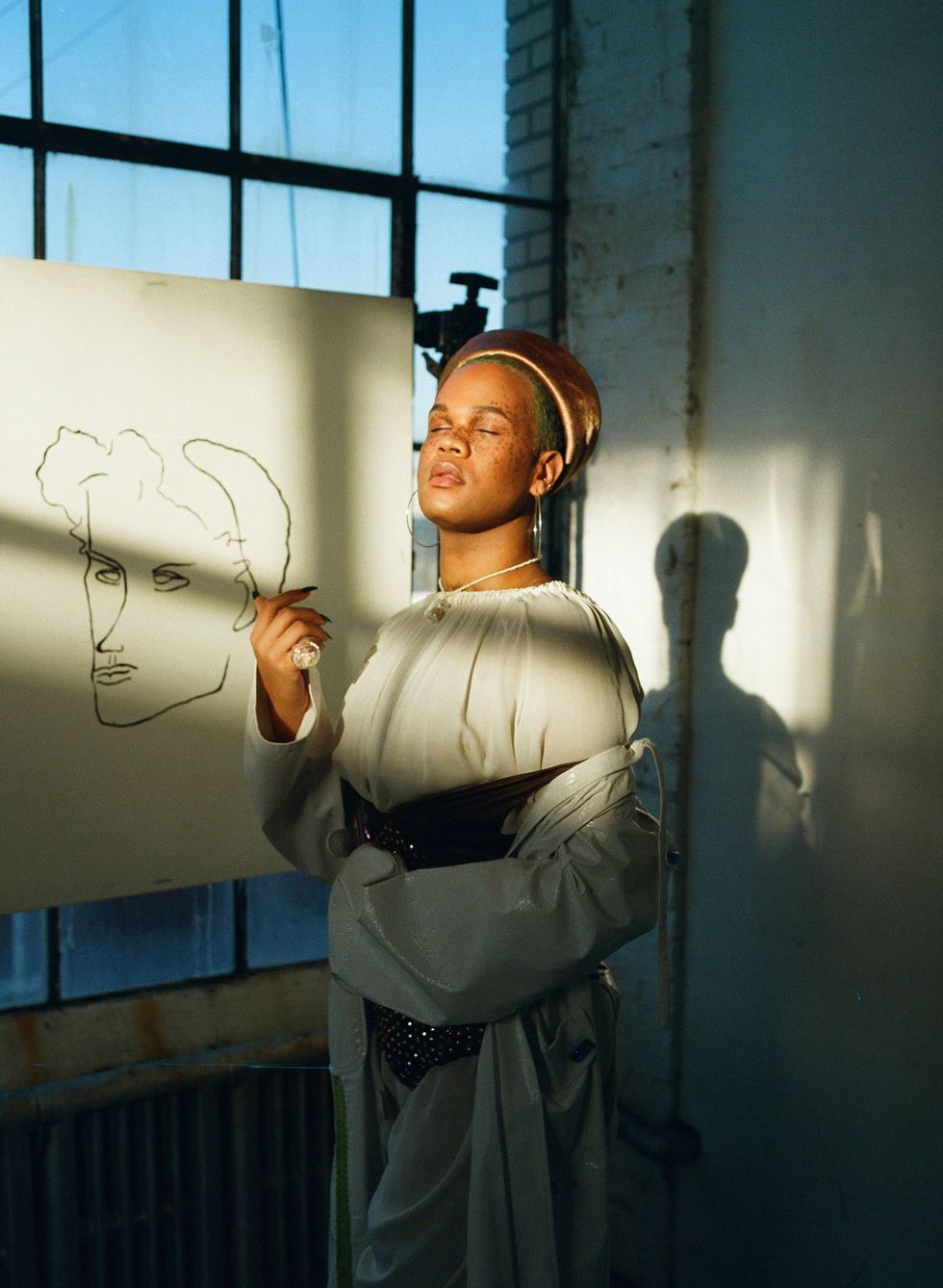 Swimsuit, Dress, Coat, Necklace and Ring: Maryam Nassir Zadeh, Hat: Kate Del Valle
You've been closely involved with NYC nightlife. How does this inform your work?

I knew before I moved here that I had to see what all of the fuss was about. I kept up with several Instagram users in the scene and when I moved here, I started hitting the clubs almost nightly. I didn't know anyone in NY at the time, and nightlife was my only outlet to make friends and meet other creatives. It was a journey, but I have to say that the scene kind of took me under its wings, and welcomed me with open arms. It felt affirming to now have my name on the same flyers as people I've admired for years. I am endlessly inspired by New York's nightlife hub, and its ability to dish out creative content almost five nights a week. Through nightlife, I've learned a lot more about myself, found a greater grasp on my personal style, and I've been blessed enough to meet wildly talented designers and creatives whom I never would have had the opportunity to work with today.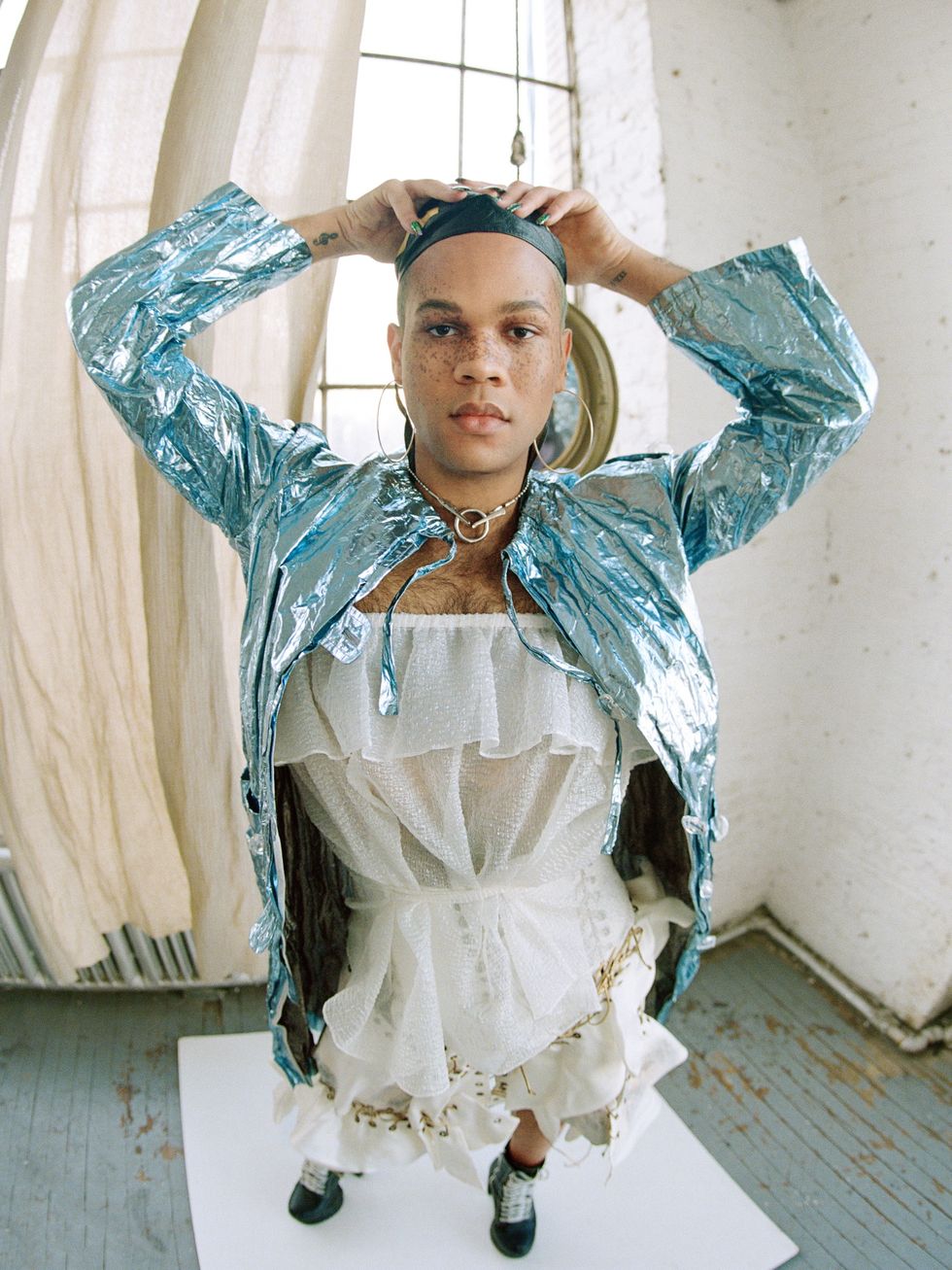 Top: Maryam Nassir Zadeh, Corset Pants: Oscar Chen, Necklace: Olivia Woodward, Leather Du Rag: Stylist's Own
You've taken some time to release an official debut track. What took so long?

It has felt like I've been sitting on this for forever, especially having had music finished for quite some time now. Besides a few minor setbacks and formalities, I am actually really happy I waited to release it now. If I had had it my way and released it more than a year ago, I would have had a much smaller platform and much less of a creative team available to work with. Not nearly as many people would have noticed. I do hope that people are surprised, and I'm the most excited to now be known as a musician in New York, not just a personality.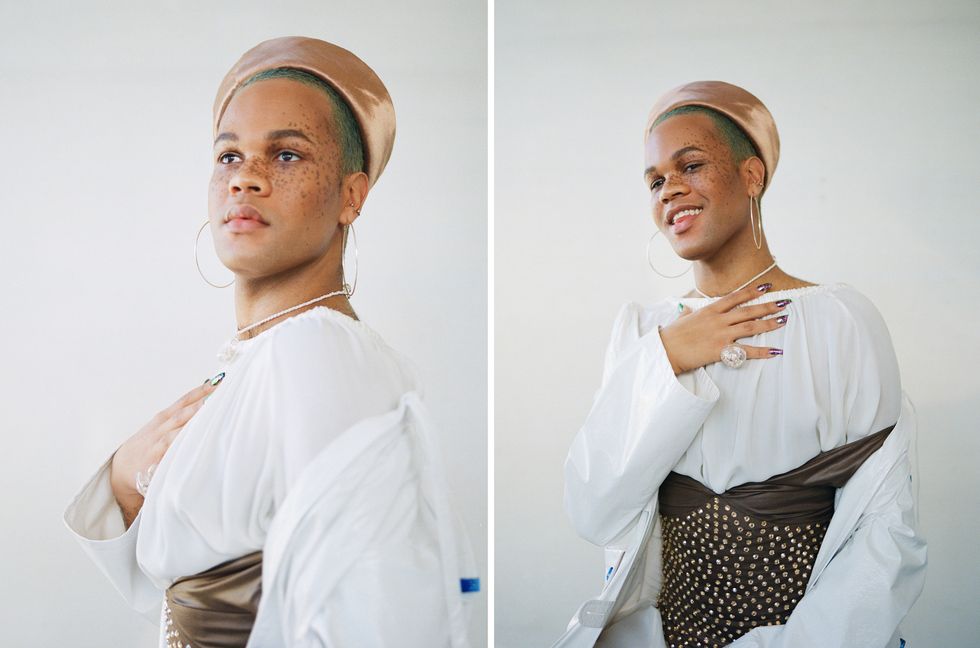 Swimsuit, Dress, Coat, Necklace and Ring: Maryam Nassir Zadeh, Hat: Kate Del Valle
What's the ultimate goal with your music career?
I plan to continue to release music throughout the year, but a goal of mine is to actually get serious with the visual aspect, as well. I'd love to release innovative, high budget music videos that defy societal norms of the gender binary and sexuality. I want to merge fashion, nightlife and music into something provocative and larger than life. I can't wait to show the world what Merlot is capable of achieving.
Photography: James Emmerman
Styling: Joe Vanoverbeek
Photo Assistants: Emily Lipson and Ky Naylor