Petra Cortright is redefining the "one-woman show" for a post-Internet era. Since 2007, she's been crafting an online persona with experimental, glitched-out YouTube videos that elevate the mundane. Warped filters and colorful animations decorate and distort footage of Cortright in her room, sometimes dancing.
The California-based digital artist will bring her practice offline tomorrow for her first major retrospective, CAM WORLS, at UTA Artist Space in Los Angeles. For the exhibit, she will show 50 videos made from 2007 to 2017, tracing a sort of character development and reflecting self-indulgent online behavior.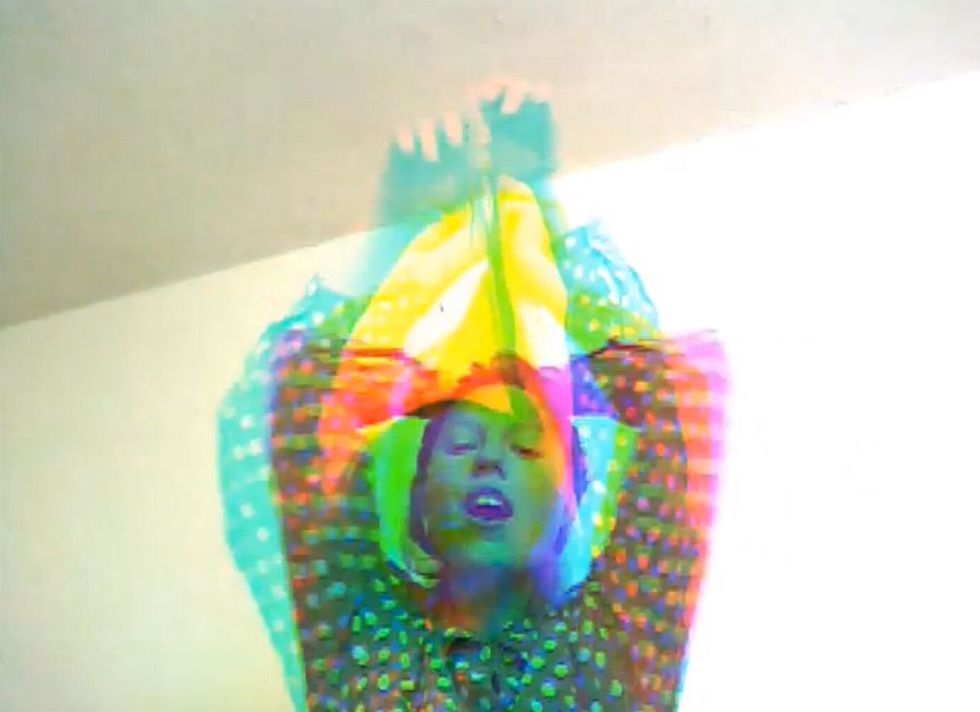 "I hadn't made any conscious decisions about the videos," Cortright tells PAPER. "I just knew that they were fast, fun and weird, and I wanted to keep making them."
Like with her YouTube videos, Cortright uses Search Engine Optimization (SEO) lists, consisting of words and phrases that promote online visibility, to title her shows. She adds, "This title, CAM WORLS, came from the SEO list. It's just a misspelling of CAM WORLD, but it's such a common misspelling that it comes into being as its own thing. It's a perfect title; there is a lot of whirling going on the videos."
A video featuring cartoonishly sexy girls will loop on a projector in the back gallery. The piece, mind_candy_pfaffs, is based off the Internet software VirtuaGirl, which is "a unique technology of video incrustation that displays videos of sexy girls directly on your task bar, with no background, just as if they were living inside of your screen," according to the show's release.
Cortright says the subject of her work varies — some are personal, some are silly, and some are sad. "I would hope people like the truly basic components of the videos, like composition [or] color," she says. "There is space here to just appreciate the beauty generated by the effects that I chose."

She continues, "I've always felt that making something beautiful is a noble pursuit. I try to go towards it in my work — it feels like it actually adds something to the world. I'm much more interested in that than trying to make a meta commentary about the state of the reality. The world has always been falling apart, so I figure I might as well try to add something positive if I can."
For more information on CAM WORLS, visit www.utaartistspace.com.
Photos Courtesy of Petra Cortright