Hailing from Toronto, Nue is the creative generalist the world needs. From rapping to writing to anime illustration, Nue has his hands in almost every creative pot. On his latest two singles, "Nightfall" and "Deadman," drugs, women and genre all blur into melodic, syrupy slowed down beats perfect for late night rides. Ahead of his Spring EP release, PAPER caught up with Nue to find out what goes into creating the rising artist's magic.
You're from Toronto, a city that's really had a big impact on 2018 sound and hip-hop. How has growing up in Toronto influenced you musically?
Toronto is spaced out, so you spend a lot of time traveling and driving places. A lot of the music reflects that. People like music that you can drive to late at night — music you can have in the background. Toronto has this atmosphere of spacey, slow types of sounds in the air. It's like music, and I incorporate that into my music here and there. It's a very multicultural place, too, so there's a lot of different influences — people from different countries.
You've gained a lot of buzz around your latest singles. How would you describe the quintessential Nue sound?

I pride myself in incorporating both lyrics and melody into my music. I don't want to be one-dimensional. I always round out my sound. I want people to look at me like a real artist, because I really do go back and alter my music a lot before it comes out. I take a lot of pride in it. To me, it's always the production, it's always the beat. Sometimes I sit down and write music if I have a specific concept that I thought would be cool. But a lot of times, I just like to play off vibes and melody. I like making music that people can put on anywhere. You can be in the car, you can be sitting down chilling with your friends. We could be at a party.
What was the process behind creating "Nightfall" and "Deadman"?

I was at the studio with a couple of my boys, and then I put on the beat, and we were drinking and smoking and shit. Conceptually, I just went in there and kind of tried to emulate whatever I felt the beat was giving off, and it was just giving me this whole dark vibe, so I was just trying to play off that and go with the energy I already had in the studio.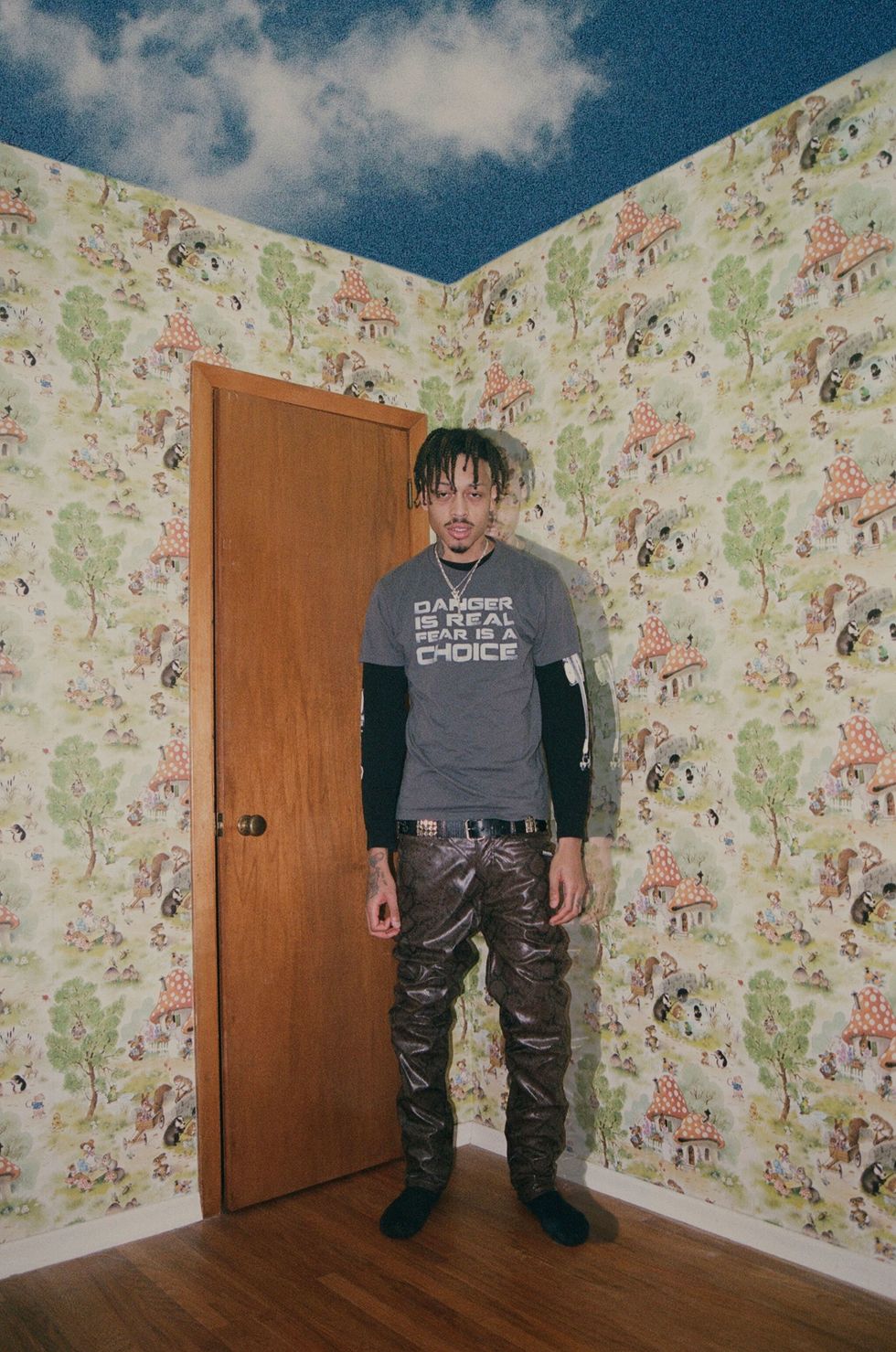 Your visuals, predominantly, are very art-centered. What goes into creating the perfect visual-song duo?

I always try to incorporate colors into my music and then have certain colors be in music videos. I don't really have any visuals that tell the story. It's visuals that just kind of complement the music. It doesn't have to make sense, but it looks like how it sounds. Whenever I hear music, and especially my music, I always already have an idea of what I see for a music video. So I always have a team of people that I work with, where they do a really good job of bringing my vision to life and helping me bring my vision to life. It's always just an idea, and it might be a crazy idea, and we try to figure it out as best as possible."
Your cover art and Instagram is full of anime. I know you dabble in other creative avenues, like anime illustration. When did that passion begin?

I used to watch a lot of anime. I still watch anime, but I used to watch a lot more when I was younger and I had a lot more time. It was something that my older cousins [and I] always used to watch. That was always one of my first things that I wanted to do, be an animator when I was younger. So I used to draw a lot of cartoons, draw comic books and anime. But yeah, I try to incorporate anything that means something to me into whatever I'm doing.
Photography: Austin Banks