There's a very thin line between what we consider photography and what we consider pornography. Often, critics will sweepingly dismiss entire bodies of work based solely on it presenting bodies in sexual scenes. For Japanese photography titan Nobuyoshi Araki, this exploration of the space between photography and pornography has always been the most dynamic, challenging, and exciting exercise.
In celebration of the artist's 50-year long career, the Museum of Sex in New York has put together an incredibly expansive exhibition featuring most, if not all, of Araki's work, from photographs to painted images to photobooks. The Incomplete Araki takes viewers through the artist's complicated lines of inquiry, including his fascination with couples, his obsession with obsession, and his knack to constantly push the boundaries of what's socially acceptable.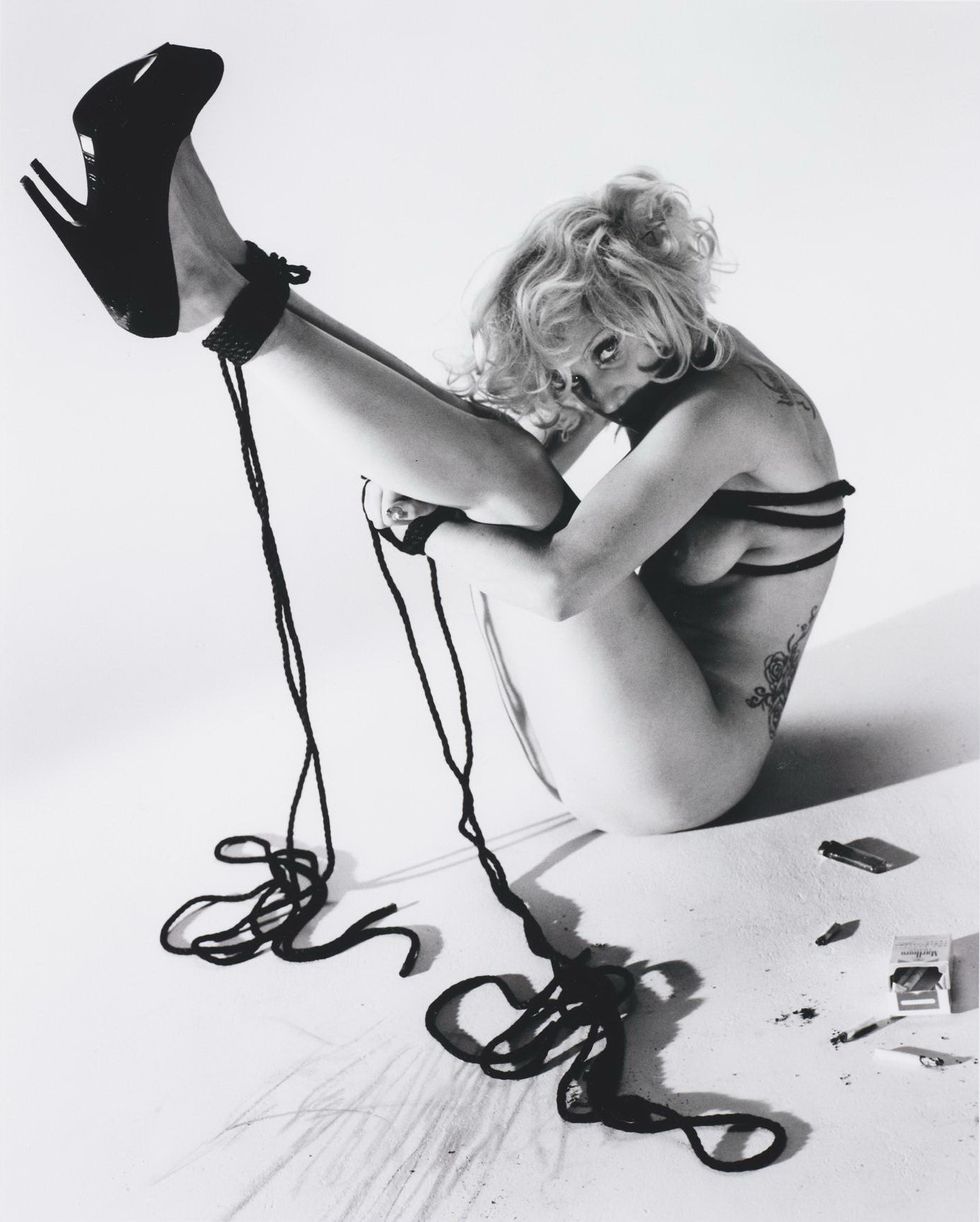 Lady Gaga (2011), Nobuyoshi Araki (Courtesy of Longmen Art Projects, Hong Kong)
Often labeled a perverted genius, Araki launched his photography career in the '60s, working for an advertising agency called Dentsu. To start with the commercial aspect of the medium is perhaps the best way to understand the psychology embedded in image making. Learning how to make people look twice at an image or how to translate a prospective consumer's most secret desire, Araki's work aimed to systematically challenge the eye of the beholder. As an employee at Dentsu, Araki used the technology made available to him to print his first photobook. He made hundreds of copies that he then sent out to strangers he found in the phonebook. This first act defined him as the photographer he later became, and effectively set up the framework for his artistic practice: to seek out the stranger, shock them, and, in that process, develop intimacy through confrontational eroticism.

"I want to make photographs that maintain their incompleteness. I don't want them to lose their reality, presence, and shoot before they become refined or sophisticated," Araki has said. As we walk through the entrance of the exhibition, the walls are lined with tangled rope, the space is dimly lit, and a black-and-white photograph at the end of the hall shines under the light of a bright spotlight. If you've seen Gustave Courbet's The Origin of the World (1866), a painting featuring a woman's lower body with a detailed representation of her vagina, this photograph will seem somewhat familiar. Araki instead features a naked woman on a BDSM sex swing with a flower covering her vagina. Here, it's clear that Araki wants to take our traditional visual language and give it a swerve; make it new; make it his. This is a sentiment that will follow visitors throughout the entire exhibition.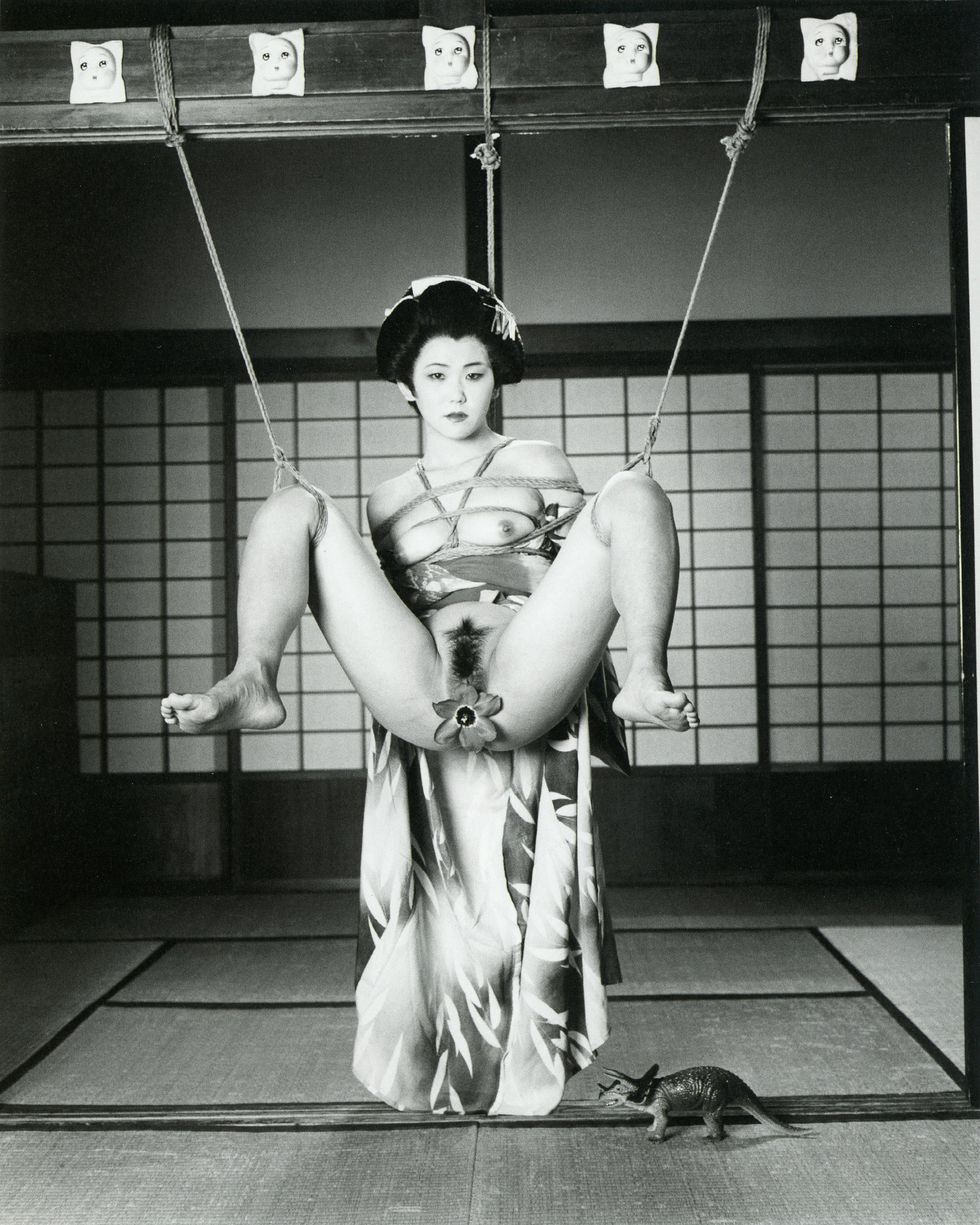 Tokyo Comedy (1997), Nobuyoshi Araki (Courtesy of Yoshii Gallery, New York)
The rope lining the walls are in reference to kinbaku, Japanese bondage known as tight binding. This involves tying up an individual using simple and intricate patterns with hemp rope, which is often used by governmental officials, rebels, or social disruptors, in hostile takeovers, as restraints, and to capture prisoners. The demonstration of power spills into the BDSM culture that Araki chooses to place at the center of his practice. In his case, it is kinbaku-bi that we must speak of, which literally translates as the beauty of tight binding. In fact, Araki's female subjects are staged naked and tied in various erotic positions: on the ground, suspended, upside down. The negotiations of power dynamics are extremely important to Araki, who believes that his subjects and him enter an intense relationship the moment they decide to work together. Interesting, then, that Araki chooses a material that is inherently related to domination and power. What kind of relationship is Araki choosing to depict?
It's clear that the photographs suggest complete and utter submission, which is often the source of any negative criticism Araki has received. But the photographs also suggest a very high degree of trust. Of course, all of these images were taken with the consent of their subject. In that, the women trust Araki to take care of their bodies without abusing them. Women have said that their experience working with Araki felt liberating in a society which still places so many constraints on women. Engaging in a form a sociopolitical protest, the photographed women both partake in a conversation that is much larger than themselves and get sexual release from the experience. So both sides of the equation can get something from participating in the project.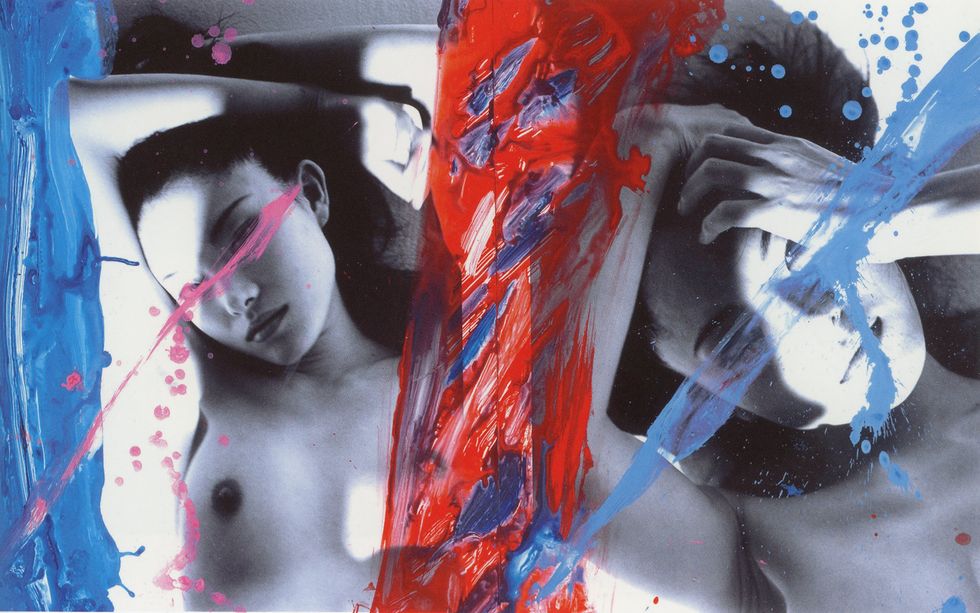 KaoRi Love (2007), Nobuyoshi Araki (Courtesy of Yoshii Gallery, New York)
Araki believes that his photographs represent a suspended instance of intimacy, but it is still unclear whether the depicted scenes open up a space for intimacy when their context and signification are by definition related to control and domination. The photographs would enable a space of intimacy only if nothing negative ever happened to Araki's subject. The curators have indicated that one of the women came forward with allegations that Araki abused her sexually. Her statements were dismissed just as quickly as they were forgotten, effectively disturbing the foundation of Araki's artistic integrity and reinforcing the problems of gender intimidation, domination, and power abuse.

The Incomplete Araki feels like an important exploration of sexuality and the power dynamics that come to punctuate the intimate lives of couples. While some of the photographs will surely leave viewers uncomfortable, they are meticulous demonstrations of the body as a sexual and delicate instrument. And though the museum can be lauded for its honesty in explaining exactly the kind of experience some of these women have had working with Araki, it is clear that we must question whether sexual abuse allegations in the context of work of this nature should continue to be addressed as a mere element of an artistic practice rather than a serious declaration of traumatic lived experience. Such questions, however appropriate they may be, should remain, until further notice, at the forefront of any visitor's mind.
Photos Courtesy of the Museum of Sex