PAPER has always been a place of opportunity, a place that spotlights new talent and people who are doing tremendous things. We've spent over 20 years bringing you the Beautiful People issue, which identified amazing people who were doing things differently and using their creativity, ideas and success to transform culture and create new opportunities for artists, audiences and fans. This year, we have decided to rename the portfolio and call it exactly what it is: PAPER People. — Drew Elliott, Editor-in-Chief
Noah Centineo first started landing film and TV parts in his early teens, and for the past four years, the Miami native has seen his profile and his fan base steadily grow, thanks to his role as the easygoing Jesus Foster on Freeform's The Fosters and as pop star Camila Cabello's love interest in her "Havana" music video. The Fosters ended its five-season run this June, but Centineo will reprise his role with cameo appearances in its upcoming spinoff Good Trouble. He's also forging ahead into film: the 22-year-old actor stars in two Netflix rom-coms, To All the Boys I've Loved Before, out now, and Sierra Burgess is a Loser, out this Friday. In both movies, he plays the romantic interest of the female leads, an opportunity he relishes. "I'm a hopeless romantic," he says. "I think I have a lot more to give in that space."
Centineo talked to PAPER about his love for romantic comedies, working with Camila Cabello and the advice from the late Garry Marshall that has stuck with him.
How did you get into acting?
It wasn't really my choice. My sister had an opportunity to audition for an agency in West Palm Beach, Florida. I was seven or eight at the time, so my mom dragged me because we couldn't find a babysitter. When I got there they were like, "Are you going to audition, too?" I was like, "No." I did it [anyway] and we both ended up signing with the agency. My sister booked a modeling gig in Philadelphia and never wanted to be in front of the camera again. I fell in love with it.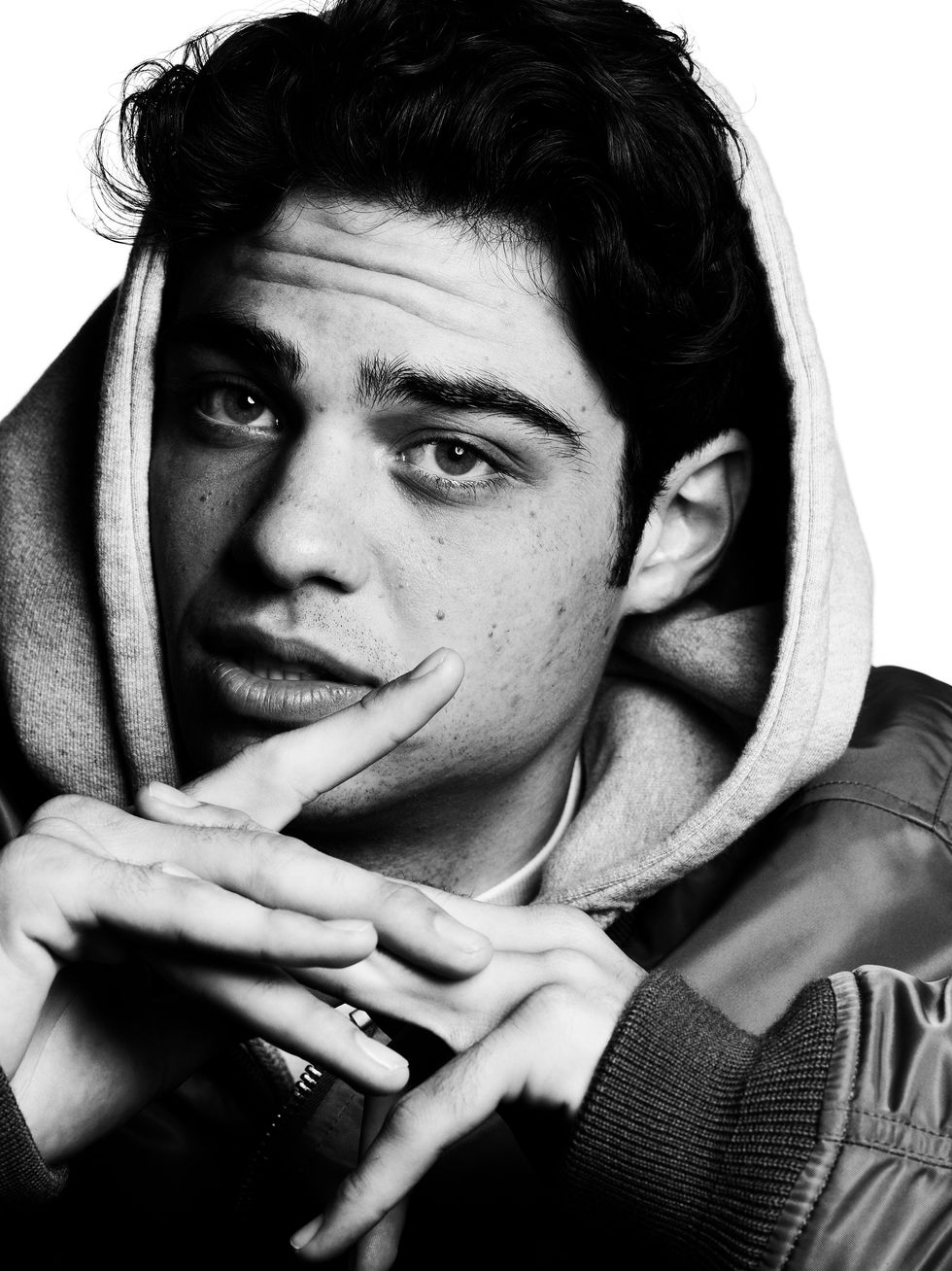 Jacket Vetements
What do you consider your big break?

I don't know because that sets a milestone and I like to think my big break is always ahead of me. I remember the first show that came out where people started to recognize me and I could be identified as who I am — Austin & Ally on Disney.
You were on The Fosters for four years. What was it like having the hit Freeform series come to an end?
It was sad and beautiful at the same time. They wrapped the show in Turks and Caicos. It was like ending a really long relationship mutually with someone where you both love the other person so, so much, but it's time to say goodbye. You'll forever appreciate the amazing times you had.
You starred in Camila Cabello's "Havana" video. How did that happen?
That was so cool! My old manager called me and said, "Hey, so we have this offer for this music video. Not sure you'd be interested in doing it." I was like, "Who's the artist?" He was like, "Camila Cabello." I was like, "What song?" He was like, "Havana." I was like, "Yes. Yes. A million times yes." They put me in this swanky suit with rings and gold necklaces and slicked my hair back so I looked really Cubano. Then I met this lovely young woman named Camila and she's so vibrant, loving and kind. She cares so much about the project and that the video looks so great. It was lovely to meet her and work with her. The whole experience was fantastic.
Have you guys kept in touch?
We did for a little while, but not so much anymore.
Tell us about your role in To All The Boys I've Loved Before.
Well, the film is about a young woman who is terrified of love. So every time a love interest comes into her life, instead of exploring it, she writes them down into a letter, pours her heart out into it, seals it, addresses it and never gives it away to anyone. Her older sister Kitty sends all the letters out to all the boys she's loved before, and I am one of those boys. I play Peter Kavinsky in that film and I get the letter, and as a rational human being I confront her about it. When I do, she faints. It's great because I get to make my ex-girlfriend jealous. She's trying to make sure all the other boys that receive the letters don't think she's in love with them so we team up and we build this contract. We embark on this journey that's a fake relationship legitimized by a contract. The story in keeping up that deception is my character's role in it.
You're also starring in another Netflix feature — Sierra Burgess Is a Loser.
Both films are entirely different. Sierra Burgess Is a Loser is a completely different movie. It's about a young woman who is overweight and because society tends to define beauty by weight, she feels really terrified to reveal herself to this young man who she met and developed an intimate relationship with over the phone. I am that young man. I feel like I'm communicating with someone completely different. It's definitely a 'Catfish' scenario in the extreme that Sierra goes through to maintain the scenario. The big difference between the films is that Peter Kavinsky [in To All The Boys…] willingly involves himself in a façade, while Jamey [in Sierra Burgess] is completely caught in the riptide of someone else's illusions. There are fundamental differences in who they are as well as the plot.
What does your dream role look like?
I would love to stick to film. I'm definitely open to doing more young-adult romantic comedies. I'm a hopeless romantic, and I think I have a lot more to give in that genre space. Down the road, it would be great to move into more auteur spaces. I have ideas and intentions, but for now I'm just really enjoying every day as it comes.
Did you ever get advice that stuck with you from someone in the Hollywood industry you've admired that you've taken with you?
I did this film when I was 11 called The Gold Retrievers with Billy Zane, Steve Guttenberg and Curtis Armstrong, which are huge names. I remember having a car ride with Billy Zane where he looked at me and gave me advice for five minutes. I think I was too young to process it properly, but whatever he said must have put me on a path. There is a piece of advice that I do remember from Garry Marshall. I was working a show called Marvin, Marvin — a Nickelodeon show. We were doing a scene around the table talking. We stopped in the third take and halfway through it he screams and comes over fuming: "None of you are acting. Acting is reacting. You have to be listening to what the other person is saying, and then you have to respond accordingly with how you feel. Now let's try it again." I was 16 and was smiling to myself. I always smiled when I was in trouble at school or with my parents. I knew I would never forget that moment for the rest of my life.
Photography by Ben Hassett
Styling by Mia Solkin
Grooming by Amy Komorowski
Digital Tech: Carlo Barreto
1st Photo Assistant: Roeg Cohen
2nd Photo Assistants: Eric Hobbs and Chris Moore