We're in the grips of Met Gala mania, and while that could mean feeling a little overwhelmed with the flashy competition for celebrities to out-dress each other, there were enough iconic moments to keep us all grounded. Namely, Nicki Minaj's outfit inspiration: her portrayal in the media.
Related | Break the Internet: Minaj à Trois
For anyone who hasn't been following the rapper's media drama with Cardi B, here's a refresher: The two didn't shoot Migos' "Motorsport" music video together, which sparked rumors that they didn't want to be on set together. There were also reports that Minaj didn't even know Cardi wouldalso feature on the single, which begged the question: Would she have done it, had she known?
In an emotional reveal to Zane Lowe last month, Minaj addressed the Cardi controversy and said that everyone loves to hate her, which was all rounded off in her recent single "Chun-Li," where she raps, "They paintin' me out to be the bad guy/ Well it's the last time you're gonna see a bad guy do the rap game like me."
Related | Nicki Minaj Breaks Down Talking Beef with Cardi B
With all that in mind, Nicki Minaj hit the Met Ball 2018 red carpet last night in a gradient black and red gown that evoked the devil, while many of her peers channeled more angelic looks (most literally, Katy Perry). "I'm the bad guy and I wanted to make sure the bad guy was here," Minaj said at one point to a reporter.
Oh, and Minaj took a moment to share the title of her new album and it's release date. Queen will be out June 15.
What feud?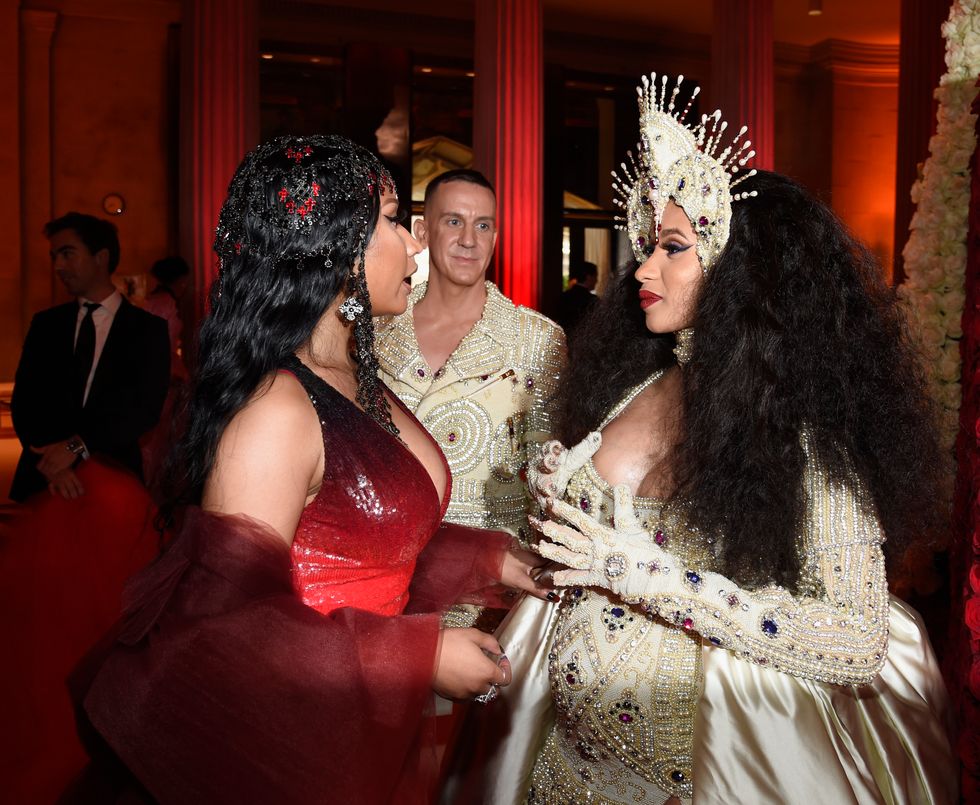 Photos via Getty