For reasons that have still yet to be disclosed, Mary J. Blige decided to ditch Kanye West when filming the music video for her Strength of a Woman single "Love Yourself." Instead, the R&B icon has dropped the track's visual accompaniment with a different fashion-minded rapper: ASAP Rocky, who shows up to in classic laid-back form to deliver a verse that is, admittedly, just as fitting as the one Kanye contributed to the song back in April.
While the video itself is pretty standard fare — which is to say, there are plenty of expensive cars, luxurious real estate, and idealistic cityscapes on display — there was something else that prevents the video from fading into the background: the fashion. Sporting a number of recognizable fresh-off-the-runway pieces, both Mary J. Blige and A$AP Rocky really brought their big guns for this one.
Let's take a look and see how hard the "No Hateration" singer is flexing in 2017.
Monochromatic Ball of Fire with a Balenciaga Boot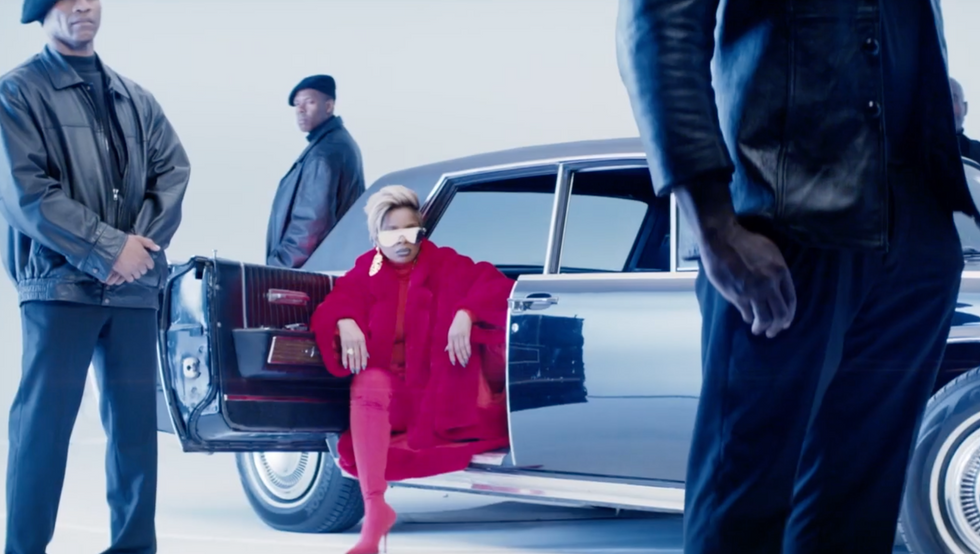 Few things can make me scream as loudly as I did immediately after seeing Mary J. Blige slung outside of a vintage car wearing Balenciaga's instantly recognizable neon spandex over-the-knee boots. To add insult to injury, she went and topped the look off with a cherry red fur coat big enough to spread across a California king-size bed.
Aquatic Sea Witch Goes to the Opera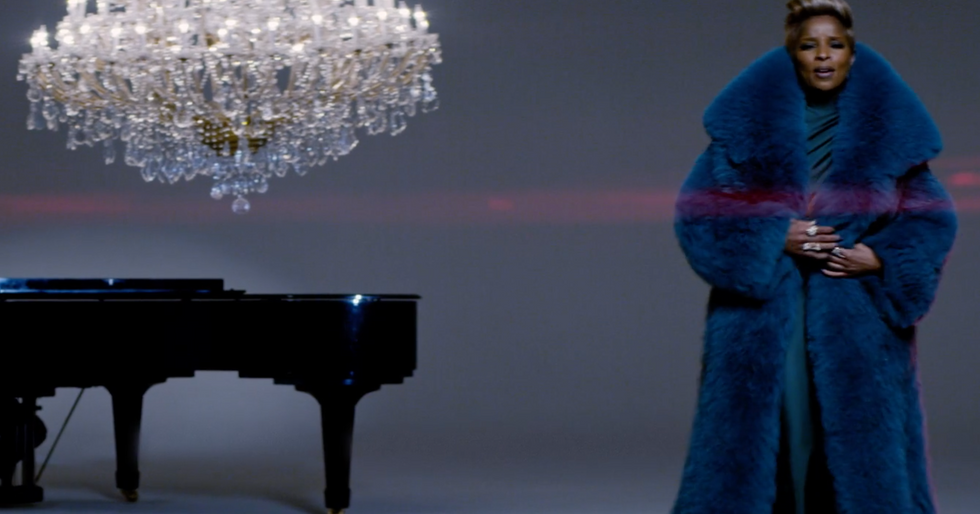 By this time, it was obvious that Mary's one request for her wardrobe stylist was "fur." Almost every look was caped off with some of the most plush furs known to man and, judging by the ease in which she maintained the power-stance required when wearing such fine pieces of the clothing, the mother of soul was definitely not new to the game.
2017 Run-DMC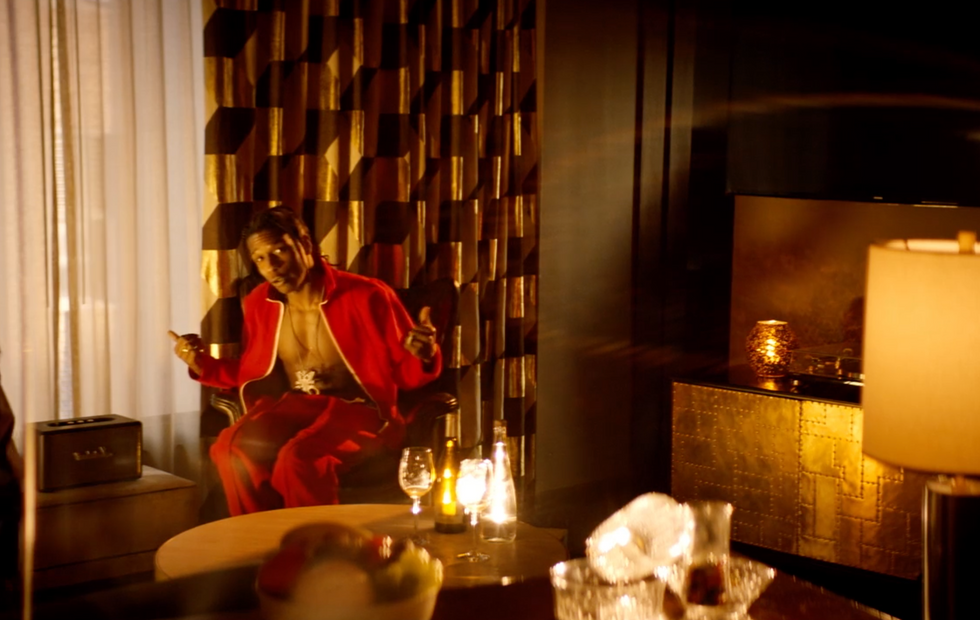 Track suits are cool. Everyone knows that. But rather than taking the classic "tailored," "updated" tracksuit look that's currently being championed by the GQ crowd, Rocky takes it all the way back to its hip-hop roots — opting to leave the jacket completely unzipped while also drawing attention to his core with an attention-grabbing pendant necklace.
The Coolest Couple At Your Prom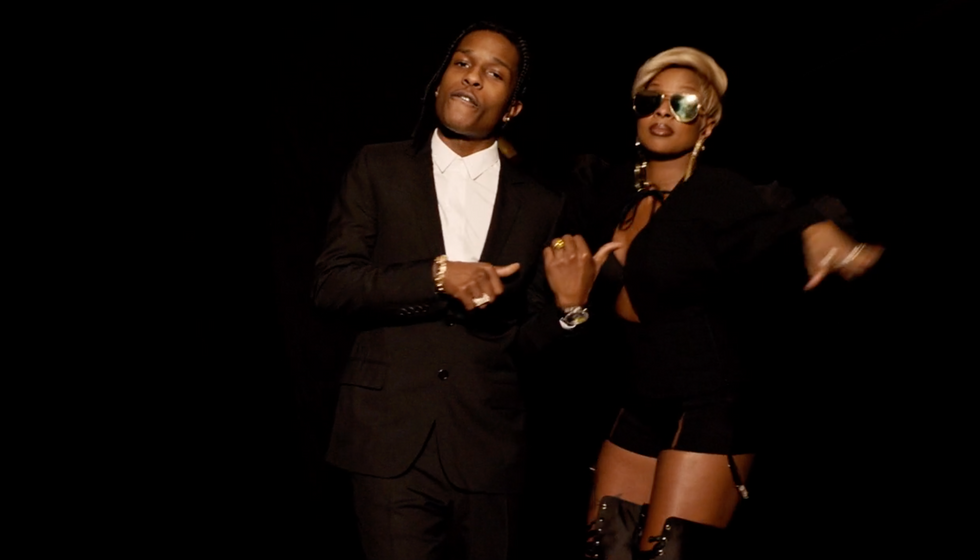 A$AP Rocky knows how to wear a suit. There's a reason Kris Van Assche counts the rapper as one of the biggest muses for his edgily tailored suits at Dior Homme. This spiffy look is no different and also provides a nice contrast to Mary's more vampy look. With strappy thigh-high boots, a midriff-baring blouse, and a hot pair of short shorts, Mary's look is an effortless brand of cool for the club.
A Nod to Saint Laurent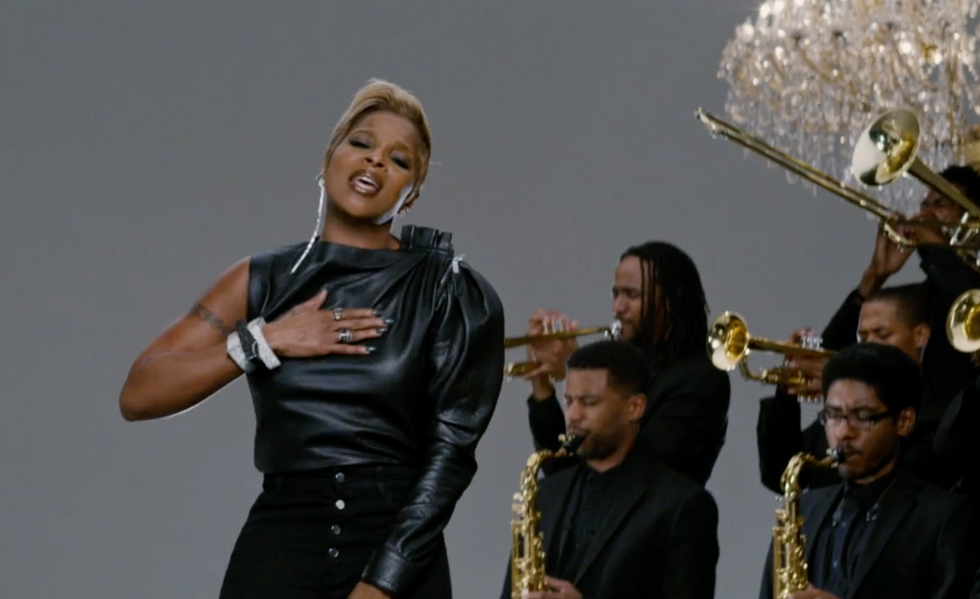 While I've taken my sweet time trying to decide whether or not Anthony Vaccarello is doing a good job as current creative director at Saint Laurent, I can say that his current embrace of the one-shoulder everything is a style with guaranteed lasting potential. Here, Mary wears a top that looks like it could have been ripped right from his Saint Laurent SS17 runway. If nothing else, the juxtaposition of a bare shoulder against a voluminous sleeve is at least visually striking.
Get some outfit inspiration with the full visual below.
Splash photo via Vimeo