There will always be gay bars, but will they be as vivid, sexy, and subversive as the haunts of yore? The history of NYC nightlife is studded with the memories of fascinating boîtes that attracted gays in desperate need of connection, then ultimately fell away as newer spots and trends emerged. To learn more about the places we miss, I turned to Kyle Supley and Michael Ryan, who specialize in documenting the formative days of bar hopping. By day, Kyle does comedy, historic restoration, and works for Wilsonart, while Michael is involved with TED (as in TED Talks). Once a year—for three years in a row—they've done Gay Bars That Are Gone, an informative walk as part of Jane Jacobs festival, in May. Here's our chat:

Hi, guys. What's your favorite lost NYC gay bar?
Kyle: My favorite is probably the Ninth Circle (a fab West 10th Street steakhouse-turned-gay-bar full of leather clones, twinks, hustlers, and celebrity drop-ins, all either cruising, playing pool, doing drugs, or rubbing against each other.) The location was so great--Mapplethorpe, Warhol and Lou Reed were all there in the late '60s. I also like Uncle Charlie's.
Julius (in the Village) is the oldest place, right?
Michael: Yes, the oldest currently operating.
Kyle: I moved to New York in '99. I wasn't going to bars right away. I heard of Julius. I heard, "It's for the older crowd." But I was curious. I love older spaces and things from a different time. I went, and it felt like a time capsule. Word spread that if you want to experience what the community was like, go there. I think there's a resurgence to build relationships with people who were there at the time or with younger people who share an interest in that time.
What are your 'Gay Bars That Are Gone' walks walks like? Are they like séances?
Michael: The point of the walk is to share memories. It's more of a walking conversation than a tour. We try to cover different types of places--gay dance clubs, leather scene, piano bars, Rose's Turn, the old Duplex space. And we try and have a guest speaker to talk from a first hand account. Some favorites are the Roxy, Crisco Disco, and the Mine Shaft, and we always end with Stonewall. The ones that really surprise people are the most historic ones—like the Vault at Pfaff, where Walt Whitman went. It was an underground space, a beer cellar. Whitman has an unfinished poem called "The Two Vaults" about the bohemians in the place. ("Drink on, drinkers.")
So Walt Whitman was openly gay?
Michael: Not publicly.
But he went to a gay bar.
Michael: It was a bohemian bar, so we don't have the language to put it in "gay bar" explicitly. But when the local press talked about the bar, it was in the salacious category of bars.
Kyle: The writer Allan Gurganus wrote, "It was the Warhol factory, Studio 54, and the Algonquin roundtable all rolled into one." It was at 643 Broadway near Bleecker.
Michael: It's a nail salon space now. That's an interesting thing about the tourists—you're hearing these great stories. We were outside the Mine Shaft [a raunchy 1970s/'80s gay sex club on Washington Street]. It's now a Samsung store. There's always a striking contrast to what it was and what it is now.
Kyle: It has a window with LED lights around it, and a tourist was in the window and seemed to be making a humping motion. He looked up and saw all these people (our group) looking at him.
That's rich on so many levels.
Kyle: That was a funny moment because there was a massage chair facing the street and there was a gentleman on the massage chair facing downward, with the masseuse behind him pushing his shoulders. But with the reflection and a quick glance, while Michael was giving a history of the Mine Shaft, it looked like something sexual was happening.
Believe me, I saw way raunchier things at the actual Mine Shaft. What did you learn about that club?
Michael: We read the signs they used to have outside talking about the dress codes to illustrate how exclusive these spaces can be. Traditionally, bars are supposed to be about inclusivity.
A lot of bars--like the Ninth Circle—were fairly inclusive, but the Mine Shaft was specifically for a butch (or butch acting) sex crowd. But they didn't really do a full inspection. If you sort of looked the part, you got in.
Kyle: One great story was about a celebrity known for being flamboyant who wasn't allowed in to the bar. A scuffle happened at the top of the stars. Everyone looked.
It must have been Paul Lynde. How has the bar scene changed from the 1970s to today, in your opinion?
Michael: It's really the lack of these gay spaces, with real estate being what it is. There are no big clubs anymore and there's also the rise of dating apps and people connecting on a screen rather than a bar stool.
Kyle: I'm in my mid 30s and Michael here is in his mid 20s—unless you lied. [laughs] I caught the tail end of the larger clubs like Twilo and the Tunnel. A lot of the spaces, I got there once and then they closed. It's sad to see these large spaces pushed off the island—and even those that were pushed have been kind of closing as of late, too. Now you can stay in your hometown and live your gay life, you don't have to come to a metropolitan city and have that connection. But sometimes there's a hunger to go back to that.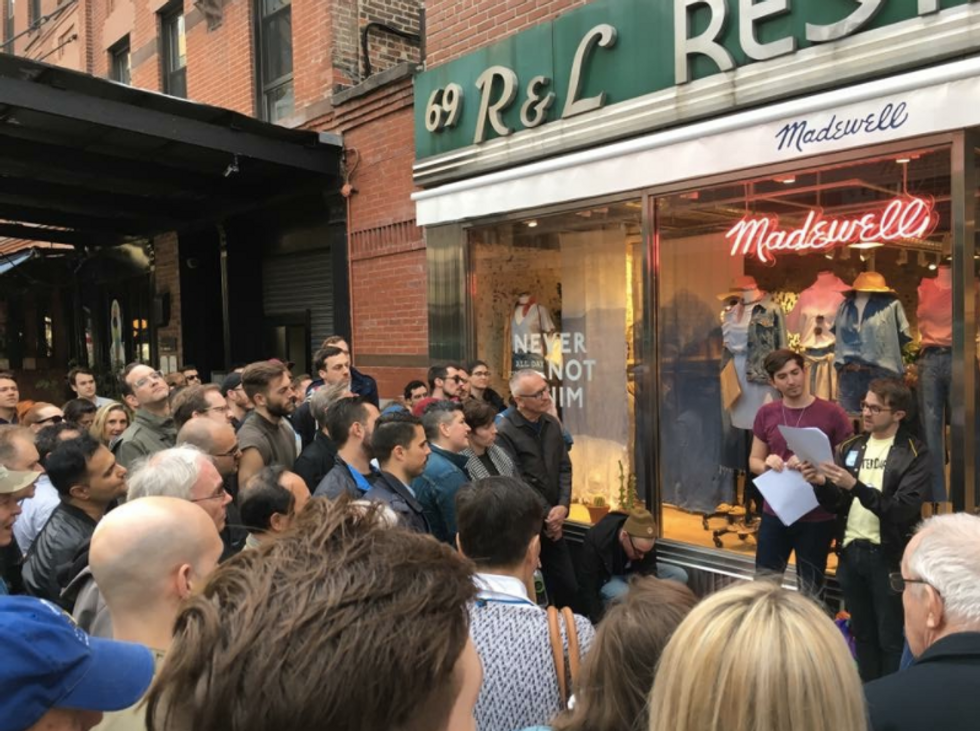 Well, there are still plenty of bars in Hell's Kitchen.
Michael: One of the tools I used in putting together the walk was a project called Outgoing NYC. A map was created of all gay bars and gay spaces from 1859 to now. You can see the dots on the map of Manhattan, and the peak is still in the 1980s in terms of the most bars. It's interesting to watch the shifts in neighborhoods.
Kyle: When I moved here, the hotspot was 8th Avenue between 14th and 23rd. Google came in, raised the rents, and everything moved to Hell's Kitchen.
Many of the HK bars are pretty small, I must say. Forty people and they look crowded.
Kyle: The type of bars and what occurs in them has changed. If you want your dirty, dark backroom, that's obviously changed for different reasons.
As you say, younger gays generally use apps for sex. They rarely go to bars to get picked up. Many of them go with a few friends to have a drink and watch a drag show.
Michael: It's great to see new gay bars open. But you can feel the former retail store. G Lounge or Splash were very designed spaces, designed on being an actual nightlife experience.
Kyle: It was more focused, what it felt like and looked like.
Michael: I live in Astoria. I've been going out in Jackson Heights a lot recently and that's a totally separate gayborhood. It feels disconnected from Manhattan. The gay bars are in spaces that seem a little more interesting to me.
Kyle: When I go to Boston or other smaller cities, the people are more open and willing to talk to each other. It's coming back a little. Back in the '60s and '70s, there was more of a connection and community. We've lost that. But there's a hunger to get back to that.
You had to go out to feel the community back then. And as we've mentioned, there was the motivation to go out and get picked up.
Kyle: Or to dance. That's something I lament a lot. I promote a night once a month at Julius. I want to promote dancing. I'm saying, "You can dance, you can look foolish." It's called After Dark: A Disco-very, and it's playing on that word. It's every second Saturday. I play oldie-oldies and I time tunnel from the '50s and '60s through the late '80s. I end in the 80s because I don't like much music after that. There is good stuff today, but it's not part of After Dark.
When people dance at your party, do they do it it awkwardly?
Kyle: Yeah, they definitely require a few drinks and the real dancing doesn't happen till about 11. The thing about Julius is you'll get people who never heard of the bar. They come to realize you can let loose with your friends and not be glared at.