Tampa-born Flloyd grew up in Atlanta and came to New York, where he became an integral part of the 1980s East Village drag scene. But Flloyd never did cookie cutter lipsynch or banal diva ballads. In our interview, he tells me how he honed his craft and also sheds light on the early, struggling days he shared with the future legend RuPaul.

Hello, Flloyd. What was Atlanta like to grow up and come of age in?
I was in the suburbs. My dad worked as a baggage handler for Delta, so we were near the airport. In some ways, Atlanta was more progressive than New York was. In Atlanta, if the bars sell any kind of food, they can stay open 24 hours. When we came to New York and everything closed early, we couldn't believe it.
Were you friends with RuPaul?
I actually met RuPaul the week after I graduated high school. I had already had a life away from my family. I had an apartment set up and I got my crap and went downtown. I met Ru a week later.
Had he developed his act yet?
He didn't have an actual act, but he did have a shtick. The first day I met him, we drank a whole bottle of Jack Daniels and he wanted to hang posters of himself all over town.
When did you come to New York?
Because of my father, I got to fly for free. I first came in '83 to see the Now Explosion [a drag-infused rock band] play. I'd see them all over the country. I moved to New York for a "Hotlanta" weekend at the Pyramid. I've been here since '86.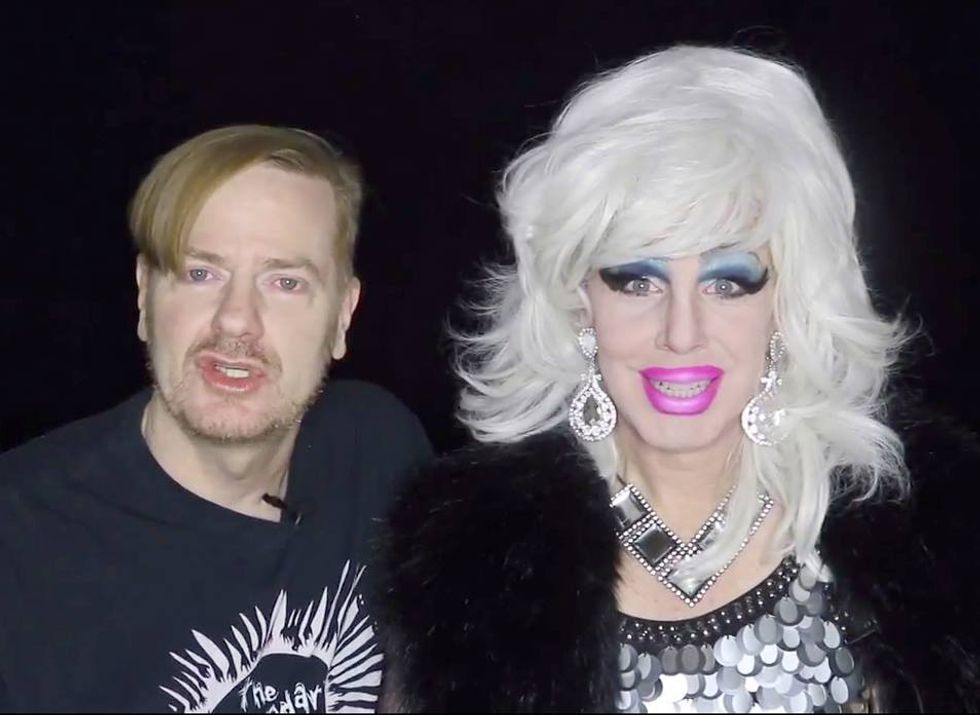 Flloyd today, with Pickles
What did you and RuPaul do in NYC?
We would sleep in parks and people's houses. We stayed at the house of Ruth Polsky [who booked bands for the club Danceteria] and also the place of some woman who was a backup singer for Irene Cara. Ruth loved Ru. She had a scrapbook of all the rockers she'd slept with.
You couldn't afford an apartment in NYC?
No. We didn't have jobs. We were very poor. My family's working class, but they didn't have any money to give me. I never asked them.
Would you say you were you one of Ru's best friends?
Totally. We were all that each other had. And in Atlanta, we lived together.
What was your first NYC performance?
I lipsynched "Atomic" by Blondie at Danceteria. They said, "Why don't you sing along with it?" I said, "What?" It was the first time I used a mic. For Pyramid, Ru had picked out Dee Dee Sharp's "Ride"--"I'm gonna get on my pony and ride"--for me.
In New York, did you see Ru develop as an artist?
Yeah. When I met him in Atlanta, the thing he was doing was more of a Pam Grier thing, a black thing. When you look at early movies like Starrbooty, his thing is a strong woman. On Drag Race, it's more of an invention--the blonde Barbie. His act is being a personality, really. "Supermodel" only went to 42 on the pop charts. He tried to be a singer, but that's not really his forte.
Did you ever have disagreements?
Yeah, you know how people are. We had different goals in life. I never considered drag to be what I wanted to do with my life. I remember being with RuPaul at Area for one night and he was saying, "Smile! Smile!" Ru was my drag mother—he taught me how to do makeup and he dyed my hair blonde the first time. He was older than me. I looked up to him and wanted to be like him. He'd say, "Smile, be pretty, and be nice." But one time in the bathroom of Area, I took off my wig and said, "I don't want to smile and be nice!" We definitely didn't have the same things in mind. I was the goth queen. I wanted to light my hands on fire and vomit. I had already started my goth thing in Atlanta. It was a different aesthetic than RuPaul. [An involved incident happened in the '80s. "He fell in love with my roommate," says Flloyd, which led to complications and break-ins and breakups. "We had a falling out," adds Flloyd.]
Through the years, have you kept in touch?
I've tried. When he moved to California, I definitely don't know what happened, but I feel like we drifted apart. I feel like there's something else going on. I don't know why, but he's definitely cut me out of his life. That's one of the reasons I wanted to do this interview.
How has your own performance aesthetic evolved through the years?
I see myself as a performance artist, and I've done everything over the years. I've done dance pieces and standup comedy. I took comedy classics at Gotham and performed there. I like to say that my art is unencumbered by any form of success. [laughs] I made a feature length film with Jack the Ripper. I used to gogo dance with Butthole Surfers. They used to live at my house. Gibby Haynes is the one who taught me how to light my hands on fire. I'm probably the only person who can say they were friends with RuPaul, Gibby, Anohni, and Genesis B. P-orridge. I'm still good friends with Genesis. He comes over for dinner. She. I'm an artist. I draw. For two years, I've been making video art. I'm sitting there 10 hours a day making videos and thinking, "I should get off the computer and make real art."
How have you made a living all these years?
I heard Pat Field say once, "You have to have a day job to support your dreams." Ru has such a drive that he never really...he did have jobs. But no one knows what his full saying was: "You better work--because I have no intention of doing it."
I know that's a joke, because he works hard.
Yeah, yeah, I know. Right now, I have a cleaning company and make my own soaps and stuff. Luckily, I have a rent controlled apartment and that's given me the ability to be a starving artist. I've supported myself for years with odd jobs and not had to do 9 to 5.
Thank God because those are the worst. What would you say was your most dizzying moment back in the day?
When the Tunnel was run by [club manager] Rudolf, I was making like a thousand dollars a week. Of course I was a drug addict and alcoholic and spending it on all on cabs and drugs and alcohol, but it was definitely a high point. I was throwing parties. I was living with [club kid] Alison Wonderland. I don't live in the past. I don't wish it was still happening. I'm happy about the now and I wouldn't trade things. When I tell people I was nominated for King of Manhattan [in a Michael Alig-produced club pageant], they're amazed. You know, it was just an excuse to have a party. I never considered it a contest, it was a show. I never campaigned to win.
I won the first King title, and believe me, it was rigged. What do you feel is different today?
Drag has changed so much. When I came to New York, there were at most 50 drag queens in the whole city. Now it's like there's two thousand. Tabboo! and I talk and say, "Could we survive on Drag Race? I don't make my own clothes."
I have every confidence you could do so.

Splash photo by Linda Simpson