Between a US-supported, quasi-coup in Bolivia and mass protests in Chile, it's a chaotic time in Latin American politics. So the timing of the already fraught Latin Grammy Awards — which spotlight musicians from the Spanish-speaking world — yielded some powerful fashion statements. Using their red carpet time wisely at last night's show in Vegas, many artists attempted to force viewers to give a shit with their clothing.
A guide to all the political looks, below.
Mon Laferte staged a topless protest against the violence in Chile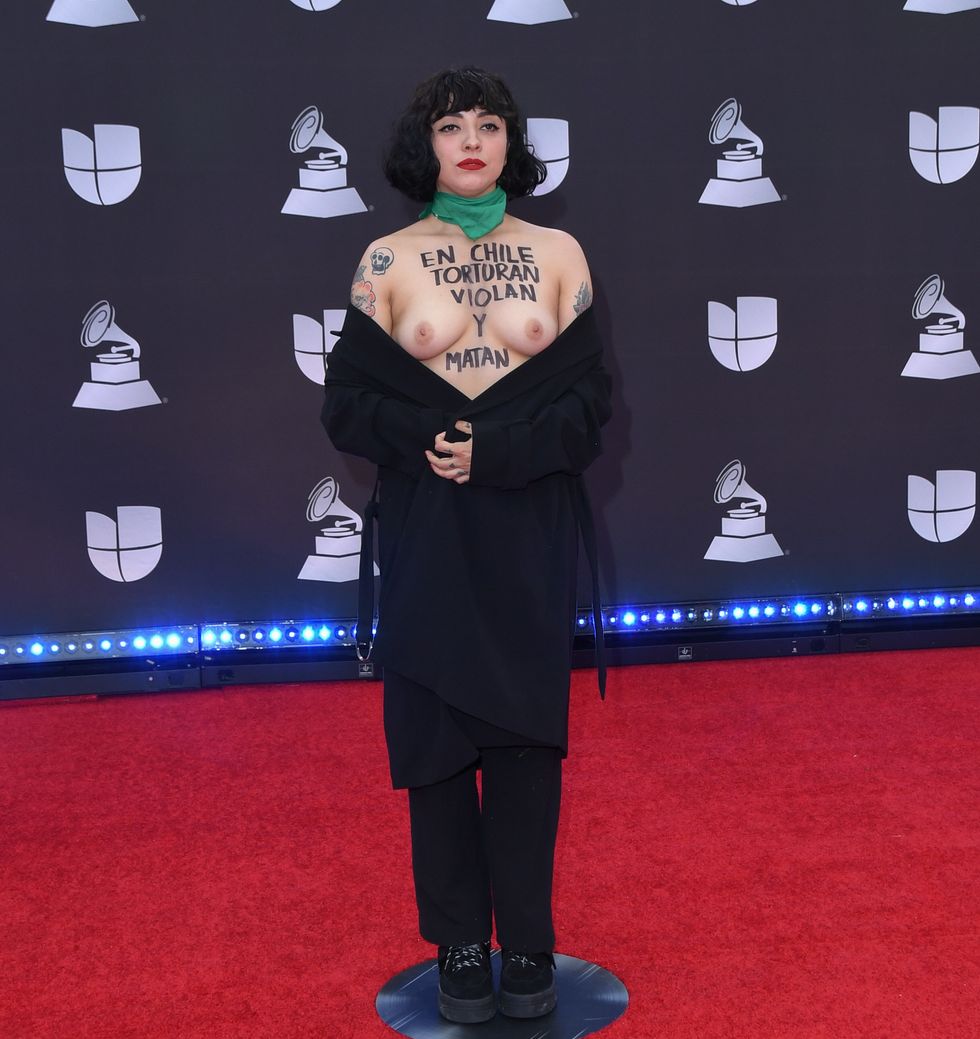 The Mexican-Chilean musician joined the long, rich tradition of nude female protest, painting "En chile torturan violan y matan" ("They're torturing, raping and killing in Chile")on her bare chest. Her message specifically calls out the brutal treatment of demonstrators by police in recent weeks. According to CNN at least 20 people have died due to police brutality and resulting fires in Santiago. The civil unrest over inequality in Chile was sparked by an October subway fare hike.
"My free body for a free country," Laferte wrote on Instagram, revealing in a second post that the platform is censoring the hashtag #MonLaferte. Later that night, she also debuted a revolution anthem inspired by her red carpet look with Puerto Rican rapper Guaynaa, "Plata Ta Tá." All around, a successful night for the artist. Her protest has gone viral, the full look slapped, and she took home Best Alternative Album.
Álex Anwandter demanded justice in his home country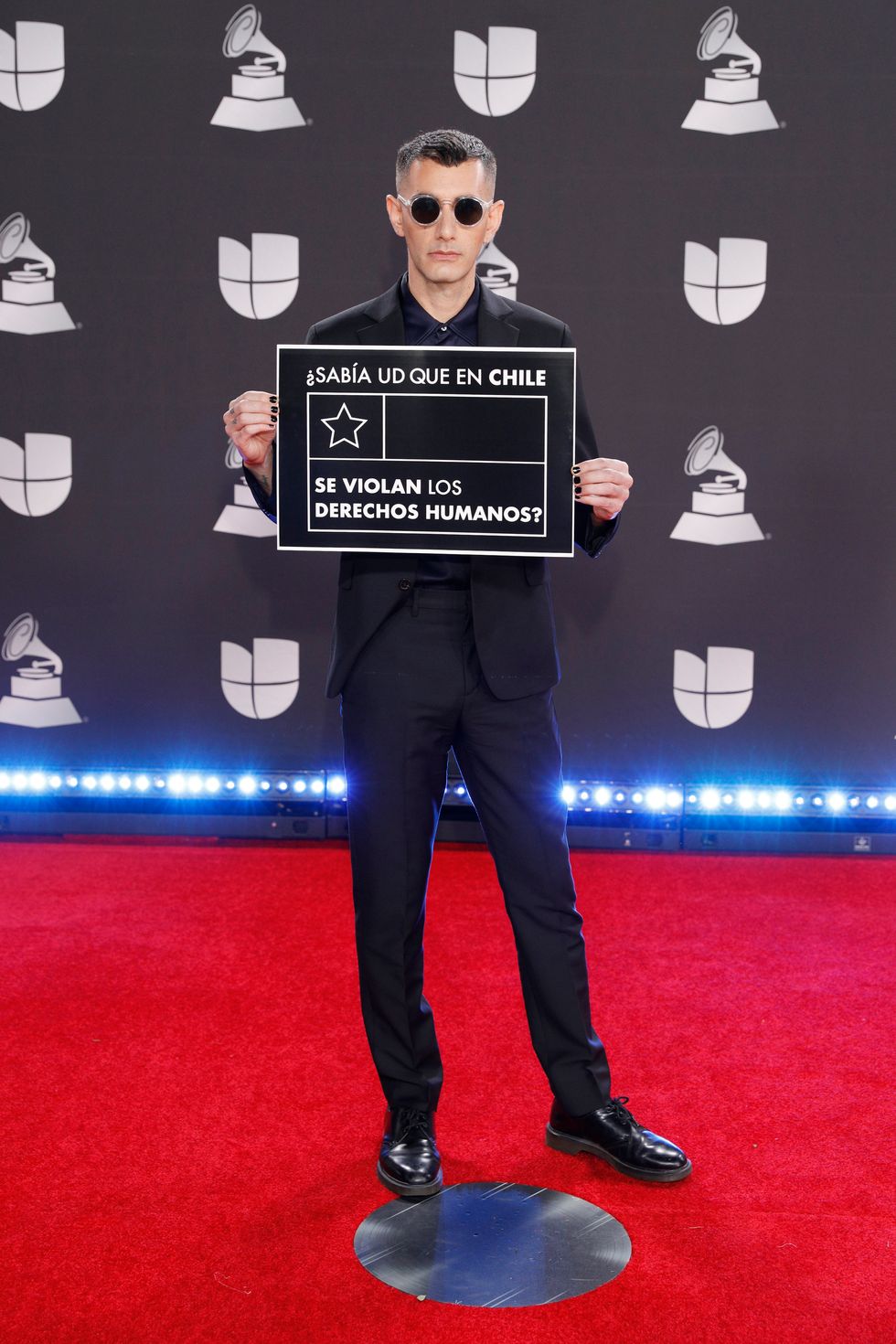 Anwandter took a break from rallying in his hometown of Santiago to attend the Latin Grammys. He walked the red carpet in funeral black with a sign, asking "Sabía ud que en chile… se violan los derechos humanos?" ("Did you know that in Chile, human rights are being violated?") He lost Best Alternative Album to Mon Laferte, but last night they were on the same team.
Robert Vogu calls out xenophobia against Venezuelans (and everyone)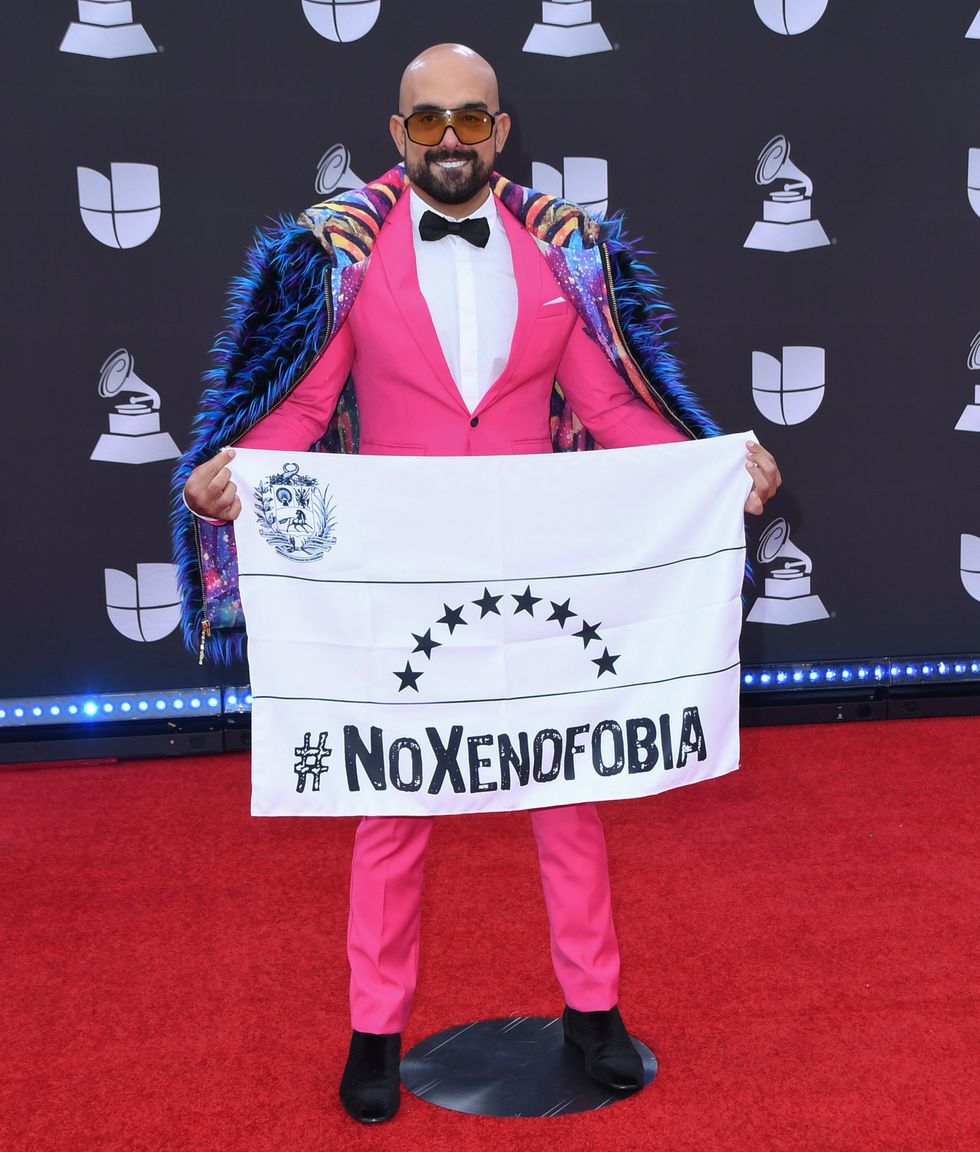 In the wake of Venezuela's economic crisis, a wave of videos have emerged documenting hate crimes against Venezuelans in places where citizens have fled, like Peru, Colombia, Argentina, Mexico and (of course) the United States, reports NBC. Looking dashing in a pink tux and furry coat, the Venezuelan singer nodded to this ugly trend and rallied for immigrants with a pointed flag.
Vanessa Añez put eyes on the crisis in Bolivia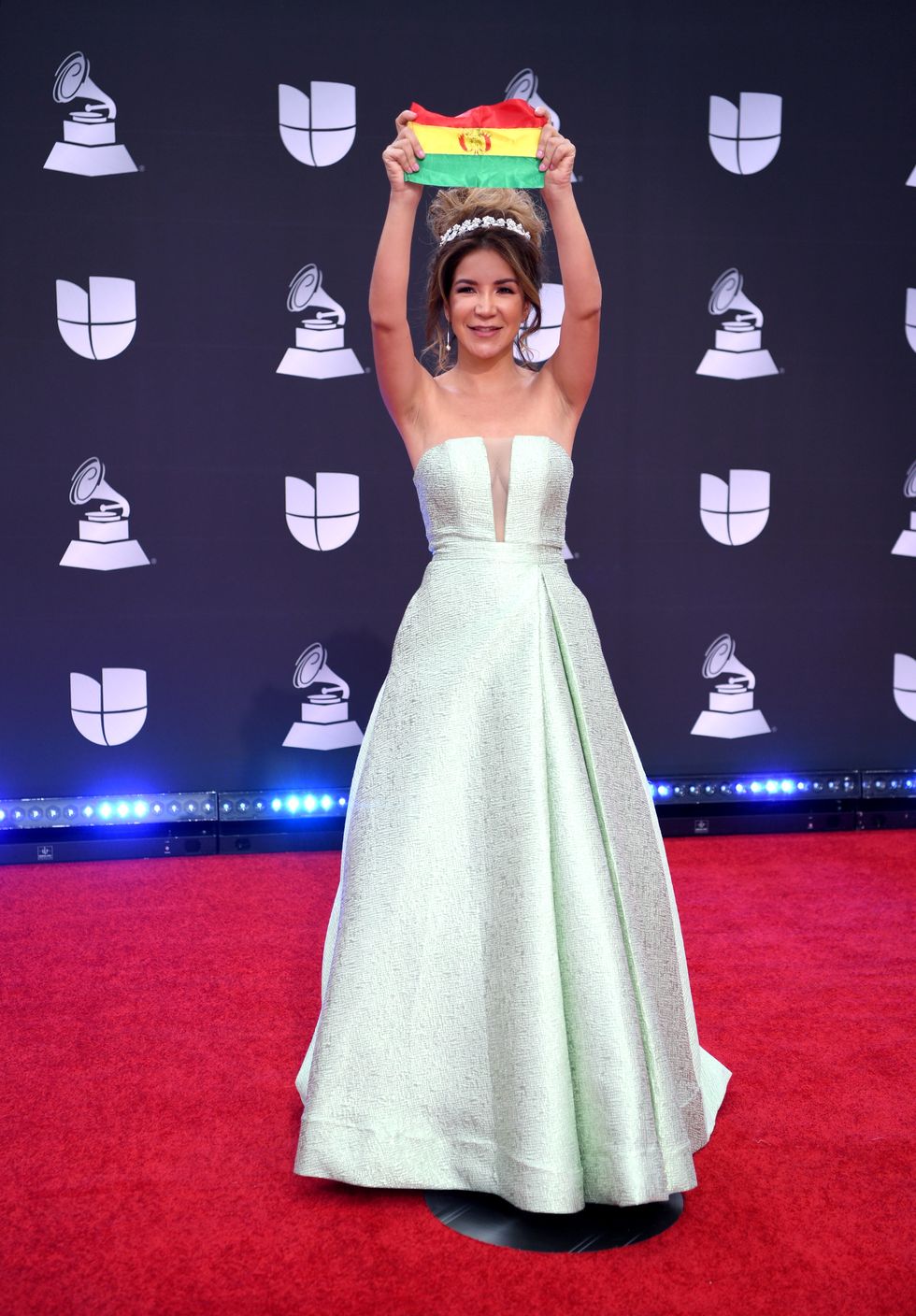 Making a more subtle statement than Mon Laferte, Añez walked the red carpet quietly with a Bolivian flag. It's a loaded symbol in the wake of former President Evo Morales' forced resignation at the hands of the Bolivian military. Online, she wrote "Solo deseo de corazón que mi patria amada encuentre paz" ("I only with from the heart that my beloved homeland can find peace.")
Producer and many-time Latin Grammy nominee Juan Pablo Vega addressed the recent surge in violence against Indigenous Colombians by paramilitary groups with a sign reading "En Colombía nos están matando" ("In Colombia they are killing us"). On Twitter, Vega thanked the Latin Grammys for "creating these diverse spaces to celebrate the multiculturalism that is our most precious inheritance," and said while the evening is for celebration, it's also a time to speak out.