James Franco has been revealed as OUT Magazine's newest cover star.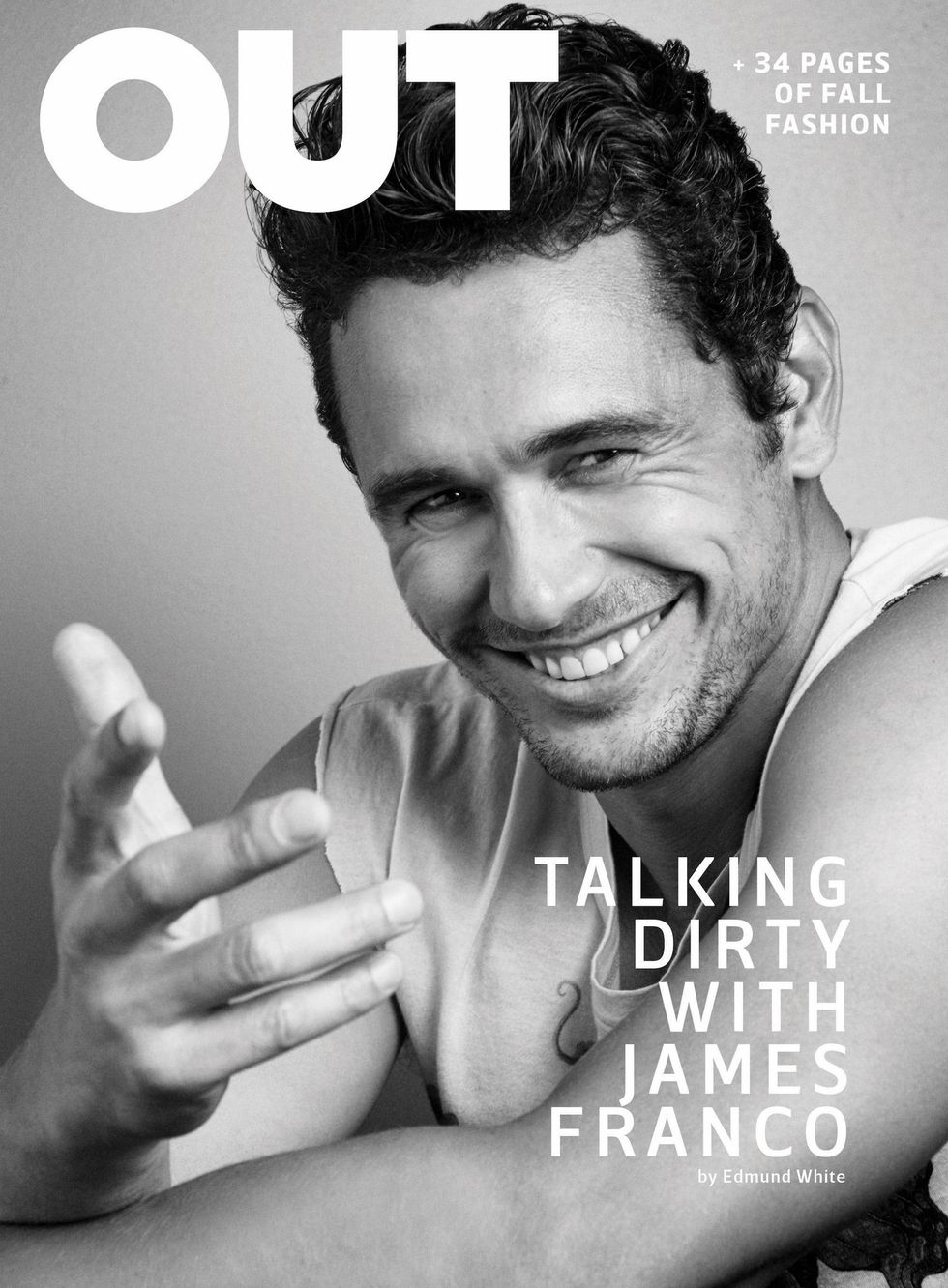 For the profile Franco sat down with legendary NYC writer Edmund White to talk about the 70s porn biopic Franco is currently starring in on HBO. The Deuces is set in the notoriously salacious world of Times Square and 42nd Street in the late 70s. Written by The Wire's David Simon, Franco directed multiple episodes this season, including ones he starred in as a pair of temperamentally-opposite twins who work in porn. Franco and White covered everything from addictions, to directing Maggie Gyllenhaal in sex scenes, to finding peace through surfing. Here are the highlights:
On changing up his lifestyle:
James Franco: I've been learning to surf, and now I'm at the International Dance Academy on Hollywood Boulevard, about to take my hip-hop lesson.

Edward White: Are you going to be surfing and dancing in your next role?
JF: [Laughs.] It's a kind of therapy for me. I've started a new chapter of my life. I was very work-addicted, and addicted to other things—not substances, I got over that a long time ago—but I've recently changed my life, and this is part of my therapy.
On directing Maggie Gyllenhaal in sex scenes:
JF: I had to direct sex scenes in The Deuce and… whooo, it was interesting, I have to say. Maggie Gyllenhaal, in addition to being just an incredible actress, is fearless, and she really led the charge with how she handled the sex scenes and how she handled herself, and really set the template for everyone else. If I didn't have someone like her I think it would have been really, really hard to engage in those scenes, but she just made it so easy. She's fearless.

On dealing with past addictions and being depressed:

JF: I have a very addictive personality. When I was a teenager I got over certain addictions, and that's when I started acting, at age 17. I really threw myself into it, and that became everything, to the point where I didn't even socialize. And then after, like, 10 years of that, at age 27, I realized, Man, I'm so depressed. On the surface my life seems pretty good—I have a career and everything—but I feel isolated and lonely. So then I threw myself into school, but again it was just this sort of running, running, running.
On directing episodes that he also starred in:

JF: Yeah, I directed a bunch of small artsy movies. I did Faulkner adaptations—As I Lay Dying, The Sound and the Fury. I did movies that most people don't want to see but that were very important to me. Then when I did The Deuce,when I finally talked to David, I said, "All right, I'm in, but I want to direct." And he's like, "OK, OK, you can direct." And I said, "I want to direct at least three episodes of the season." Ironically, the first episode I directed is the most twin-heavy of the entire season. Every scene is the twins acting opposite each other, so it was a full-on schizophrenic personality shift for me, from director mode to Vincent mode to Frankie mode.
The interview is also chock-full of White's anecdotes about being a young gay man in 1960-70s New York. You can read the whole thing here.
[OUT]
Image via Getty