Goddess Bunny, otherwise known as Sandie Crisp, is one of those faces that has been around for decades. In the 1980s, she could be found performing at the now shuttered Queen Mary bar in Los Angeles or alongside Carrie Fisher in Hollywood Vice Squad. In 1998, she made a huge splash as a lead performer at the MTV Music Awards performing alongside Marilyn Manson in The Dope Show.
As a survivor of polio, the Goddess is a pioneer in advancing the visibility of transgender identities in a society that was not yet ready to accept them; not only is she trans, but she's also led her life from her wheelchair, and integrated as many aspects of the queer community as she could into the medical and entertainment industries. It's rare that reporters have face time with The Goddess, as she is a mysterious Hollywood figure whose accomplishments have often gotten erased from history. "I'm better known than Kim K," she says during our meeting at the Inglewood assisted living facility she currently lives in. "I'm tired of hearing about her. It's like a bad disease that won't go away." Those were Bunny's first words to me.
Before meeting with the Goddess, I spent a fair amount of time researching the different ways in which she was active in the Los Angeles queer community, watching videos of her tap dancing, her short films, and The Goddess Bunny, a documentary made about her in the 1994. Needless to say, her accomplishments are plentiful. When I arrived in her room, I found the Goddess sitting the dark watching TV. As one of her many symbolic sons (though he's the only one on the will), Hunter Crowder, escorted me inside and turned on the lights, I was shocked at how many decorations were on her walls and shelves. A fake diploma from the University of Life Church Monastery, noticeably printed and handwritten, for example. A half-eaten hot dog on the unmade bed and a series of condiments lining her bookcase. This was clearly a different Hollywood icon from the one I had just watched on screen. But then we started talking.
The Goddess was recovering from a karaoke night Hunter and her other son Alex Lili hosted to raise money for a film they are both making together about their mother's life. Anyone in the audience could go up on stage and sing. The evening was emotional and featured both lip-synced and live performances by the Goddess herself of songs by Karen Carpenter, Helen Reddy, and others. Photographer Chuck Grant, one of the Goddess' unofficial children, brought her sister, Lana Del Rey to the event. Moved by the love that filled the room, Lana sang to the Goddess in a special performance, and Hunter and Alex raised enough money to make their film. Still today, the Goddess knows how to move a crowd, and, when she does choose to perform back on her old stomping grounds, can bring a crowd together.
The Goddess Bunny is a Los Angeles native. She was born in California as John Baima in 1960, and soon after contracted polio. Her mother was born in Los Angeles and her father in Italy. "We were the last royal lineage of Italy. If I were to go back and kick the Pope off his throne. I'd be the queen," she says, smiling. Though she was born into what would qualify as a traditional family, the Goddess was quickly moved into foster homes. For many years, she bounced from home to home, each one touched by its own instance of trauma. "I started getting molested at the age of 9, in five foster homes," she says. "I had every bone in my body broken by foster families. I have been fed everything from urine to vomit. Anyone in their right mind would have gone nuts." The fact is: the Goddess didn't. In spite of these horrendous experiences as a young child, she fought as much as she could to pursue her passions and eventually realized that meant show business.
"When I was six years old, I was at a hospital that celebrities would visit to drop off presents for patients," the Goddess says. "Mary Tyler Moore started playing with chopsticks while I was on a gurney. So I started playing with my feet. She goes, 'That takes talent! If you graduate high school with straight A's, come to my studio: I'll give you a job.'"
Like any believing child, Sandie — still John at the time — worked very hard to live up to the dream Moore had planted in her mind. "When I graduated high school, the first thing I did after going to graduation night at Disneyland, was to go to MTM Enterprises, where Grant Tinker was behind the front desk," she says. With a flicker of resentment in her eye, the Goddess continues to explain that, as predicted, Moore had forgotten all about her empty promise. "Some people like to patronize children."
Ever since early childhood, the Goddess made a point of never being a pushover. She would make a splash wherever she found herself, regardless what people said about her or led her to believe. After getting turned away by Moore, she saw an open stage door and an elevator. "I got in the elevator, and the door shut with no release button on the inside. I stayed quiet for about a half an hour. All of a sudden, all the lights came on. I heard people discussing the scene. I figured this is my one and only chance," she says. Ed Asner, the famous actor who was also the star of the Lou Grant Show came into the elevator with the editor. "'Good morning, Mr. Grant," I said. That got me my first role as a copy boy on the Lou Grant show." With that first role under her belt, she gained the confidence to continue pursuing a career in entertainment.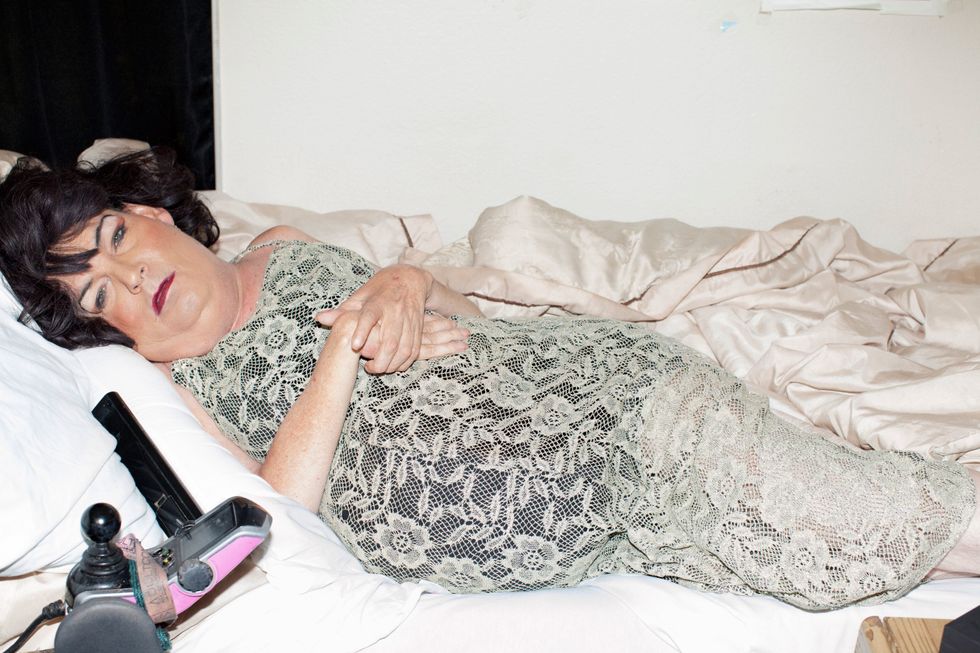 Up until that point, the Goddess still presented as a man, adhering to her birth gender, though never truly fitting in. She subsequently moved to Hollywood, where she was shacked up with a man. "The guy who was supposed to protect me from the vultures out there ended up molesting me," she says. "He figured my ass was his property. To deal with that, I started doing drag. He did not like that. I was the first runner up in Miss Gay World," she says triumphantly. At 19, John decided to become Sandie Crisp, eventually adopting the moniker Goddess Bunny.
"My first move as a woman was to make a dress out of silver lame with a stapler," the Goddess says in reference to her debut at Miss Gay World. "I walked down the runway. Everyone was surprised at how good my fashion was. And voilà."
At that point, the '70s were coming to an end ­— and so was disco. "The gay community kept it alive as long as we could," she says. "One day, some straight guy came into the nightclub and pulled the plug on disco records. Now, bars are more or less carbon copies of carbon copies of carbon copies." So once the '80s were in full swing, the Goddess focused instead on integrating with the underground punk scene, which she doesn't address much today. That's perhaps because many of the films and accounts of her life during that time feature her drunk. "My mother is half Cherokee, my dad's Italian," she says. "Try that mixture. Indians don't get drunk good. We start acting ridiculous. The gay community likes to get me drunk constantly."
As a day job, the Goddess worked at the Gay & Lesbian center at the Hudson House. She took care of young adults between the ages of 18 and 24, doing their laundry, cooking their food, and making sure they did their homework. "I did this until they closed the Hudson house. The owner was using the young people to do his porn and that was against policy." Allegedly, an underage child was brought into the house and asked to participate in these porn films. "The boy died. They said he accidentally fell off a cliff. So that's when it closed." This is yet another traumatic event in the Goddess' story. Though she didn't have anything to do with this act of predatory behavior, it was yet another way in which sexual assault disturbed her life.
While the Goddess continued to work in the HIV Clinic at the Gay & Lesbian Center and then at Hollywood Presbyterian in the Pediatric AIDS division, she was still performing in the evening. "I would do my drag at night, coming into work with circles under my eyes. I did that for 28 years. I love working with kids. That's why I adopted so many," she laughs. At this point, the Goddess was on hormones and presented as a woman in both her professional and personal circles. Her colleagues respectfully treated her as such.
She'll always carry with her the paradoxical glamour of an L.A. underground punk scene survivor.
In the mid '80s, she met fellow drag queen Glen Meadmore, who quickly became her friend later, roommate. Together, the two were unstoppable. "Glen Meadmore, the Voyeur," the Goddess says. "I first met Glen on the set of Hollywood Vice Squad. He was trying out with all the other drag queens of the city. They handed me a script. You see all these drag queens turn to me with daggers in their eyes. I went in, said my lines, and was hired!" the Goddess adds that Meadmore is very quiet, unlike his persona when on stage. He was a shy voyeur then, bursting out in extroversion when "he really had something to say," she says. Together, they collaborated on movies directed by John Kegel, better known as John Aes Nihils. Nihils was known for his reinterpretation of the Manson killings in a series of films entitled Manson Family Movies (1986). Today, it appears as Nihils and Sandie are recovering from a tenuous relationship. She called him the "John Waters wannabe."
The Goddess and Meadmore's relationship fueled many of her performances. They dynamized each other. In 1984, he filmed a video of the Goddess tap dancing in the style that would go onto to define her aesthetic: old school glamour mixed with the unapologetic grit of a city that knew no limits.
"Darling, I'm a tough cookie. I have survived all the hardships of my childhood and I'm still here."
When asked what her old friend's up to today, the Goddess didn't seem to know very much. They still talk, she says, though it's unclear as to how much. From where she is now, the Goddess watches the world around her with what seems to be a saddened resentment. Though she never truly expresses it, the stories she tells are full of the exaggerations that come with aging. "I used to go 85 miles an hour with my left foot," she says. "My mother could never catch me with her Oldsmobile." She continues, "I was in the first Paralympics in 1974," though no Olympic games were hosted in Los Angeles in that year. In 1984, the Olympic games were hosted in Los Angeles but the Paralympics didn't make it to the LA grounds, contrary to what was announced in 1977. Instead, they took place in New York. And the Goddess definitely wasn't in New York in 1984.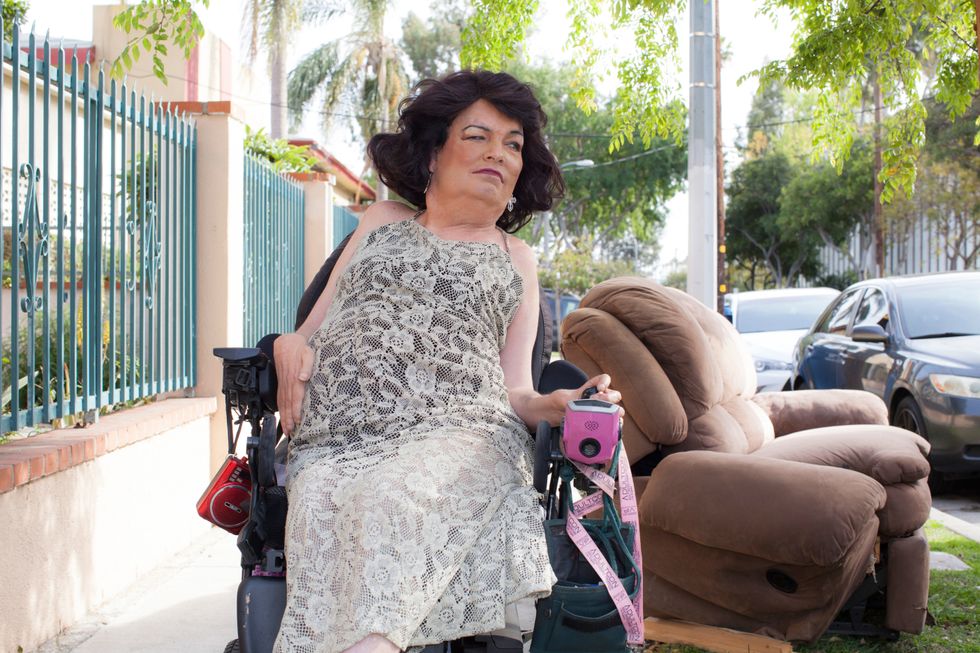 Whether we believe what she chooses to share is up to us. It almost doesn't matter if the events she relays are accurate are not. Ultimately Goddess Bunny is a performer, and we're here to watch her show. She'll always carry with her the paradoxical glamour of an L.A. underground punk scene survivor. It doesn't matter that the diplomas on her wall are fake, or that her stories are filled with fantasy. None of it changes her incredible journey, however punctuated with hardship and trauma it may be.
"There's a lot of my life that people don't know about. That's why we're doing this film where actual actors will act out my life," she says. And as she gears up to run for the 2020 Presidential election, the Goddess offers the following: "If people even write in my name in 2020, across the nation, they'll have the best f**king President of the United States they've ever had. Since JFK. Because darling, I'm a tough cookie. I have survived all the hardships of my childhood and I'm still here. Dealing with the White House would be fun."