It's late summer, 2002, and there's a shimmer of body glitter in the air. Jennifer Lopez is about to release her iconic third album, This Is Me… Then. It's dedicated to her current boyfriend, Ben Affleck. She's one of the biggest celebrities on the planet, and her millions of fans are spritzing themselves with Glow by JLo. The brand new scent is selling so fast that department stores can't keep up with demand.
Times may have changed, but JLo is forever. 15 years later, everything about Glow — still a popular choice in the fragrance aisle — remains instantly recognizable. The sensually-shaped bottle, rumored to be modeled on its namesake's nude body (pulling a Kim Kardashian before the reality star was even 25). The dangling rhinestone charm. And, of course, the smell: a sweet, soapy musk meant to recall the feeling of just stepping out of the shower. Glow's massive success inspired the likes of Beyoncé and Britney Spears to release rival perfumes, but JLo did it first. She has released 24 fragrances to date, with revenue in the billions. When she received her VMA Video Vanguard award, someone should have mentioned the actress and singer's most overlooked career highlight: transforming the celebrity fragrance market.
It's hard to believe now, when an Ariana Grande or Taylor Swift fragrance seems like the most obvious marketing choice in the world, but back in the early 2000s a pop star perfume (okay, eau de toilette if we're being technical) wasn't a sure bet. Famous actresses and singers had been appearing in beauty campaigns for decades — Audrey Hepburn was the first to align herself with a perfume, when she became the face of Givenchy's L'Interdit in 1957 — but celebrity-branded products tended to be more miss than hit. Until JLo came along, Elizabeth Taylor's White Diamonds, released in 1991, was considered a rare exception. Not even Uninhibited, Cher's legendary late 80s scent, had managed to stay on the market.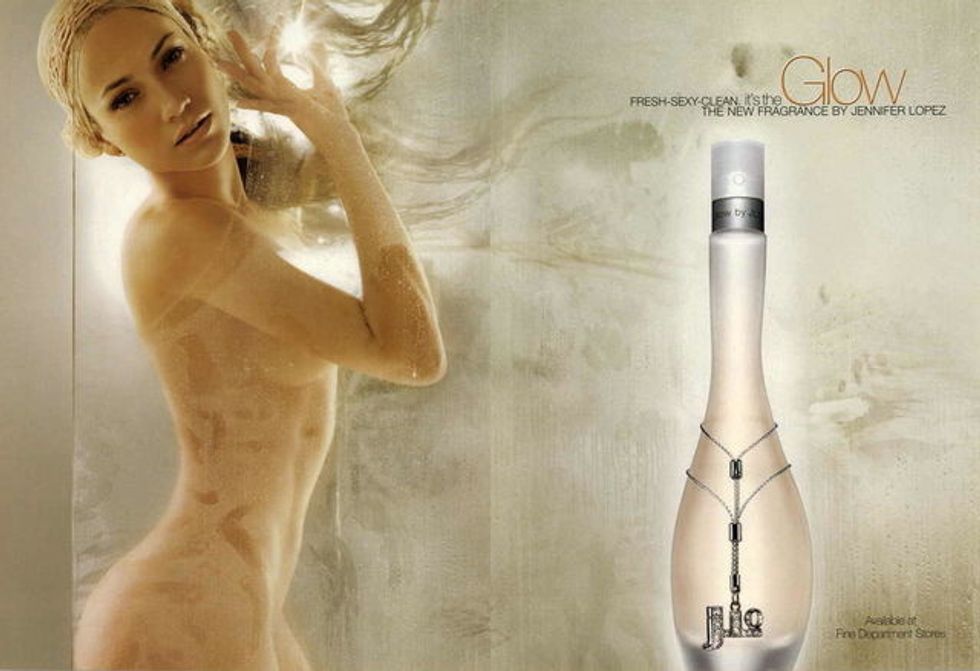 The pivot to perfume was really something of a risk, but JLo and her team put everything they had behind it, even throwing a lavish 200-guest launch party at Trump Tower in Manhattan with the building's owner in attendance. A late-night fireworks display over the river spelled out the word GLOW. The investment paid off: despite early media predictions of its failure, within six months Glow had broken numerous perfume sales records. By 2004, JLo clothing (picture a lot of velour tracksuits) and fragrance products were raking in $325 million annually, and the celebrity fragrance boom had well and truly begun. Over the next decade, everybody from Sarah Jessica Parker to One Direction released a signature scent. The charm bracelet that adorned T.Swift's Wonderstruck bottle in 2011? Think of it as an updated version of the Glow by JLo pendant.
The huge success of Glow and (not to mention its popular spin offs, Glow After Dark and Miami Glow) can be attributed to numerous factors, foremost JLo's surging international fame. Lopez was her own marketing campaign: an ethereally airbrushed image of her standing completely naked in the shower advertised the fragrance on billboards, bus stops, and magazine pages throughout the early 2000s. Her music was everywhere, too: particularly the single "Jenny From The Block," complete with a self-referential video about growing up in the Bronx and becoming one half of Hollywood's then-favorite power couple, Bennifer.
But people also just liked the smell. Soft and feminine, with notes of citrus, rose, and white florals, it appealed directly to its intended market: 15-25 year-old girls. The scent was concocted by veteran perfumer Louise Turner, who would later formulate Love by Chloe, Margiela's Lazy Sunday Morning, and Carolina Herrera's Good Girl. Somewhat unusually, the entire creative process did receive significant input from Lopez herself. In a 2003 interview with Inc magazine, the singer recalled having "a very clear concept and direction" for the perfume notes. "It was all about being fresh, sexy, and clean," she explained.
The celebrity fragrance train has slowed down since 2003. But even if many of JLo's early fans have moved on to Le Labo, her impact on the cosmetics world is undeniable. Glow proved a pop star can move an unknown product just by putting her personal brand behind it, and laid the foundations for the more social-media friendly celebrity beauty and fashion lines that are popular today: from Kylie's lip kits and Kim's KKW range to Jessica Alba's Honest Company and Drew Barrymore's Flower. Yep, even Rihanna might have JLo partly to thank for the success of Fenty. Always moving with the times, Lopez herself recently launched a new prestige makeup collection with Polish brand Inglot.
Ah, 2002. It sure does feel far away now. Ben Affleck has just checked into rehab, and Donald Trump probably isn't anyone's first choice for a fun perfume launch party guest. But Glow is still on the shelves: a time capsule testament to its creator's entrepreneurial skill and star power. Not bad for a girl from the Bronx.
Photo via Getty