There's 8 billion tons of plastic suffocating our planet and Everlane plans to do something about it. The San Francisco-based direct-to-consumer brand, which rose to prominence for its transparent pricing and dedication to ethical manufacturing, has announced that it will eliminate new plastic (in favor of recycled plastic) from its products, stores, offices, and packaging by 2021. Congruently the brand is launching a collection called "ReNew" on October 24th.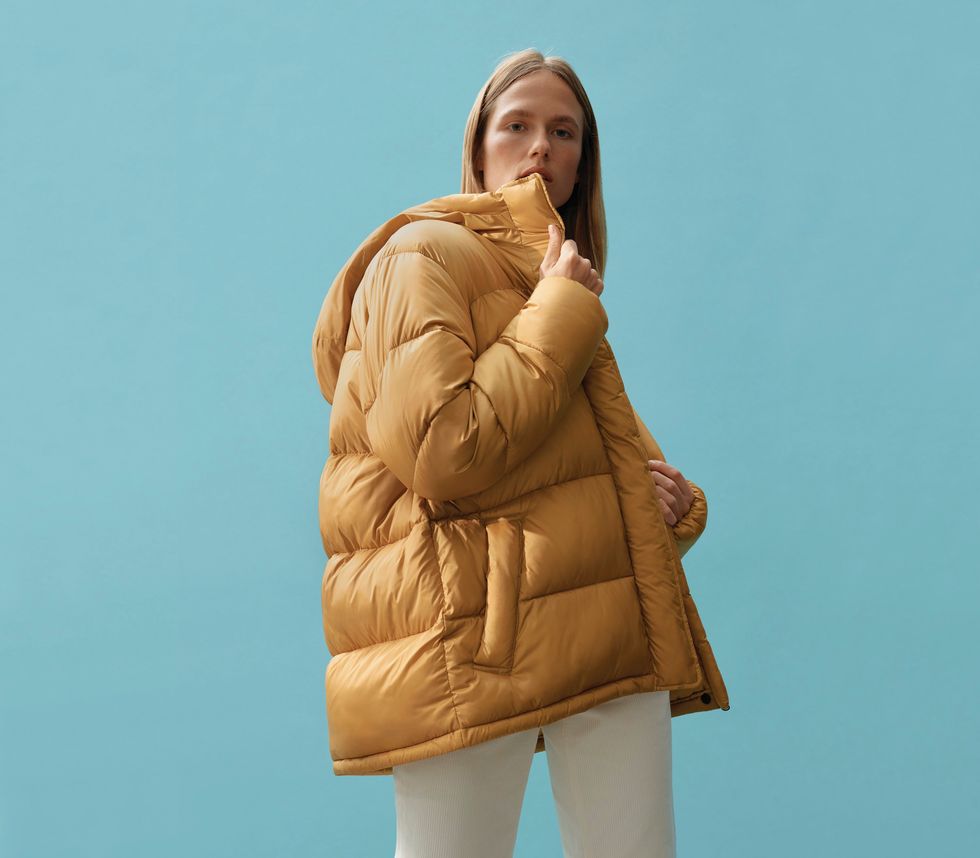 A jacket from Everlane's renew collection.
The line of puffer jackets, parkas, fleece sweaters was made using 3 million recycled plastic bottles. New products will be introduced to the category over the coming years and all Everlane merchandise will be distributed in 100% post-consumer recycled plastic bags. Together, these changes will recycle 100 million plastic bottles within the next five years. In addition to clearing its supply chain of virgin plastic, Everlane plans to use silk grown in regenerative farms by 2021 and aims for it to be dyed and washed with 100% recycled water in processes that use 100% renewable energy by 2022.
Everlane isn't the only fashion brand thinking about its use of plastic. Just last month, French fashion label Courrèges announced that it will cease production of its signature nylon, while New York City-based designer Gabriela Hearst committed to going plastic free by April 2019 back in June. While performance-wear and outdoor brands including Patagonia (which began recycling soda bottles into polyester in 1993) have been on top of the issue for decades, for most of the industry, abandoning new plastic is radical suggestion.
Hopefully transitions towards sustainable supply chains, like Everlane's will push more brands to follow suit in the coming year.
Images Courtesy of Everlane