While most people may think of yachting as a rich man's leisure activity, British skipper Alex Thomson tells us about the grueling (and sometimes dangerous) race that's earned the nickname the "Everest of the Seas."
"There are parts of the race where the closest person to me is on the International Space Station," Alex Thomson says. The British sailor is describing the experience of racing in the Vendée Globe, an around-the-world yacht race described by many as the "Everest of the Seas" for the ferocious challenge it presents. Started in 1989 and held every four years, the Vendée Globe sees skippers from all around the world — sailing entirely alone — navigate a course that typically takes two and a half to three months to complete, passing the world's three greatest capes (South Africa's Cape of Good Hope, Australia's Cape Leeuwin and Chile's Cape Horn) during the voyage. At the 2016-17 Vendée Globe, Thomson, who is sponsored by Hugo Boss and sails in a ship emblazoned with the fashion brand's logo, came in second place, finishing the race in 74 days, 19 hours and 35 minutes, the fastest around-the-world solo time ever for a British sailor.
Related | Leo Messi Is the G.O.A.T.
While the image of yachts may conjure a life of leisure and pleasure cruises, skippers like Thomson train as hard as any professional athlete (Thomson says he pretty much spends the entire four years in between each Vendée preparing for the next one) and endure grueling conditions at sea. During the race, Thomson says he "sleeps for 20 to 40 minutes every two to four hours" and he "aims to get four and a half or five hours of sleep a day — but that's rare." And, because the boats are built for speed (Thomson says the race is just as much about who can design the best ship as it is who can sail it the fastest), every effort is made to reduce weight. "There's no toilet and we don't carry a sink," Thomson says. All of his meals are dehydrated and freeze dried. "The race is almost a human experiment in self-management," he says. "And it's about discipline — it's about keeping your energy levels right, making sure you're not too sleep-deprived and being able to make rational decisions as much as possible.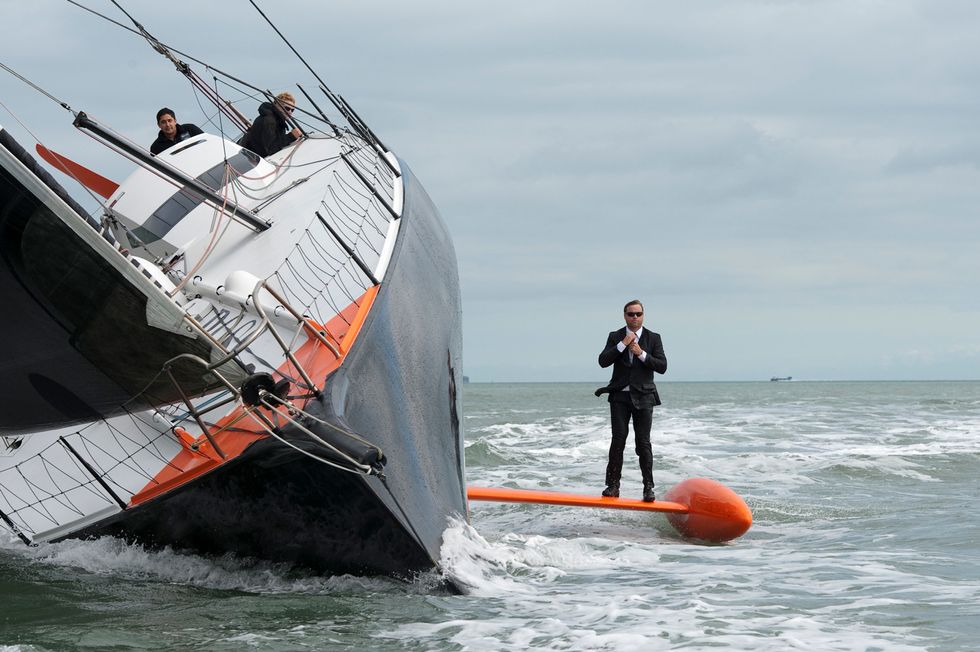 Courtesy of Alex Thomson Racing
"The race is almost a human experiment in self-management. And it's about discipline... In my mind, it's the most difficult sporting event on the planet."
"In my mind, [the Vendée Globe] is the most difficult sporting challenge on the planet," Thomson continues. "It's a true test of a person's physical and mental strength." He adds that in terms of preparation, racers "have to be physically fit enough, mentally fit enough and you have to be a navigator, a meteorologist, a doctor and a maintenance man." Thomson says, "Statistically, 50% of the people who start the race won't finish," mainly due to technical issues that arise on their yachts. And, when sailors encounter a problem — like medical issues or difficulties with their boat — their isolation means that often they have only themselves and their fellow racers to help. He recounts a story about another sailor who "pretty much bit off his tongue and had to sew it back on himself." Another time, Thomson himself encountered a crisis with his yacht. "In 2006, I was 2,000 miles south of Africa and part of my boat broke, and I had to abandon it and get into a lifeboat," Thomson remembers. "I was rescued by another competitor." Despite the fierce competition among the sailors, Thomson says that they will always stop to help a fellow Vendée sailor: "It's the law of the sea."
Currently Thomson is gearing up for the next Vendée Globe that begins in November 2020, once again teaming up with Hugo Boss (they're "an aspirational brand and what I do inspires people, so the two marry together very well"). He hopes to become the first Brit to win the race. And while for others the thought of spending four years training for a competition that finds them alone at sea for three months, contending with storms, raging headwinds, technical issues, loneliness and freeze-dried food might sound unpleasant, it's clear this is Thomson's passion. As he says, "I'm lucky enough to have found what I love in life."
Opening Photo by Christophe Launay