Nineteen-year-old Dallas rapper Cuban Doll makes slick, audacious rap, weaving braggadocios lyrics about making money and staying unbothered despite her haters through booming trap beats. She released more than 35 songs last year, collaborated with West Coast mainstays like Mozzy and OMB Peezy, and dropped two projects, Cuban Linkand Aaliyah Keef. Attributing her affinity for West Coast rap to the infectious, bouncing beat she hears in music made there, which differs from the country-infused rap from her hometown, she's also going on a West Coast in the upcoming months. Hot off the release of Aaliyah Keef, Doll's already gearing up to drop another mixtape, Cuban Link pt. 2.
Before turning to a career in music, Doll garnered a massive following on social media, including A-list celebrities like Cardi B and Drake. When asked how she amassed such a large audience, she is notably nonchalant about the 872k followers she currently has on Instagram, saying, "My pictures would go viral, just having photoshoots and stuff, getting my hair done, just being pretty. And then everybody would want to copy me, get my hairstyle or want to get what I'm wearing."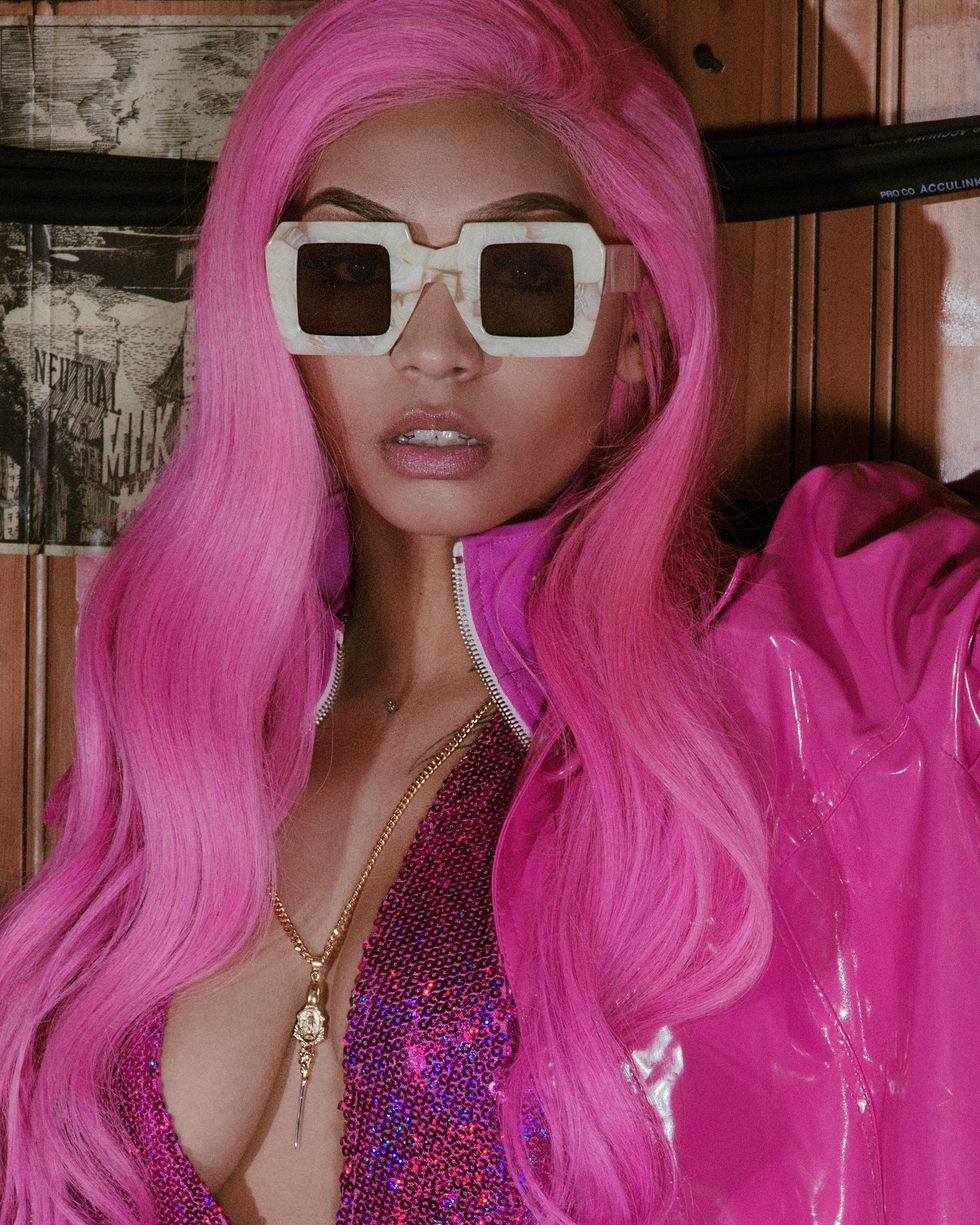 Sunglasses: PAWAKA (from Henrik Vibskov Boutique), Trench: Vintage, Jacket: MISBHV, Bodysuit: Cheng, Necklace: Chris Habana x Willy Chavarria
In fact, it was via the Internet that she created her stage name, which was originally a name she made up on Twitter. When people started calling her "Cuban Doll" in real life, it transitioned into her rap moniker, as well. Now, she's experimenting with more aliases and musical identities. Whereas Doll represents her feminine side, her Instagram handle is currently @cubanndasavage. "Cuban Savage" represents her tough side, and makes appearances in the visuals for her recent hit "Bankrupt," which is full of cars, money and weed. Conversely, in her music video for "Playa,"she is adorned in pink, rhinestones, glitter, and a tiara. She does her nails and makeup, and sings, a melodic departure from her unabashed rap flow. The rapper shows that the twin identities are not mutually exclusive, carving out new ways for women to flex their strength without disavowing their femininity.

Doll further explores her multifaceted identity in her new mixtape, Aaliyah Keef, which is a portmanteau of R&B icon Aaliyah Haughton and rapper Chief Keef's names. She wants "Aaliyah Keef" to be yet another identity, one that also represents both her tough and feminine sides. She says, "There are other female rappers with the name 'Doll.' I wanted to separate myself, so I came up with Aaliyah Keef. I made a mixtape so people can get used to seeing the name everywhere. People think that's my real name. Aaliyah is my sweet side, it's girly-girl, and then Keef is like Chief Keef. He's like the legend for the younger artists coming up, like me. I used to listen to Chief Keef coming up rather than Biggie or something. His was always hard gangster music, and I'm a female so I gotta keep it cute."

Related | Beautiful People: Cardi B Is Still Real
Aaliyah Keef is changing Doll's outlook. Before the mixtape dropped, she felt like, "There was a cloud over me making my shy, like 'Oh they might not like my music, or they might not take me seriously.' I didn't want to be too confident and get rejected." But now, given the massively positive response to her new music (her "Bankrupt" video has 4.5 million views), she redefines that feeling of shyness as humility, saying, "Everything's just been going up. No downhill. So it's like, 'Ok, so they do like me. They are listening.' It's like I'm a real artist now. Everywhere I go, people know me now. People are always reaching out. It gave me a lot of confidence."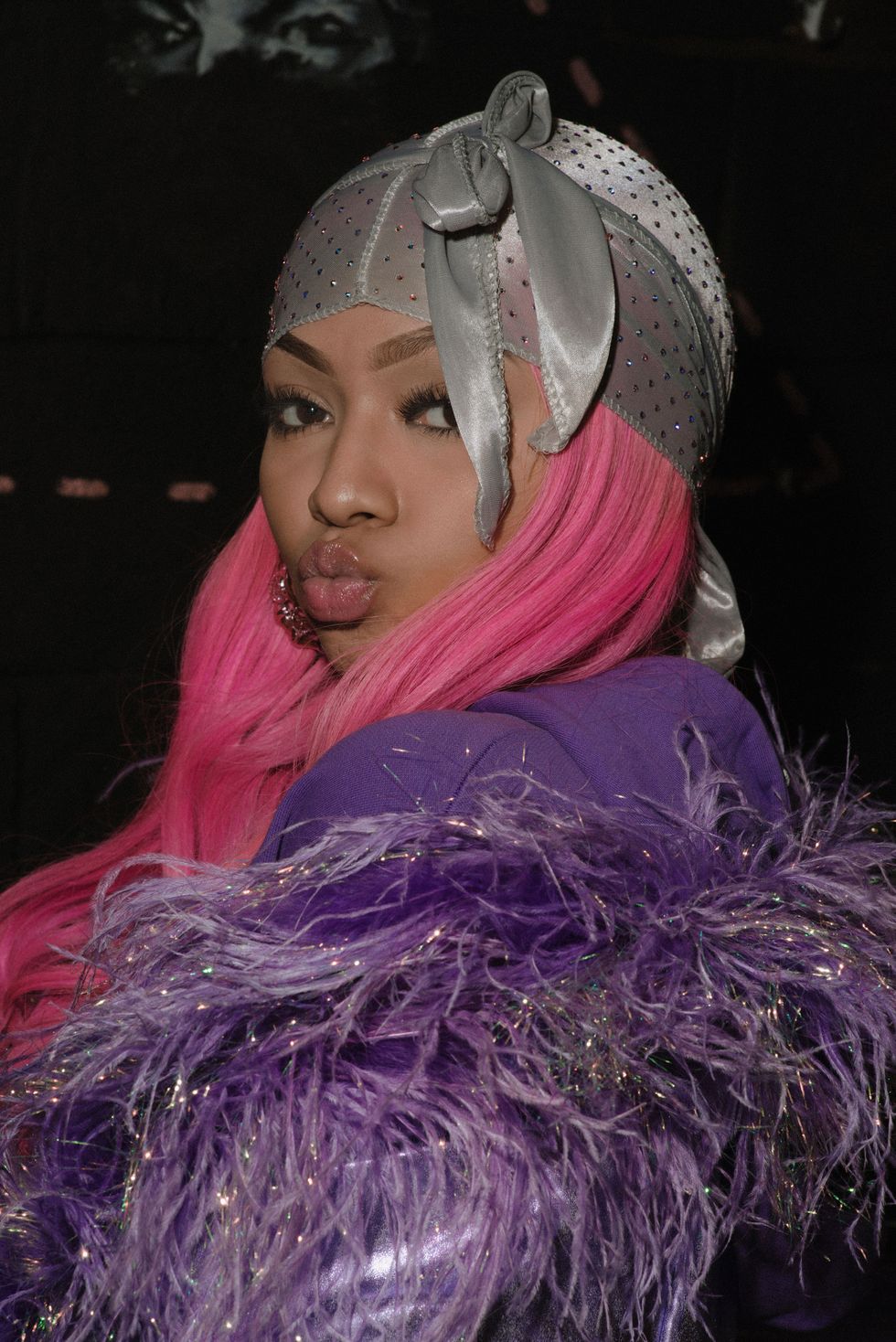 Durag: FREEDRUGS NYC, Earrings: Chris Habana x Shannon Stokes, Boa: Cheng, Jacket: Jamil Moreno, Hoodie: Palm Angels
Her newfound self-confidence comes with a new set of fans that extend beyond the Internet, where she first built a massive following. For a long time, Doll felt that her audience was solely confined to virtual spaces. Now, people are coming to meet her in real life, she says. "When I first started, I only had fans on the Internet. But now it's like, I have real fans, people not just on the Internet. You can spend all day on the Internet, but if you can actually make somebody come see you, then they download it — just everything."

With two significant projects to her name and another on the way, Doll is undoubtedly in for quite a year. Her fanbase is growing and her bravado is booming; just don't try to put her in a box.
Stream Cuban Doll's Aaliyah Keef mixtape, below.
Photography: Mateus Porto
Styling: Airik Henderson
Hair: Ryan Burrell