It's tough to stand out in a crowd — let alone a small army of 100 equally ambitious, hair-flipping trainees all vying for a spot in an 11-member girl group.
That's the concept of the hugely popular South Korean reality TV competition series Produce 101, which kicked off in 2016 with the formation of I.O.I, a group of aspiring pop superstars lumped together to promote for one year before returning to their respective agencies.
And while the West has seen its fair share of groups formed by reality shows, the concept of building a brand set to self-destruct after a certain time is a... unique added layer of chaos.
Related | 100 Women Revolutionizing Pop
Kim Chungha managed to secure a coveted spot in that group — placing fourth overall in the competition — with her fierce freestyle dancing skills and superb vocal ability, which won her scores of fans over the course of the season.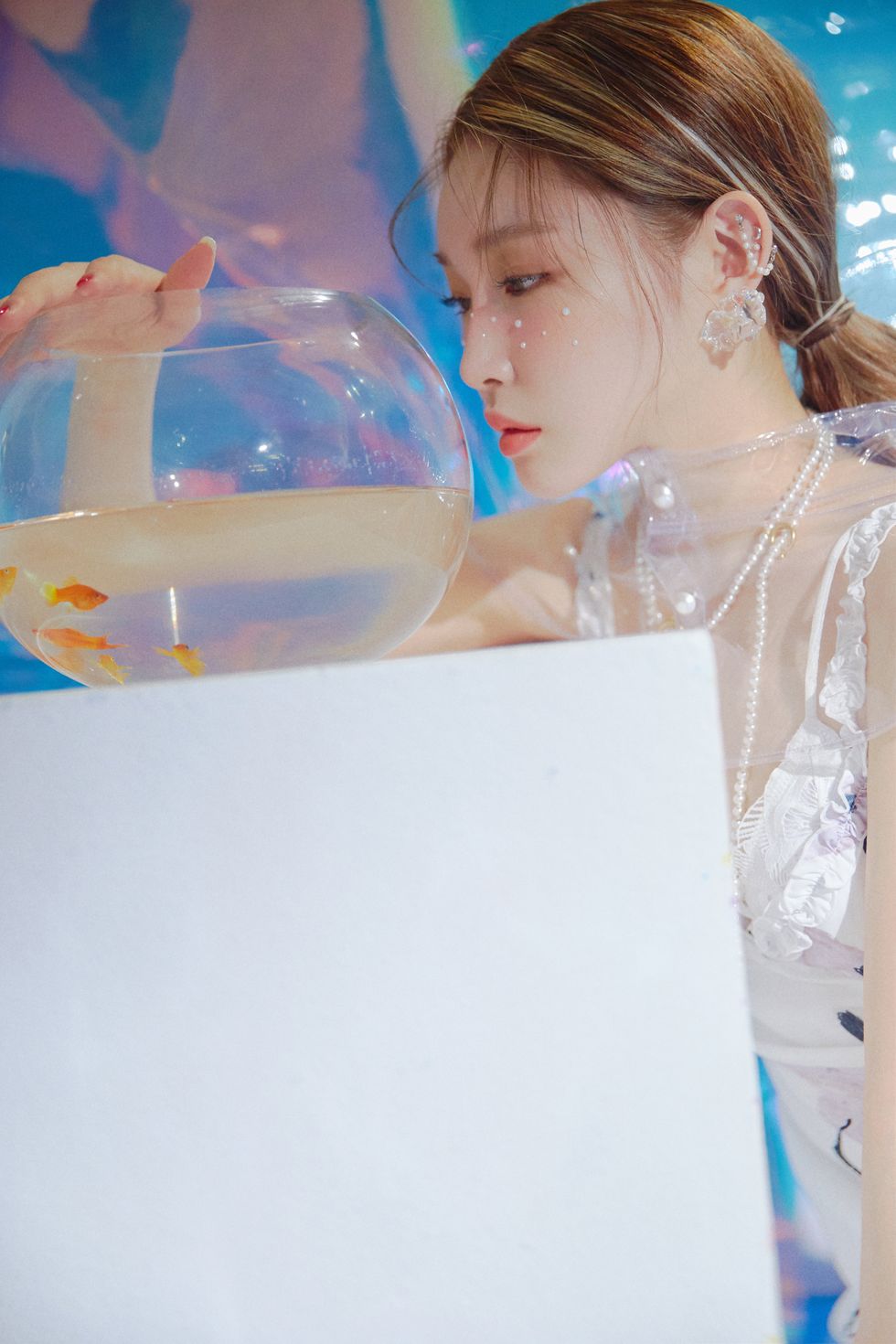 While I.O.I unsurprisingly dominated with two Top 5 mini-albums in their brief, frenzied reign, Chungha was left on her own just as quickly after one year's time, and the actual test of her stardom began.
Evidently, the public only wanted more: her debut solo EP, Hands On Me, soared into the Top 10 in Korea, spawning her first hit "Why Don't You Know."Offset — the album, not the Migos member — came afterward in early 2018, as her bubbly "Rollercoaster" kept Chungha climbing even higher on the charts.
In keeping with the breakneck pace of K-Pop releases, Chungha's already returned this summer with Blooming Blue, her third solo outing: a bright, summery and, as she herself describes it, "blue-y" collection of songs best suited for sun-soaked beach trips and pool parties.
In the barely two years since her official debut, the 22-year-old entertainer's already proved she can do the girl group thing and the solo thing. And if it were up to her, she'd be juggling both at the same time.
Hey Chungha, how are you?
I'm good! How are you?
I'm great! Thank you so much for chatting with me today.
No, thank you for having me today!
Of course! How's your day going so far?
Awesome! I might get a little stuck with my English, because I haven't spoken it for like ten years now.
That's fine!
Yeah. [Laughs]
Speaking of English: you lived in Texas for eight years, is that right?
Mhm. I was really young, though.
Do you remember anything about the experience?
Yeah, it was really normal. I just went to school and church. That's pretty much it.
Did you do anything that shaped your experience in South Korea? Were you preparing in the U.S. at all?
No, I never thought that I would be a singer when I was in America. [Laughs] It made me more open, I guess, because there were a lot of opportunities to listen to different music styles, you know?
Were you dancing at all?
No! I never thought I would dance! [Laughs]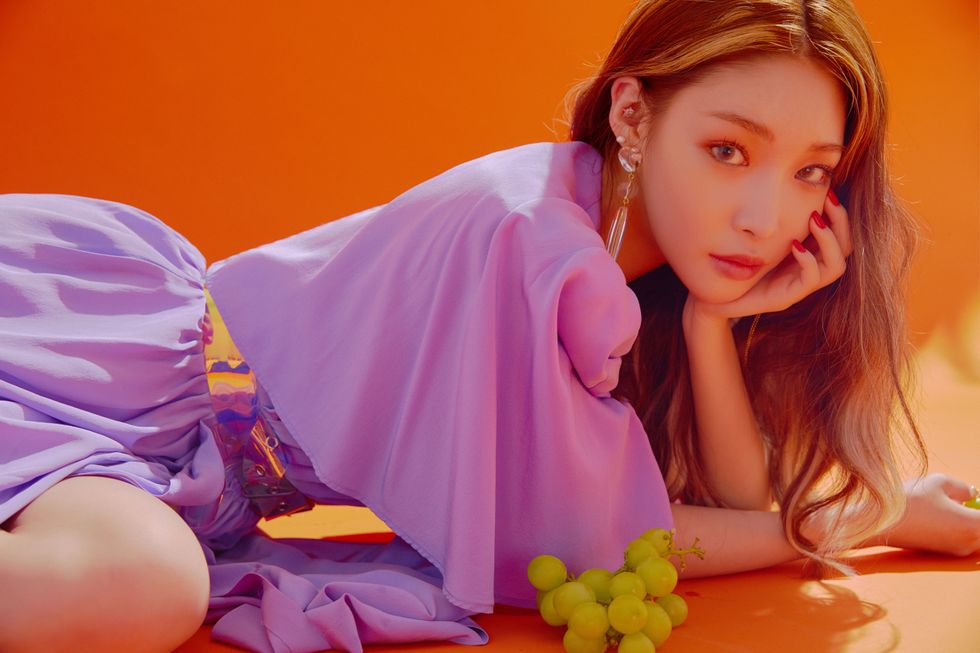 Did you have any early plans for what you wanted to do?
I was always dreaming of going on an audition. But I never thought that would happen, so it's kind of like a dream come true, really.
You were part of Produce 101, the reality show, which is a crazy concept.
Yeah.
Looking back, would you change anything about the experience?
No, I want to leave it how it is. [Laughs]
Did you actually enjoy it?
Actually, I kind of did! It was really new — it was new to everyone — and I thought it was a really good chance to express myself. I met a lot of new friends there, and I made good memories. I just want to leave it how it is.
The group that came out of it, I.O.I., was unique because you only promoted for a year. That's not common. What was that like?
We were very busy. Always on the road. But it's a memory that I can never forget with those angel girls in that short amount of time. I'm still close with them.
You still chat with the group members?

Yeah, we're always on the phone. [Laughs] Ever since I made my first comeback, they would always monitor me. We're always busy.
Speaking of the comeback — this latest one, Blooming Blue — how do you compare it to Offset?
"Rollercoaster" was kind of like a '90s pop vibe. This time, I came with a more tropical EDM style. "Love U" is a more blue-y, summery vibe. A pool party theme song. [Laughs] This might sound very cheesy, but Offset was promoted during winter, so I was covered up more. Now that it's summer, I can wear cooler outfits.
Now a friend of yours, Baek Yerin, gifted you a Blooming Blue track, "From Now On." Can you talk about that?
She was actually my friend when I was in JYP Entertainment. I was a trainee there, so we got really close to each other at that time. We couldn't keep in contact with each other constantly, because I thought she was really busy. Thanks to my A&R, who was friends with Baek Yerin, we got close to each other again and we talked about it. She gave me two songs, and out of those two songs, "From Now On" made the album. It was very cool, because I always thought Yerin was a very awesome artist... I learned a lot from her when I was collaborating with her.
Do you pick the title track after hearing all the songs? I'm always interested which song becomes the title track.
Oh, like "BB"? I always have a performance that I want to do or that I want to show, so I tell my company. They make a list of tracks or make a track for me. This time, it was kind of like... so you want to do this, but since the songs are so summery and blue, we should just create a track. This title track, "BB," was made for the album, and I went along with that.
Related | Tiffany Young Is Ready For America
You also collaborated with Oreo again on the lead single, "Love U."
It was really comfortable, because they produced me on my debut, "Why Don't You Know." They know me well. They know what I'm worried about, so they kind of comfort me. I had a really good time.
Are there certain things that you're worried about when you're recording?
I'm worried about everything. I'm still in the mode of "Oh my God! I'm solo!" Without my 10 girls, how will I do it? How can I fill this role? Everything is just full of worries. [Laughs]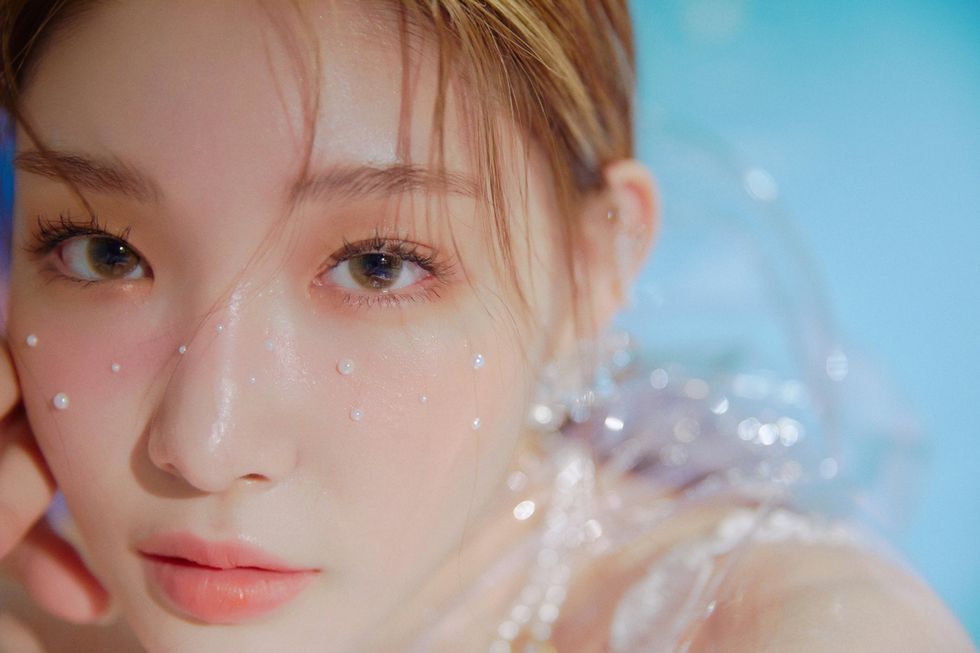 Do you feel prefer working in a girl group?
I'm happy doing both, but only with the I.O.I. girls if I were to do a girl group. I wouldn't be able to work closer with anyone but those girls. I would love to do both if I had the chance.
There seems to be a lot of English in your lyrics. Maybe more, I think, than the usual K-Pop song. Is it possible that we would hear some English music from you soon?
Yeah, I really hope so. Actually, "Cherry Kisses" was an English song. A lot of demos start out in English. On Offset, "Do It" and "Bad Boy" were demoed in English, and Hands On Me's "Make a Wish" was demoed in English. A lot of them are actually in English first, and they sound really good, so I hope I have the chance to release some English songs. I love to speak in English, but I'm so bad at it.
I mean, you're doing great, I have to say. Don't doubt yourself!
[Laughs] Yeah.
You've sung them in English, or they just come to you in English?
Actually, I practice it in English, and when I actually do the recording, the lyrics are changed into Korean.
Very cool. I would think that's even more difficult.
Yeah, it is. Totally. [Laughs]
So you've done Produce 101, you've done different reality shows. Hosting. A documentary series. Is there anything on TV or movies you'd still want to try?
I would love to try new things that I haven't done yet. I'm definitely more open to acting, doing different types of shows, and would love to be on international projects. It'll give me an excuse to meet international Byulharangs. [The name of her fanbase.]
You've had a lot of success with your comebacks so far. I think you're considered one of the top soloists today.
Oh! Thank you!
Do you have any goals with your own music career that you're still trying to reach?
I would love to go different countries and perform for my international audiences since I haven't had a lot of chances meet them.
Do you have any artists you'd love to tour with?
I always say this, but I love Camila Cabello. I would love to go to her concert one day — and if I'm invited, perform with her. [Laughs]
That would be amazing! And as far as styles of music, are there any genres you're hoping to do on future comebacks?
I'd love to try any style, I'm really open, but I really love reggae and hip-hop. And even more pop.
Do you have any messages to your fans who you're hoping to see soon on the road?
I really miss you guys, I'm super excited to meet all of you real soon. Thanks always for supporting me and listening to my music. I'm really touched and I look forward to seeing every single one of you. I love reading all the comments that you post online.
Oh wow, that's dangerous to do sometimes.
Yeah! But only the good comments. [Laughs] Stay tuned and I'll do my best to keep in touch with all of you!
Photos Courtesy MNH Entertainment