Instagram's new campaign is so inspiring that it will have you calling your ex's new girlfriend just to tell her how sorry you are for clapping back at her in the comments section. This past Tuesday, Instagram announced their new initiative to turn walls in different cities around the world into colorful symbols of kindness. This vision by the social media giant is meant to create kind and inclusive communities, while fostering a safe place for self-expression. By taking the time out to build walls that are focused on spreading kindness, Instagram hopes to create a safe place for self-expression. After their New York launch, other kindness murals by global artists will appear in 10 cities around the world, including Dallas, Chicago, Washington, D.C., Mexico City, Jakarta, Tokyo, and Mumbai throughout September and November.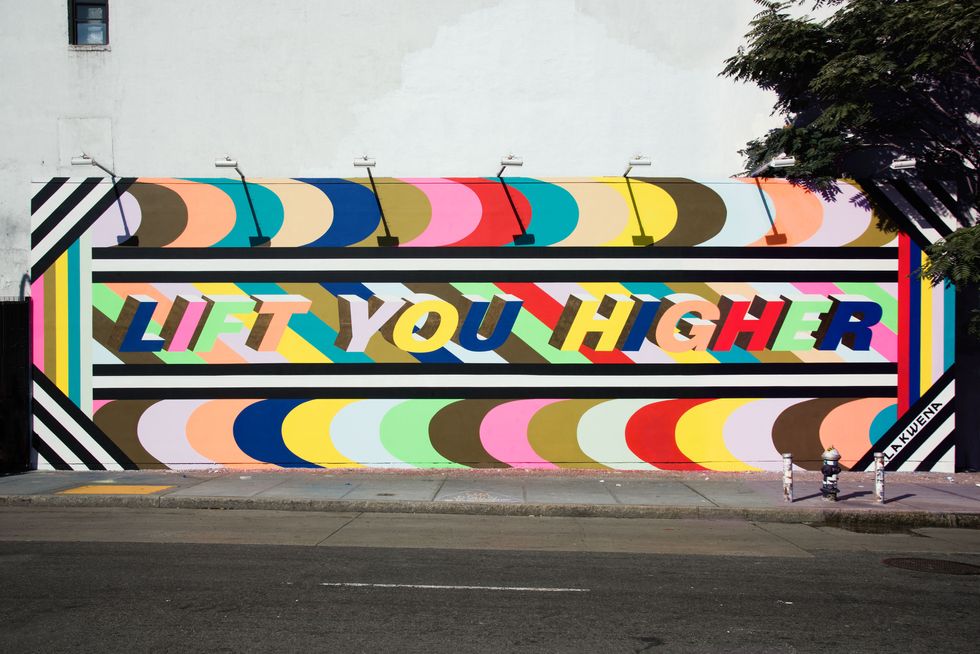 The show stopping event took place outside at the iconic Houston Bowery Wall in New York, which has been the mecca for local street artists to depict their work. This time it was renowned street artist Lakwena who took to the wall. We got a chance to sit down with Lakwena after the event, as well as 19-year-old trans art model Chella Man who is the face of the #KindComments movement.
Lakwena Maciver, Artist
How did you come to work with Instagram for #KindComments?
The lady who curated the wall called Jessica Goldman worked with me back in Miami in 2013. We've got a relationship and she knew about my work. She felt like it was really appropriate for the whole Kind Comments campaign.
What was it that inspired you to create the artwork that you did on the wall?
I want to tell my story with my work. I don't want to shout at people. I don't want to command them. I want to encourage them and lift them up. I feel like public speech is monopolized by one group of people. To be given the opportunity to paint a wall in the public sphere, I feel like I'm able to tell my story. That's why it's really important to me that I don't shout at people. I'm presenting my story and they can either take it or leave it. I basically see it as an opportunity, a platform for me to share what I want to say.
How was the process for you creating this art piece? Did you feel that there was any pressure on you simply because you're partnering with Instagram? At the same time, you want to be yourself and stick to your values.
It's really difficult. Back in the day, it's historically artists who have patrons. The people in power are on the walls, which is not in a negative way. There are various people who have investment and ownership. It's important to be able to have your voice in that context, but you find a way. A lot of it is about subtlety, where you're not being explicit about things but you know what you want to say. People can take it how they want to take it but I believe there's a power in what I'm putting out there.
Would you say that this was your most difficult work?
No I wouldn't actually. There are various aspects to what makes it difficult. I just came back from Arkansas where I was painting a youth detention center and it was boiling hot. We did it in one week. It was a courtyard in the center and so it was literally like you were in an oven. There's also the surface of the walls. This was actually quite smooth. The way that it was curated was for murals. It's almost like an outdoor gallery. Which is really nice because there are different types of walls that you paint. This one is in a really public space. It's just really well located. It's really well positioned. It's amazing to be painting it considering that Keith Haring was the first person ever to paint it back in '82. To kind of be continuing that, and obviously the place has changed completely. To be almost a part of that legacy is incredible.
How does that feel for you? How does it feel being in that presence and a part of this history?
It feels amazing. It's a real honor. I don't take it lightly. To be able to speak to people in my language and on this level is a real honor. I want to be respectful to the people who walked past and can't help but be impacted by it. I'm very aware of that in what I am painting. For instance, I didn't want it to be overly sweet and sugary because life isn't like that. Just looking on the street, people's lives aren't like that. It's really important for me, even in terms of the colors I'm using and the pallets I'm using. It's reflecting the different shades and hues of life. It's not all pink and yellow.
How would you define the shades you used in this work?
I've got some super saturated colors. It's kind of bitter sweet because theirs super saturated pinks and neons. Then there's also earthy browns, there's some colors that are neither here or there. One is a muted mint green. I feel like altogether they create a beautiful spectrum. I love to work with gold because of the significance of it culturally and universally. The value placed on gold and that sense of worth is really important to me. I love my works to have that in it.
Would you say the pallette that you used in this work was intentional?
It's very intentional. It's intuitive. On this scale, this is probably the most colors I've used. Some random guy was walking on the street and I'm assuming he had an art background because he seemed to know what he was talking about, but he was just commenting on the palette and the fact that it's not overly saturated and solely primaries. That was some of the best feedback I've had. For me it's really important that the words are positive but that they have weight to them and depth.
Chella Man, the face of #KindComments
How did you become involved with Instagram's #KindComments movement?
A few people from the Instagram community reached out to me. They chose me because they said that my Instagram was promoting a lot of positivity, support, and kindness. That was such an honor to have Instagram say that to me. So they asked me to come in and give a short talk about how exactly I built that community.
I was reading that you and Oslo became friends through Instagram. Can you talk more about that? Who reached out first?
She actually sent me a DM and was like, "Hi, I'm also a genderqueer kid, and I occasionally come to New York. Would you be down to get coffee sometime?" I think that genderqueer kids don't come around that often. Whenever someone reaches out to me, I try to jump on it. We met up for coffee and we talked in this coffee shop for hours. After that I invited her back to have dinner with me and my girlfriend. She's an amazing person. She's very mature for her age.
How did that friendship with her grow from initially meeting on social media to actually learning who this person is in real life?
Physical connection is defiantly so much more intense than virtual connection, in most cases I'd say. It was defiantly a more fluent so we were able to talk for hours. I wouldn't necessarily have texted her for hours. It defiantly got stronger offline as I was able to see her, get her reactions, and just speak in person.
Many have experiences through social media where other users may make remarks on their pages that can come off as rude and insensitive. Has that ever happened to you? If so how did you get through it?
Yeah. What I do is I just report it. It never really cuts deep and I never let it. I just can't wrap my head around why someone would want to participate continuously in hate or making someone feel negative. I just report it and it's gone. That's it. I don't think about it again. I focus on more positive things. Your time can be spent better than thinking about negative things.
I was looking through your Instagram posts and I came across this video where you and Oslo discussed how bodies don't have to necessarily coincide with typical societal behaviors. Can you elaborate on what inspired you to make that video?
It was mainly ourselves. There's so many boxes set by society and it's a reminder that gender is so fluid and a spectrum. There could never be enough definitions for how many different types of people there are out there. It's just a reminder that even if you find one that you're closest too, it doesn't mean you one hundred percent fit into that one. We're just trying to remind people of that because sometimes definitions can be super helpful but their can also be limitations. We're trying to break down those limitations.
What do you hope to see change in the future as a result of the #KindComments movement?
My main goal is to fight every single day so that my identity and other people's identities don't require explanations.
What would you say to the people who are going through situations on social media where they are not able to fully express themselves and at the same time don't have a huge amount of positive support online to uplift them?
Before I had a big enough platform where I thought I could reach a bunch of people, the best way I expressed myself was through art. I know that a lot of people get frustrated by art, but if you find your catharsis, that's what I advise you to do. If you need to hold it all of that emotion, just realize that you won't have to hold it forever. Trust me, I thought I did. You just need to find that catharsis. If that's painting, writing, reading, just meeting someone for coffee. Any way to release a little bit of that emotion.