Since joining Bottega Veneta as creative director in 2018, Daniel Lee has created some of the most covetable and best-selling accessories for the brand (and its parent company Kering) in years. While he was brought on to take its ready-to-wear business to the next level, it's been his knack for producing must-have It-bags that have made the biggest impact.
Which is why it's worth looking closer at the bags he sent out for BV's Fall 2020 collection in Milan this weekend. In past seasons, Lee introduced styles like the popular Pouch bag and padded Cassette clutch. But for his next outing, he doubled-down on the brand's signature intrecciato weave.
In true Lee form, he took the heritage material and played around with it by twisting and turning a rectangular clutch and adding yards of fringe that seemed to extend forever. (Models on the runway held it against their chest as well with their fingers.) There's also a version in a nude plush shearling that's unlike anything the brand has produced before.
The intrecciato was not just reserved for the fringed clutches, however. Tons of silhouettes like hobo, briefcase and tophandle styles in neutral tones signaled Lee's intention to bring back the signature weave. And much like the Casette bag, there blown-up padded material is back in an XXL shoulder style in black and white.
There's also a neon green intrecciato bag that's shaped similar to the brand's famed Pouch albeit slightly larger and a bit more structured. (Neon featured big in the ready-to-wear, particularly in the opening set of looks, as did a focus on carwash-like fringe.)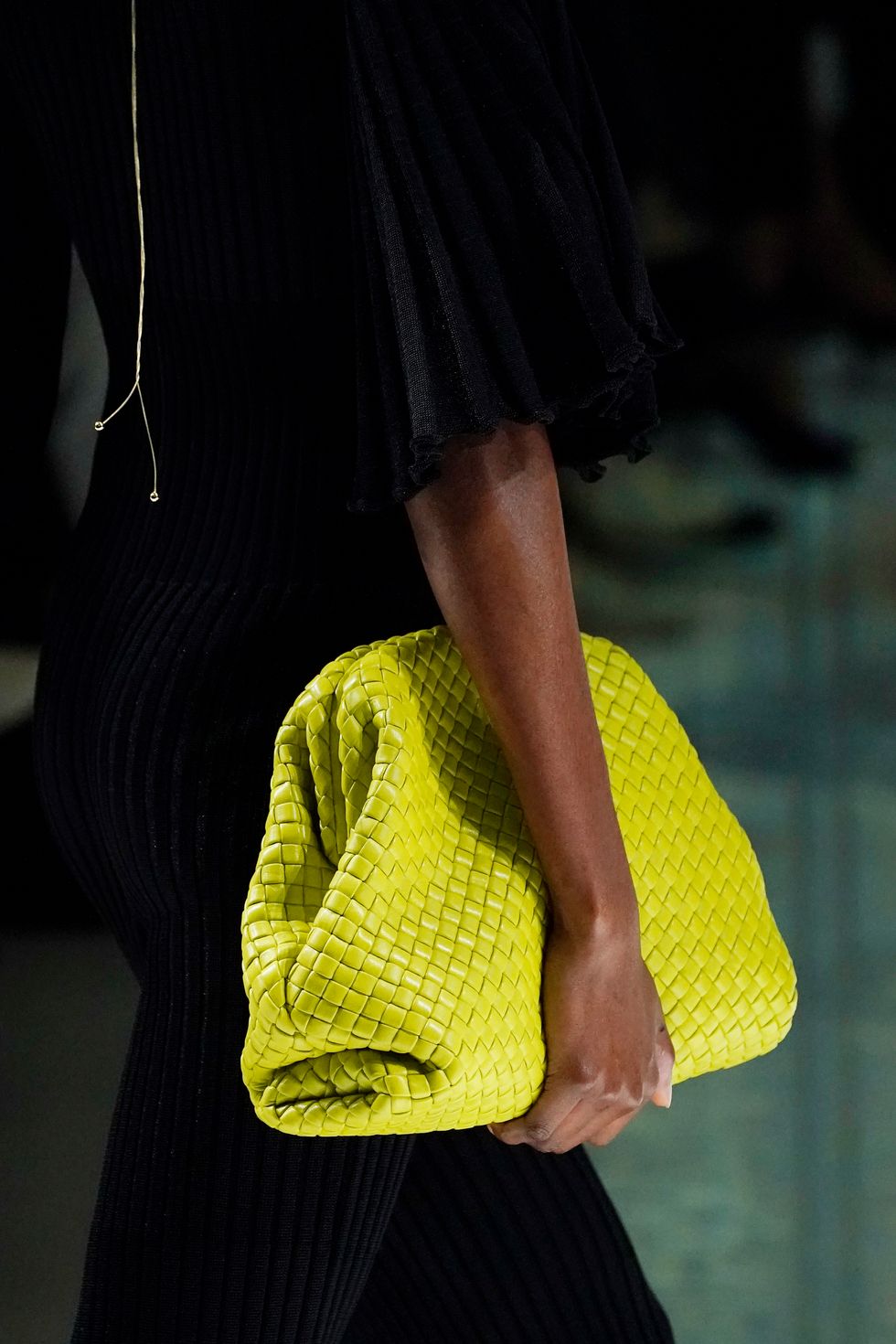 Finally, there were a series of candy-colored minaudières for the evening set complete with curved edges and loopy twists. If the abundance of sequins and evening dresses Lee also showed are anything to go by, we could be seeing more Bottega Veneta looks (and these bright hard clutches) on the red carpet in the near future.
Sign Up For The Morning PAPER