In our current political climate, it's inspiring to see someone like Halima Aden, a Somali-American Kenyan refugee, taking over the industry. The model, who turned 20 just days ago and still has a mouth full of braces, got her start competing in the Miss Minnesota pageant, where she was recognized for being the first participant in the competition's history to wear a burkini and a hijab; she finished as a semi-finalist. Her admirable commitment to modesty has grabbed the attention of industry heavyweights like Kanye West, who cast her in a Yeezy show, Rihanna for Fenty Beauty and Carine Roitfeld, who put her on the cover of CR Fashion Book's tenth issue. Aden has since covered Allure and Grazia. Even with those accomplishments, however, there's no chance the proud Muslim woman is about to slow down.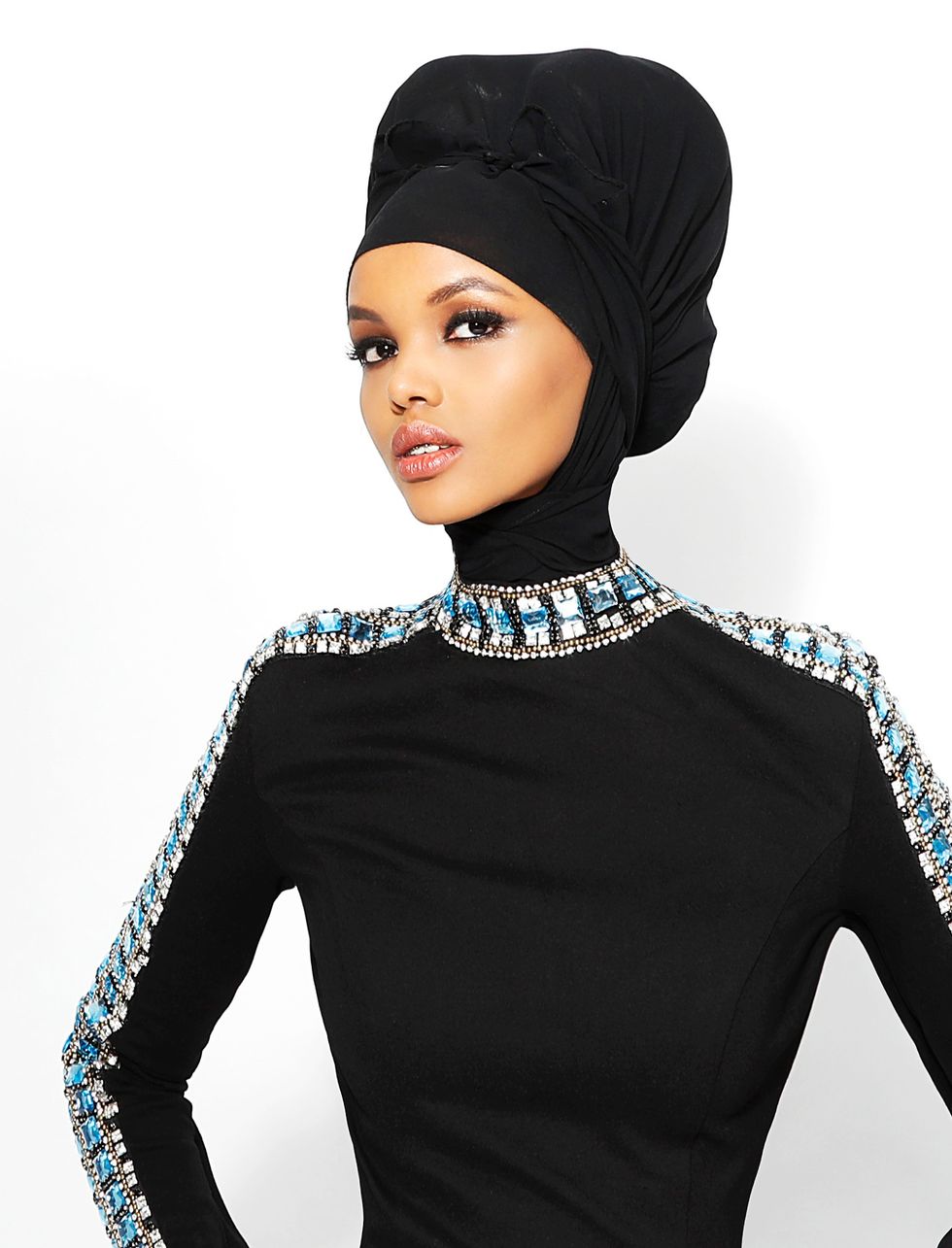 When (and where) are you most creative?
I love make-up! While I wasn't allowed to wear it until I was a bit older, I remember sneaking my sister's products to try on. I like to get creative and try new things. YouTube make-up editorials are my best friend. Make-up is definitely not a skill I have mastered so I relish every opportunity to sit in the chair with professionals and learn from them. I've taken away great advice from everyone I've been fortunate enough to work with.
How did you get your start?
I was the first woman in my state to compete in the Miss Minnesota USA pageant wearing a hijab and burkini (a modest swimsuit) this past November. After garnering international media attention for practicing my Muslim faith at the pageant and staying true to who I am, some of the industry's biggest names reached out to the pageant organizers to offer up some amazing opportunities in the fashion world. I was invited to NYC by iconic stylist Carine Roitfeld to shoot for her magazine, CR Fashion Book. After my first photo shoot ever, which happened to be with the legendary Mario Sorrenti, I landed the cover of CR's Issue 10 in May. It was during that same trip that I met with IMG Models and signed a contract for global representation a few weeks later.
What are you working on right now? Can you describe any current projects or activities?
Right now, I am working to build a relationship with an organization that has had a huge impact on my life, UNICEF. As a refugee, I remember the important role that UNICEF staff and volunteers had when I was young and living in a camp in Kenya. I recently had the chance to travel to Mexico with UNICEF for their NextGen Summit and it was life-changing. My ultimate goal is to change the world, beyond the fashion industry. Becoming a Goodwill Ambassador would be a dream come true!
What is success to you?
Success is reading a social media message from a young girl who tells me that I am her inspiration. I have been given a voice and platform during the past nine months that I refuse to take for granted. If I can spread a message of hope to those who don't see themselves or feel represented in any given industry and challenge them to be willing to be the first and give it a shot, I will have succeeded.
Do critics matter?
As a 19 year old, it can be hard to read harsh comments, mostly cyber bullying. I have learned to trust my support system and follow my heart as I know I am doing the right thing and hopefully paving the way for others.
Obviously you've seen success in your career but can you tell us about a time you failed?
Ha! If I could tell you the number of times I see a hold come up on my work calendar, only for it to be taken down a few days or weeks later. Just means I wasn't the right person for the job.
Do you think about legacy?
Making an impression on society that runs so deep people can't help but remember you – that's what comes to mind when I think of legacy.
What advice do you have for someone looking to break into your industry?
Just be you!
Did you ever give up (or want to give up)? What were the circumstances?
I am a black, Somali-American Muslim. With modeling being an unknown to my culture and community, it was hard for many to accept at the beginning. On the flip side, having a black, Somali-American Muslim on the runway or magazine stands was an unknown for those outside of my community and culture too. On all sides, it was an unknown and people don't know how to react to what they are not comfortable and familiar with. With this came some pressure, questioning and backlash. Rarely does anyone want to be the first. I think that with time and those very same people seeing that I'm not changing who I am to get ahead in the industry has turned many of those questioners into my biggest supporters and fans.
What trends in your field do you find most exciting / are you most optimistic about? What about your field is frustrating? What would you like to see change?
I find it exciting that many companies and designers are including such a diverse cast to their advertisements and shows. From plus size models to those over the age of 50 – it's truly incredible to see the industry recognizing and celebrating beauty in all shapes, colors, sizes. I'm optimistic that inclusion and acceptance will continue to be the trend. I haven't been in the game long enough to have many frustrations – I'm just learning about being a player in the fashion and modeling world day-by-day and some things are probably just the nature of the beast and not worth being frustrated over. Although, in a career that is extremely last minute and constantly changing, it would be nice to have details and jobs confirmed sooner. But again, just the nature of the beast and I'd rather the opportunities come last minute than not at all.
How do you plan to build on your success so far? Is there anything you fear will set you back?
I recently saw Christie Brinkley in an ad for GAP. As the fashion industry isn't something I grew up following, I wasn't familiar with who she was. My manager asked me to guess her age and I thought she was in her 30's. I was floored to find out she was 63 — are you kidding me? What a timeless beauty! I guess my point is, I know that modeling won't last forever…unless you are Christie Brinkley. So, to build on my success, I need to treat myself and my branding as a business. Right now, it is important for me to stay relevant in both high fashion and the growing world of modest fashion. I look forward to someday telling my story in a book or movie. Until then, I plan to appreciate every opportunity, show up smiling, work hard, and network! The only thing that can set me back, is me!
What was the first moment you knew you were going to be able to do this as a job – not necessarily your first big break or success, but the first time you thought, "This is it, this is my career"?
This past December, when I traveled to New York for the first time ever, I had the chance to visit Times Square. My manager told me that someday I would be up on one of the billboards we were looking at in amazement of their size and strong presence. I giggled off the idea. When I returned to Times Square, with her in July, I was overcome with emotion as I saw my face on one of the biggest billboards atop the American Eagle store. I never dreamed that a woman wearing a hijab could be a model and there I was… larger than life. That was a really emotional moment for me.
What's been the biggest choice you've had to make in your career so far?
A good education isn't something that my Somali family and many living in Africa have the opportunity to experience. For me, the decision to postpone my college education after completing my freshman year at St. Cloud State University was a big choice. I know I can always go back to school, but the chance to model won't always be there.
What is your morning routine like?
Morning? Eeeeek! I am more of a night owl. That being said, when working, I usually have to wake up very early for call times and yes, I need a little coffee or tea to get me going! Once I am on set and meet everyone, I feel energized and ready to give it my all!
What are you most excited about for the future? (Can be about your career, your personal life, the world - anything.)
Giving back is what drives me. I want to leave a positive, lasting handprint on our world. I am most excited about partnering with UNICEF and am eager to continue building that relationship. I would love the opportunity to some day go back to Kakuma, the refugee camp I was raised at in Kenya. Or, to go back to Somalia to visit my relatives and see where I am from.
What are you most worried about for the future?
I tend to worry about other people. I want my brother to be successful as he is starting his senior year of high school, I want my mom to be healthy, I want my nieces and nephews to go for their goals no matter what, I want my sisters to be happy…
Are you good at giving advice? What is the best advice you've ever given?
I think it's always important to look at all sides of a story. I think we live in a society where people are quick to play the victim. While in many cases, their reasoning may be just, I always encourage everyone to look at the big picture. I think that's the best advice I can give. I remember a time that I was parked in a no parking zone and a couple looked at me and shook their heads as they walked by in disagreement. Passengers in my car said something to the effect of it being because I was wearing a hijab or because I'm black. I said, "No, it's because I'm parked illegally!"
Are you good at receiving advice? What is the best advice you've ever received?
I am a giver by nature. I want to help people who have helped me and I feel an obligation to support family members that I have never even met. While I recognize this quality is admirable, it can also be my biggest hindrance in building a successful career. The best advice I've received is to protect myself and work hard now to build my business so that down the road I really can help people I care for. Right now, I'm just starting a career and not in a position to be help everyone I would like to. I know with due time and hard work, I can become successful enough to provide a nice life for my family.
What makes a person beautiful? What makes you beautiful?
When people are unapologetically the best authentic version of themselves, now that's beautiful!
What are you most proud of?
I'm proud of trying to live my life with no regrets. I've taken a chance to explore avenues many other young Muslim women haven't for one reason or another — joining choir at school, being elected a member of the student government, winning the title of Homecoming Queen, participating in a beauty pageant, becoming a professional model. It's my hope that I am sending a message to young women everywhere that they can do it…don't hold back! I want these young women to know that their fellow women support them and are lifting them up — I am your biggest cheerleader!
Check out all our Beautiful People here.
Photographs by Fadil Berisha