In 2023, it's hard to really surprise at this point. For BABYMETAL, the heavy metal transgressors that combine the cutesy with the chaotic, they bookend a decade since their debut album with a new chapter, and it's one that turns everything fans thought they knew about the band on its head.
Formed in 2010 with members SU-METAL, MOAMETAL and YUIMETAL, the band quickly earned popularity across Japan with their electric live performances while they were initially a sub-unit of fellow idol group Sakura Gakuin. Since 2013, they have operated as an independent act, opening for the likes of The Red Hot Chili Peppers, Korn and even Lady Gaga, bringing the ferocity of heavy metal to a wider audience.
While the lore of BABYMETAL has a lot of moving parts, at its most basic they were summoned by an entity known as The Fox God to signal metal's rebirth amidst an oppressive reign at the hands of "power idols." SU-METAL and MOAMETAL infiltrated Sakura Gakuin in preparation for the Metal Resistance. Through the power of the group and their near-indestructible band, they ended the Metal Resistance and were graced with the title of "metal messengers."
While being the saviors of metal is a hard task, the band has persevered. Despite the 2018 departure of YUIMETAL, they barreled through a successful run of shows and the release of their first album as a duo, Metal Galaxy. In the face of a global pandemic and the brief period of eerie silence where it was unknown how and when music will come back in the capacity we were used to, BABYMETAL enters 2023 fresh-faced and hungry with the release of their latest album, THE OTHER ONE. Their support, known as Kami Band, rip through each song with a stank face-inducing brutality as SU-METAL and MOAMETAL's chemistry shines even more, born out of the necessity to reevaluate group dynamics as they deal with the changes.
While credited as the pioneers of "kawaii metal," a genre that blends elements of J-pop and heavy metal, the duo wants to transcend that label. This doesn't mean the end of their catalog staples such as "Gimme Chocolate!!" but rather, it signals a maturation of their sounds and themes as they dive deeper into the BABYMETAL canon, expanding their story further. On THE OTHER ONE, the band cracks open the Metalverse, surfing through parallel universes and a dizzying maze that tests their perception of truths, lies and what rests beyond the darkness.
Below, read an exclusive interview with BABYMETAL to discuss their first concept record, THE OTHER ONE.
You recently did your first comeback performance after almost two years! What were the circumstances that caused that gap and how was it to return to the stage?
SU-METAL: During when BABYMETAL was sealed, I tried to separate myself from BABYMETAL and music. But I naturally found myself listening to music and I could instinctively tell that I wanted to return to BABYMETAL. And so during the time we were sealed, I felt like I was able to rediscover my love for BABYMETAL.
It had been a while since I last performed so getting that feeling back took a while but hearing everyone's voices reminded me of that feeling that "this is what BABYMETAL's live performances are about! Let's go!" It had been a pretty long time since we last heard everyone singing along so it was so much fun!
How do you plan on implementing these concepts in your live shows, such as your upcoming pair of performances at PIA ARENA MM?
MOAMETAL: Both the January Makuhari Messe performance and the April PIA Arena MM performances pivot on the theme of THE OTHER ONE. It explores the "other" side of the BABYMETAL story that no one knew existed and portrays BABYMETAL in a different dimension. It's also structured in a way that the BABYMETAL within THE OTHER ONE begins in January's Makuhari Messe performance and then concludes in April's PIA Arena MM. So these live performances symbolize our liberation since we've been sealed and also the beginning of a new BABYMETAL. I sense that everyone will each have their own interpretation of what these performances mean. But even if everyone has different interpretations, I will, as always, give it my all and look forward to seeing everyone there! Please look forward to all of our upcoming performances!
You mentioned in past interviews about BABYMETAL being an introduction to metal for younger audiences. Over a decade into making music, do you still want to continue to be that introduction or do you now want to take the fans that grew up with you into newer territories?
MOAMETAL: I definitely feel the same way. But also at the same time, not limited only to younger audiences, but I'd love to also be the introduction for people who've never had the chance to listen to metal. I hope that we can appeal to all audiences from young to old, and spread the message that metal is absolutely cool. I feel like this desire becomes bigger and bigger each year and it would be so incredible if we can be the reason for someone to be hooked on metal music.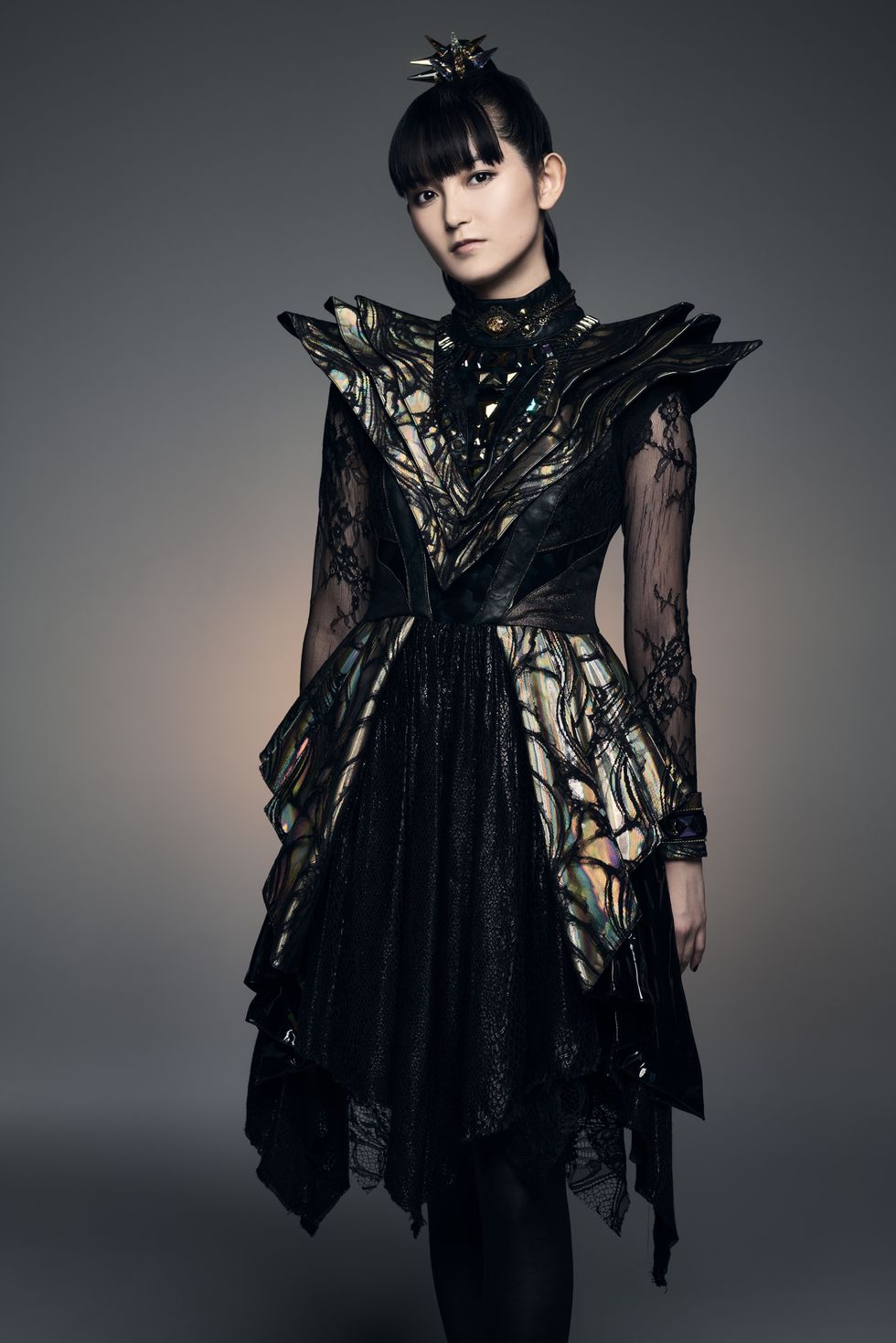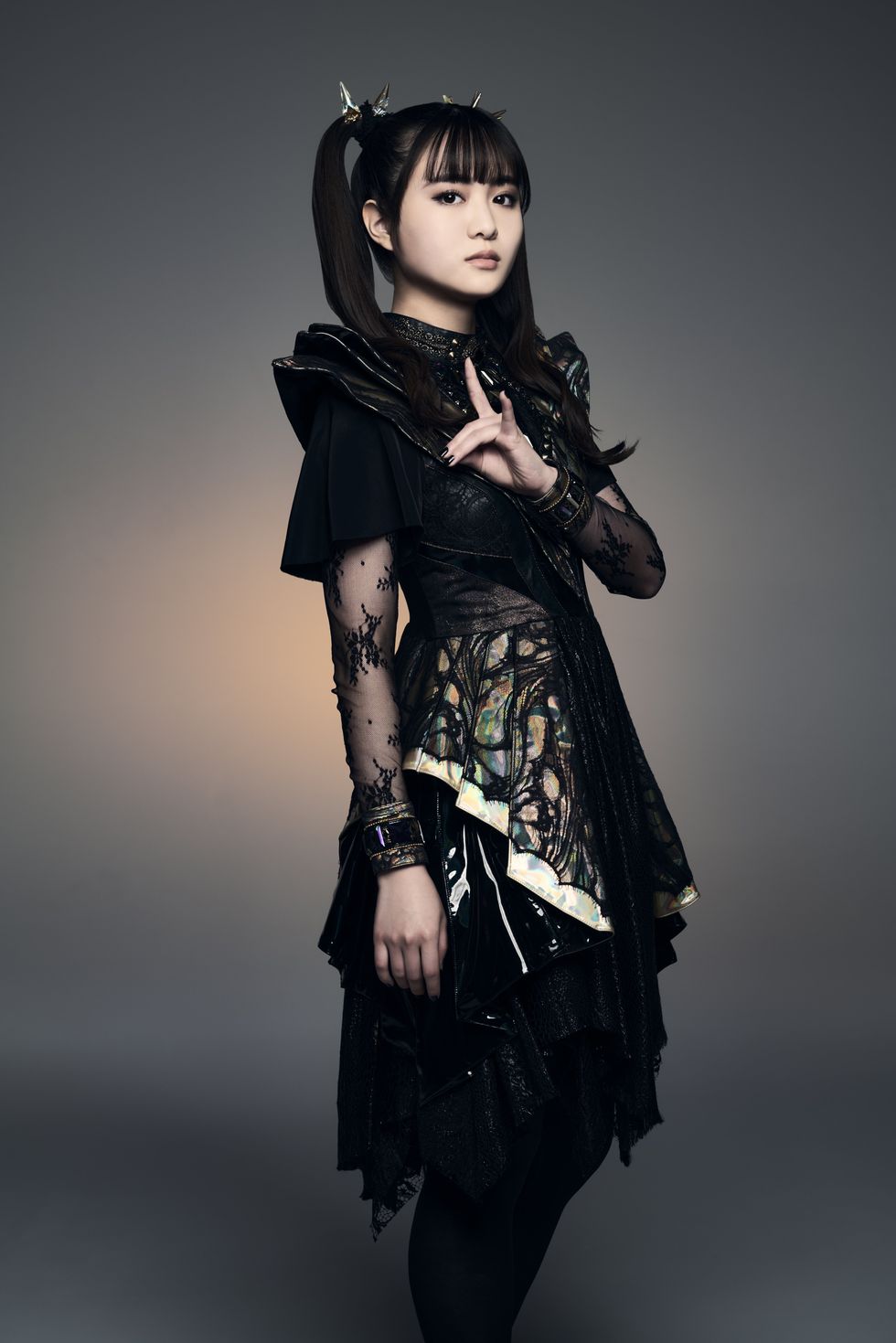 BABYMETAL has been heralded not just as a celebrated metal act, but as a fleshed-out and grand theatrical experience. How do you strike that balance between the music and the performance/visuals?
MOAMETAL: There are several elements in BABYMETAL that make us very unique. For example, we wear black costumes, have distinct hairstyles, have intense dance choreography, have the presence of the FOX GOD, etc. All of these things are very important to us. Even for performances, we're not the type of artist to have an MC segment on stage. BABYMETAL is all about the storyline and so we portray that in our live performances and production, etc. Our choreography is especially special as it is sometimes mysterious and cool while others are comical and very powerful and super intricate. I would be happy if I heard that the balance of all of these different elements are what makes us appealing and fun to watch.
But to be honest, I've never really consciously thought about the balance of all these elements. As MOAMETAL, I just give it my all for each performance and it naturally takes shape within the world of BABYMETAL.
Oh, and let me especially mention that BABYMETAL's dance choreography is very difficult. That being said, I always prioritize my health so I'm able to perform for all of you! I will continue to do my best and for me to do that, I will make sure that I have the perfect balance of eating, sleeping and enjoying what I do!
BABYMETAL in itself is a risk, and it certainly is one worth taking. What would you say has been the biggest risk you've taken in your career?
SU-METAL: The US tour in 2018 because at that time, we weren't sure if YUIMETAL was going to be able to join us on tour, and when we found out she wasn't able to, we were very unsure what the best move was: whether we go on tour without her, or we cancel the entire tour. After having in-depth conversations with MOAMETAL, we didn't want to let our fans down and decided to do the tour. Especially for the first few performances, although we received a lot of blowbacks and it was a very difficult experience for both MOAMETAL and I, now looking back, I take it positively as it helped us become even stronger and closer than we were before as there were more opportunities for the both of us to communicate.
THE OTHER ONE is your first concept album. How did the layers come together?
SU-METAL: For this concept album, it portrays the BABYMETAL we never knew existed and the tracks are based on specific themes and myths. While BABYMETAL was sealed, there was THE OTHER ONE restoration project that was available online for exclusive members to enjoy the restoration progress of these tracks. Members would be able to hear snippets of random sounds at first but as time progressed, they would hear the music come together with the different layers combined. I'm excited for everyone to listen to this concept album!
DIGITAL SINGLE「METAL KINGDOM」DL & STREAMING:https://bm.lnk.to/metalkingdom2023.1.20 Available Worldwide!!「BABYMETAL BEGINS - THE OTHER ONE -」●日程:2023年4月1日(土)...
How did the concept itself influence your songwriting process? Was it easier or harder to hone in on a specific story to tell?
SU-METAL: Since this concept album is a side story of BABYMETAL, the songwriting process was different compared to our past works. It is based on specific themes and myths so I would best describe the experience as entering an art museum and seeing 10 different individual art there. The impression of each song changed as we recorded over and over again, and even when I listened to it after it was completed, it still felt so different than the first time I heard it. And the more you listen to it and focus on the different parts of the song, your impression of it will also change. It's a strange but interesting experience and I hope that everyone will get what I mean once they've heard it!
You're approaching a decade since your debut album. What do you think are the most major changes you've noticed as a band? What about the industry as a whole?
SU-METAL: I feel that metal and hard rock have become more widely popular and mainstream. I'm glad that this has been the recent trend because when we started to listen to metal, it seemed to be very niche. But for BABYMETAL, I feel like we haven't changed at all. We intend to continue to create our own type of music and having such incredible support from our fans for 10+ years has allowed us to remain being a one-of-a-kind artist.
Have you noticed a difference in playing for Japanese audiences compared to others, especially American ones? What about in the interactions with fans?
MOAMETAL: It's always so fun to see so many distinct differences in our fans' reactions between the US and Japan. When I first performed in the US, I was surprised to see so many people singing and dancing along with us while they watched us perform. And I would also hear cheers and applause during parts that I'd never heard in Japan. So I think it was only after going abroad that I realized how adaptable BABYMETAL's music is.
In Japan, people tend to enjoy music in a similar manner and are relatively reserved so when I go outside of Japan, I get to see a whole new scene. I learned through traveling that music really has no boundaries and that it also applies to how one enjoys music. And I feel that all of these lessons helped widen BABYMETAL's parameters musically and I'm very happy to have the opportunity of approaching music from such different angles. I really enjoy seeing how different countries have such different ways of enjoying live music!
In America especially, there is a common trope that metal fans are accepting despite how they may look or act. Being such a unique and transgressive act in a male-dominated space, what has your experience been like? Has it changed over time?
MOAMETAL: BABYMETAL has been fortunate to have been accepted not only by metalheads but also by prominent metal artists. We just can't thank you enough for all of your support! Our music may not be standard metal music but we take metal very seriously. BABYMETAL's music is a cross between metal and various musical elements that transcend genre boundaries, so it might be more fitting to think of it as a new type of metal music. And because it's not your everyday type of metal, we've accepted the fact that there will be people who won't be receptive to our music. But exceeding my expectation, I was ecstatic to see that so many metal lovers have shown their love and support in what we do and I've come to really love this genre because there are so many warm and kind people who appreciate and respect us as a proper artist and not judging based upon appearance or where we are from, etc. And as time went by, we were happy to see so many people being interested in us and I felt that we might really have a good chance at creating our own genre of music. Obviously, we're nowhere close to reaching top legendary artists but I hope that we can be an artist who can bring positive influence for the metal world!
Photos courtesy of the artist
From Your Site Articles
Related Articles Around the Web
Sign Up for the Morning PAPER