Alice Cooper recently found an original piece by his friend, the late art icon Andy Warhol, rolled up in his storage locker after 40 years. The silkscreen, titled "Little Electric Chair," depicts an electric chair that Cooper used as part of his stage show when performing in the 70s. It's from Warhol's Death and Disaster series and was bought by Cooper's girlfriend, Cindy Lang, for Cooper's birthday in 1974.
Cooper's manager Shep Gordon told The Guardian that Lang, once a cover star for Warhol's Interview magazine, paid $2500 for the print at the time. The piece was reportedly never stretched on a frame and was found rolled up in a tube after being lodged into Cooper's touring equipment collection and put in storage. Cooper's mother eventually remembered where it was four years ago, and they recently dug the priceless piece out. Moms always know.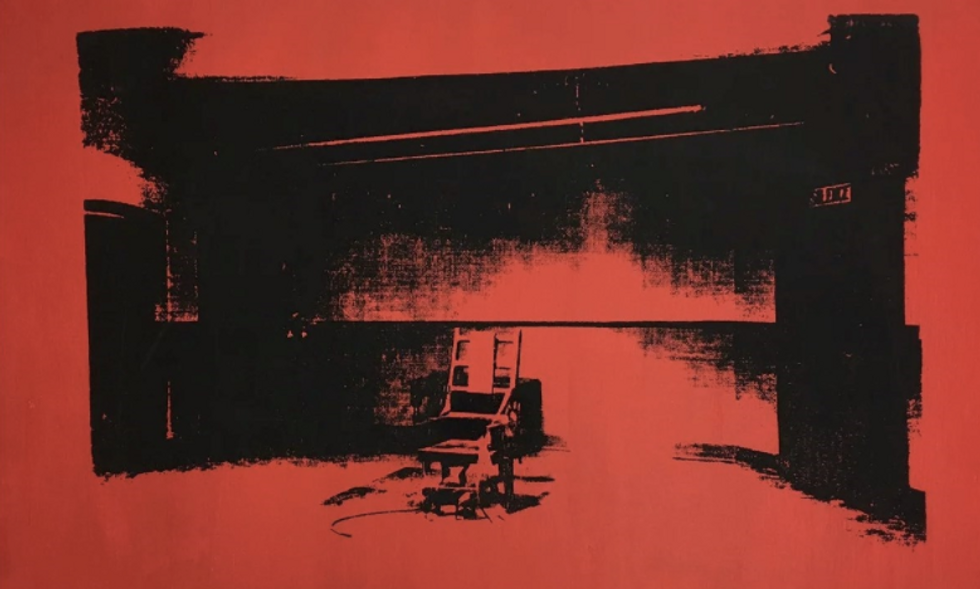 "Little Electric Chair" by Andy Warhol
Theoretically the piece could be worth millions given how much original Warhol works typically go for, but because it isn't signed the work is difficult to authenticate. For now, Cooper plans to hang the silkscreen in his home, which is at least a step up from being rolled up in storage like an old dorm room poster.
[h/t ArtNet]