Amsterdam is a city that conjures up many different heart-warming things: picturesque canals, beautiful tulips, awe-inspiring Dutch master paintings, tasty gouda cheese. But, of course, over the last several decades, two major activities tended to overshadow all of these other cultural symbols: weed and prostitution. For many visitors to the Dutch capital, a trip was incomplete without a trip to one of the city's famed "coffeeshops" (where instead of a cappuccino, you were treated to cannabis space cakes) or the Red Light District (where many working women showed off their services in street-facing windows).
But today, there's another shift happening in the city that may be starting to erode -- perhaps for the better -- Amsterdam's reputation as a city of vices: the rise of wellness services. Although the capital is not abandoning its coffeeshops or cleaning up its Red Light District anytime soon -- and it also remains home to a thriving nightlife scene, one that's nurtured the careers of some of the top EDM DJs in the world like Tiësto, Afrojack and Martin Garrix -- the global rise of health, wellness and sustainability trends finds a natural embodiment here.
Amsterdam has long been a city of cyclists and some 58% of its residents are said to be daily bike riders. The city has one of the best biking infrastructures in the world with 767 km (approx. 476 miles) of total bike lanes and cycle paths. On top of the environmental benefits a city of cyclists brings, Amsterdam has also led the way in transitioning its taxi fleet into electric vehicles. Last year, it was said that 70% of the taxi rides from Amsterdam's Schiphol airport into the city were in an electric Tesla vehicle.
Complementing this sense of urban well-being that comes with a commitment to clean modes of transportation is a greater focus on Amsterdammers' personal health, wellness and nutrition over the last several years. Just as many cities throughout the world have been swept up in food crazes like all-day cafes, locavore ingredients and vegetable-centric menus, Amsterdam, too, has expanded its food scene. Gone are the days when dining out in Amsterdam meant a plate of bitterballen (cheese and meat croquettes), smoked herring and poffertjes (small, fluffy and airy pancakes) -- although you can still find many establishments serving these traditional dishes -- and now instead, the city offers a range of farm-to-table spots, vegetarian cafes and international restaurants that reflect the city's diversity (with over 180 different nationalities, it's considered one of the most diverse cities in the world).
Much as Australian cities like Sydney and Melbourne have reinvented themselves over the years from places whose cuisine was narrowly stereotyped by outsiders (when they stopped to think about it at all) as consisting of nothing more than "shrimp on the barbie," Amsterdam may be experiencing a similar transition from a place that previously had an unexceptional food reputation to one that, today, has many exciting, innovative new restaurants, anchored by establishments serving healthy, locally-sourced menus. One such cafe that's changing the food scene in the city takes inspiration from that beloved ingredient that put Australia's all-day cafe culture on the map: avocados.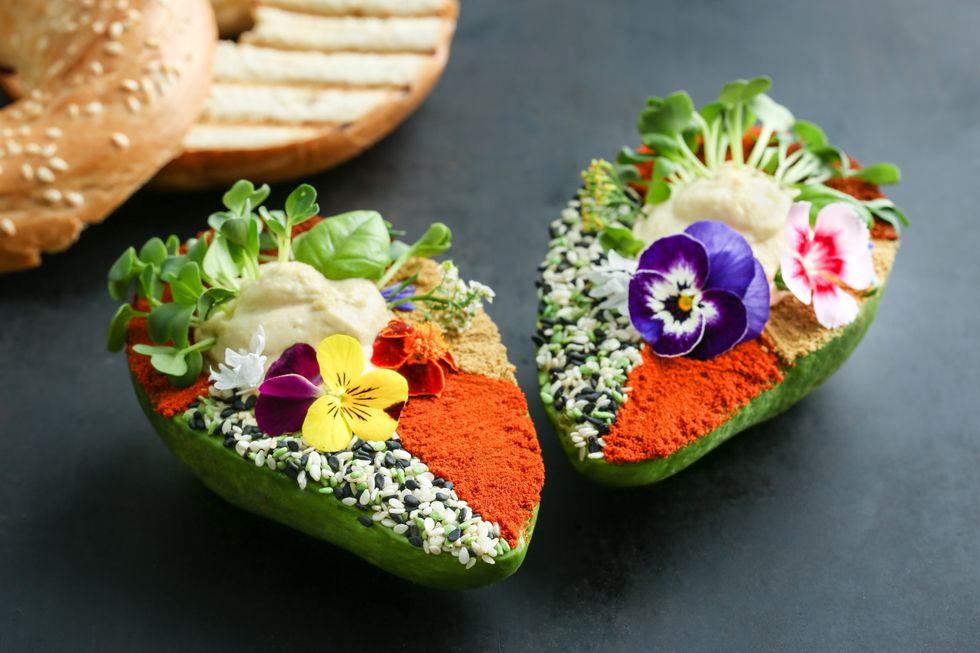 A dish at The Avocado Show; photo courtesy of The Avocado Show
Amsterdam's The Avocado Show goes beyond "avo toast" with eye-catching (and Instagram-friendly) avocado-centric dishes like avocado-salmon poke bowls, avocado pancakes, and avocados stuffed with hummus, edible flowers and spices that make for a particularly photogenic treat (as seen above). The place has been a hit, since expanding into two locations in Amsterdam and one in Brussels; the owners have also released a cookbook. Co-owner Ron Simpson says the success of his restaurant has dovetailed with general wellness trends happening throughout the city over the last few years. "Healthier lifestyles have been booming in the past 5 years, from working out to eating better," he says. "And, because Amsterdam is small, it can adapt quickly. The amount of healthy restaurants that work with veggies and superfoods have exploded lately and we love it. There are juice bars, bowls, vegan concepts, avocado shows, salad bars.. all over the place with anything you need to live a healthy life. That is the new standard now."
The city has also seen a rise in vegan restaurants over the last few years like Vegan Junk Food Bar, a spot that reimagines unhealthy classics like burgers, fried chicken and even bitterballen with vegan ingredients. "There is more interest in plant-based options by vegans, non vegans and flexatarians [in Amsterdam]," says Mireille Sanches, who oversees marketing and content strategy for the restaurant.
Along with greater attention to healthy eating, there's been an expansion in the city's fitness offerings. Perhaps one striking example is the fitness program in the city's new Moxy Hotel. The brand, which is owned by Marriott and geared towards Millennial travelers, touts its "vibrant social scene" as one of its major selling points. Many of their hotels include lively lobby bars as well as several nightlife options throughout; the Moxy Times Square, for instance, tapped the Tao Group to oversee its hospitality offerings, which include a buzzy seafood restaurant, Legasea, and a rooftop club, the Magic Hour, which has played host to several fashion week parties and red carpet events since it opened last summer.
But the Moxy's Amsterdam location is taking a very different approach. Although on a recent visit the hotel did seem to feature a similar clientele of young, international guests and a lobby anchored by a bar that provides the signature free "welcome cocktail," the hotel does not include any nightclubs or additional bars on the property like its New York City counterpart. Instead, what is perhaps its nicest amenity is, in fact, its health club. The hotel is home to the second location of The Athletic Club, a high-end fitness club started by Dutch celebrity trainer Mo Achahboun.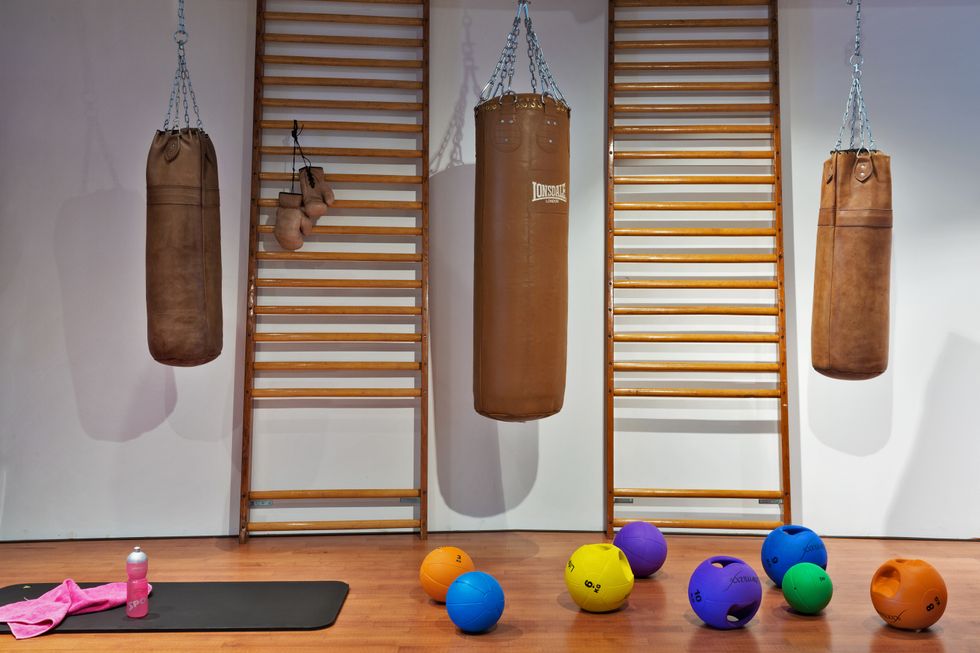 Retro punching bags at The Athletic Club inside the Moxy Amsterdam Houthavens; photo courtesy of the Moxy Amsterdam Houthavens
"Staying fit during a trip has become more and more of a trend (especially among the younger travelers) -- that is why Moxy Amsterdam is designed to offer you a unique fitness [opportunity] during your trip," Daniel Thompson-Carter, Marketing Executive at the Amsterdam hotel, says. The striking health club is much better designed than your average hotel fitness center and Thompson-Carter says the interiors were inspired by the "roaring twenties" when the Dutch capital hosted the 1928 Olympics. "You'll see that [reflected] in our décor of retro punching bags and gymnastics rings," he says. Along with typical offerings like treadmills, stationary bikes, free weights etc., the club also offers guests the chance to take classes like kickboxing, yoga and pilates as well as book sessions with personal trainers, physiotherapists and dietitians. The space also encompasses an indoor pool and spa.
The hotel is located in the city's Houthavens neighborhood, formerly home to the city's lumber port, and now the site of offices for fashion brands like Calvin Klein and Tommy Hilfiger along with the Moxy. The area is also Amsterdam's first climate-neutral district, Thompson-Carter points out. That means it has features like streetlamps with LEED lights, pavings made from recycled materials, energy efficient buildings and more. The Moxy wanted to "make sure the hotel supports the goals of the city," Thompson-Carter says, along with offering "all possible wellness perks to guests staying with us. Instead of disrupting guests' daily schedules, which travel often entails, we help them commit to their health and wellness resolutions." He adds that the Amsterdam Houthavens location is currently the only Moxy hotel that features a spa and swimming pool.
Finally, along with a growing emphasis on healthy ways to take care of your body (i.e. via diet and exercise), Amsterdam may also be increasing its profile when it comes to healthy ways to treat your mind and soul. Just as the Danes have hygge -- or "coziness culture" -- the Dutch have their own brand of coziness, gezellig, which can mean anything from reading by candlelight to an afternoon spent with friends over some mulled wine and speculoos cookies. A recent visit to the city in December just before Christmas -- perhaps the coziest time of year -- showed gezellig out in full force. Despite the cold temperatures, it felt like every charming canal house had pots of plants and flowers outside their entryways, the canals themselves had special light installations set up throughout the city and it seemed like every boutique around sold variations on the same gezellig wardrobe: warm, chunky sweaters, stylish-yet-conservative pleated skirts, sleek white leather trainers.
And so, taken together, it's apparent that Amsterdam may be in the midst of a bit of a re-brand. Its reputation for sin and all-night debauchery may be getting replaced by one that instead shares a bit of Australia's healthy, all-day cafe culture and a pinch of their own native version of Scandinavian coziness.
But, according to one resident and fitness professional, wellness is not going to replace nightlife -- just co-exist alongside it.
As Karianne Kraaijestein, founder of YogaFest International, an Amsterdam-based organization which "started as a festival and now spreads the benefits of yoga, meditation and its lifestyle through pop-up classes, certified teacher trainings and retreats," says: "There is an old Dutch expression, 'Alles waar "te" voor staat is slecht, behalve tevreden,' which you could translate as 'with everything, too much is bad unless it is too content.' In other words, enjoy your beer, fries, croquettes, cakes, party, drugs -- but don't overdo it. I thank that's also reflected in the health/wellness/fitness market in Amsterdam. Yes, people love to go to the gym, yoga or any other sports club and do that on a regular basis but they are relaxed about it and not hardcore health fanatics. Enjoy your session, have a smoothie or vegan bowl -- and party hard on the weekend."
Splash photo: A bicycle inside the Moxy Amsterdam Houthavens. Photo courtesy of the Moxy Amsterdam Houthavens.