There's a very specific swagger to which young artists in the middle of their moment subscribe — they're untouchable, you're inconvenient. 6lack, however, feels neither untouchable nor, as far as I can tell, inconvenienced. So thrown off am I when the 25-year-old singer-rapper pulls out my chair that I assume we're in an awkward fumble over the same seat. 6lack, famous for songs so infinitely millennial Pepsi would die for the rights, is foremost a Southern gentleman, so effortlessly imbibed with old-world charm that he managed to make tracks titled in text language seem timeless.
Of course, 6lack would likely be the first to understand my trepidation as to whether the two of us would hit it off in the back area of Peaches, Brooklyn's answer to Southern comfort. As an artist, he shrouds himself in mystery. His name, of course, is a moniker. His face is largely concealed behind a mop of dreads. His press shots, and even music videos, are shot almost entirely in black and white, which is why the fact that 6lack considers relatability his first priority is so surprising. His songs seek to subvert what he describes as traditional "party music, trap music" that overwhelms much of the hip-hop genre today, in favor of accurately depicting the millennial experience. Like much of this generation, contradictions are, in fact, 6lack's lifeblood. He sees that his cohorts all want to make something of themselves, but don't know where to begin. He wants to be in a relationship, but also alone. "We're clever but we're clueless," he laments. There is no mention of bottles or models, just lyrics that can connect with anyone.
Maybe that's because Ricardo Valdez Valentine's story could be anybody's. A first-year computer science dropout, a 19 year-old Valentine had to explain to his mother why he was disregarding stability in his home of Atlanta to sign on as part of a rap group with an independent label in Miami. He quickly gained attention by pulling up at video shoots in Atlanta with his crew and challenging artists like Young Thug to battle — all recorded just in case the impossible happened, their careers took off, and demand rose for this kind of documentation.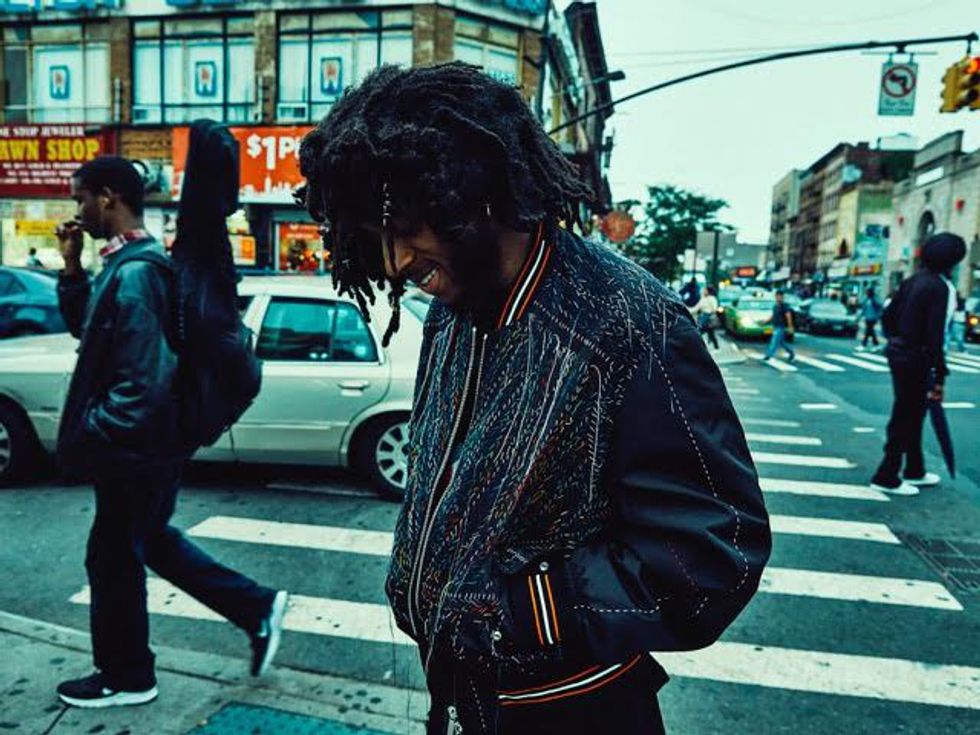 Top: McQ Alexander McQueen slim pullover shirt available for purchase at Bloomingdales.com, Jacket: Dior Homme, F/W17 Jeans: AG
And happen it did. You can view a snippet of the video in popular YouTuber Michael McCrudden's " Before They Were Famous" baby biopic of the singer. Rolling Stone named him one of the 10 Artists You Need to Know. That's not to say it's been a smooth ride to success for the 25 year-old. Even though 6lack's label noticed his potential early on and began to call him back alone, 6lack says they "never really matched". It was five years ago and the likes of Flo Rida and LMFAO were dominating the charts. The label needed a certain tempo, a fist-pumping hit, and were willing to get there by chopping and screwing 6lack into an artist he wasn't. He eventually bought himself out of the deal, losing years of music in the process, and titled his debut album Free 6lack.
"You can get sucked into it," he says, "but if you find yourself in a situation and you're writing or you're recording and you're uncomfortable...like people are making suggestions and you're like, I would never sing that or I would never say that. That's the worst thing I could ever feel. My body overheats, it feels like I'm doing something that goes against who I am...There was a fight."
Peaceful until provoked, in fact, seems to be 6lack's modus operandi. Thus it's only natural that the singer's spirit animal is a bear — represented via the claw tattoo on his hand. A real bear even co-starred alongside the young singer in his PRBLMS video, a still from which is also his album art. Even half-hunched sipping a Moscow Mule, 6lack seems to gently demand the same respect one would pay the animal. Recognized by a passerby twice his age, 6lack brings his hands together and bows his head to humbly accept the praise. He turns back to me and, without skipping a beat, explains his mission for mass connection. Music, 6lack says, is a "social experiment."
"If I was just solely about what I wanted to do, it would be like releasing music in my basement and listening to it by myself. But I also want millions of people to listen to it and say, 'I feel that, I went through that.'"
Herein lies the conundrum: in attempting to reach the mainstream, 6lack is in danger of being captured by the moment. While that's all well and good (who doesn't want to be as popular as possible, as quickly as they can?), there's a reason most artists are only designated 15 minutes. When a particular sound blows up to become the music of the minute, it usually stays in that minute.
Atlanta, now designated the 21st-century Motown for its contribution to the culture, is pumping out new acts like there's no tomorrow. And as a result, 6lack explains, most aren't making it past today.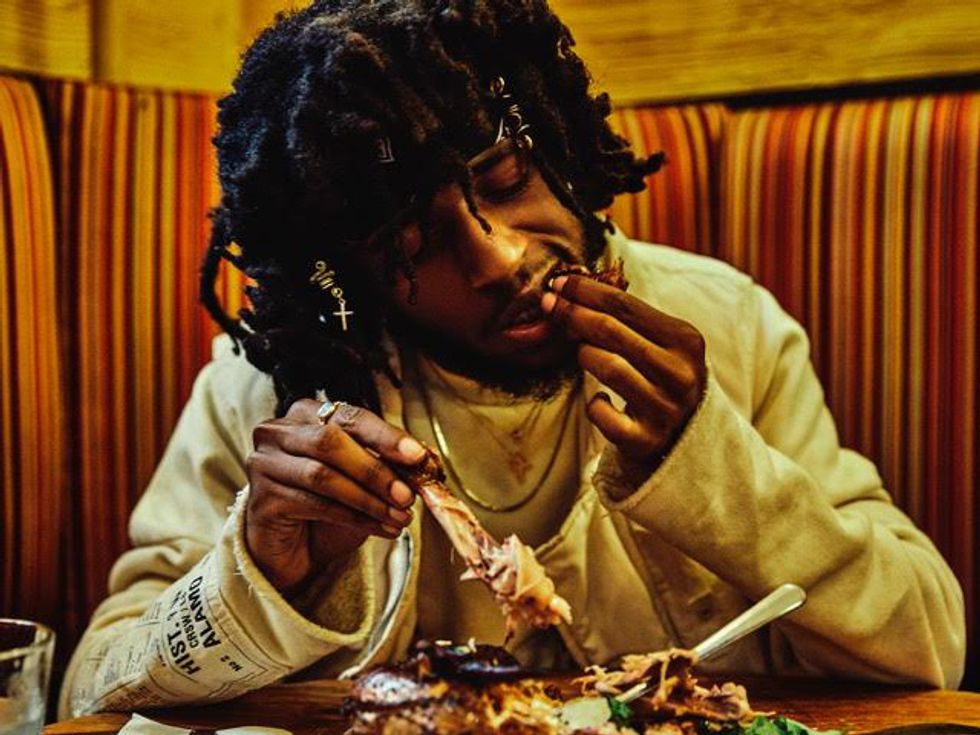 Sweater: Raf Simons A/W 05-06 "Poltergeist" sweater, Vest: Helmut Lang F/W 98 down vest
"That's part of the task, you gotta be present but not be just for now. It's a matter of figuring out how to be present but not being a trend...I don't want a backup plan, I have one plan and plan B is to make sure plan A works."
Part of plan A is the right package. 6lack attached himself early on to fellow sadboy The Weeknd, opening for the superstar on his Starboy: Legend of the Fall tour. The move, coupled with his premier online presence, almost immediately made the Atlanta native a household name. Although 6lack doesn't feel the pressure to surround himself, or pose, with various status symbols in the same vein as traditional hip-hop artists, he's far from unaware of the impact of image. Social media has proven a kind of unsavory savior for the artist, who owes much to online platforms for his swift rise.
"You can be incredibly talented but if it's not presented in the right way people just aren't having it," he continues. "It can be frustrating, but you have to be aware. The beautiful thing for me was just, it was always this is who I am. I just put it on the Internet. It was never something that was really curated."
When asked about how his followers interact with him online, 6lack becomes animated.
"I get the longest messages, ever. I get 'Hey, this has been going on in my life, this has been helping me through it.' People use songs for therapy and when they press play on my record, I want them to get something from it. I never want to my fans to feel like I'm not a person."
It's clearly this authenticity that attracts and compels 6lack's fanbase. Even while most artists select a stage name merely to dial up their intrigue, "Black", as Valentine's childhood nickname, was an instinctive choice. He then personalized it further, reconstructing the word with the number '6' as a reference to both his upbringing in Atlanta's Zone Six and the fact that his birthday falls in June. He recently welcomed his first child, Syx Rose Valentine, who he says has brought him "clarity."
"The stem of my problems never being that clear in what I think, do, or say. Sometimes I literally don't know but she's going to look for guidance and a role model and I'm just like, I have to be clear now...As much as you do want to be in love and be with somebody and have that support system, sometimes I don't want to talk."
This is a running theme throughout Free 6lack. While the singer never outright disparages his former flames, his biggest hits "Ex Calling" and "PRBLMS" discuss the persistent pestering of women who he doesn't have time for. In the latter, he speaks of a love interest blowing up his phone with multiple "I hate you"s — something which really happened while he was recording and then became a key part of the song. While he never wanted this undisguised mining of his personal life for art to be perceived as "malicious" to the female in question, balancing work and women has never been his strong suit.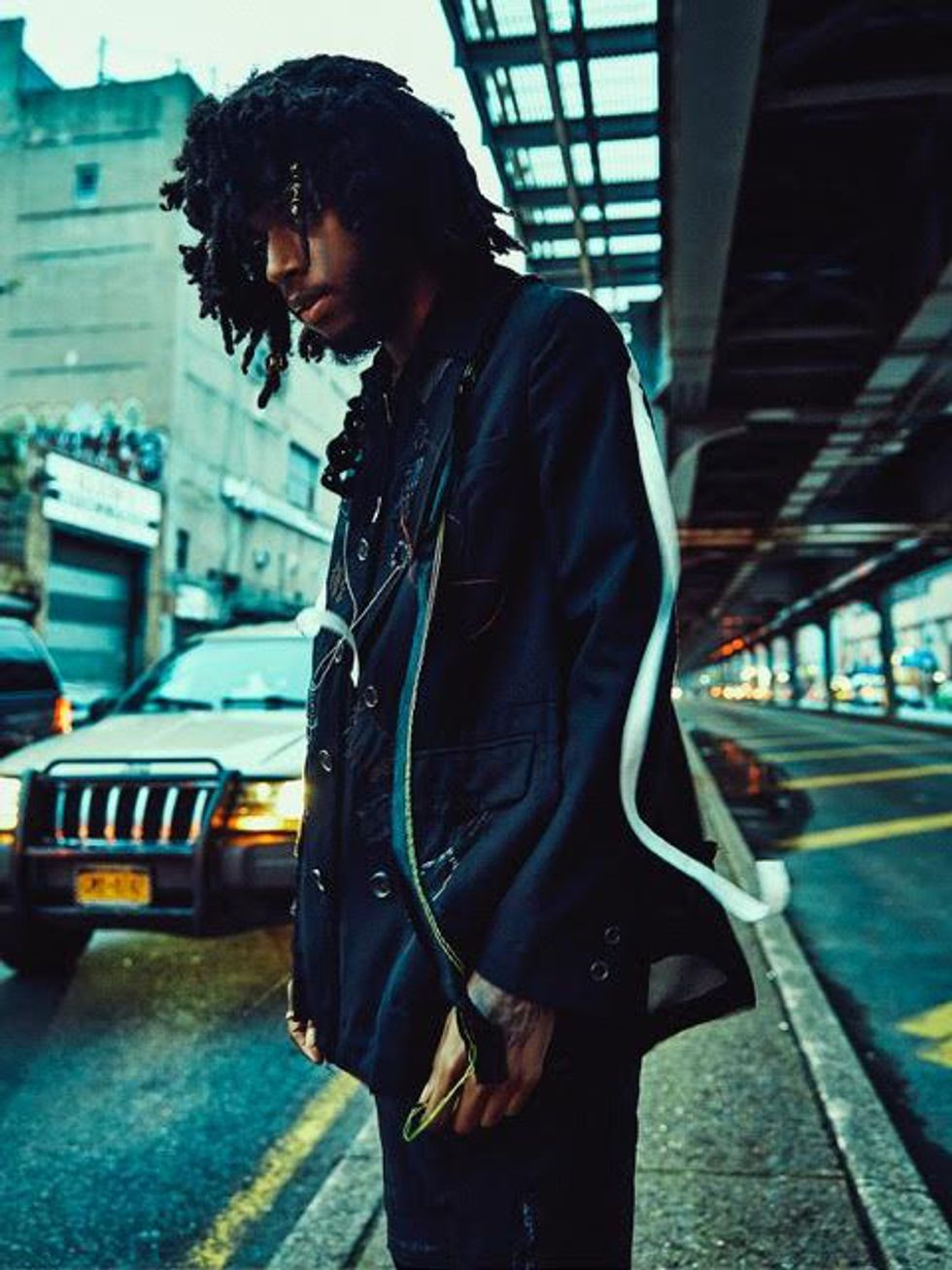 Jacket: Undercover S/S 03 "Scab" jacket, Jeans: Junya Watanbe denim patchwork jeans available for purchase at Bloomingdales.com, Boots: Saint Laurent
"Trying to figure out the balance between feeling so dedicated to music and someone you're with and then see them disappointed with how dedicated you are to music — I get defensive," he says. "Sometimes I just want to wake up and do music. It's like an on and off switch, you know, I want to be around you, then I want to be by myself."
Don't be quick to confine 6lack to songs about love though. In Trump's America, he admits to feeling the weight of his influence more than ever and refuses to shy away from speaking politically. In fact, like a true millennial, he says he can't differentiate the sitting president from a common internet troll.
"You can't be a president and a troll. Those are just two things that don't go together...If you have the platform, do something with it."
While 6lack can acknowledge that rappers are generally tasked with voicing the people's collective frustration, 6lack wants singing to be taken seriously. Despite running through the rap battlefield — which provides as much traditional training as is available to any hip-hop artist — 6lack says he no longer needs to rely on the "aggressiveness" of the style to say what he needs to.
"I just love singing more," he says. "I got what I needed from rap. Nine times out of 10, when I write a rap verse, it's to stick out my chest. It''s to prove a point. The goal with rap is to say as much as you can and make it sound good. With singing, you're still trying to achieve but with fewer words — not having to get everything out that you want to say. To me, it was more of a challenge, and I like a challenge."
As a stylist reaches into our booth to rearrange a Raf Simons shirt, 6lack wonders if the music might be too loud for me to hear him — should I move my recorder closer?
In this moment I feel compelled to tell 6lack just how rare his mindfulness really is. I want him to know his constant pursuit of a inclusivity will push him beyond any one moment. While his music may be written by a millennial for millennials, as an artist, 6lack has potential to reach much further than one generation.
"I have a mission," he says, "I have a purpose. I have to be bigger than just music."
He already is.
Splash look — Jacket: Dior Homme F/W 17', Sweater: Sandro, Jeans: AG
All images by Faisal Mohammad
Styled by Savannah White