Yesterday actor and former linebacker Terry Crews testified before the senate as survivor of sexual assault to advocate for a new bill of rights that would instigate a standardized process for abuse reporters across all 50 states. Crews recounted his own experience at the hands of a powerful Hollywood agent, and while it is monumental for a straight, cis man to publicly share an account of sexual violence and speak of toxic masculinity, it seems that a high profile victim of the latter felt obligated to speak on Crews' testimony.
Related | Survivors of Abuse Are Speaking Out with #MeToo
Rapper 50 Cent posted to Instagram shortly after Crews gave his statement, uploading a photo of Crews shirtless with the words, "I got raped / My wife just watched," coupled with another image of Crews with a rose in his mouth reading "Gym time." He also uploaded a video of someone commentating the testimony — when a female member of the Senate Judiciary Committee asking why Crews didn't push the exec away, the person filming said: "I was thinking the same thing." 50 Cent captioned the upload saying he would have pulled out a gun.
His other post was annotated similarly: "👀LOL,What the fuck is going on out here man? Terry: I froze in fear,😆they would have had to take me to jail. [Raised eyebrow emoji] get the strap." Both posts have since been deleted.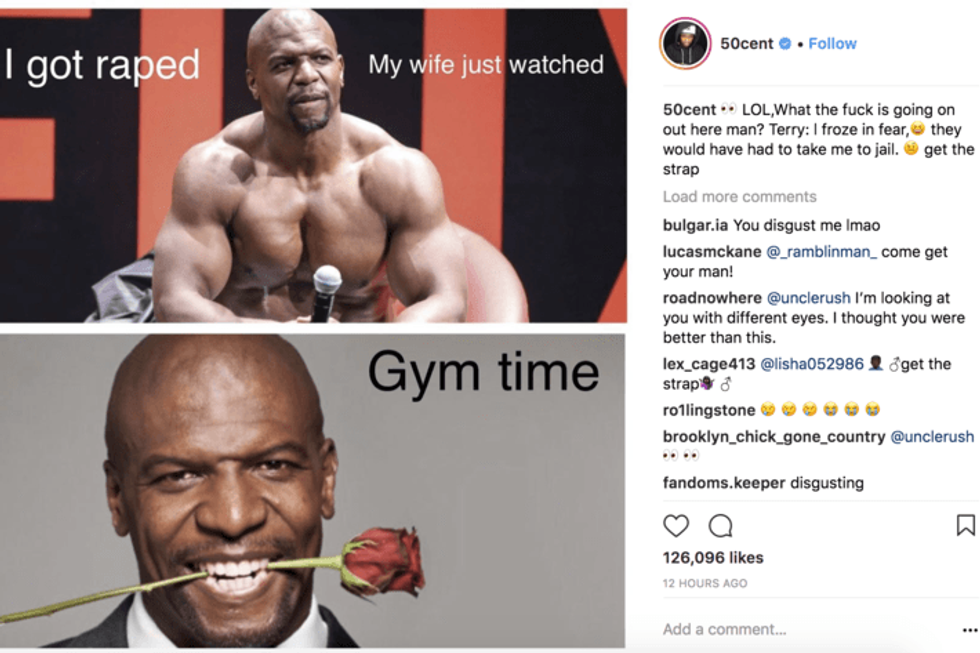 Crews told the Senate that his genitals were grabbed by the exec at a public event, with his wife standing next to him. Unsure how to respond, Crews lightly confronted the man, who laughed him off. The actor's wife advised him not to harm his career by getting physical, especially as a Black American provoked by a powerful white man. When the #metoo movement kicked off after revelation Weinstein had abused female collaborators en masse, Crews was one of the first, and only, straight men in Hollywood to come forward.
Naturally, 50 faced almost immediate backlash, with commenters writing "disgusting" and "This is why people hate you," which likely propelled the artist to remove the posts. As for Crews? Well, TMZ asked him to weigh in.
"I love 50 Cent, I listen to his music while I'm working out," Crews told a cameraman diplomatically, before being pressed to directly address the rapper's meme. "I prove that size doesn't matter when it comes to sexual assault," he said.
Photo via Getty