It has been a horrifying week (year?) here in the US: A mass shooting, a devastating natural disaster, a racist president ranting at football players on Twitter. So where does the notion of Paris Fashion Week fit into our own horrors at home? The answer is not really anywhere, but yet, and perhaps thankfully, the shows ran on without pause. Fashion will not cure what ails our broken world (no matter how many feminist tees you put down the runway) but it's some solace to know it's out there, spooling fantasy, beautiful chaos and creation. So to the dazzling highlights of the week in Paris, we turn our addled gaze:
Using Your Platform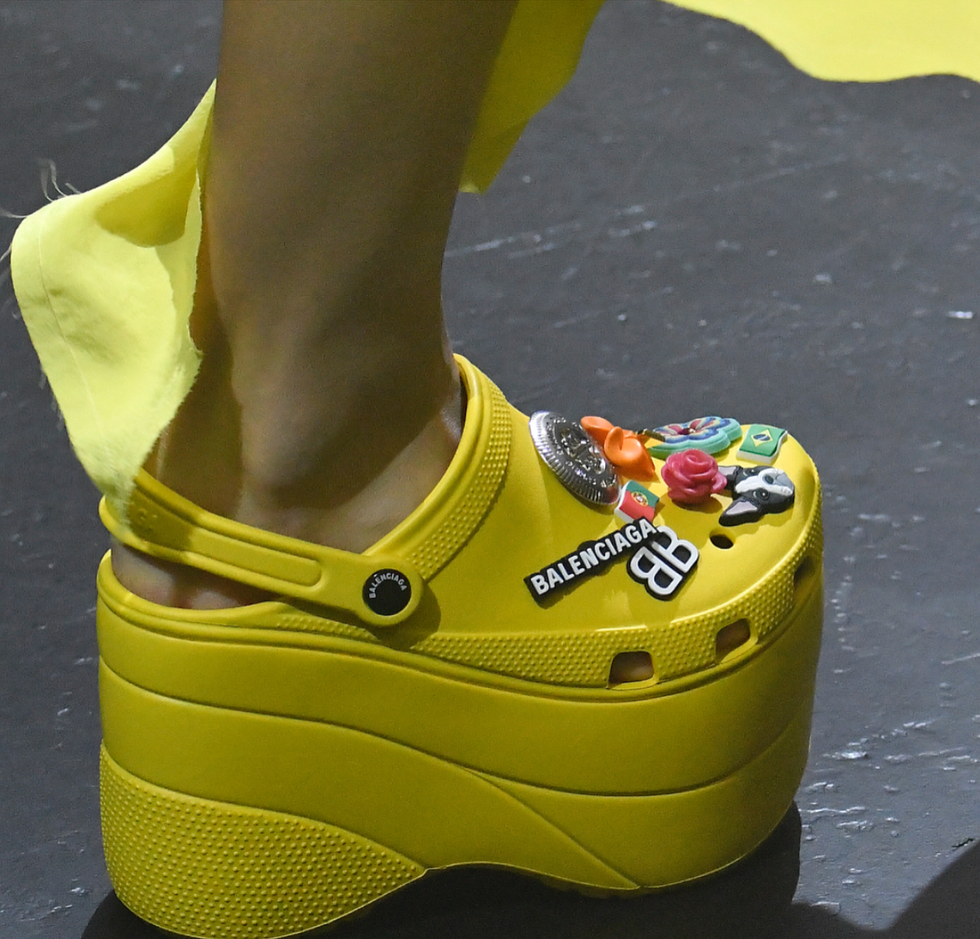 @trendylatino_ / Instagram
Balenciaga took a go at fashion's latest démodé shoe dujour with startlingly fun results. Demna Gvsalia, the house's reticent designer, left last season's literal interpretations of founder Cristóbal Balenciaga's silhouette's in the archive and returned to his more sardonic roots with these rubber platforms in saccharine, pepto pink. To purists it may be a jarring exercise to place these in the context of the Balenciaga legacy, but it's just a Croc, Madame.
Blanket Statement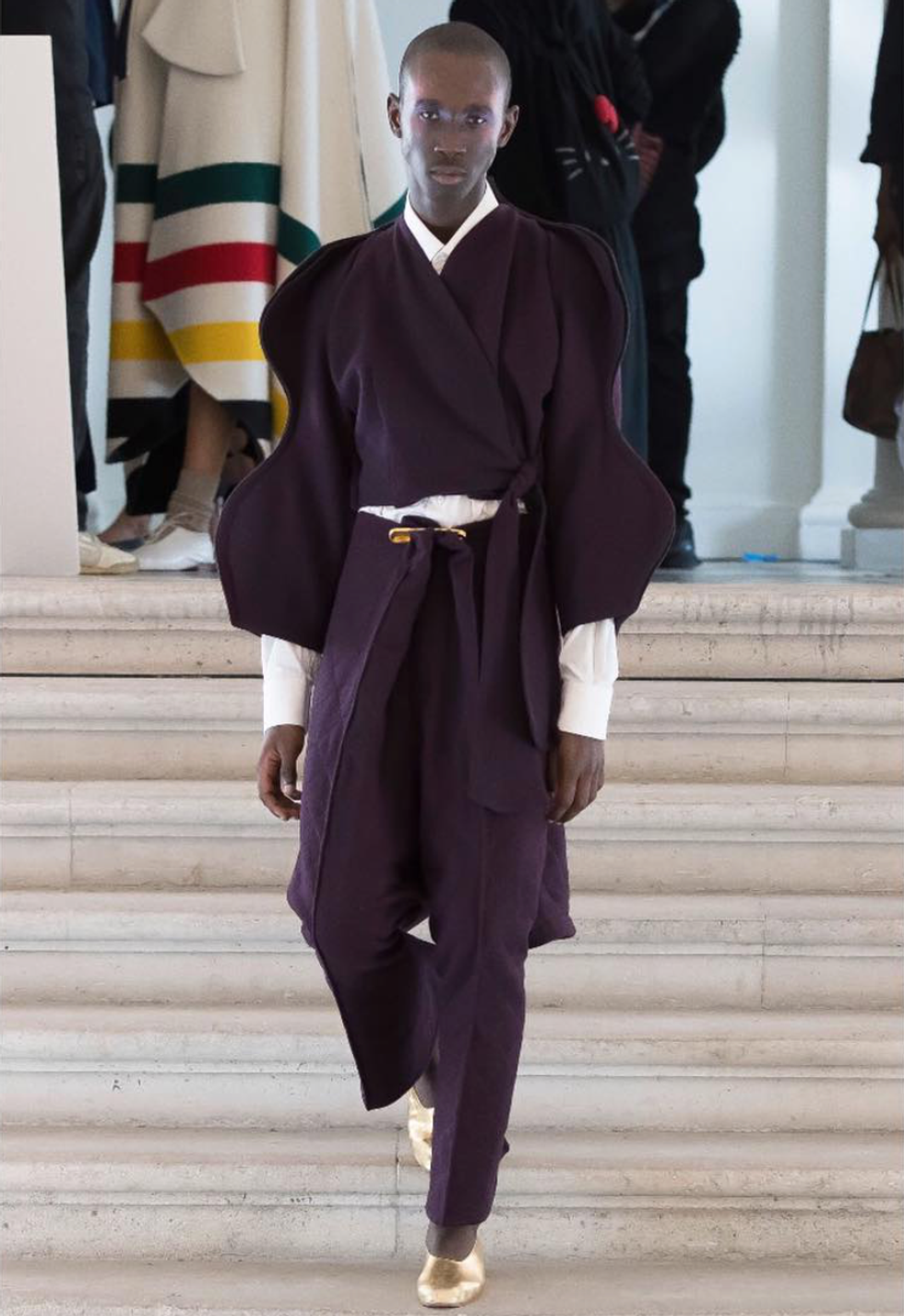 @jodieabarnes / Instagram
Leave it to And Re Walker to put together one of the more compelling and original shows in Paris this week. Produced in partnership with Pendleton, the American designer recreated looks ( based on patterns from vintage 80s pieces owned by Paper's Kim Hastreiter, Louis Vuitton's Kim Jones and others) but this time in signature Pendleton fabrics. After gaining a loyal following in the clubs and downtown boutiques of 80s New York, he has had an on-again off-again relationship with the fashion system, with stints consulting for Marc Jacobs and Louis Vuitton as well every few years producing his own collections, the last of which being in 2014 under the CDG umbrella; his career following a pattern just as unique and inscrutable as those he sent down the runway yesterday, and thank goodness.
Debut Scorecard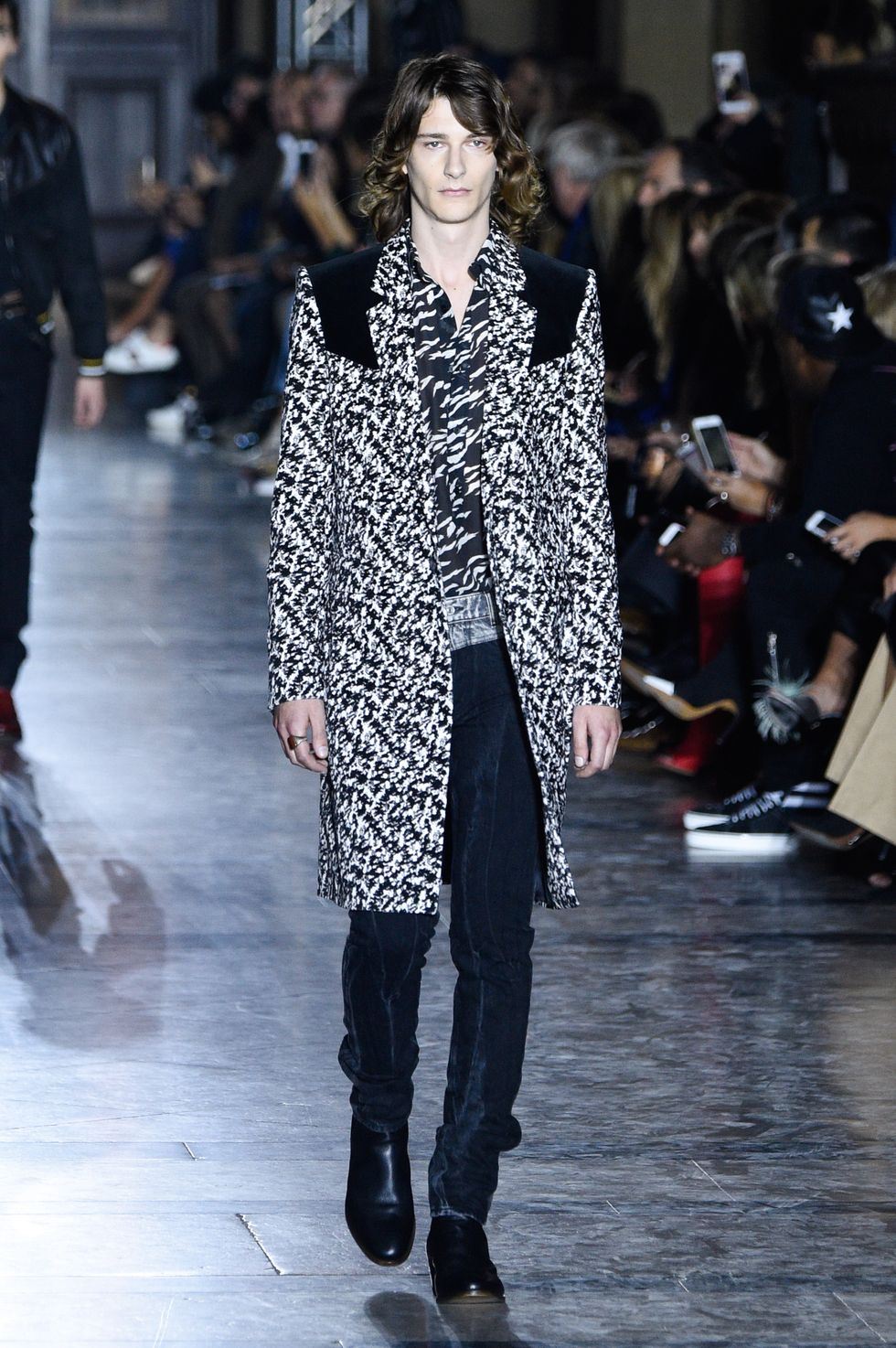 Image via Getty
The latest round of fashion musical chairs manifested this week with mostly strong results. On the plus side were Clare Waight Keller at Givenchy (confident, wearable, great jackets), Natacha Ramsay-Levi at Chloe (on the nose, like-a-French-girl perfection), and Serge Ruffieux at Carven (fabulous shoes, joyful clothes). And then there was Lanvin. Oliver Lapidus' debut, after a rushed appointment mid-summer, was an unqualified letdown. Basic dresses and snoozy separates were hopefully a symptom of his short lead time and not an overall vision, but the mediocre showing did very little to quell the madding crowd still lamenting for Alber Elbaz, who was let go two years ago.
"….what's the DEAL with these front ROWS?"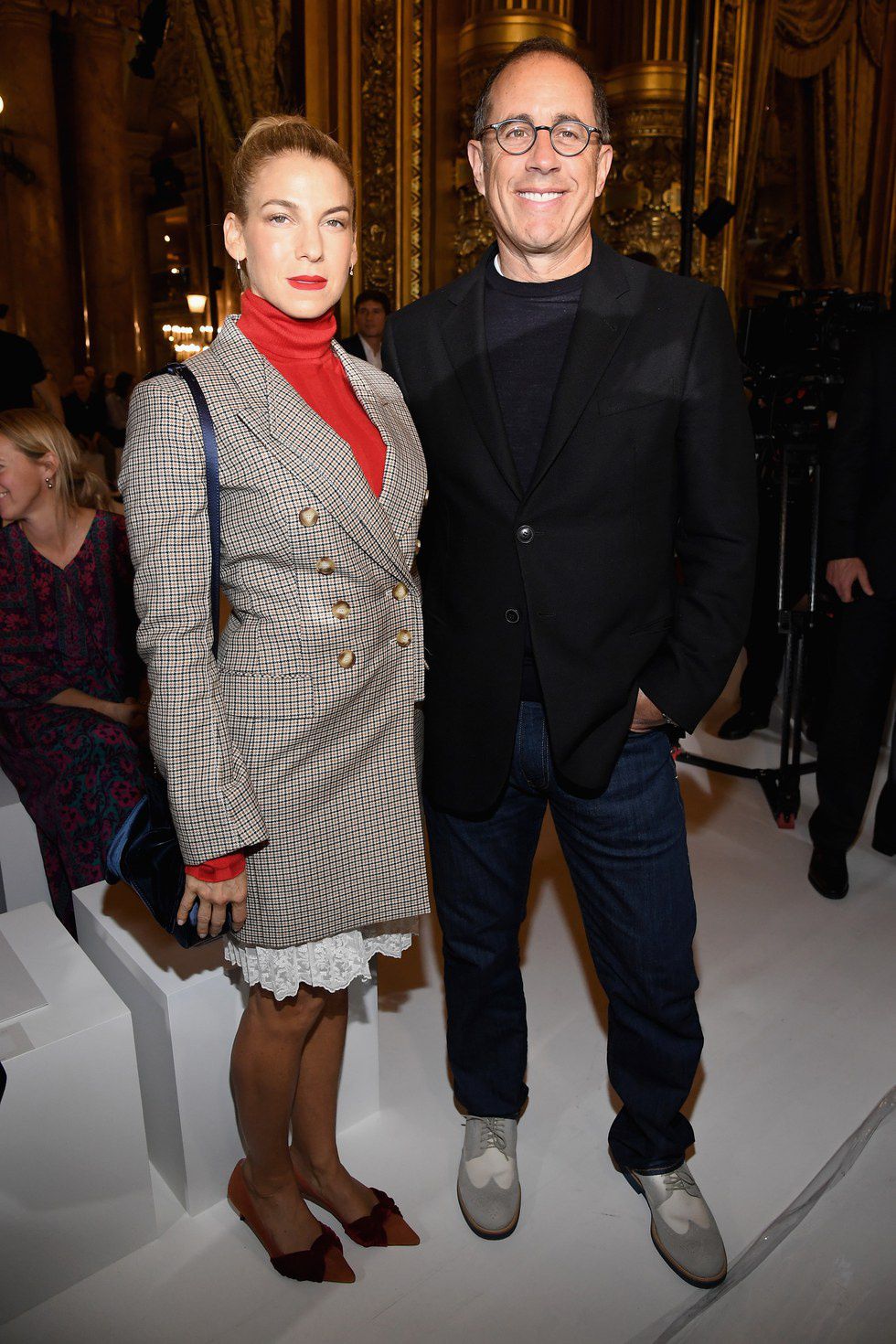 Image via Getty
The Paris frows have a pretty set formula: some kind of ingenue brand ambassador, perfectly tousled European editrixes, some stern looking suits, and maybe Salma Hayek. So it was a joy to see none other than Jerry Seinfeld front row at the Stella McCartney show on Monday. Sadly Stella did no puffy shirts for spring (check Vuitton or Chloe).
Chasin' Waterfalls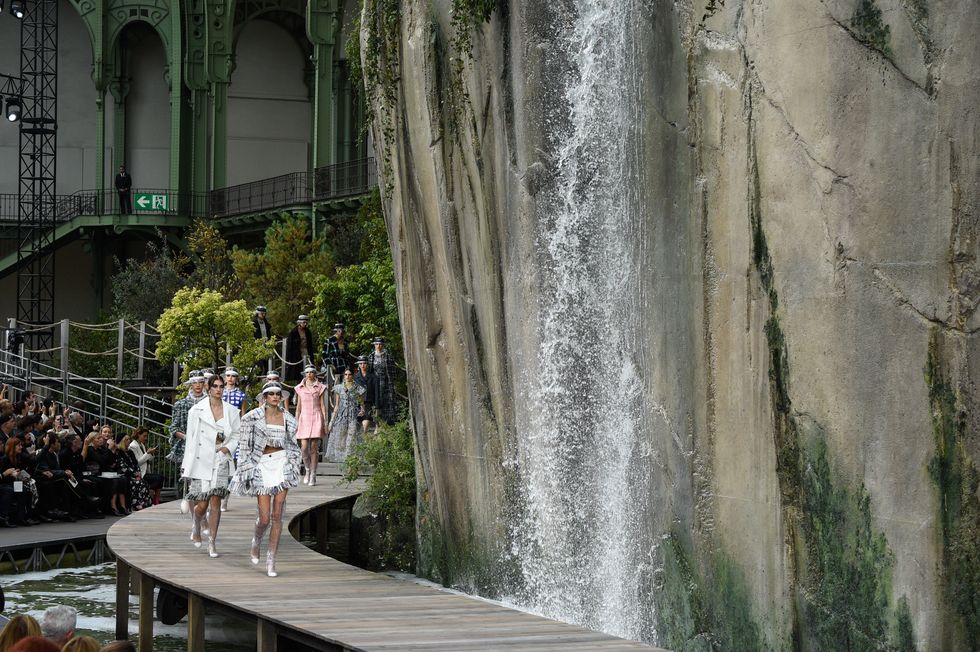 Image via Getty
If the mountain won't come to Karl Lagerfeld….then you just construct a fake one in the Palais Royal. For the Chanel Spring 2018 show, Karl built a replica landscape of the Verdon Gorge in the French Alps, complete with running waterfall and breezy mists. Plastic knee high boots and signature spectator pumps may be a challenge for even many Chanel shoppers, but who ever said Karl Lagerfeld stuck to the rivers and the lakes that he's used to….
Slick Rick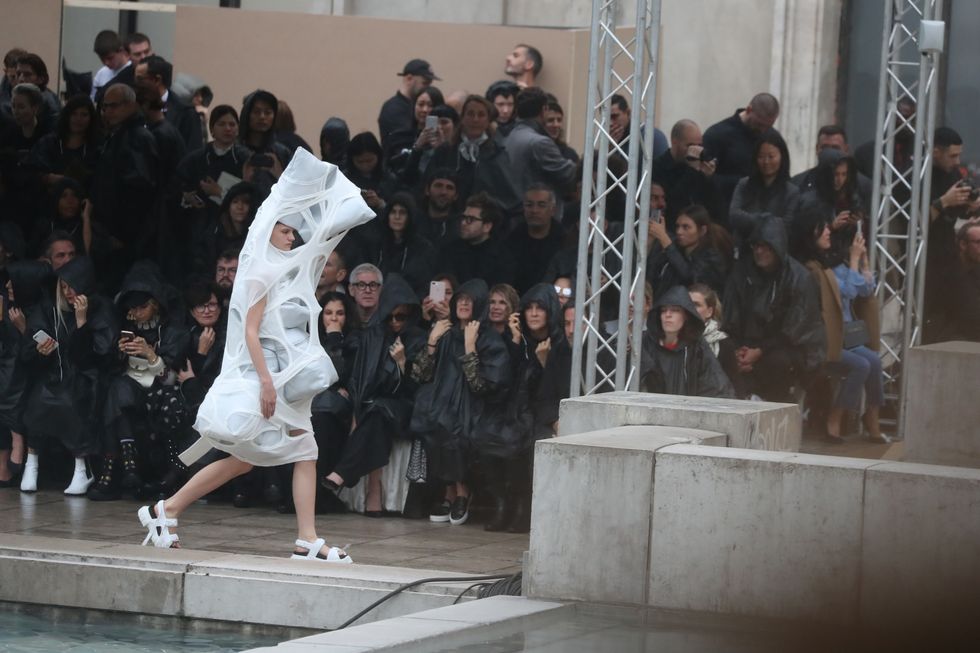 Image via Getty
Ponchos were provided at Rick Owens' show at the Palais de Tokyo if that is any indication of what the audience was in for. Waves of mist sprayed attendees as the designers spring collection, a treatise on shape and perspective that drew comparisons to Rei Kawakubo's famous Lumps and Bumps collection, paraded around the open space to the tune of Michele Lamy's, Owens' partner, laughing as the soundtrack. Whether it was a statement on waste and the precarious state of humanity or just exploring new shapes, it was a delightfully strange (and wet) moment of the week.
Red(rum) is the New Black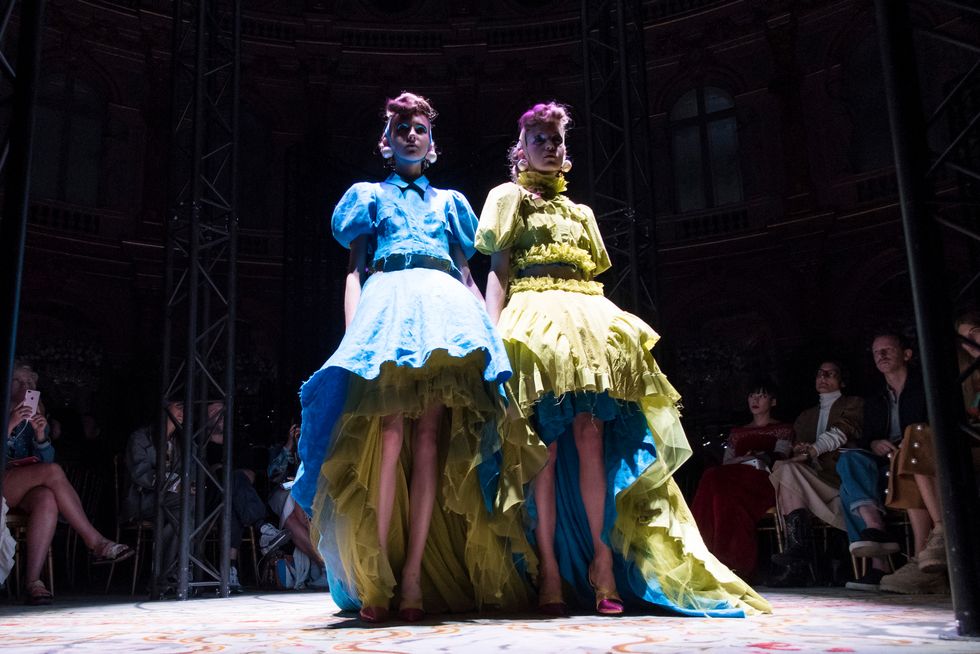 Image via Getty
Jun Takahashi, the designer of his cult Japanese label Undercover, drew on the work of photographer Cindy Sherman, Stephen King and dolls for one of he more low key fabulous shows of the week. With Sherman's self-portraits on tees and irl twins modeling the looks, the show had a perfectly fun yet totally creepy edge. The finale was a direct nod to the Grady twins from The Shining, complete with baby blue dresses and red thread billowing like suspended blood spatters in the air. Stephen King and Cindy Sherman are two rich resources for mining a particular American horror and Takahashi knew just where to strike.
Vuitton & Chill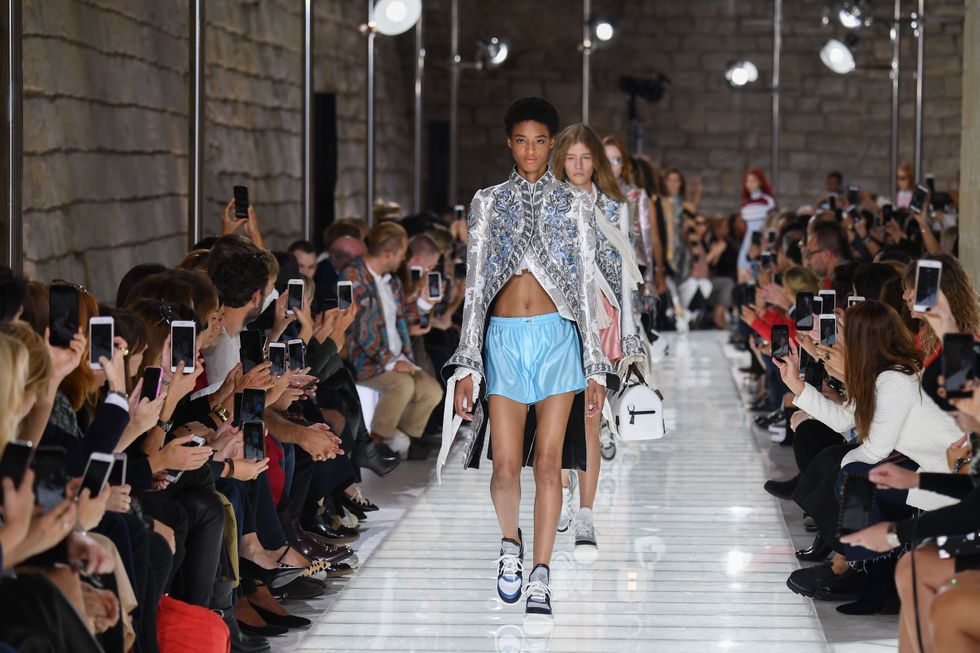 Image via Getty
For the close of Paris fashion week, and all of the the spring RTW season, Nicolas Ghesquière showed his latest Louis Vuitton collection in the basement of the newly finished Pavillon de l'Horloge at the Louvre. Amongst sphinxes and medieval battlements, the models were historical mashups of Louis Quatorze frock coats, slumber party boxer shorts, and deliciously period puffy shirts. Thrown into the mix was a Stranger Things tee (NG is a huge fan of the show), which was already a collectors item the minute it walked off the runway….hopefully not into the Upside Down.
Feminist Fatale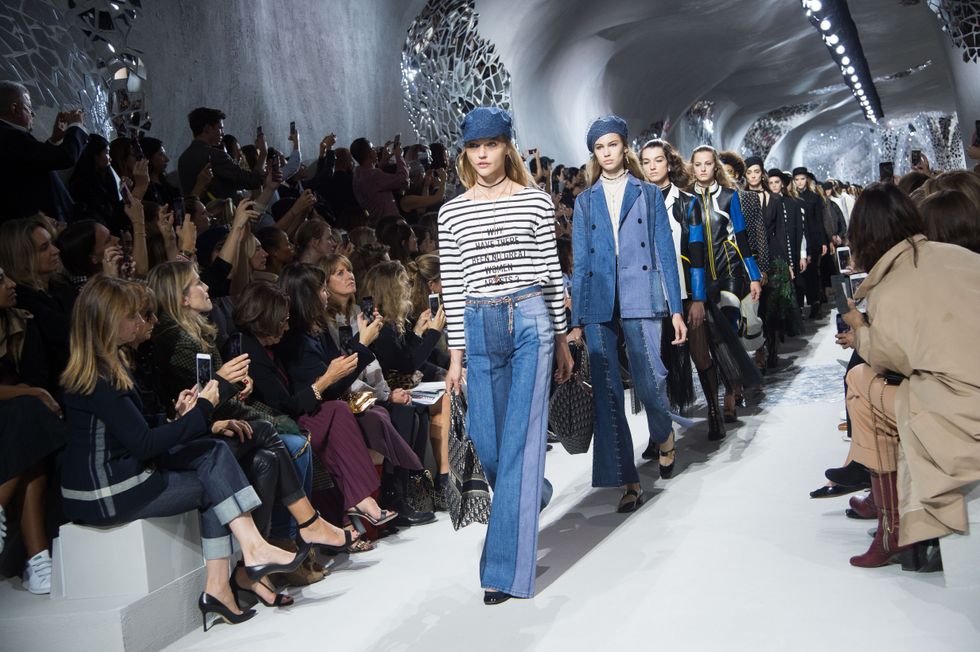 Photo via Getty
At Dior, Maria Grazia Chuiri is doubling down on the feminist tees. After last spring's "We Should All Be Feminists" appeared on a white cotton shirt (lifted from an essay by Chimamanda Ngozi Adichie, and available for $700) were a recognizable hit, she continued this season with a line from a famous essay by art historian Linda Nochlin "Why Have There Been No Great Women Artists?" To some it may feel like a cheap ploy and to other's it may be relevant (and fabulous), but whatever your stance, Dior is leaning way in.
Thom Browne's Fairytale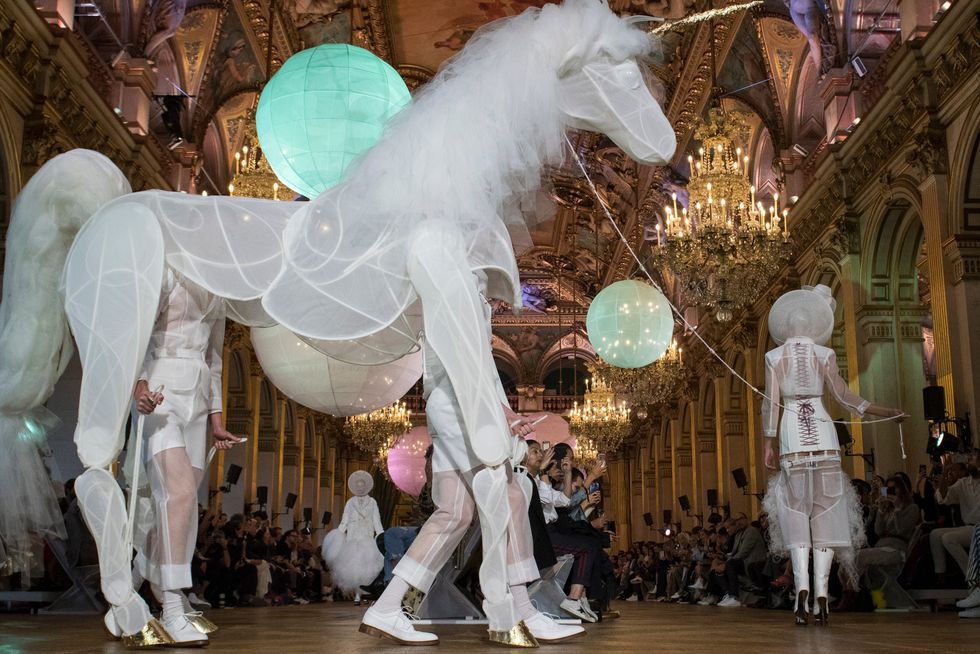 Image via Getty
Thom Browne is one of a recent crop of American designers to start showing their womens' RTW in Paris (he has shown his mens there for many years), and he did not skimp on the fantasy. With mermaids and unicorns, he created a world of wonder (and lots of chiffon) in Paris's grand Hôtel de Ville, reminding us that dreaming and escape are just as necessary in fashion as a real life verisimilitude (though there were fabulous coats and dresses if you squinted). One hopes that with Browne in Paris, he is letting his imagination fly to even greater—and all the more marvelous on the back of a giant unicorn puppet.