Unapologetic, self-assured and fiercely independent, Mae Muller is the next big British sensation. A few months ago, she released her debut EP After Hours, which covers heartbreak, sadness and empowerment under the guise of upbeat pop tracks. This independent artist is bound to break the charts.
We caught up with Muller about After Hours, how Rihanna inspires her style and why stylists are a necessity in the Instagram age.

When did you discover pop was the genre you wanted to pursue?
I've always listened to pop music. I would spend a lot of time watching the charts on TV, so I kind of grew up around it. Gwen [Stefani] has been my idol from day one. My aunt introduced me to her music and I was obsessed ever since!
Most of your songs are about heartbreak and empowerment. How did these topics become the dominant themes in your music?
As a young woman, I think these are all such prominent themes in our lives. I've always tried to make music that I wished I could have listened to growing up. I just want people to be able to hear my music and think, 'I've gone through this, I know what that feels like,' and maybe even help them get through it.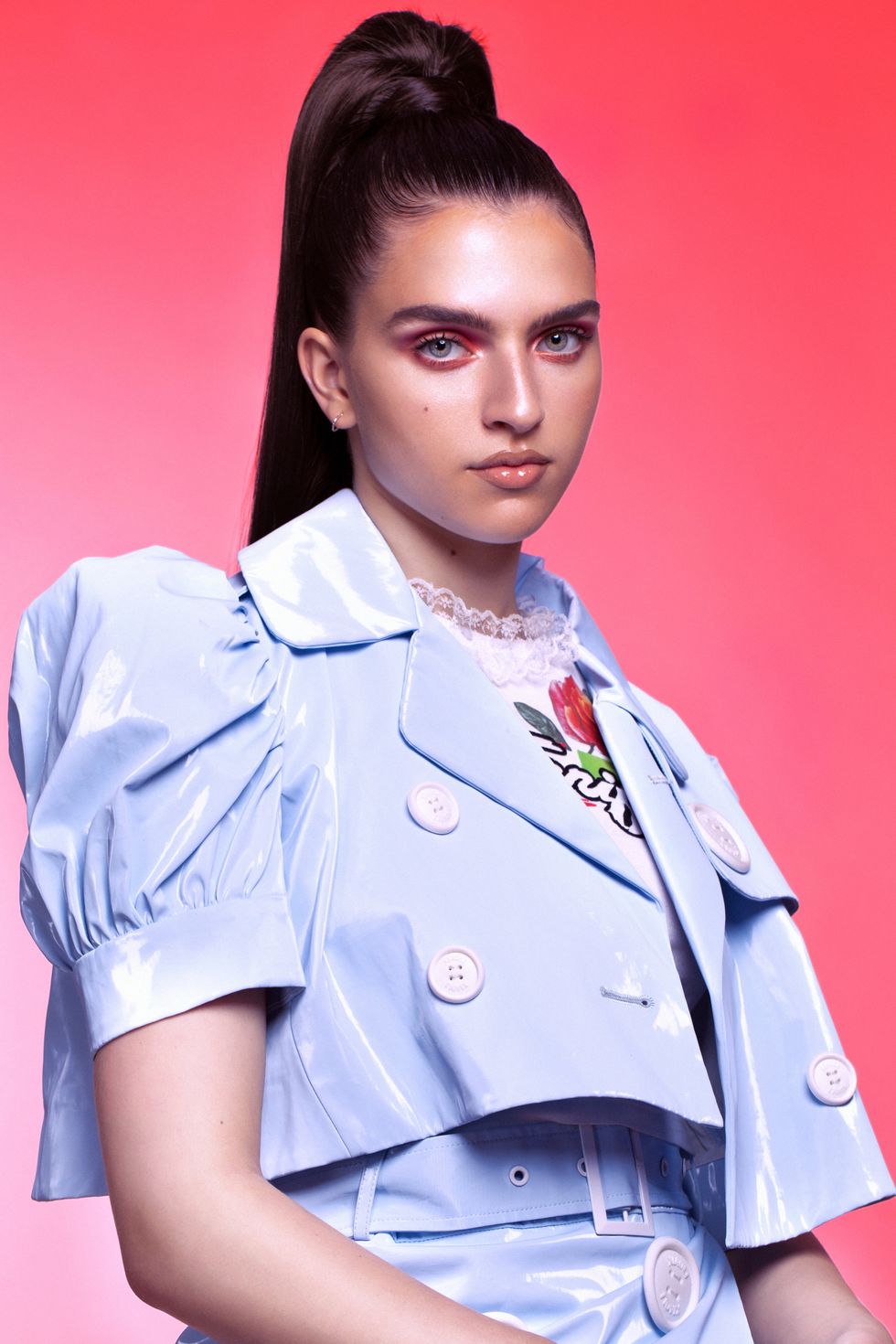 Speaking of your new EP, After Hours, how does the title link to the themes?
Well one of the tracks is named "After Hours," which is one of my favorites, and I thought it could link to all the hours that have been put in to the EP. The songs all have quite a sultry and cheeky vibe as well which I think correlates with the title.
Among all the songs in After Hours, which one was the most challenging to write?
It's funny because I was in such a good creative space when I wrote these songs, so I found it came pretty easily to me! I would say the most challenging though was "After Hours" because it was one of my first ever sessions and I was so nervous.
Your music videos for the "The Hoodie Song" and "Jenny" have this Lana-like low-fi aesthetic. How did that idea happen? Did you intend to reference to Lana del Rey?
It wasn't intended but I'm flattered by the comparison! For "Jenny," we just wanted to do something fun and bossy to match the energy of the song, and with the "Hoodie Song," it's so chill and laid back so I wanted to portray that in the visuals.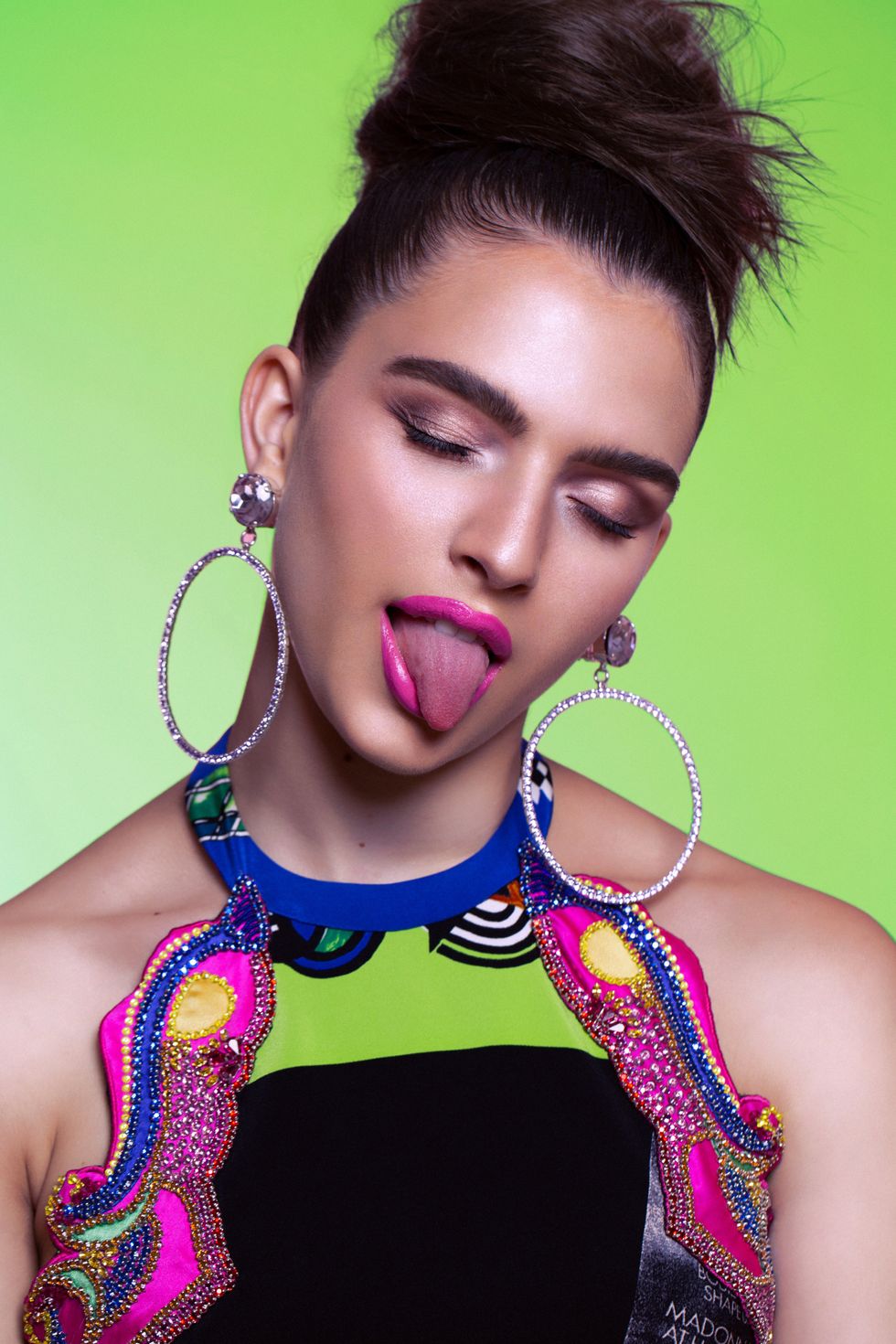 I love that the video for "Jenny" puts so much emphasis on fashion, yet it blows me away since not many unsigned artists work with a stylist for music videos. Can you tell us more about why you chose to work with a stylist?
The stylist is actually a friend of mine and my manager which helped, she also played Jenny in the music video! My forte isn't fashion —it's music, so it's always good to have somebody that specializes in it, because they may be able to put things together that are great that I wouldn't initially think of. It's always nice to work with your mates as well.

It seems like stylists are becoming more involved in crafting a musician's image compared to the '00s and now, it seems like every outfit is designed to be curated for Instagram. While some people love the work of a stylist, there are some who feel that stylists diminished the idea of personal style. As an artist, do you think that social media and the rise of stylists have helped musicians (like yourself) to express themselves?
Instagram definitely helped me because that's how I initially got noticed. People saw my little singing videos, and it sparked an interest, and made me realize music could actually be an option for me. I know so many people who have made careers off of social media, so I think that's great. It allows people to show others what they are proud of really easily. I also think that stylists are important and should be valued. They have a specific eye that other people don't necessarily have and just enhance whatever your sense of style is.
Who are your style icons and why do they inspire you?
Rihanna is my mega style icon. She's just my icon in every aspect to be honest, but in regards to styling, she just does whatever the hell she wants, and you can tell that she feels confident and sexy with what she wears, even though it might not be to everyone's taste. I admire that a lot.
Vintage fashion has been a big part of your style. Between the '50s to the '00s, which era do you like the most?

I think it would have to be the '90s. I have a lot of 2 pieces and high waisted trousers that resemble that era!
If you are to pick a venue and wear a super dope outfit, where will you perform?
I think right now it would be KoKo in Camden, because that's in my neck of the woods and it's such a beautiful venue!! I've seen a lot of artists there recently and I just imagine myself on the stage, so hopefully it'll happen one day.
Lastly, what do you hope to achieve in the future?

I just want to be able to keep on making music and to inspire as many people as I can! I want to sell out some cool venues and collaborate with some bossy females.
Photography: Hannah Diamond
Styling: Louby Mcloughlin
Hair and make up: Hannah Williams
Assistants: Megan Martin-Foy, Kate Freer, Keshia Ruberg
Mae wears: dress by Versace, earrings by Art School
Sign Up for the Morning PAPER