UPDATE UPDATE UPDATE: Brad Pitt is currently being investigated for alleged child abuse, in the wake of his wife, Angelina Jolie, filing for divorce this past Monday.
The two have six children together, three biological, and three adopted, and the report of the investigation cites a specific incident that occurred last Wednesday. TMZ says the Jolie-Pitt brood were flying private, when Brad--allegedly intoxicated--became angry and started lashing out.
He allegedly went wild, screaming and getting physical with the kids. We're told the plane landed at an airport around 8 p.m., and witnesses say Pitt continued his rant on the tarmac, and even tried leaving in one of the fuel trucks.
As per the initial divorce reports, Angelia filed over Brad's "parenting," so this would explain it; it's unclear if this was an isolated incident, or an ongoing pattern. Both parents have bow been interviewed by the Los Angeles County Department of Children and Family Services, after said-plane incident was reported by an anonymous tip on the tarmac.
:(
---
UPDATE UPDATE: Marion Cotillard just addressed the rumors that she was the cause of Angelina and Brad's divorce, in an Instagram post:
Mark this day, September 21, 2016, as the day Marion Cotillard said the word "haters."
---
UPDATE: Brad Pitt confirms the divorce is, in fact, happening; the actor released a statement to PEOPLE about the matter:
I am very saddened by this, but what matters most now is the well-being of our kids. I kindly ask the press to give them the space they deserve during this challenging time.
:(
---
UPDATE: Page Six says the divorce was caused by Pitt's alleged affair with his current Allied costar Marion Cotillard, while shooting in London.
METHINKS BRAD HAS A PATTERN!
Jolie allegedly hired a private eye to determine if Brad Pitt was "fooling around" on set.
There is honestly nothing more terrifying and glorious than imagining Angelina Jolie consulting with a private investigator:
They met in a parking lot in The Valley; Angelina had her sunglasses on, holding a lit cigarette out the car window. She silently accepted a manila envelope full of photos.
She rifled through a few, then said, "I've seen enough," before staring out at the rolling, endless hills.
Angelina drove away with only her window rolled down. Her car became a ripping pocket of air she could exist in alone; like falling through the sky and sinking into the earth at once. Above her, the exhausted sun gave way to twilight.
---
The marble pillars of the heavens have cracked: Angelina Jolie has reportedly filed for divorce from Brad Pitt after two years of marriage, and more than a decade of clanking hip bones and levitating above of all our feeble mortal flesh sacks.
TMZ says there is no "third party" involved, and that Jolie's decision is entirely over Pitt's "parenting methods;" she wants sole custody of their six children: Maddox, Pax, Shiloh, Zahara, Vivienne, and Knox (and me).
0_0
The two, whose famous union was rumored to cause the dissolution of Pitt's first marriage to Jennifer Aniston, seemed to defy Hollywood's standard of anemic marital ventures.
"But at least we still have Angelina and Brad!" I've yelled before, chopping firewood while wearing a kimono.
There is still no confirmation from either actor's "camp," so we still can cling to something; I'm not sure. Maybe that giant teddy bear Angelina and Shiloh trash-picked a few weeks ago--I will cling to that glorious garbage until further notice. (UPDATE: a lawyer has confirmed)
Their eventual joint statement will most likely come in the form of the sound of a quiet brook at dawn.
At least we still have Mary Kate Olsen and Olivier Sarkozy!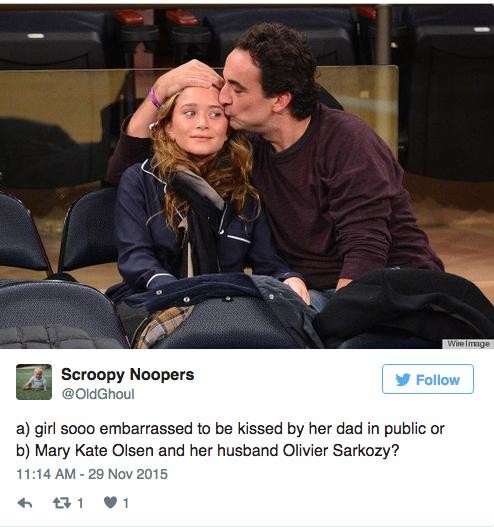 Header via Will Ragozzino/BFA.com