Last night, one of the shattered temple of One Direction's former high priests, Louis Tomlinson, shared this first glimpse of he and Briana Jungwirth's newborn son, Freddie Reign (born Jan. 21) on Instagram, racking up a staggering (but not surprising) 1.2 million likes, and counting, and over a million on Twitter.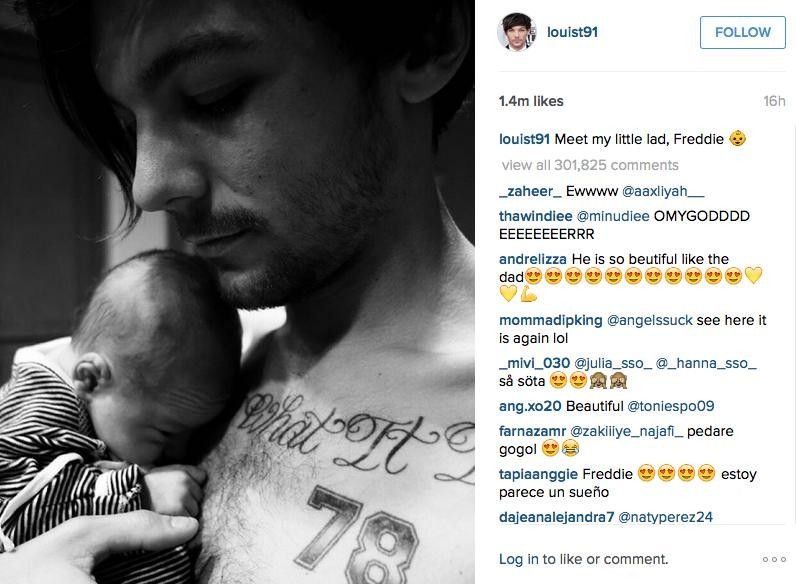 One of those seemingly infinite Twitter favs was from rogue 1D'er Zayn Malik, who's been locked in estrangement from his former bros--most publicly Louis--since his departure last year shattered the emotional marrow of tweens all over this desolate earth.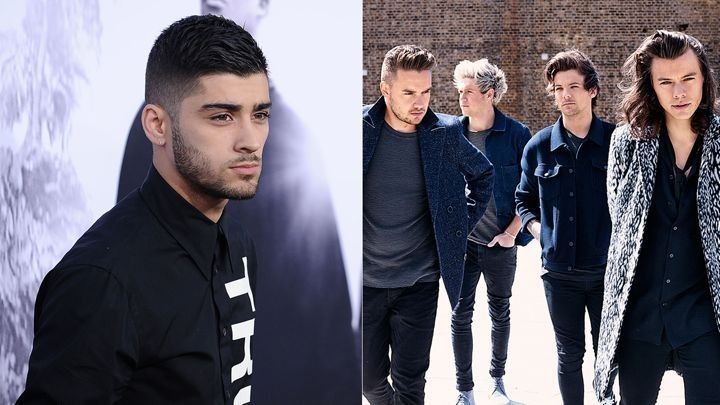 As Metro pointed out, Zayn has only ever faved 14 tweets (typical!), so spotting the Freddie nod wasn't too hard.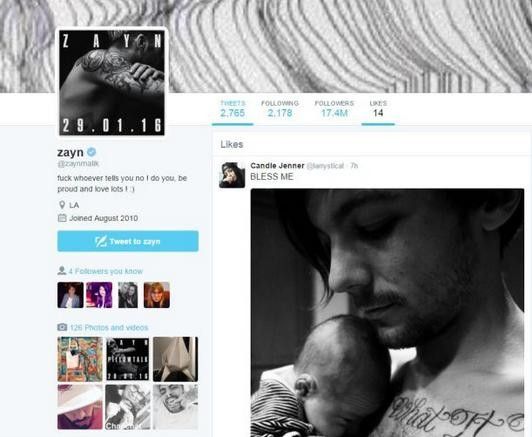 Almost immediately, wrathful fans have accused Zayn's gesture as "lazy," and feel the anointed infant deserves more celebration.
Of course, many are still loyal to Malik...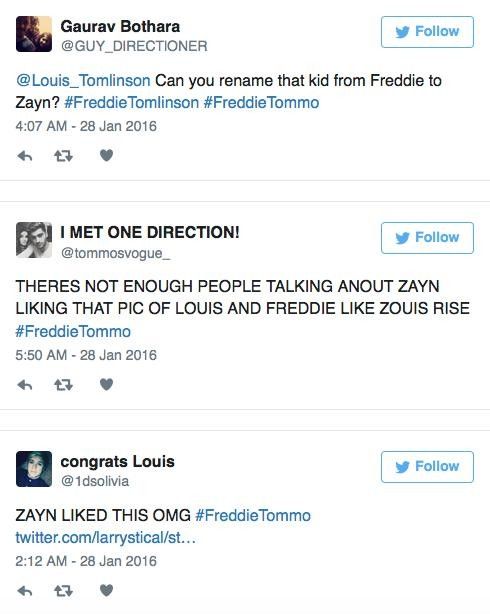 You hear that, Louis and Briana? Why don't you change his name now?! HE'LL NEVER KNOW!!!!!!! OK??????????????

Zayn made sure to address the controversy in a yet-to-be-aired interview on Capitol London Breakfast Show with Dave Berry, where he rather bluntly stated, "We'll see if I get an invite" about meeting the heavenly bb.
He went on to discuss his vegan beef with Louis, by articulating his social media move in a very mature, not-at-all petty way: "Obviously I wish [Louis] the best of luck. His kid is cute as f**k so obviously I favourited it. We're not talking on friend terms obviously, so that's as far as I can go, by favouriting his picture."
"That's as far as I go!!!!" I repeated out loud at my desk, and suddenly, a billion cicadas covered everywhere around me--their horror-choir deafening as I was swallowed into their roving swarm.
Congrats to Louis and Briana!