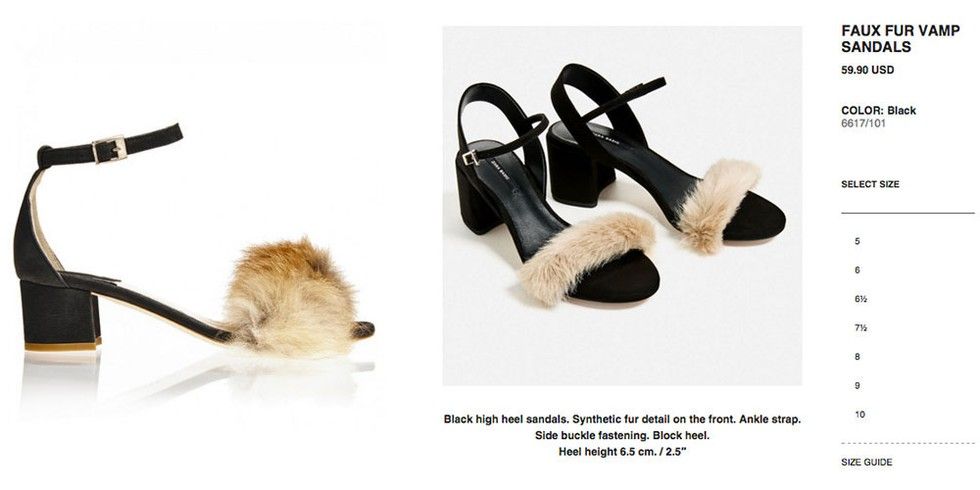 (left: Brother Vellies design, right: Zara's)
Zara, who have come under fire in recent months for ripping off the work of indie artists, is back at it again with a new case of seeming copyright infringement.

The Spanish fast-fashion retailer's latest offense is a pair of $59.90 Zara "Fur Vamp" high-heeled sandals that bear a strong resemblance to a design by brand Brother Vellies. Those shoes, "Dhara" fur-lined sandals made with nubuck and fox fur, cost $715. Zara's version, according to Fashionista, is made from polyester.
Far worse, Brother Vellies, which is designed by Aurora James, ethically sources its shoes--from materials to craftsmanship--from Africa with the mission to, according to its website, "create and sustain" artisanal jobs in South Africa, Kenya and Morocco.
Writing in i-D, James, an up-and-comer who received the CFDA/Vogue Fashion Fund prize last year, explained just how fast fashion knockoffs hurt the employees of ethical companies like hers the most:
"We work with five workshops across Africa to create our entire collection, and each of these partners is like our family. We work with people that we know pay fair wages, maintain clean, safe facilities and support the families and communities of the individuals that work for them. We examine their wastage, their processing techniques, and how their workshops support and impact the communities they are based in."
The allure of a $60 high heel sandal, James continues, might fade for shoppers if companies like Zara were as transparent about their business practices:
"Paying fair wages and investing in innovation to reduce the carbon footprint of your creations is expensive. If you are holding a constructed high-heeled shoe in your hand and it costs $60, that shoe did not make it to your hands without having a severe impact on the environment it came from and the community that produced it. The materials in that shoe probably did significant damage to the water supply and air quality, and the construction of that shoe was handled by someone who may or may not be able to afford to buy school supplies for their children. This is how small developing-world communities become trapped in a poverty cycle, and how the world as a whole accelerates the environmental effects of global warming."

(And, as Jezebel points out, Zara's version of the sandals simply looks bad, the hideous cherry on top of all these far bigger offenses.)
Borrowing heavily from smaller brands like Brother Vellies, is, of course, nothing new for Zara.

In July, designer Tuesday Bassen published a letter she received from Zara's lawyers on her Instagram after she sent them a cease and desist for copying some of her designs. Their message, essentially was: You're not popular or wealthy enough for this to matter to us.
"This is a case where the world's largest fashion retailer feels they are entitled to free artwork because they are too big to be challenged," Adam J. Kurtz, who created a website devoted to documenting Zara knockoffs of indie designers' work (including his own), told us in August. "We need to show them that small pushes back just as hard."
[Via Jezebel]