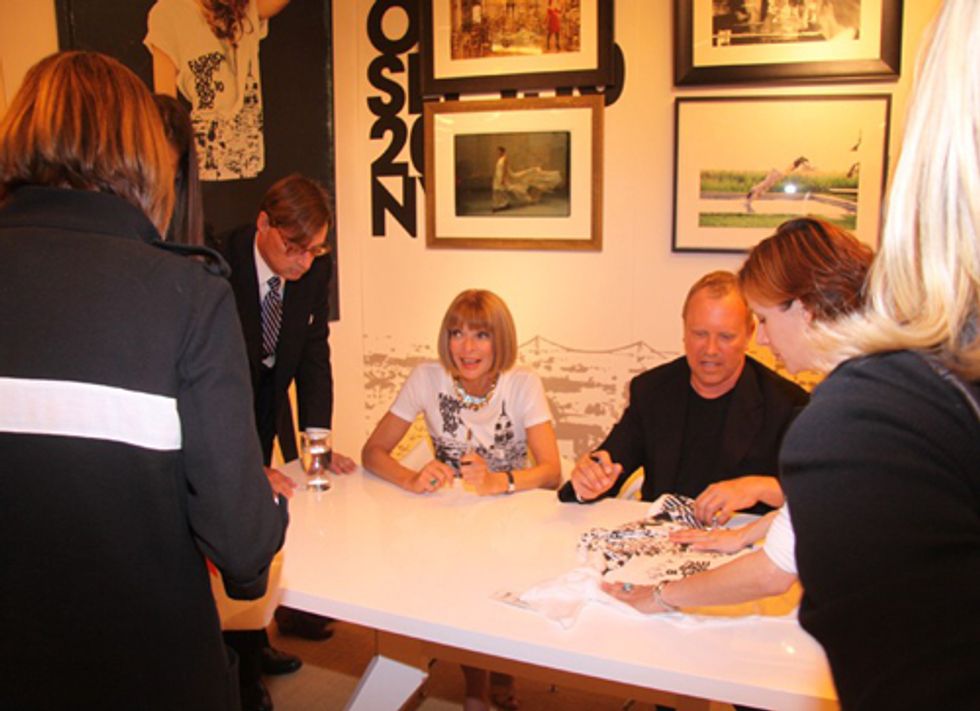 Twenty stores and just as many glasses of free Prosecco later, I'm feeling a little... buzzed... this morning. But it was so worth it: the Trick or Treat known as Fashion's Night Out yielded more than free candy and sartorial magic, it provided some of the best fun, entertainment and celebrity sightings ever! Here below, a curated selection of my top 13 favorite moments:

1. Anna. Wintour. In. Queens. At. Macy's. 'Nuf said, but I have to add: the crowd was so emotional! It was beautiful to see.
2. Kelis with baby in tow, chatting with good friend and jewelry designer, Rodrigo Otazu at Henri Bendel. She was feeling very unbothered about Fashion Week. "I'm not going to any shows. Fashion is everywhere in New York City. It's hard to miss."
3. A dancing Diane Von Furstenberg at her DVF store. Girlfriend has moves!
4. The sick line for kettle corn -- which nearly wrapped around the block -- at the Levi's store in SoHo. Followed by the sick line - which nearly wrapped around the block -- for the delish Turkey burgers. (Good job Brett!!!)
5. Tory Burch mingling with young fans outside her store. I was slightly jelly that those students had enough coins for Burch's pricey goods.
6. Kid Cudi being engulfed by massive numbers of rap fans outside the Bathing Ape store. When I asked if they were going to buy clothes, a group of six replied in unison, "No! We are just here to see Cudi."
7. The Chanel store blasting Lil Wayne's music at high volume! (A very strange -- yet beautiful -- WTF moment!)
8. Stumbling upon a private invite-only dinner at the chic restaurant within the Emporio Armani store on Fifth Avenue. A-listers included Bruce Willis, Kerry Washington and Genevieve Jones
CLICK HERE FOR PAPERMAG'S COMPLETE DOWN-LOW FASHION WEEK SPRING 2010 COVERAGE. >>

9. Model Coco Rocha river-dancing -- yes, river-dancing -- at the DKNY store.
10. The blue carpet Tiffany's laid out for shoppers. It was dirty and brownish by the time I walked on it, but still felt oh so posh!
11. Rihanna slipping into the Intermix store as hundreds of groupies -- sorry, shoppers -- clamored for her attention.
12. Womenswear Designer Laquan Smith stopping traffic -- literally -- with a sparkly one-shoulder jumpsuit and high heels.
13. The surreal mix of chicsters and hipsters on Howard street, as the crowd at Jill Stuart mingled with the crowd from Opening Ceremony across the street.