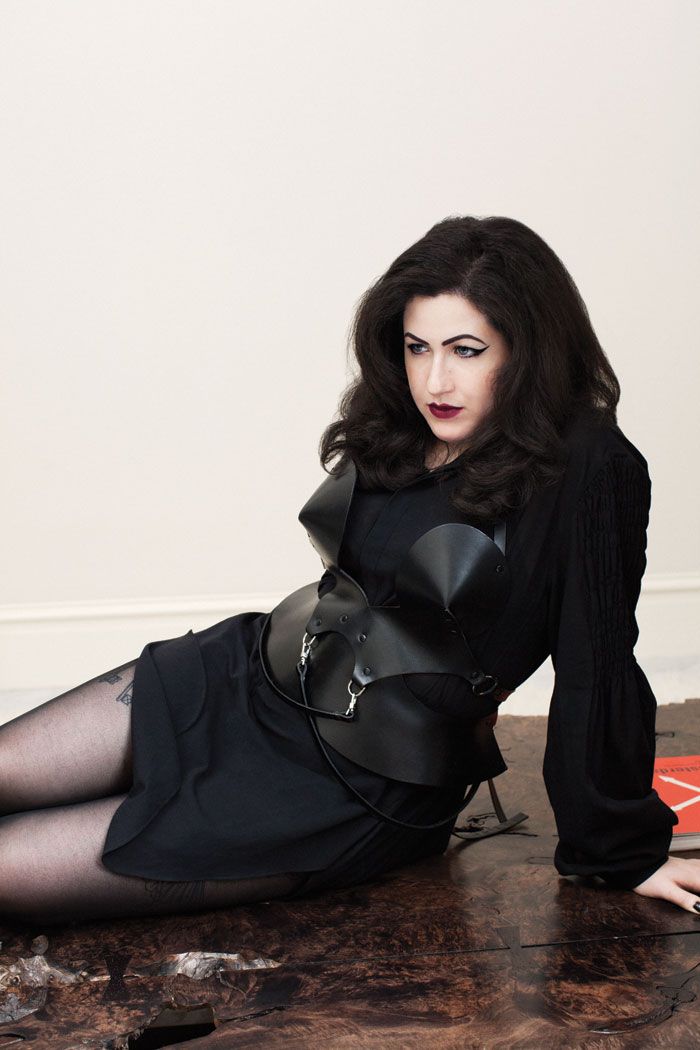 Zana wears a dress by Nicolas Andreas Taralis and bustier by Zana Bayne.

The 24-year-old experimental designer Zana Bayne gave the fashion world a bondage fetish long before E L James turned housewives on to handcuffs. In 2010, the raven-haired Bayne launched her line of intricate high-fashion leather pieces which range from the seemingly basic -- like a sunny yellow peplum belt or the "Choker" belt with a silver metal ring -- to harnesses that were absolutely designed with the dungeon in mind.
Her creations caught on after she posted a photo of herself wearing one of her harnesses on her popular fashion blog, Garbage Dress. Since then she's attracted art-minded celeb fans like Chloë Sevigny, Madonna and Ciara, who have all strapped into her contraptions. She's also collaborated with design visionary Prabal Gurung on four of his collections -- most recently designing military-inspired belts, collars and harnesses for his F/W 2013 show­ -- and in January she had her first presentation in Paris, during menswear fashion week.
"At the end of the day, I tell people harnesses are just belts with suspenders and anyone can wear a belt. It's just getting people comfortable with them," says Bayne, whose collections are available at Opening Ceremony. If anyone can wear a belt, as she says, will anyone then be game for sporting her full-torso cage as part of her -- or his -- everyday wardrobe? "Accessories are a really great way to be able to wear something that is a statement but be able to style it in a way that's your own," Bayne says. "People have worn[my designs] on their faces, upside down, or backwards -- you just see how far you can go."
MEET THE REST OF OUR 2013 BEAUTIFUL PEOPLE