Earlier this month, Yung Baby Tate, a small-but-mighty 23-year-old musician, took the stage in her hometown at Red Bull Music Festival Atlanta.
Rocking pigtails, metallic pink booty shorts and a headset, she was flanked by half-naked dancers on all sides. The stage looked like a summer camp, complete with a life-size tent and hollowed-out canoe. Guests could take photos on lawn chairs in front of pink flamingos, doodle in coloring books, and buy tie-dye summer camp T-shirts with Tate's name.
A runway extending into the crowd contained a stripper pole at the end. With arms outstretched and a big smile on her face, Tate exclaimed "Welcome to Camp," in reference to her new single, as fans went wild.
And the tone for her poppy, Met Gala-inspired show was set: Tate cruised through the songs comprising her critically acclaimed, self-produced debut album, GIRLS, with performances by friends and collaborators Bbymutha, Queen Key, Kari Faux, Baby Rose, Mulatto, and more. At Tate's "Camp," powered by Red Bull, all were truly welcome to play.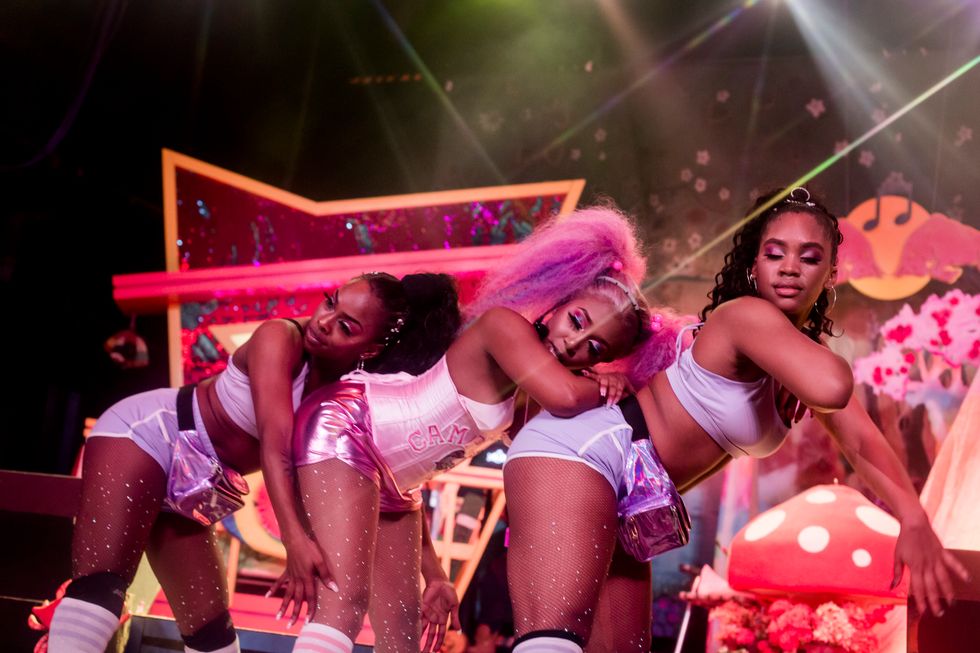 Yung Baby Tate
Photography: Maria Jose Govea/ Red Bull Content Pool
Tate champions inclusiveness throughout GIRLS, a project that illuminates how Black women are not a monolith. Like all humans, they too are worthy of love, and are rich and full of desire, whether it manifests personally or professionally. Further illustrating this, Tate shows impressive range through her music: she sings sugary R&B, raps playful hip-pop verses, and possesses a natural flair for creating multi-genre arrangements that would please fans of Britney Spears or Nicki Minaj equally.
On stage, Tate and friends are the women of their wildest dreams, embodying the lighthearted spirit of Camp: being your realest self, fearlessly and unapologetically. This is a theme she touches on for "CAMP," the title track for her upcoming album, with lyrics like: "I wanna be extra, extra/ I wanna be flexed up when I dress up/ I wanna be so damn fly/ That when I come by, everybody need a heads up."
For the Camp show opener "That Girl," Tate fantasized about what it's like to be the girl everyone talks about and remembers, for better or for worse. She solidified this idea by weaving in a passionately sung cover of Whitney Houston's "I'm Every Woman." As Tate sang, she doubled over and swooped her chest toward the heavens, embodying a Superwoman stance. "It's all in me," she sang.
Tate largely remains a one-woman affair: Producing, composing, and mixing all her own music, creating her own visual treatments on stage or in music videos, and actively collaborating with Black and brown women who are similarly independent. She's something of an anomaly in the music industry, especially considering how few female musicians are credited as producers. According to USC Annenberg's 2019 report on music diversity, only 2% of producers credited for helming 400 top-performing songs were women. (Of that 2%, it can be assumed that an even smaller margin of producers are women of color.)
Ahead of her Red Bull set, PAPER caught up with Tate to discuss everything from how her mother encourages her independent spirit, her go-to Camp icons and representing Atlanta.
One of the most impressive things about you is how self-contained and independent you are, including writing, producing and directing your own visuals. What fostered your creative spirit early on?
My mom was signed to Columbia Records by the time that I was born, and she left the label to raise me. She always felt that it was important for me to know that it was possible for me to take that route if I wanted to. She didn't want me to be taken advantage of and get told what to do with my sound. She always told me, "If you do find yourself with a label, make sure [it's a] partnership and that they don't own you." She always put that into me, but I think that's why I feel like I want to do as much as I can do on my own.
What is one of the greatest challenges you've faced from being independent?
My biggest challenge is more about perception. As fans evolve, sometimes people who are new to my music compare me to the same type of journeys from people who are signed. They want me to be doing the same type of things and be in the same places, and I don't have those relationships. I don't have the same label struggles. For me, sometimes I have to remind people that I'm still independent, so don't expect me to be doing the same stuff as Beyoncé is doing right now.
I've noticed that you often collaborate with women who are similarly in control of their artistic vision. What has that taught you?
It's been really rewarding, but I think it's important to be an example and not just say, "We should be working together," and then don't make it happen in any real way. You look at someone's album, and it's just rap features for more credibility. Not only do I think it's important to uplift your collaborators, but I'm going to act on it as well. It's important for the future of what music is, and what society is.
"It's important for me to let young artists know that you can make any type of music you want to make, especially as a Black woman."
At this point in our interview, Tate is confronted by her Uber driver, who was listening to our conversation.
Uber driver: Don't let anybody try to sway you. God has a message for you. This music [nowadays] does not deliver anybody, it doesn't heal anybody. It doesn't set a person free from their mind if they are psycho or whatever. They're looking for hope. They're looking to be inspired, to be encouraged, to be lifted up not put down. Do what God is telling you to do. Uplift people and tell the truth in your music.
That was fascinating. What do you think about what she said?
I think she's right. She definitely made some good points
[Laughs].
Part of having a platform is showing that you can be many things, as you sang about on "That Girl." Is that mindset what motivated you to cover "I'm Every Woman" within that song?
Yeah, for sure. There are a lot of expectations for female rappers, and I think now those barriers are being broken. In the past, people have tried to pigeonhole my music by saying it isn't "urban" enough, so they don't really understand what I am. It's like, "You're not really a rapper, you wanna be both that and a singer, or you don't fit." It's important for me to let young artists know that you can make any type of music you want to make, especially as a Black woman. My mom went through that a lot as well in the industry. It's good to say those things out loud and show that I'm being every single type of artist that I want to be.
You just released "CAMP" off your next project. How did the themes of the song tie into what you wanted to create for Red Bull's Camp show?
It all started from this year's Met Gala theme, "Notes on Camp." I researched that and realized how much of that I already had going on as an artist and a performer. I wanted to heighten it for the show. For the song and project, the initial theme of it was letter-based and also key-based, so each song is named "A" through "G." And when I started creating the theme song, I picked the one word I wanted to do which is "CAMP." So that's where the song came from, and then we started talking with Red Bull about what to do for this show. We thought it would be cool to bring Camp to life, and put both sides of the word onto the stage, because life is like a camp in so many ways.
In your research, what Camp icons did you feel most aligned with?
All of 2009 through maybe 2013 did a lot for me in terms of pop culture icons representing Camp. Nicki Minaj is the ultimate Camp icon. [Lady] Gaga is really Camp. Elton John is Camp. Even Andre 3000 is Camp.
"Growing up, I could see a lot of what the outside society might see as 'ghetto,' but really, it's all extremely creative. Black women create what fashion is."
You grew up right outside Atlanta in Decatur. Are there things from your childhood that you can look back on now and think of as Camp before even knowing what it was?
Growing up, I could see a lot of what the outside society might see as "ghetto," but really, it's all extremely creative. Black women create what fashion is — pink hair and they have the pink nails with it. Many Black women are Camp innately and we don't even know it. My mom is extremely Camp, too.
She performed with you recently. What was that like?
She's the best. I mean, she came out with wings that lit up. She's literally always been like that, so obviously that might be where I get it from.
Your life as an artist has allowed you to travel more and have new experiences. What's it like playing in Atlanta?
It's emotional, it can be overwhelming. Sometimes people in Atlanta can be bougie, wanting a set that includes bottle service and whatnot. That part of it is funny, but really it's home. So much culture starts here and being able to participate in it and be onstage in front of people who remember me from when I started making music is an honor I don't take lightly.
Photography: Maria Jose Govea/ Red Bull Content Pool
Fashion
Story by Andrew Nguyen / Photography by Anderson Martinez