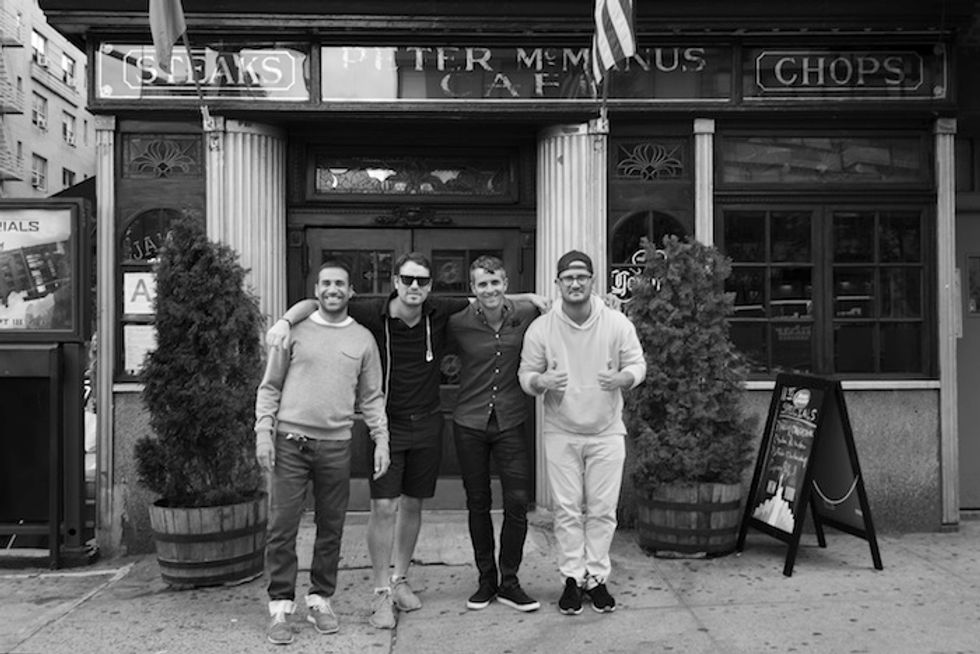 (L-R) Joe Schildhorn, Billy Farrell, Neil Rasmus and Dave Prutting. (Joe wears a sweater by OuterKnown, pants by Belstaff and shoes by Cole Haan. Billy wears a shirt and shorts by Uniqlo, shoes by Nike and sunglasses by Toms. Neil wears a shirt by Woolrich, pants by Belstaff and glasses by Warby Parker. Dave wears a shirt and sweatshirt by John Elliott + Co., shoes by Native, pants by Calvin Klein and glasses by Moscot.)
For a certain segment of social New Yorkers, the kind whose jobs (or no jobs) have them going to parties and events multiple nights a week, there are four guys whose presence at a function can elicit the same kind of delight as spotting a celebrity like Rihanna or Leonardo DiCaprio: the founders of
BFA
. Since launching BFA exactly five years ago today, the four partners and founders Billy Farrell, Dave X Prutting, Neil Rasmus and Joe Schildhorn have grown their upstart event photography agency into a go-to resource for brands, publications and PR firms alike and a de facto yearbook of sorts for NYC's various culture tribes; for many in media and culture, a work day starts with a cup of coffee and a quick scan of the
BFA homepage
to see what parties happened the night before, who was seen out where and what everyone was wearing.
The four partners and their team members are so ubiquitous on the scene in New York (and now LA, where they've recently opened an office), you can practically apply the "if a tree falls in the forest..." adage to their work. If a party happens and BFA wasn't there to shoot it, did it really happen? (It probably did but was not as much fun.)
As they celebrate their fifth anniversary today -- and ahead of their manic week ahead during NYFW -- we caught up with Billy, Dave, Neil and Joe to talk about how they got started, what they look for in a photography subject and that time at a party when Katy Perry's boob kept popping out of her handmade robe.        
How did BFA start?Billy:
We all met at the Patrick McMullan Company at different times but started BFA exactly five years ago today in 2010. We literally flipped the switch [to launch] our website on September 8th in 2010 and we're re-launching the site for the third time with new features today.
How did each of you get started in photography?Joe:
I went to Syracuse University and was studying graphic design but I ended up choosing photography to major in. I started assisting fashion photographers in Manhattan, taking the train back-and-forth from Philly where I grew up, and then I finally got an assistant's job at the old agency, PMC [Patrick McMullan Company].
Billy:
I remember when he first started working there in 2004, he slipped up and said to Patrick [McMullan], "This is a stepping-stone." So he got in trouble and got a nickname called 'Stepping-Stone.'
Dave:
I grew up in New Canaan, Connecticut and had no previous experience with photography until I was a Fine Arts major at Ithaca College and I had some kind of requirements left to fulfill the degree. One summer when I was playing college football, I stayed on campus to train and I took a photography class. I initially wanted to be a photojournalist and my teachers were encouraging of it but I came to New York with no clue how to transition into a career in photography. I found some work assisting fashion photographers with Marek & Associates in NYC but because I wasn't making much money, I needed supplemental income and the publicist Susan Magrino, who was a friend of the family, said, "Meet Patrick, he's a great friend of mine." I did, I got a job, and I loved working there because I got to actually take photos and not just assist other people and it was sort of like journalism.
Joe:
I remember when Dave came, he had to shadow me at this one job at the Metropolitan Club and he didn't bring his flash and I was like, "Dude, what are you doing?" and he's like, "I got this, I got this."
Dave:
There's a joke that corresponds with my early photography philosophy and that's "What's a photographer's favorite beer? Natty light."
Billy:
I definitely fell into photography. I was born in Winston-Salem, North Carolina and moved to Vermont when I was 13 and I've been in New York since 2000. [When I moved here] my sister's roommate's brother got me a job at the
Today Show
down at NBC taking pictures with a very primitive digital camera of all of the ladies holding up their signs. With Al Roker during commercial break, we would basically go around and take pictures of the girls and give them a card so they could purchase the digital copies online. One night I was out shooting a party at the Waldorf-Astoria and I was dancing with a girl and had my camera in my hand and I had a cigarette and beer -- it was back when you could smoke at the Waldorf-Astoria -- and Patrick [McMullan] comes over to me and says, "I like your style." So I got a job there and worked there for 10 years.
Neil:
I first came to New York when I was 19 and assisted a photographer named Chris Makos and I think through Chris, I ended up at Patrick [McMullan's] St. Paddy's Day party at Limelight and soon after started shooting for him.
What were your first impressions of each other?Joe:
I remember the first time meeting Billy, I was like,
Who is this dude?
You'd look over and Billy would be telling people, "No, you don't want to crop it that way. You want to do it this way."
Billy:
I was kind of a busybody.
Neil:
My first experience meeting Billy and Joe was downloading film and going over to the Hog Pit.
Billy:
Which was a bar that's closed now. A lot of drinking was happening. The '80s had cocaine but in the '10s we had lots of alcohol and dive bars.
Dave:
I remember thinking Joe had a kids'-like energy and spirit. He made me smile right away. And I saw how well-versed he was in photography so immediately I wanted to relate to him about that -- and sports. I was the jock-turned-artist and nobody understood me but here's Joe who did, which was cool. Neil was such a calming energy and good force -- he got his work done but also knew how to cut loose in his way. I think right off the bat I thought Billy would be like a big brother role for me in the beginning.
Joe:
Neil was always very unassumingly good with business.
Billy:
It was Neil's idea to start BFA.
What's a typical day like for you guys?Dave:
We used to be a little bit psycho with all-nighters. That really can drain you. The lifestyle was not very healthy. I think one of our goals in starting BFA was like, "We want to do this but we want to make it a healthier environment."
Billy:
It's all about efficiencies.
Neil:
Our day-to-day is much more refined now because we have our CEO now, Dan Otero, and so we get up, we have meetings, we have a website to constantly make better, we have administrative duties and then we go shoot and get the job done.
Billy:
Maximum efficiency is going to maximize your business and in our case, if you're out there shooting and you're part of the grind, is it more efficient to go and do it yourself and shoot for four hours and then edit for five hours until the wee hours of the morning and then try to go and do it all over again and maintain that quote-unquote "quality control" or is it more efficient to enlist others and help them and spread the wealth a little bit and figure out how you can make it more of a team endeavor? In my opinion, that's the biggest accomplishment of BFA in the last five years. We've taken it from a bunch of guys out there shooting parties, doing it themselves A to Z, to creating a system where there's a beginning, a middle and an end when it comes to our process.
What is that process?Billy:
We have a bookings department [to book jobs] and then we're going to enlist editors to actually edit our photos so we can be more efficient and get some rest -- not that that happened for the first few years. But now I think we're in a good situation. We all cleaned up our acts in different ways. We get up in the morning, we go to bed around midnight instead of 6am.
Dave:
There's an occasional night or two throughout the year, especially the Met Gala, where I stay at the office all night and I shoot the Met Gala and I edit and I like to help. And I want the team to know that I'm always there to jump in.
Billy:
You're dealing with 1.6 million pictures on our website right now. The quantity coming in is such that you have to create systems so you can create a quality-control environment otherwise you just can't do it. And honestly you're only as good as your last party so you have to make sure that that is the first thing. We're in the service business, by the way, and we have to recognize that every night we go out. We are not party photographers necessarily -- we're promoters of a visual image and we're promoting our clients.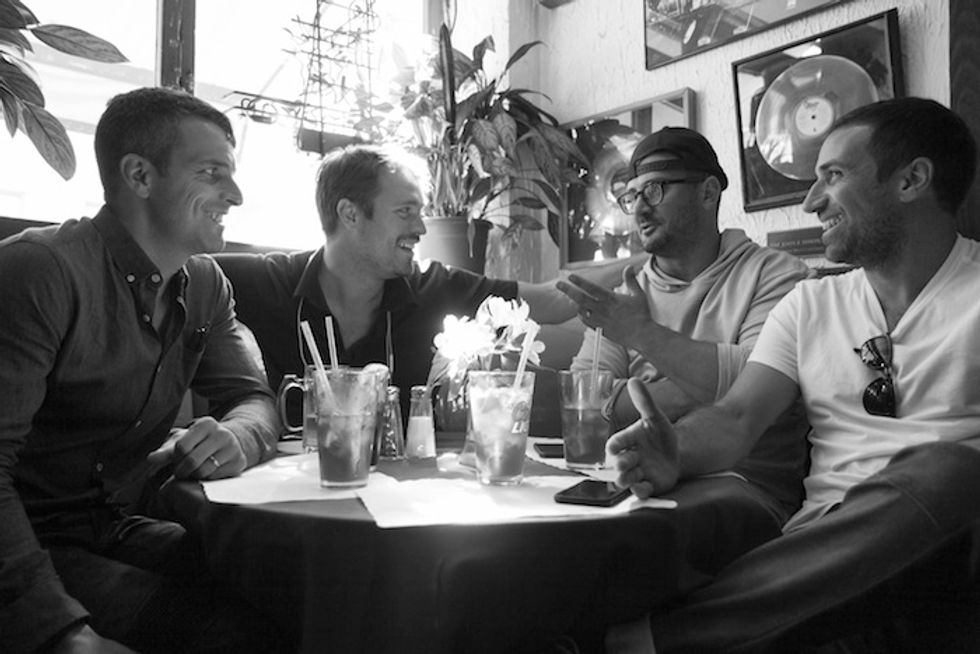 (L-R) Neil Rasmus, Billy Farrell, Dave Prutting and Joe Schildhorn
And speaking of quality, can you discuss what makes a BFA image unique?
Billy:
You used to be able to tell between all of the photographers who shot what. But the goal is that you cannot tell and the reason for that is not because we want to create mindless employee drones and take the art out of it but it's because we want to make sure that we're creating a consistent product and we also want to make sure that that is better than our competitors. What I mean by that in a literal way is so if you've got a photograph from a competitor and you've got a photograph from one of our photographers, [ours] should be brighter, it should be more interesting in the face, [the photographer] should have been engaging with their subjects so you can always see that in the eyes. You can see if a photographer was having a bad day often by just looking at the people and how they're looking at the photographer. It's like a mirror. As far as the personality is concerned, our photographers have to be engaging without being too in-your-face, they have to be reportage but at the same time, somewhat commanding.
We've also got this testing system put together that includes flash cards and a forty-question questionnaire that has a lot to do with the environment. Questions such as "Who is the Editor-in-Chief of
Harper's Bazaar
?" "What does DVF stand for?" We want people to understand that if they educate themselves, they're going to have a lot better time when they're working for us and the clients are going to have a better experience.
How many peoples' names do you think you have memorized?Billy:
I've been
quoted in the New York Times'
as [having memorized] 5,000 names.
Who are some of your favorite people to shoot?Billy:
Mickey Boardman!
Dave:
Waris [Ahluwalia]. He's always game --
Billy:
But he doesn't smile.
Dave:
No, but I can always put him in very precarious situations and he'll go with it.
Neil:
Heatherette in the old days.
Billy:
Oh yeah Ritchie Rich.
Neil:
They were great.
Joe:
Sarah Jessica Parker is someone that I've always connected with and always have a great time photographing. There's a million out there -- Johan Lindeberg's another great one.
Dave:
I remember meeting Kanye at the Public Library when I was shooting Paper's 25th Anniversary Party for Patrick McMullan. He was dating Amber Rose at the time and basically he got wind that I was the house photographer and he goes, "Yo, yo, yo, let's do a couple photos" and I'm like, "yeah, cool" and all nervous. He's like, "You're the guy? Alright, let's do it." And he was directing [the shoot] -- I was totally okay with that, I was just there to make sure I got the job done. What he wanted to do was go to the top of the stairs at the library inside and when we got all the way to the top, I had to go down backwards taking pictures of him and Amber walking. And then he looked at the pictures and said, "Let's do it again." I also remember meeting Katy Perry for the first time. I met her at an Erin Fetherston dinner and nobody knew who she was. I thought, "You seem so interesting. What's your story?" She was wearing this robe -- she was like, "Oh I made this myself" but her boob kept slipping out the side and she kept fixing it.
Joe:
Speaking of Kanye, there was an interesting moment that I think Billy and I will always remember in Paris. We were hired to photograph Kanye's fashion show and it was a very, very raucous and busy place with a lot of music and DJs and Billy was at the front of house and I went backstage for a minute to look who was back there to get some photos. I see Kanye right there and Kim Kardashian and I was like, "Oh, let's get a photo of you guys together."
That was one of the first photos ever taken of the two of them together.
I had no idea that they even knew each other.
Billy:
They did the go-karts there that night. Joe's a matchmaker.
Do you have any tactics for how to approach these celebrities and take their photos at these events?Dave:
The general tactic is to stop being nervous about it and hopefully try to convey that you are working for the reason the celebrity is there -- you're working for the client or the brand.
Billy:
You're here for a good thing. You're not here to exploit.
Dave:
Sometimes it's hard and you have to deal with publicists and sometimes a publicist will be like, "No, no photos of them" and sometimes I just go right up to a celebrity and say, "Hey, man, this is what we're doing here. Do you mind?"
Billy:
They know what's up.
Dave:
They usually say 'yes.' That's the secret! Don't ask the publicists first!
Billy:
It's almost annoying if a photographer takes too much time to build up the courage to just ask because we're at a party and we are sanctioned with cameras so if you find yourself in that position, you've got a job to do. Make it happen and be polite and figure out how to make it quick because no one wants to wait around. If you were Kanye West and you're at a party, do you know how many frickin' people want to talk to you? You don't really have the time to have five minutes or even one minute with the photographer so for us photographers, we need to get it, get it right, know their equipment and get in and get out and be vigilant in case something else cool happens. It's not over once you shoot them -- you're always watching. Always.
What types of qualities will compel you to shoot a non-famous guest at a party?Billy:
Well if you're at an event, you're probably there for a reason and we paint the picture of an event.
Dave:
That's a Patrick kind of ethos. Patrick always said, "Andy Warhol always told me, 'You never know who this guy is going to be one day.'" Sure enough, a lot of his pictures were of people who are somebody now.
Billy:
So it's not about who's A-list, B-list, C-list or whatever, it's about taking the photographs that best paint the event and that's it. And, of course, the celebrity stuff, you can't miss it. You can't be like, "Oh, I'm going to shoot the bartender instead." You have to do both.
Dave:
It's also about, "Are you happy? Are you stylish? Do you care about your presentation?" I'm not a fashion expert but I appreciate peoples' outfits way more than before I started this job. But I like people who smile, people who have a good sense of self and their energy is good and if they're having a good time. It's also about making the guests feel welcome. If they want a photo, we're gonna take their photo. Anyone who wants me to take their photo, I always do.
What have been your most memorable events you've shot?
Dave:
Milk Studios' party kick-off -- I think at Fashion Week -- when they brought Wu-Tang Clan together for the first time in a long time. It was Raekwon, Method Man and Ghostface Killah. I got to hang out in the
green
room downstairs.
Billy:
I got locked into the green room once with Ted Turner and Mikhail Gorbachev in a security lockdown at the Pierre. It was just me and those two dudes and a translator. It was before BFA, I was doing my time at PMC. It was for "Global Green," which is Gorby's foundation. I don't remember the details but I just remember that it was kind of crazy and it made me think about my responsibility to document what I'm supposed to and of course I wasn't taking pictures of them [there].
Joe:
I remember photographing a fashion event years and years ago for Stevie Wonders' daughter's fashion line. Stevie actually wanted to take the pictures at one point and he grabbed the camera out of my hands and I positioned the camera in his hands where it should be and I un-zoomed it so he could get the wide shot -- it was a family photo -- and he just started snapping photos.
Neil:
I think the most memorable experience was actually when I wasn't shooting -- it was after we were on a trip to Moscow for Valentino and the morning after the event, we went to a bathhouse and it was Justin Portman and [his ex-wife] Natalia Vodianova and Valentino and their whole entourage and Mario Testino was shooting Natalia and a few other models in the bathhouse. I just remember sitting in an ice bath eating caviar and taking shots of vodka while Testino was lighting up a room. That was interesting.
Billy:
People were getting beat up by bushes. What do you call that?
Neil:
Some sort of massage.
On that vivid note, tell me about what the future has in store for BFA.Neil:
We can't only be a party photography agency anymore, we have to create all the content for the client. Image content, video content, social media content -- whatever our client needs.
Billy:
We've got BFA Social, we've got BFA Video now and BFA Air, which is our new drone flying program. We partnered up with some guys who are real professionals in that field. Another great example of new things we're doing is BFA Studio, which is addressing client needs for headshots or lookbooks or product photography and e-commerce photography. We're already shooting the events for them so why do they need to go anywhere else for those types of things? They don't.
Stylist: James Neiley
Assistant Stylist: Carole Fe

You May Also Like