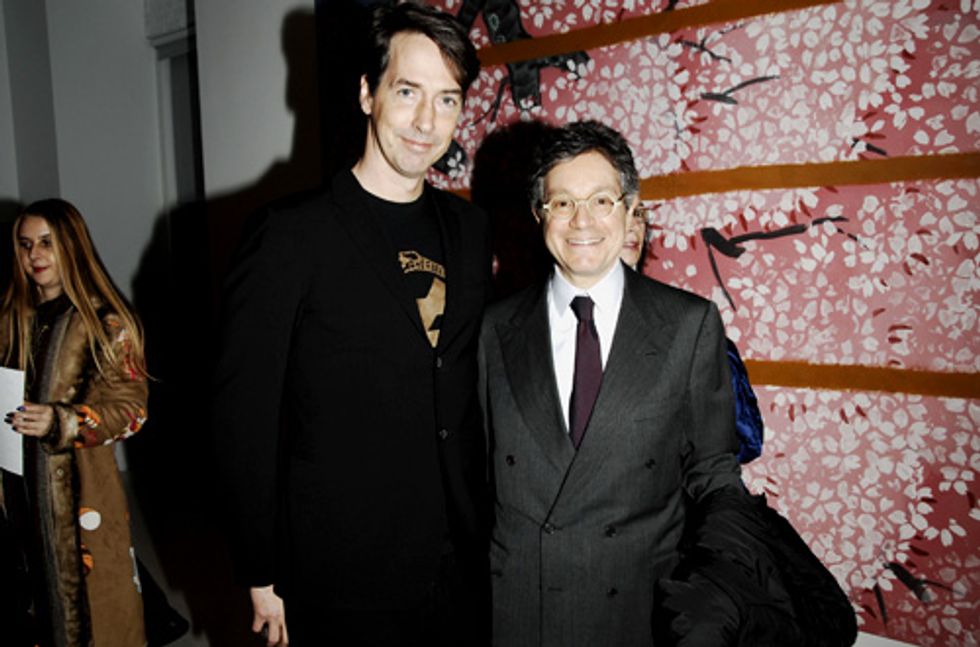 Installing "Your History is Not Our History: New York in the 1980s" at Haunch of Venison gallery felt like Christmas morning for artist
Richard Phillips
, who organized the show with artist
David Salle
. "The crates came and it was was like opening present after present after present," Phillips said at the show's opening Friday night, as guests including
Julian Schnabel, Francesco Clemente
,
Jeffrey Deitch
,
Jerry Saltz
,
Cynthia Rowley
,
Kim Gordon
,
Thurston Moore
, and
James Frey
, took in Prince's and Salle's re-telling of the '80s art world in New York City, a time period during which they believe artists' work is often mis-remembered as being oppositional of one another and representative of exclusive critical positions.
Instead, via pieces by Salle, Schnabel,
Jean-Michel Basquiat, Sherrie Levine, Jeff Koons
, and
Eric Fischl
among other luminaries from the '80s, "Your History is Not Our History," highlights the shared attributes of works from the time period, in this case, the sound rejection of authority and a sense of radicalism Phillips said was palpable at gallery shows. "A lot of these pieces came from major foundations that acquired the works from those first shows. So you're seeing a very fresh take on work that was vitally meaningful at the time," said Phillips. "You're able to see combination of work that no museum will ever show you. They well tell you that these were mutually exclusive events that are pre-packaged in isms."
Phillips also attributes the combination of works on display to his and Salle's different perspectives on the '80s, during which Salle was heavily involved and Phillips was just beginning his career. "I was just fresh out of grad school and David was a central producer of that time. I didn't have any stake in any of the personalities in this show," Phillips said. "But what I did have was the ability to say yes and no. I'm encouraging artists, if you don't see what you like in the show, if this wasn't your experience, to take the power by the hand and make your own show. Make statements. Define what your truth is."
"Your History is Not Our History" is on display through May 1 at Haunch of Venison, 1230 Avenue of the Americas, (212) 259-0000.

Photo from patrickmcmullan.com