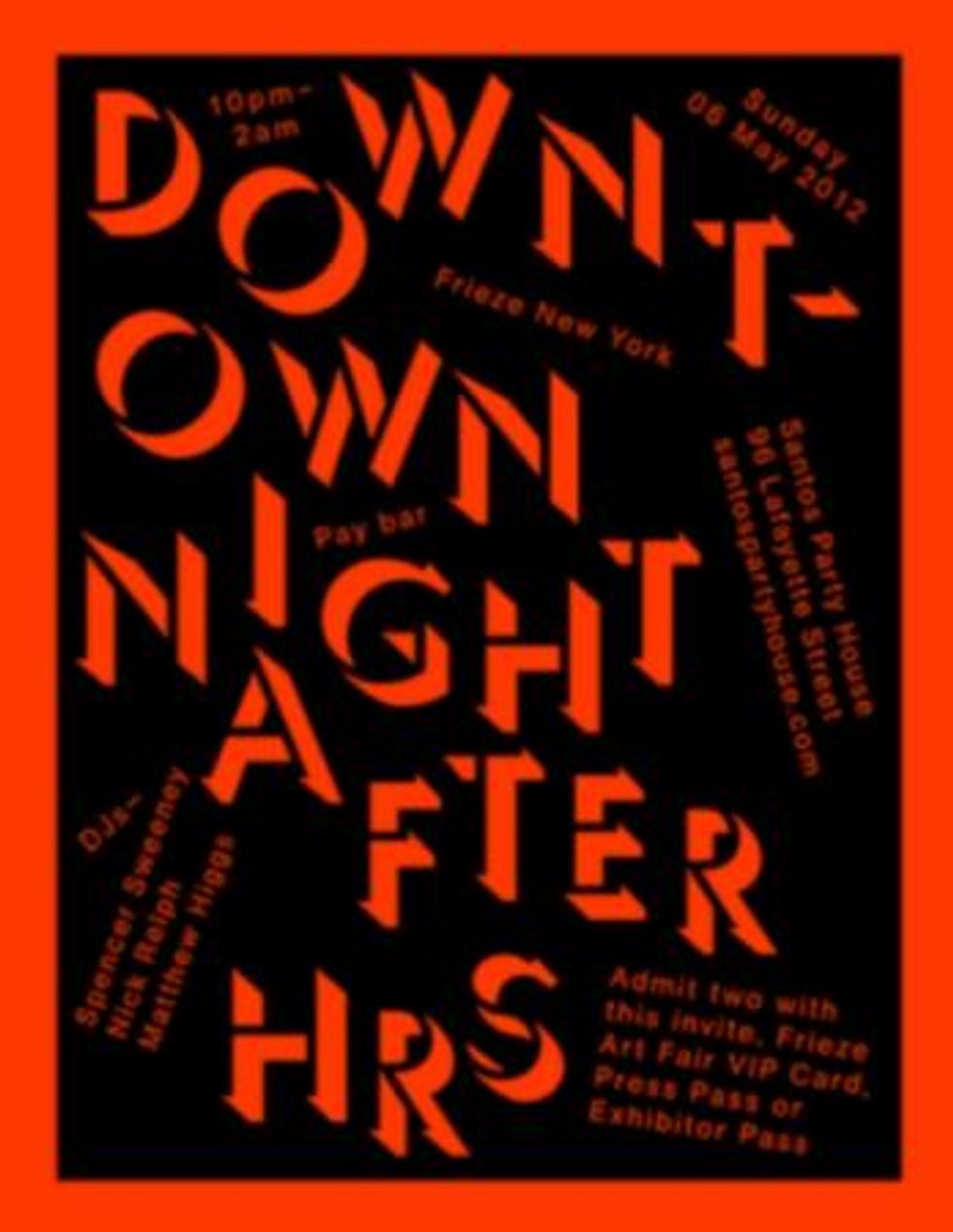 The FRIEZE fun started last night with a big invitation-only VIP opening on Randall's Island and continues all weekend. Here's Part III of our on-going guides to the best parties openings and performances over the next few days (here's
Part I
and
Part II
). Don't miss their "Downtown Night" on Sunday when tons of galleries and performance spaces in lower Manhattan will be open late and holding special events to celebrate Frieze. You'll find the complete list below.  (Many of the following events have a limited capacity, so contact the venues for more information)
AND: If you're still awake, head over to Santo's Party House (96 Lafayette Street) for
the "Downtown Night After Hours" party
with DJs Spencer Sweeney, Nick Relph and Mathew Higgs. Admission is FREE with a Frieze VIP card, press pass or exhibitor pass.
SUNDAY, MAY 6thDOWNTOWN NIGHT

Keren Cytter's Show Real Drama
Cytter's new theatrical production comes to The Kitchen for a two-evening engagement (40 mins). Seating limited. The show will also take place at 6 p.m. on Saturday May 5th at The Kitchen, 512 West 19th Street. 6 p.m.

Andrei Roiter -- Opening reception with live music
Jack Hanley Gallery, 136 Watts Street, 6-8 p.m.
Launch of Bidoun Book Shelf
Visit Bidoun's new bookshop for tea. They'll also be showing "Middle Eastern video eclectica" selected by Bidoun staff. 47 Orchard Street, 6 p.m.-9 p.m.
Mary Heilmann, Mary Mattingly,T ony Oursler, Hannah Sawtell (The Island), Alaina Stamatis, Lawrence Weiner Open studios and galleries
The Clocktower Gallery/ ARTonAIR.org 108 Leonard Street, 13th Floor. 6 p.m.-9 p.m.
Noam Rappaport
James Fuentes, 55 Delancey Street, 6 p.m.-9 p.m.
Torsten Slama
Kimmerich Gallery, 50 White Street, 6 p.m.-9 p.m.
Pepe & Puntar's Lucid Dream Lounge with special guests Performance by SKOTE
Sheila Pepe and Diana Puntar have built "a field of operation" including light, shadow, drawing and sculpture.
Participant Inc, 253 East Houston Street, 6 p.m.-9 p.m.
Hans Schabus Opening reception
Simon Preston, 301 Broome Street, 6 p.m.-9 p.m.
Virginia Overton Closing reception
Sculptures and installations curated by Matthew Lyons.
The Kitchen, 512 West 19th Street, 6 p.m.-9 p.m.
Gilbert & George
Lehmann Maupin, 201 Chrystie Street, 6 p.m.-9 p.m.
Maria José Arjona Private view
Visual and performance art.
Location One, 26 Greene Street, 6 p.m.-9 p.m.
Jo Nigoghossian
Renwick Gallery, 45 Renwick Street, 6 p.m.-9 p.m.
Capital C Performance
10 cabaret performers "address the relationship between capital and culture through humor, seduction and play." Storefront for Art and Architecture, 97 Kenmare Street, 6 p.m.-9 p.m.
John Armleder Private View
Swiss Institute, Contemporary Art, 18 Wooster Street, 6 p.m.-9 p.m. Catch a tour by curator Gianni Jetzer at 8 p.m.
Quentin Meillassoux Talk and Book Launch
Miguel Abreu Gallery, 36 Orchard Street, 7 p.m.
The So-called "Alternative Space" Talk
A discussion between four panelists who "will critically reflect on what "alternative" remains, in the context of a seemingly pluralized institutional landscape, as well as an accelerated and diversified global market place."
Artists Space: Books & Talks, 55 Walker Street. 7 p.m.
White Columns 2012 Benefit Exhibition Special Preview
Featuring donated works by over 75 artists, the Benefit Auction supports the programs of New York's oldest alternative space. Please visit whitecolumns.org for more information. White Columns, 320 West 13th Street. 7 p.m.

Ryan McGinley Artist Tour
Team Gallery, 47 Wooster Street. 7 p.m.

Shimon Minamikawa Performance and screening, co-hosted with Misako & Rosen.
47 Canal Street, 2nd Floor. 8 p.m.